Welcome to the 12th issue of Appistan. For the new subscribers who aren't familiar, here we talk about the key trends from Pakistan's apps ecosystem. During the week of Dec 11-17, it was more or less the status quo. Daraz regained the top spot on Data.ai's Active User Ranking thanks to the 12.12 campaign. Starmaker also finally made it among the 10 most downloaded apps in the country, after staying on the Google Play charts for quite some time. In this issue, we will zoom in on the food delivery apps in Pakistan and see how aggregators stack up against apps in-house (or software-powered) products.
Last week in Top Apps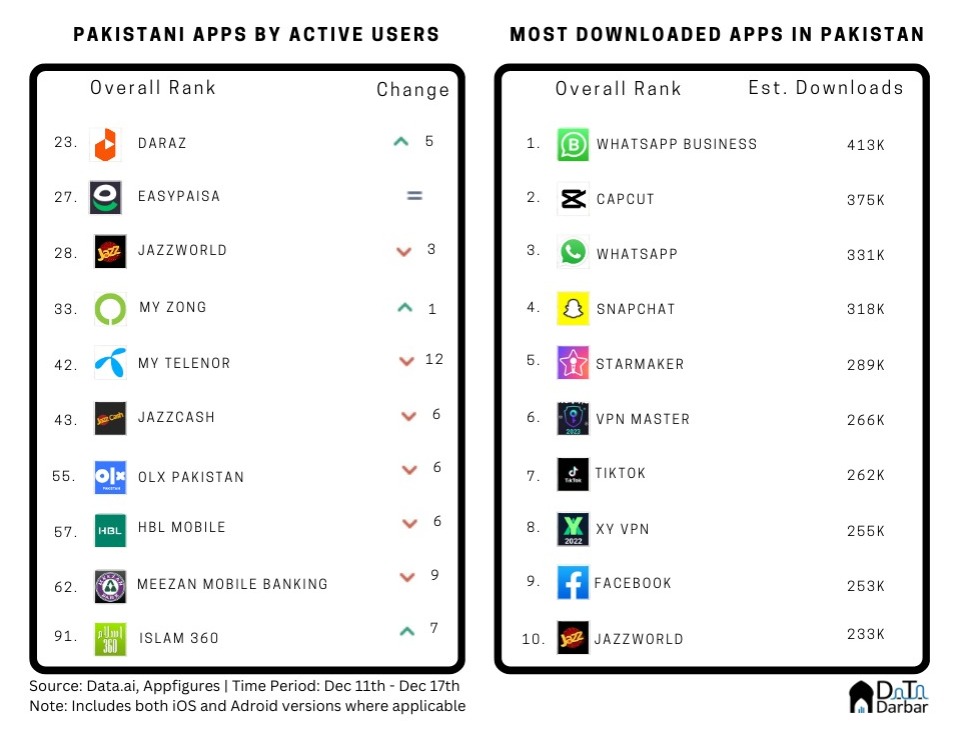 Pakistan's love/hate relationship with Foodpanda
There are two steps to ordering food in Pakistan. The first part involves placing the order while the second is pleading with your Foodpanda rider to not ring the bell and save you from the humiliation of getting scolded by your mother for ignoring her home-cooked food again. Or sending him a dozen "sir kidher" messages when he ghosts you.
In either case, the relationship between customers and riders is rocky. You may get annoyed when they deliver the order late but still can't help and sympathize with them. After all, the gig economy model is extremely rough — only worsened by the rise in fuel prices and Foodpanda's "tough love". Perhaps things would have been different if it weren't such a monopolistic market.
That monopoly naturally manifests itself in the app downloads as well. Sample this: Foodpanda recorded 23.8M installs in Pakistan between Jan'17 and Nov'30, as per Appfigures. In contrast, apps of all major aggregators and eateries (including franchises) had a combined 11.3M. [Note: we had a cutoff of 10K]. Of course, you didn't really need this data to know that Delivery Hero rules the market here, but it's still pretty interesting.
The (lack of) competition between Foodpanda and other food delivery apps
Things weren't always like this though. At some point in the not-so-distant past, we seemed to be heading into a four-player market. Back in 2019, Cheetay dominated Lahore, Eat Mubarak was a rising star and Careem had launched its NOW, pushing its super-app ambitions. Foodpanda too became aggressive during the second half of that year, and further accelerated its growth after Covid-19.
Its average monthly downloads in 2020 shot up to 678K, from 373K in 2019. The company launched Pandamart, shortened the radius, and barred vendors from doing their own delivery. While the latter move didn't sit well with the restaurants, who even boycotted the platform, better service, and a Covid-19 induced-behavioral shift ensured customer demand.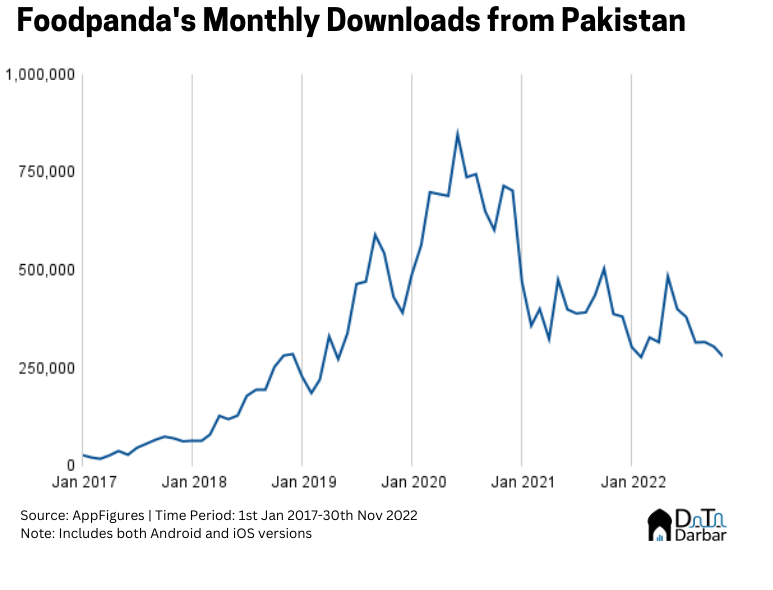 Meanwhile, Careem was neither here nor there in the food segment despite its large customer base on the app. Obviously, Covid-19 had hit its core offering hard, but even before that, NOW was never properly executed. For a brief period, Cheetay tried to take the competition head-on in 2020 and launched multiple cities but it failed terribly.
SaaS platforms and power to the restaurants
Eat Mubarak too realized it didn't have the capital to compete with Foodpanda and pivoted to Blink. And now they are trying to attract restaurants for a different offering: a SaaS platform that automates their ordering system and fleet tracking for a starting annual price of $450. The company boasts a decent clientele, including major brands like Burger Lab, Delizia as well as a few supermarkets.
Instead of Foodpanda, it now competes with Indolj – another order management software for the food industry. They too have quite a few brands on board, from California Pizza to Oh My Grill. For both, the proposition is similar: no need to pay a commission for every order and have control over your own data. To restaurants, they are offering a way to automate operations while still remaining independent.
However, for many of these restaurants, apps may be a vanity more than anything. For example, of the 30 apps listed on Indolj's Google developer account, only three had crossed 10K installs. Blink did relatively better in absolute terms as 10 clients (out of 100) had over 10K downloads, including one at 100K+.
That's more of a boomer jumping on the tech bandwagon thing though: placing an app at the center of any digital strategy. For smaller brands (not just food) with limited technical and marketing bandwidth, the web and socials are far superior channels for business development. Of course, for players like Indolj and Blink, this is an upsell or probably even a regular demand.
For the love of discounts
One area where apps generally work, especially for more established brands, is to engage customers through loyalty programs. Take the McDonald's app (global), for example. Despite no delivery option, it has amassed 4M+ installs from Pakistan by giving customers exclusive deals, and points that can be exchanged for freebies. McDelivery has also tried to replicate this model, offering discounts for app-based orders. Other chains like KFC and Dominos are going for something similar and all three are among the five most downloaded food delivery apps in the country.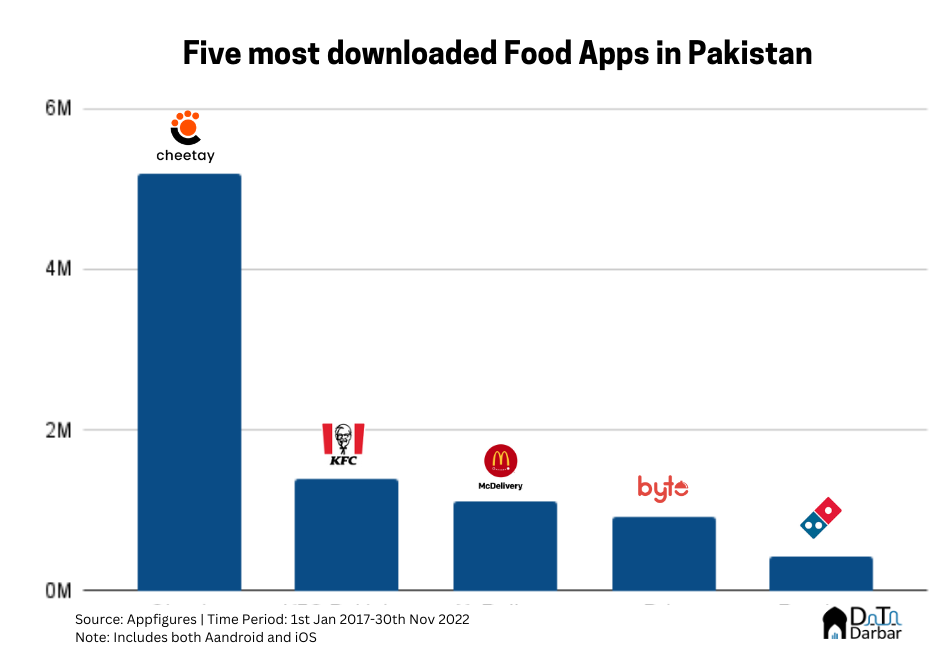 As for aggregation, a couple of players have tried the model but rather half-heartedly. First, there is Byte, with backing from YC, it's yet to move beyond the confines of Lahore. Then we have Zapp, but they have barely anything to show at the moment. With capital drying up and sustainability becoming cool again, it's unlikely for anyone to dethrone Foodpanda in the near future.