Very few companies in Pakistan can truly claim to have disrupted the status quo. Careem? Sure. Daraz? Maybe. But perhaps none as much as Easypaisa, which changed the way money was sent and received in the country. More than a decade later, the company is still at it and will soon be transitioning into a digital bank. Its scale and impact notwithstanding, Easypaisa financials present a completely different picture. That of an entity unable to manage its operations without the generosity of the sponsors.
Read: All you need to know about the new digital banking licensees
So let's dive into the numbers because they don't just tell the story of Easypaisa, but that of whether or not digital banks will be able to monetize effectively. For those unfamiliar, Telenor Microfinance Bank is the financial institution powering Easypaisa, so we will use the two interchangeably where applicable.]
Easypaisa bottomline: redder than the Red Wedding
For starters, it was the fifth consecutive year of net losses for TMB, which reached at PKR 7.1B during 2022. Or $31.36M. Since 2018, the entity has bled by a cumulative PKR 47.4B or $273.7M. These were massive enough to wipe its entire equity for the third time straight, requiring capital injections from the sponsors, Telenor Pakistan and Ant Group.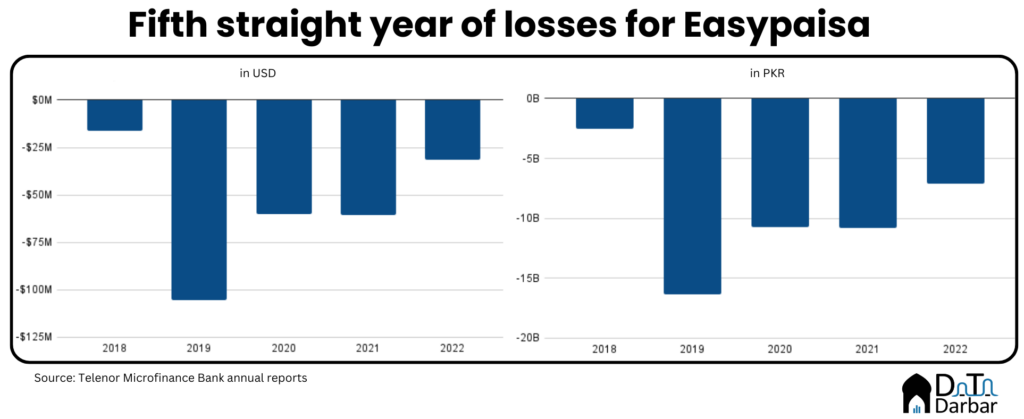 Yes, you read that right. Easypaisa's bottom line is even redder than the Red Wedding, and has been for literally half a decade. In 2018, when it all started, the annual report had attributed losses to an increase in "marketing expense by over four times" to PKR 2.52B in order to grow the digital footprint.
The next year, TMB's lending portfolio unraveled and it recorded a credit impairment charge of PKR 8.87B. This resulted in a negative income of PKR 16.3B or $105.6M. From that historical context, 2022 represents an improvement as losses narrowed by 34.04% YoY in rupee terms. Then in 2020, the company attributed to Covid-19 and low benchmark rates, which affected interest income.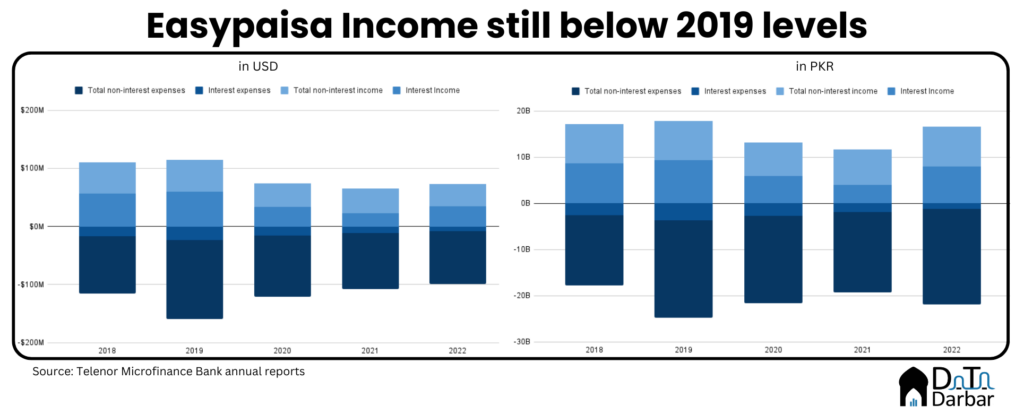 Makes you wonder why despite troves of customer data spanning over years — which is basically how every tech company claims to eventually monetize in the mythical future — one of the biggest digital players is still incurring heavy losses? After how many more will that be rich enough to, you know, make the financial institution profitable? Apparently, it finally did, as TMB CEO recently tweeted.
While the details will become available in time, I looked at the quarterly trend of net income, which indeed shows losses shrinking to PKR 1.1B in Q1-2022, from PKR 3.2B in the same period of last year. That can be taken as an improvement, but honestly, there's no drastic change in the individual line items, especially if you stretch back to the first quarter of 2021.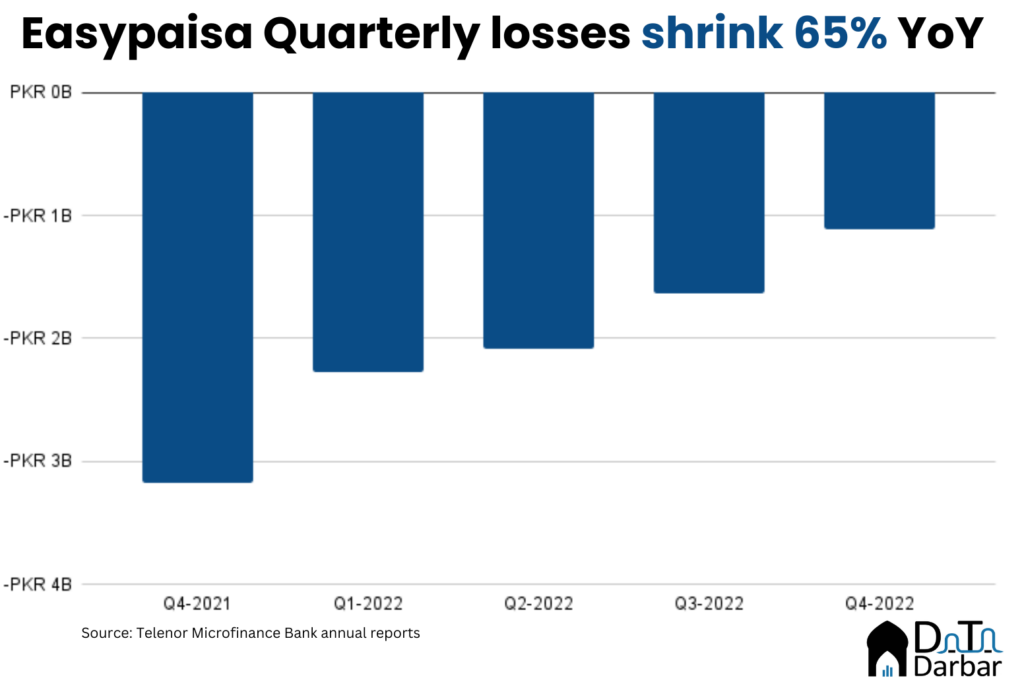 So the only explanation for their reportedly newfound profitability is the increase in policy rate to 21%, which would have pumped the net interest income. Which brings us to how Easypaisa increased its digital lending to PKR 1.46B in 2022, from PKR 505.9M the previous year. However, its overall gross outstanding loans fell to PKR 11.6B, from PKR 11.8B even as the volume grew almost threefold. That suggests a tilt towards nano —  a bandwagon that everyone in the industry is jumping on. 
The Digital Scale
The picture looked far less bleak in terms of digital payments, where Easypaisa continued to show healthy growth. Its value and volume increased 67.2% and 28.8% to PKR 3.89T and 1.37B in 2022, from PKR 2.32T and 1.06B the previous year, respectively. As a result, the average transaction improved to PKR 2,838, up 29.9% YoY.
Similarly, the overall balance in mobile accounts surged 56.85% to PKR 38.2B in the outgoing year, from PKR 24.4B. This represents 43.2% of the total branchless banking deposits as of December 31, 2022. Meanwhile, the total number of active m-wallet accounts rose 16.65% to reach 11.31M. Consequently, the average balance per active account clocked in at PKR 3,383. This put it well above the industry average of PKR 2,083 in the same period.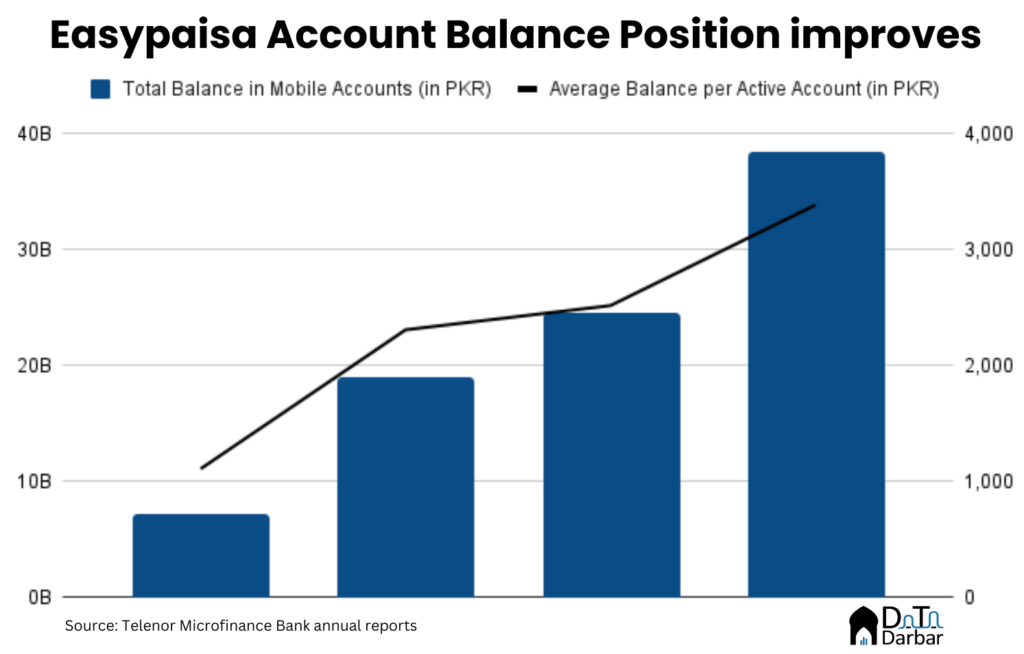 Easypaisa was also the most downloaded finance app in Pakistan in 2022 while its active users jumped 44.7% to 7.29M. To sum up, it did well on pretty much every indicator related to online payments. But that hasn't been enough to turn a profit as the bank has consistently needed capital injections for years. This raises serious question marks over the unit economics of digital wallets.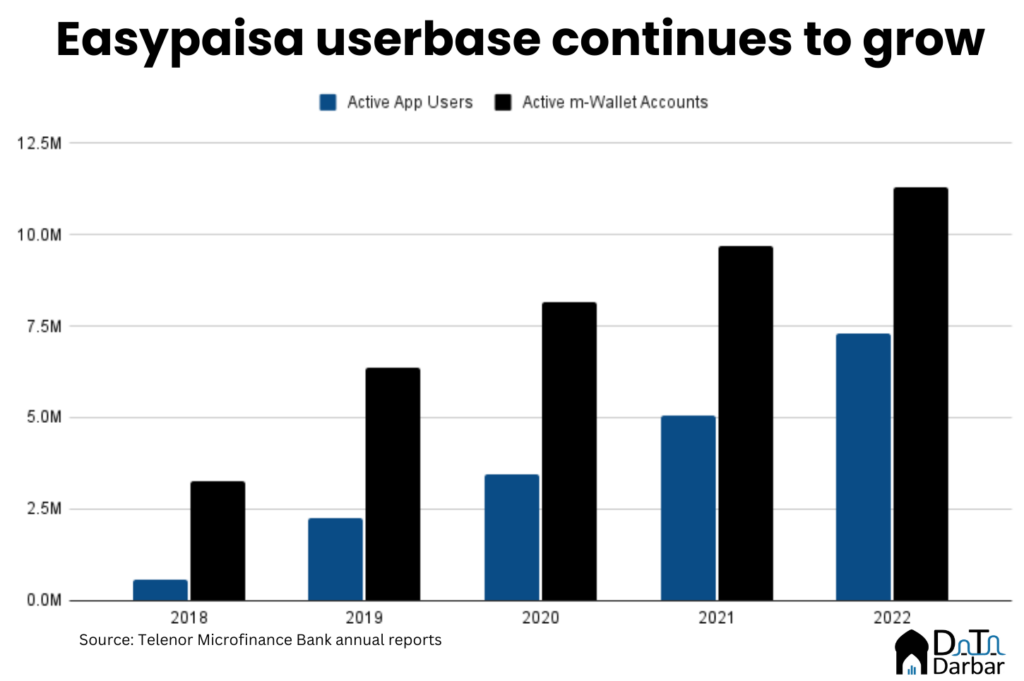 TMB's remedy for this seems to be the digital banking license, which would give them a relatively lower cost of funds. While that may indeed help, it ignores how Easypaisa's bigger problem lies at the non-interest level, particularly with respect to admin expenses. Shouldn't that come down when the bank rids itself of the "cost-heavy" branchless network? Not exactly, because the channel brings in net income. So let's see what the management has in store. You know, apart from the belief that technology can automatically turn turn businesses profitable.