After January saw a lull in startup funding in Pakistan, there are finally some signs of revival. In just a few days, we have seen three deals: AdalFi's $7.5M, Swag Kicks' $1.2M, and Lokal's undisclosed round. A couple more have been closed but not announced, meaning fundraising may not be THAT slow.
Which round among the three really stands out? Of course, it's AdalFi, which managed to raise a seed round on par with 2021 levels. There could be a few explanations as to why they were able to score money when others are struggling. First, the founding team is really seasoned, having scaled Techlogix — one of Pakistan's leading IT services companies. It could also be the sector, as fintech still seems to hold some appeal to investors. Or maybe, it's because they are a B2B startup.
But why would that make a difference, right? After all, B2B seems way less sexy. Or at least did, to both founders and investors until a few years ago. Back in the first wave of our ecosystem, startups were mostly synonymous with B2C marketplaces — for everything from travel to household services. But by and large, they barely had any scale and were mostly operating in select posh localities. There was no capital available to go deeper, honestly.
That changed around 2019, which first saw the beginning of meaningful investment activity. There were nine deals of $1M+, including two above $5M and one $10M+. Truly unprecedented at the time. By the beginning of 2020, it further improved; now we had sizable pre-seed rounds too.
The rise of B2B startups
While capital availability was quite obvious, there was another underlying shift: the emergence of B2B startups. These were looking to solve the country's big problems — from digitizing your neighborhood kiryana to solving their logistics. The pitch was simple: Pakistan has millions of unserved SMEs. Technology has the potential to change that but it requires venture dollars. And well, Investors came out convinced.
From just $6M in 2019, the funding to B2B startups jumped to $14.7M in 2020. Since then, it has only gone up and reached $212.5M in 2022. Similarly, the deal count grew from 11 in 2019 to 29 in 2022 — hitting a peak of 35 in 2021.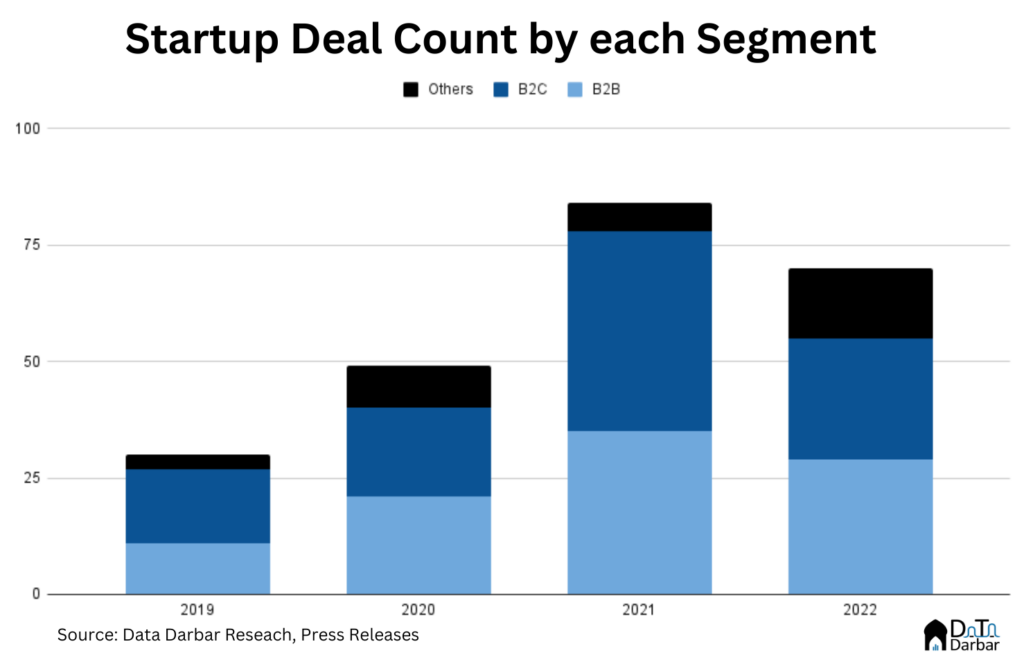 Of course, that is not exclusive to B2B startups; investment has grown at a record pace regardless of the business model or customer segments. But in relative terms too, their share in funding rose from 15.02% to 61.2% in a matter of four years. That's without factoring in the hybrid and B2B2C models, which raked in another 15.6% of all dollars and 21.4% of deals in Pakistan.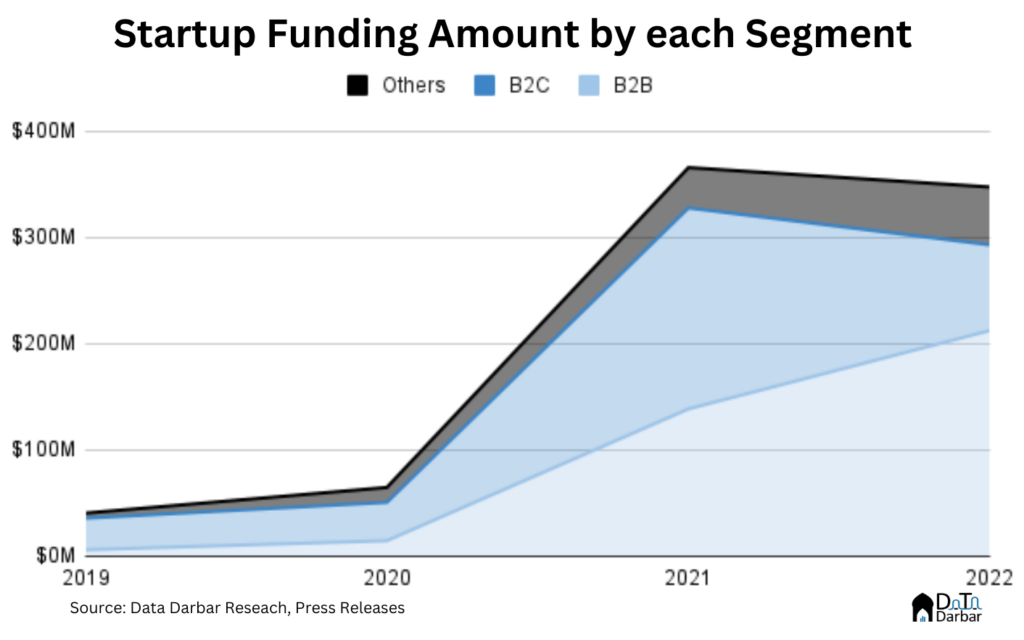 Not only have B2B startups gotten more funding — both relatively and gross — they have also attracted some of the most notable investors globally. That includes Tiger Global, Kleiner Perkins and now Chimera Capital too.
This is across the board, from marketplaces digitizing small retailers to digital trucking platforms streamlining logistics. Since 2019, almost two thirds of all money in B2B has gone towards e-commerce, thanks to the big rounds of Bazaar, Retailo, Jugnu, Dastgyr, and Tajir.
Similarly, the average ticket size of a B2B deal has grown from just $677K in 2019, to $9.7M by 2022. On the other hand, the mean deal value in B2C has risen from $2.48M to $4.03M during the comparable period.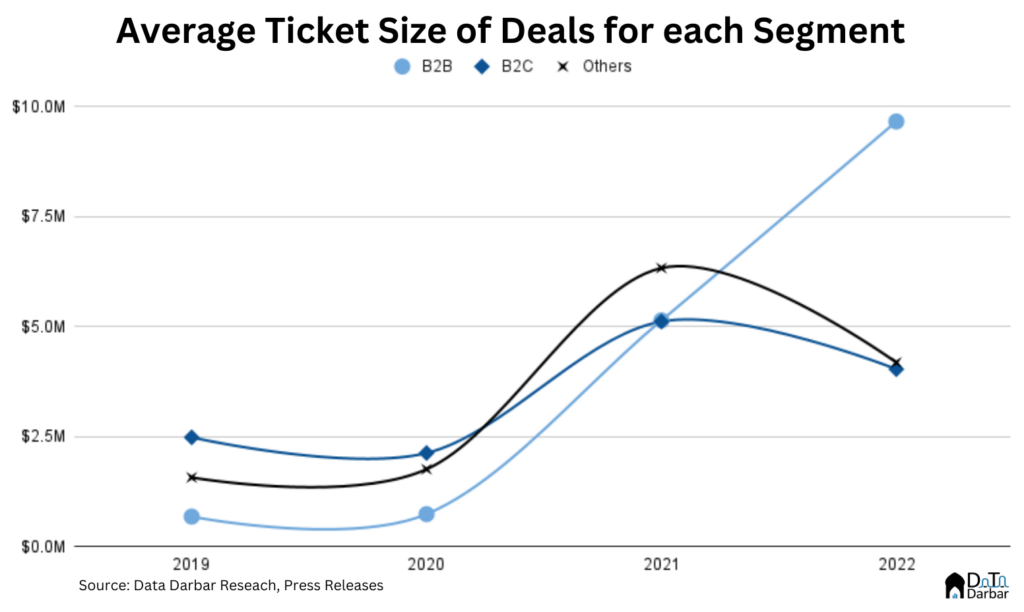 Why it makes sense from a portfolio perspective
But what's all the hype about B2B anyway? Apart from the very obvious inefficiencies in various industries permeating SMEs in emerging markets, there is a portfolio aspect to it too for investors.
According to an analysis by Sapphire Ventures, since 1995, the number of enterprise exits has consistently outpaced consumer exits — hitting a peak of 915 and 395, respectively, in 2021. In terms of exit value, the trend is a little mixed, depending on the time period you look at. For example, in the last decade, B2B has stayed higher for five years while B2C was on top for the remaining half.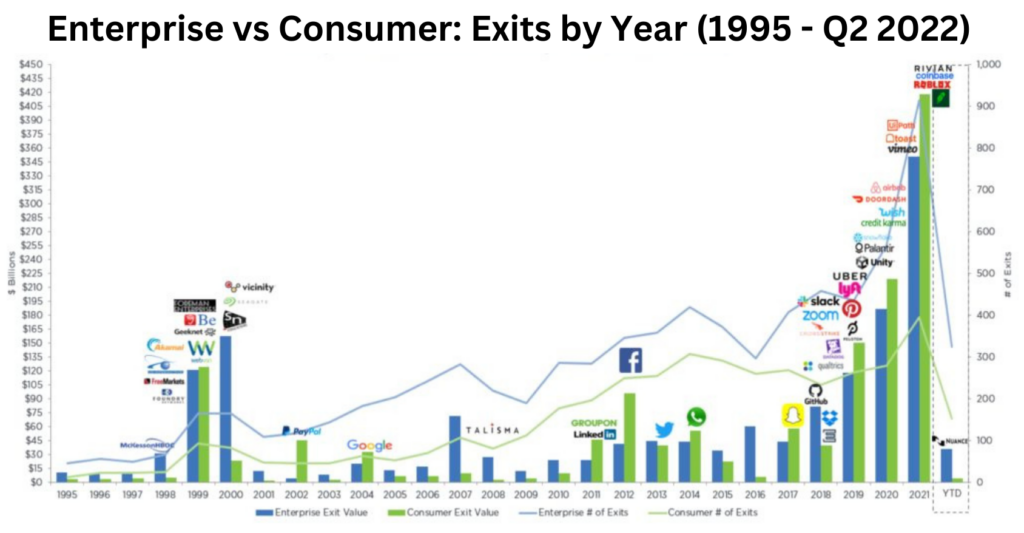 More importantly, "portfolio value creation in enterprise tech is often driven by a cohort of exits, while value creation in consumer tech is generally driven by large, individual exits." In other terms, B2B is like Younis Khan who'd rotate the strike and take singles while B2C is Shahid Afridi — it's all or nothing.
For Pakistan, this bit is extremely important because our markets aren't very liquid and there is a dearth of exits. In such an environment, a series of smaller enterprise exits rather than one huge event of billion dollars is not only more likely, but also might create additional spillovers. However, one major risk is that a lot of B2B activity in the country is also very cyclical and asset heavy — very different from the dynamics of SaaS businesses. However, given how massively underserved Pakistan's 5M+ MSMEs are, there's more than enough juice in the market.