Women's day might be over but those flashy discounts on pink posters are here to stay. At least until another "day" rolls around. It's an annual ritual where brands target their female users in an attempt to boost business and score pinky points. But does it really achieve the desired results? For that, we need to understand how women spend in Pakistan, especially digitally.
How do we do that? Let's turn to Payment Systems Review FY22 which for the first time published some trends on women's financial activity. While they were only half useful (because instead of reporting the actual values, the SBP only trusted us with percentages), let's make peace with what is available. For starters, of all the debit and credit cards in Pakistan as of FY22, 19.1%, and 15.6% had female owners.
Luckily, the SBP does publish the overall breakdown of cards by type. We used that to estimate values for both genders (and 'others', which includes joint and corporate accounts in addition to transgenders). Based on that, women debit and credit card ownership stood at 280.8K and 5.8M, respectively.
This is a slightly better indicator than female bank accounts since it's more tilted towards active users. But this too doesn't tell us much, or at least nothing new as such. So let's look at the trend of transactions through payment cards, which can better reveal how women spend in Pakistan.
For example, women are more likely to use digital payments than men. Of the total female spend through payment cards, 12.7% was on point of sale and 4.4% on e-commerce — both substantially higher than the corresponding figures of 7.7% and 2.5% for males. That means if women are spending Rs100, every Rs12.7 is paid via POS and Rs4.4 through e-commerce.
Volume-wise, women had an even share in POS and e-commerce, at 29.4% and 10.2%, respectively. That's substantially higher than men's 18.3% and 5.5%. Basically, of all the transactions from female cards, almost 40% are truly digital — i.e. not on ATMs.
In other words, women use their cards for cash-related expenses FAR less than men. For fintechs and banks, this should be an interesting data point since it means the female digital uptake is already pretty decent. But why is that? I spoke with a major bank's Alternate Delivery Channel Head to better understand the trend but his organization had never really analyzed this data.
However, he offered a couple of explanations as to why it could be. "For starters, women who have bank accounts are already relatively well-off and educated — two key determinants of digital savviness. Secondly, women often are not the primary breadwinners, leaving them with more disposable income that can go towards dispensable consumption
While the reasoning may make sense, it ignores one thing: women usually manage household expenses even if the card itself belongs to men. So if a wife goes to Imtiaz and pays for monthly groceries (high value) via her husband's card, the data should be reflected in at least a higher POS value for males.
So to better understand the digital spending patterns of women versus men, we reached out to Foodpanda and Daraz for trends. While the former responded that they didn't collect gender-disaggregated data, the latter shared some insights.
According to the e-commerce giant, only 15% of the users voluntarily reveal their gender when signing up. But as per their algorithm, the male-to-female mix is around 70-30. "However, we feel a better measure for this would be to study our orders. On Daraz, female-specific categories have an average of 48% share. We have been actively working to grow our female user base, and it has been yielding great results. Last year, when we ran the WOW Women Week, 80% of our GMV was generated through women-specific categories and we were able to take the active users share of women from 30% to 54%," responded their spokesperson.
Specifically, digitally paid orders — bank cards, wallets and funds transfers — accounted for 50% of all consumer spend and 25% of transactions. And within the latter, over one-fifth came from women. We can't say with certainty if that's higher or lower than their proportionate share, since users are not necessarily customers.
This took us to Similarweb's estimates for gender distribution for select e-commerce platforms in three different categories — electronics, food and groceries, and beauty and fashion. Before even looking at the data, you can probably guess that the female share in the former is probably the lowest.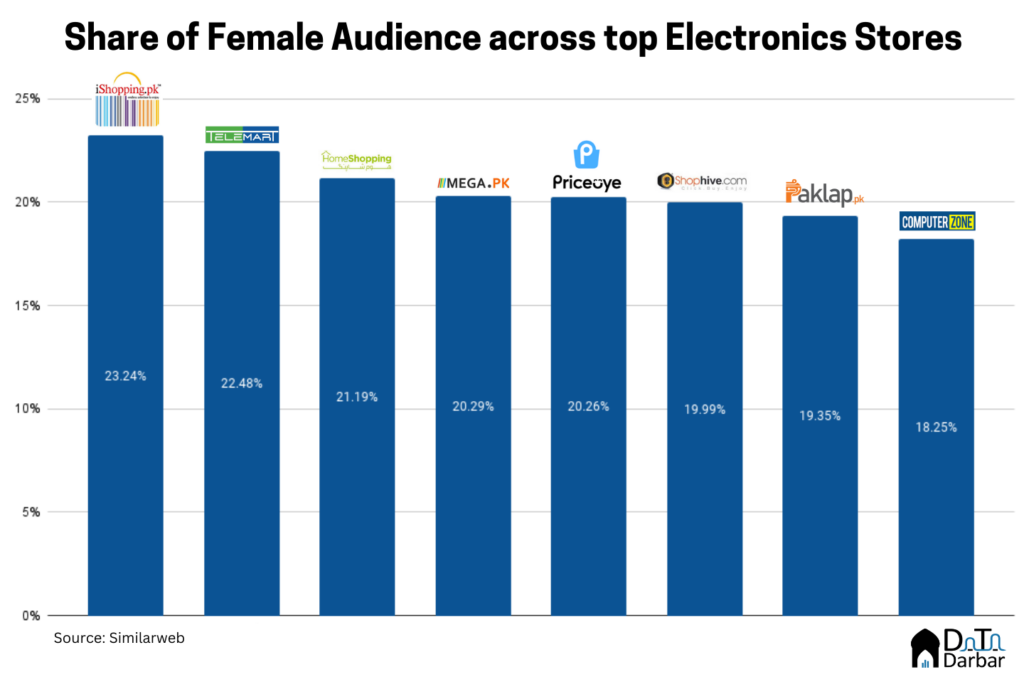 Well, as they say, conventional wisdom is often right. We analyzed eight electronics e-commerce stores and found the average share of women in total users to be just 20.63%. This is much lower than the corresponding figures of 27.43% for food and groceries, and 40.42% in beauty and fashion. Again, these are not necessarily customers, let alone spending via digital channels.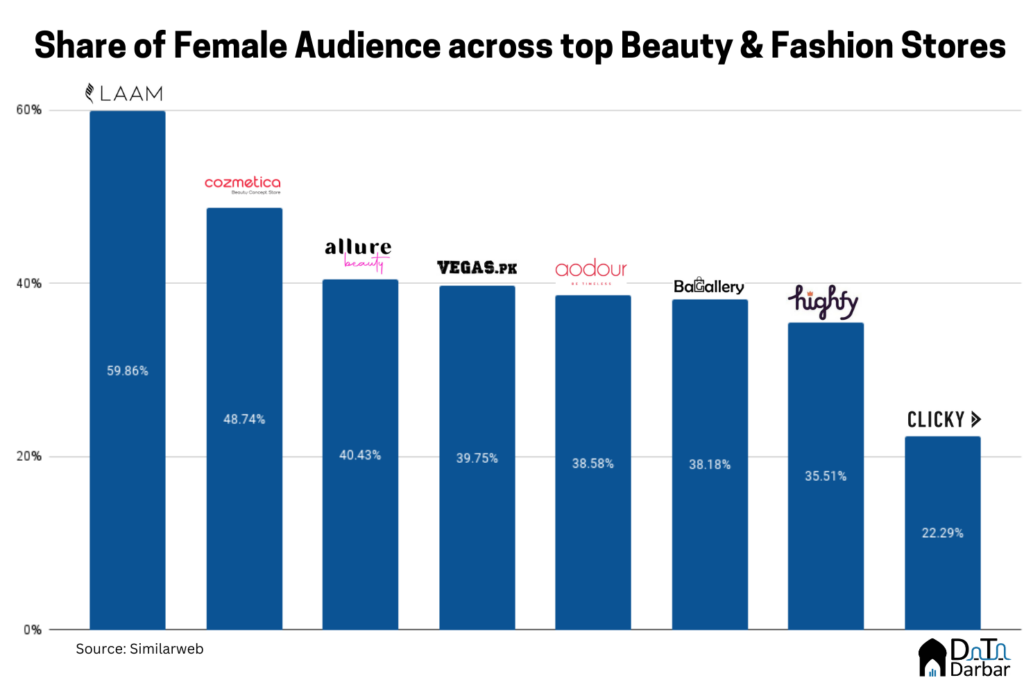 Obviously, it would have been much easier to see how women spend in Pakistan from actual data rather than proxies. But for that, we'd have needed the SBP and banks to publish the gender-disaggregated values. Which also happened to be one of the pillars of the Banking on Equality Policy. Yet one and a half years later, all we have is crumbs in the form of percentages.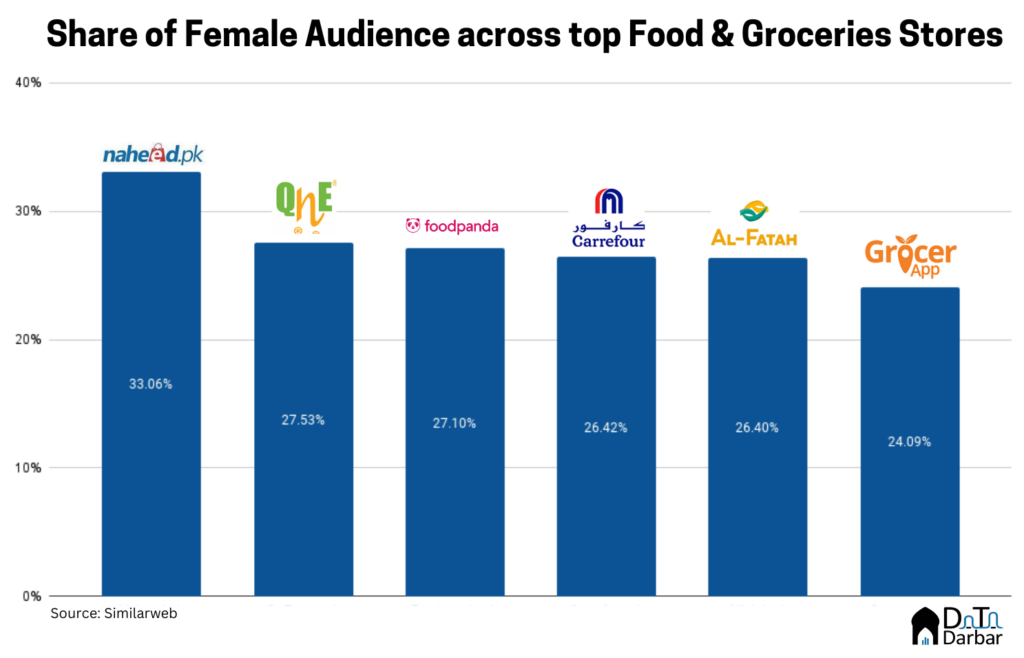 Apparently, it's extremely difficult for both the regulator and the financial institutions to categorize customers and transactions by gender. If the task is so herculean and requires, maybe we at Data Darbar can offer a helping hand. Or perhaps, they actively want to hide the data on women's financial activity because no way someone can be this incompetent (please don't take it as a challenge).