Quick Rise and Subsequent Fall
Few tech companies could match the scale that Careem managed to achieve in Pakistan. In barely two years of operations, Careem had become a household name by providing an affordable and convenient mobility solution in public transport-starved metropolises. But since the onset of Covid-19, the company has been reduced to a fraction of its former self. Rides became more expensive and difficult to find as many of the captains and customers hopped onto competitors like InDriver.
According to an Oxford Economics report, Careem did over 100 million trips in Pakistan during 2019. This translates into an average 8.3m a month and the number continued to hover around 7.8m at the beginning of 2020. But after the Covid-19 lockdowns, it went to an almost standstill. By December, Careem had managed to recover only half of that figure and was doing about 4m rides. The supply situation was no different as the number of active captains stood at 64% of the pre-pandemic levels.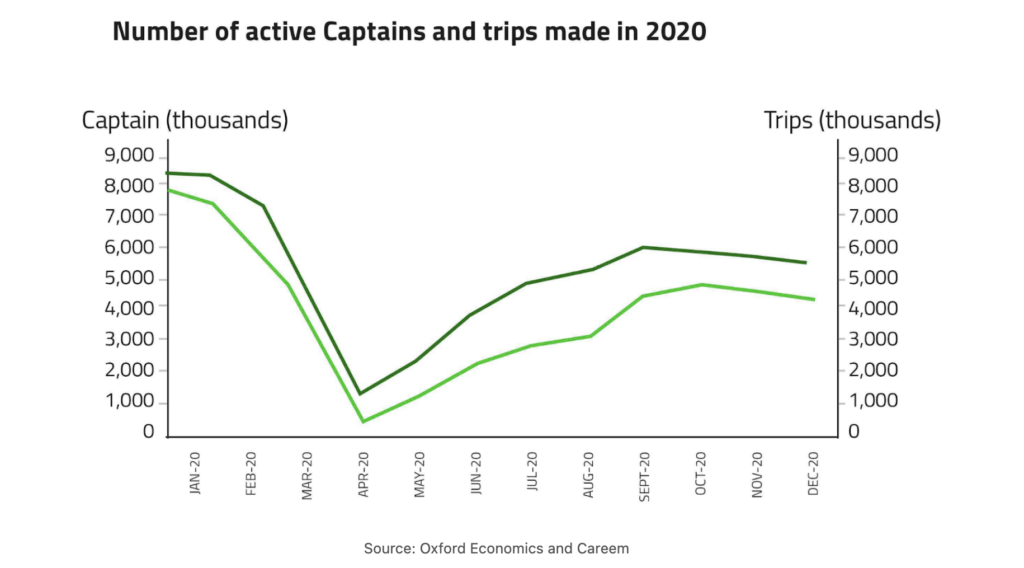 Furthermore, the exit to Uber had put Careem into the consolidation phase. That meant unit economics, not subsidized growth, was now the main focus. This especially hurt markets like Pakistan which contributed to volumes but lagged in value.
The Super App Vision
More importantly, the pandemic changed the mobility market completely as remote work reduced office commute. Even otherwise, ride-hailing glory days were fading away as funding to other verticals such as electric vehicles. Players in the space were aware of this and had already started to add new offerings.
Uber itself had been aggressively moving towards food through Eats and only accelerated that post Covid-19, eventually acquiring Postmates. In fact, it has consistently done more bookings from delivery than mobility for the last eight quarters straight. Careem had also started food delivery through NOW and smart buses, which was shut down after lockdowns.
In mid 2020, CEO Mudassir Sheikha unveiled the super app to give customers new reasons to rely on its services. But that revolved around mobility, which was dwindling. Attempts to enter the open-loop payments space weren't materializing either. As per multiple sources, it was looking to acquire fintech startups but the deals didn't follow through. Neither was there any update regarding its own license from the State Bank of Pakistan.
However, a number of recent developments seem to have breathed a new life into the company. First signs appeared in December 2021 when Reuters reported that Uber was looking for outside investment to inject into Careem. A month later, it shared its plans to hire 200 colleagues to push for the super app vision.
In December, the company disclosed it was resuming bonuses and guarantees to captains. Discussions with their drivers revealed that Careem was offering incentives around Rs1,500-2,000 a day on achieving earnings of Rs4,500. That's exactly how the company cracked supply in its initial years: by giving drivers and car vendors guarantees and bonuses.
Back to investments
While Careem hasn't officially confirmed raising funds, something is definitely cooking as plans to invest $25 million in Pakistan suggest. "As a result of the pandemic and increased fuel prices, Captain economics got impacted due to restricted mobility. Careem has resumed extra bonuses for Captains with special incentives targeted in Karachi, Lahore, and Islamabad. The new rewards will enable the Captains to earn up to 31% in addition to their primary income and make them able to earn up to PKR 170,000," their press statement said. It also reduced the commissions on the bike category from 25% to 15%.
That's on the mobility side. A few days earlier, it also got in-principle approval for Electronic Money Institution from the SBP and spun off Careem Pay as a subsidiary. A former telecom executive, Noman Khurshid, took charge as the General Manager of the new entity, which "plans to invest $50 million to leapfrog the fintech ecosystem in Pakistan".
Once Careem Pay gets a nod from the central bank to operate commercially, it will offer bill payments including utilities, government and education fees, peer-to-peer (P2P) transfers, and wallet cash-outs. The company has also been looking for a Director – Crypto to venture into the blockchain space, adding another dimension to its super app plans.
A new kid on the block
While Careem was focusing on unit economics and ceded customers, a new kid on the block emerged to grab the ride-hailing market. InDriver, a Russian-born but now San Francisco-headquartered company, launched in Pakistan around March 2021, few months after raising a $150M Series C. With no commissions and cash-based payments, it was able to attract drivers quickly which eventually translated into growing demand too.
Thus, InDriver was able to get in the driving seat of the ride-hailing market despite having no physical presence in Pakistan. Estimates from Appfigures show that its Android app has been downloaded around 2.9 million times, compared to Careem Pakistan's 1.5M. But now Careem wants to take back control. Last week, it reduced its commissions on Go and Go Mini in Islamabad to zero, a first in the company's history.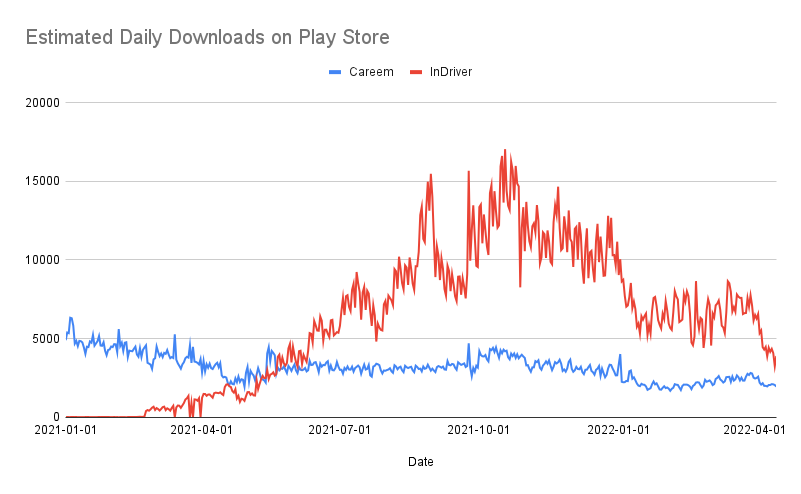 Ultimately, it comes down to who can keep the captains happy with more business and better incentives. That, in turn, is a function of how much money you can spend. With Careem's latest investments and bonuses, coupled with an on-ground team that has delivered in the past, we might see it returning to its former glory sooner rather than later.