Say you want to go watch a movie with your friends. The whole process from buying the tickets, paying your friends for them, and eventually taking a ride to cinema can already be done through your phone. But it requires jumping through multiple apps, like BookMe for tickets, your banking portal for money transfers, and Uber for commute. What if you could do it all from a single platform? Well, that's basically what a Super App is.
Simply put, you build an active user mass (usually through discounts) around a core service and then offer additional services. That helps reduce the customer acquisition costs and increase the average order value, thus making up for neat unit economics in theory.
The success of the Super App model in China and beyond
Any discussion on Super Apps has to start with China where WeChat and AliPay have penetrated every sphere of life from messaging to payments and commerce. In the process, they amassed around a billion people-strong user base. Such scale would be tempting to anybody so it's no surprise that others want to imitate the model, ditching the conventional wisdom of specialization.
Whether it's the UK-based Revolut trying to build the "first truly global fintech Super App" or retail giant Walmart entering the domain of financial services with Ribbit Capital, there are many takers of this idea. In Southeast Asia, Gojek and Grab pulled it off while Tata and Reliance are aggressively doubling down on their respective Super Apps.
However, while this concept is still struggling to catch on in the West, in Asia, Super Apps define the internet. According to FT Partners Research, one of the biggest barriers to that is competition from players like Google and Apple. Meanwhile, Asia's success has often been attributed to the amalgamation of physical and digital experiences – referred to as Phygital.

Veon did it first (and failed)
Pakistan is no stranger to this concept either. The country's very first foray into multi-purpose apps was Jazz's attempt at becoming the WeChat for Pakistan with Veon. A self-proclaimed personal internet platform, it brought communication, social media, payments, and e-commerce on a single app with the potential for third-party integrations. Similarly, Inov8 Limited's FonePay also tried its luck at becoming Pakistan's first fintech Super App.
However, the conditions that fostered the growth of similar apps in China or elsewhere were largely absent in Pakistan. For example, tech adoption was extremely low as the broadband penetration stood at only 27% as of FY18.
Return of the Super App
But over the past couple years, Pakistan's digital ecosystem has progressed by leaps and bounds. That has reignited interest in Super Apps, both from long-time believers and new takers. Among the former, Careem and Bykea have been two of the earliest proponents of this idea. Both started with mobility but have since entered payments and delivery of goods.
In fact, Careem recorded 443,000 transactions across peer-to-peer payments and mobile recharge in Pakistan during 2021. Bykea has also been actively pushing Bykea Cash and commerce, that accounts for some 25% of the orders. Meanwhile, Tellotalk went all out from the onset by bringing messaging, news and music on a single platform.
Perhaps the least vocal, yet most aggressive, has been Daraz as it doubled down on Super App ambitions. In addition to e-commerce, the company already boasts a sizable user base for payments and streaming, which it entered after winning the rights for the 2021 T20WC. According to Profit, the app saw a total of 350m views during the tournament.
The newer players have also jumped on this bandwagon with multiple product roll-outs even as they call it the "operating system" instead of the Super App. Take Bazaar and Retailo, which started with e-commerce in 2020, but have since launched ledger apps and BNPL. Or Udhaar Book and Digikhata, who have added store builder to their portfolios. That also seems to be Jazz's strategy after Veon's failure. The telco has since split up its countless offerings, from streaming to Agri, into unique apps.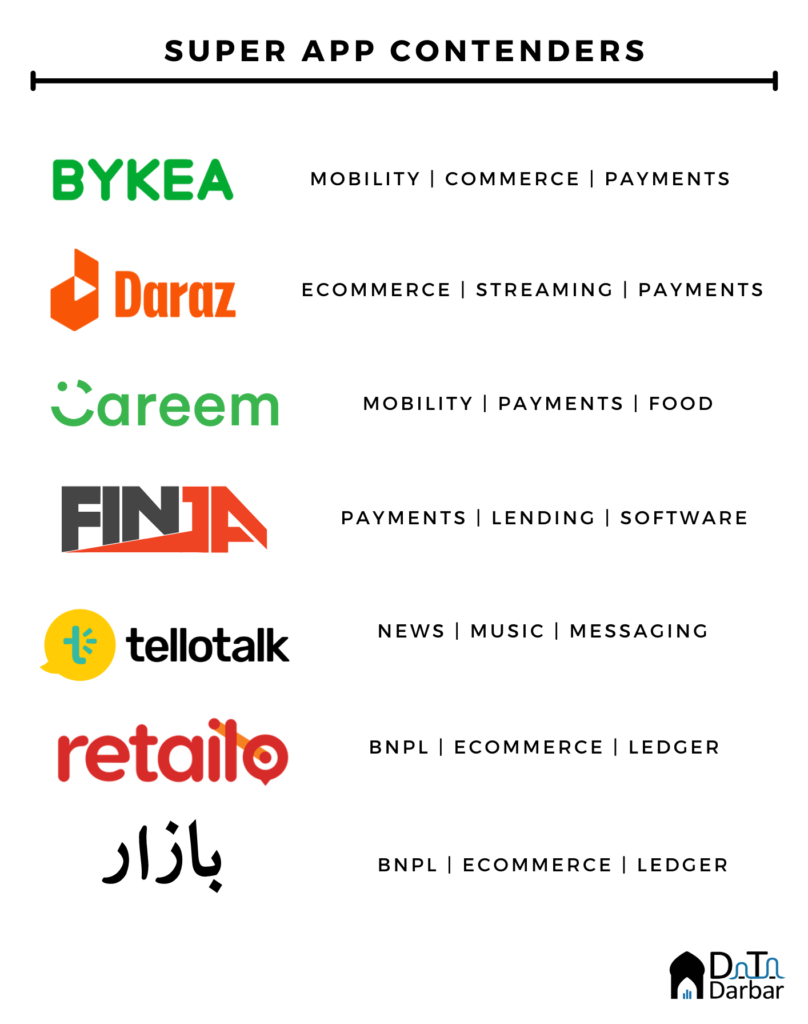 Payments: The magic ingredient
For those who have studied business, the Super App might sound similar to a conglomerate – only digital. Well, there's one big difference: payments. Be it Amazon in the US, AliPay from China, Rappi in Latin America and so on, they all offer payments.
Most Super App aspirants in Pakistan are no different in this regard, even as their specific approach may be. Where Finja and Careem have gone directly for the EMI license, Bazaar and Retailo want to better understand transactions through ledger apps and then use that data as a sales funnel for their e-commerce and BNPL.
Still too soon to say what works best but payments are an extremely tricky business for it's usually regulated. That comes with many costs, and delays, thus affecting a startup's speed of execution. It also needs a lot of cash, which for now at least is coming in aplenty. But most importantly, it's a very high-volume game in an increasingly competitive market.
That's where building a core customer base sticky enough to not switch at the first sign of discounts comes in. So far, few players in Pakistan have managed to do even the first part, let alone the second. But that's what's gonna take to get there.