Pakistan has extremely shallow public markets, where the number of investors has failed to cross 300,000 in 75 years. This limits the available liquidity, in turn preventing some of the most lucrative companies to list themselves on the bourse. The lack of investable businesses then discourages people from taking exposure to the local equities. It's a chicken and egg problem. While there are countless reasons for this, one has been the lack of Exchange Traded Funds (ETF) in the country, which essentially allow investors to take exposure to a certain sector or theme in a cost and tax-efficient manner.
That changed in March 2020 when two ETFs finally debuted on the PSX. In the subsequent months, the number increased to six. However, they failed to attract any interest from the market as volumes remained dismal.
Between Mar 24, 2020 and Sept 9, 2022, the average daily volume of ETFs stood at just 56,028 shares. That represented a mere 0.06% of the overall market activity of 374.4M. In almost 2.5 years since the first listing, there have only been 14 occassions of an ETF generating a volume of million shares or more. That's around 644 trading days.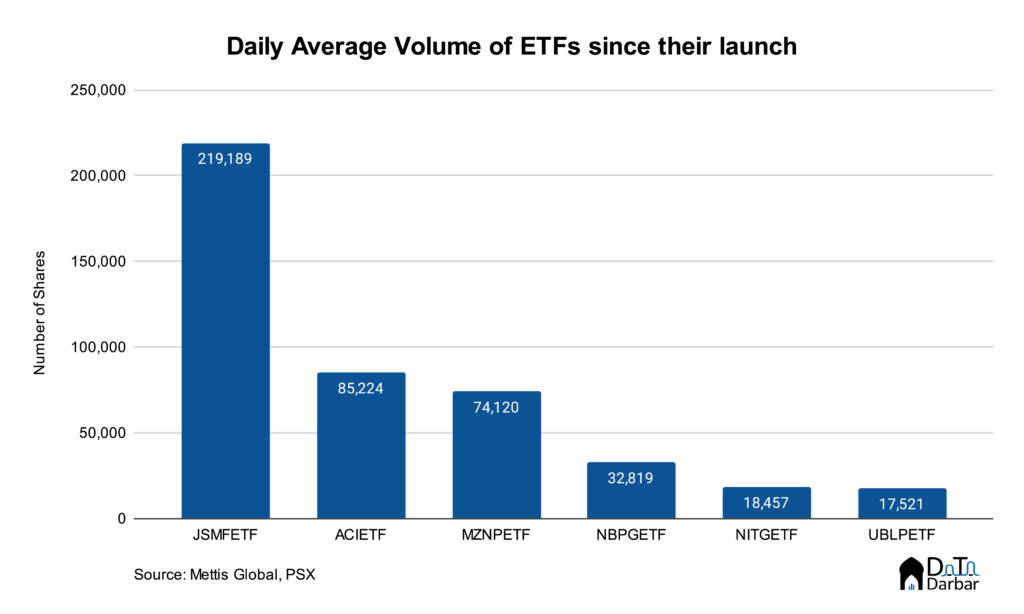 Then HBL Total Treasury ETF (HBLTETF) debuted on Sept 12, raking in over 45 million shares on the first day, leading the volume tally. To put things in context, the number is almost 5x the volume of other six ETFs combined since their launch. This was the first time ever that an ETF topped the volume charts. Previously, only once had any ETF managed to break into the top five volume leaders: Bank Alfalah Consumer ETF at fourth place with 6.8M shares, back in Jan'22. The sector accounted for 27.93% of the market volume on Monday, or 466x the daily average!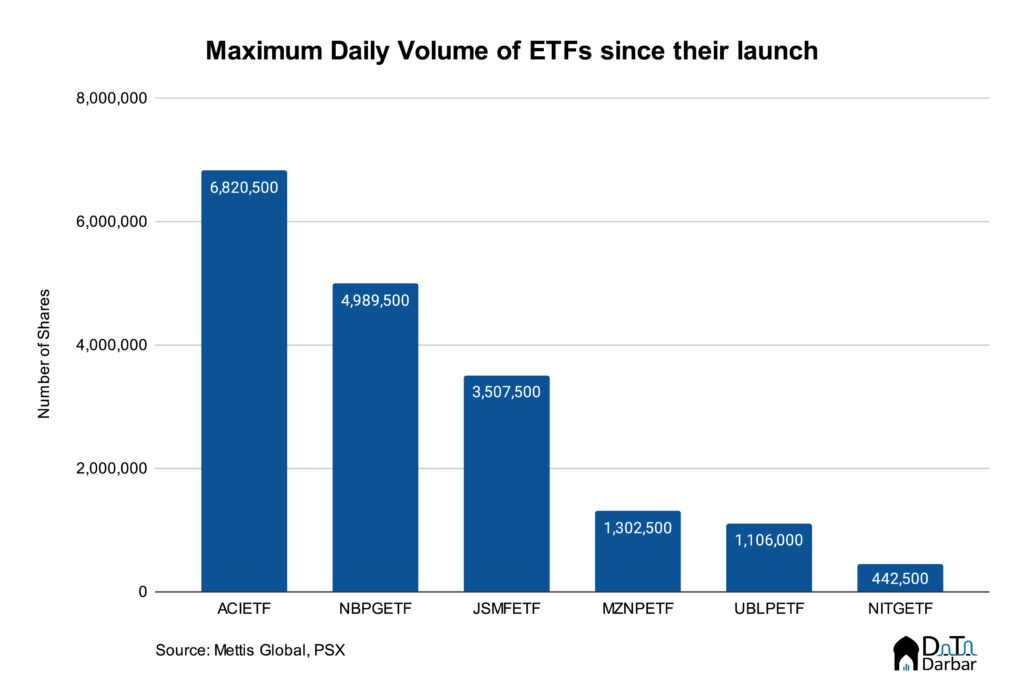 The question naturally becomes: wehre this activity? According to a market source, this was probably a technical glitch. "There was no trading until noon but when I checked in the evening, volume was 45M," they said. The theory does make sense considering that the total outstanding shares of HBLTETF are just 5M.
That's how big an outlier yesterday it was. What explains such an outsize number? As per market sources, HBL AMC is actively trying to encourage trading for its ETF. Shoaib Lalani, co-founder of the investment app Finpocket, attributes some of the activity to the nature of product. "Unlike other ETFs, which are equity, this gives investors the chance to take exposure to fixed income as well," he says.
On Tuesday, only 26,000 shares of HBLTETF exchanged hands while the overall sector volume stood at 49,500. Now the question is, will the trading activity of Sept 12th be a one-off or it could actually trigger some interest in this asset class? Though the market participants sound optimistic, it's always wise to not pin any hopes on the PSX.