You've probably been bombarded with advertisements about the "first digital telco" offering the cheapest data packages in the country. With lots of hype, an interesting color scheme, and a youthful logo, ONIC has kicked off its marketing campaign, reaching you pretty much everywhere on social media. But what exactly is ONIC, and what's so new about it?
The Basics
Branding as a 'digital telco', Onic describes itself as "a digital platform that provides seamless connectivity, effortless accessibility, and endless opportunities to engage, create, and collaborate whenever and wherever you want. We do this by offering simple, stress-free, high-data plans served on a digital-first experience – together with exciting lifestyle offers and benefits."
That's a lot of corporate speak without really saying much, so let's try to filter through the noise. A lot of people were under the impression that ONIC is a new entrant — most likely a Mobile Virtual Network Operator — in the country. However, the Pakistan Telecom Authority clarified this wasn't the case and that Pakistan Telecommunication Company, the parent of Ufone, owns the brand.
An MVNO is essentially a telecom provider that relies on the infrastructure of another established operator or MNO. This removes the first expensive step while still allowing the operator to offer innovative value additions without the initial sunk cost. For the MNO, the key benefit is that it can utilize excess capacity. In 2009, the PTA introduced the Framework for MVNO Services in Pakistan, pegging the license fee at $5M.
But what's ONIC? At least one leadership position holder wrote in his bio "Building Pakistan's first MVNO". However, there has been no report of ONIC having acquired any such license, which the Pakistan Telecommunication Company (PTC) would have to disclose, given it's listed on the stock exchange. This confirms that ONIC is only a new brand. People who aren't lockdown babies would remember Djuice by Telenor. It used to be the cool thing back in the day, and was the first to introduce cheap SMS packages. So it's pretty similar to that.
Mckinsey describes these sub-brands as 'digital attacker' brands and claims that they may contribute ~25% of the overall gross additional subscribers to incumbent operators within four quarters of launch and that these subscribers are 5% more profitable than the regular ones.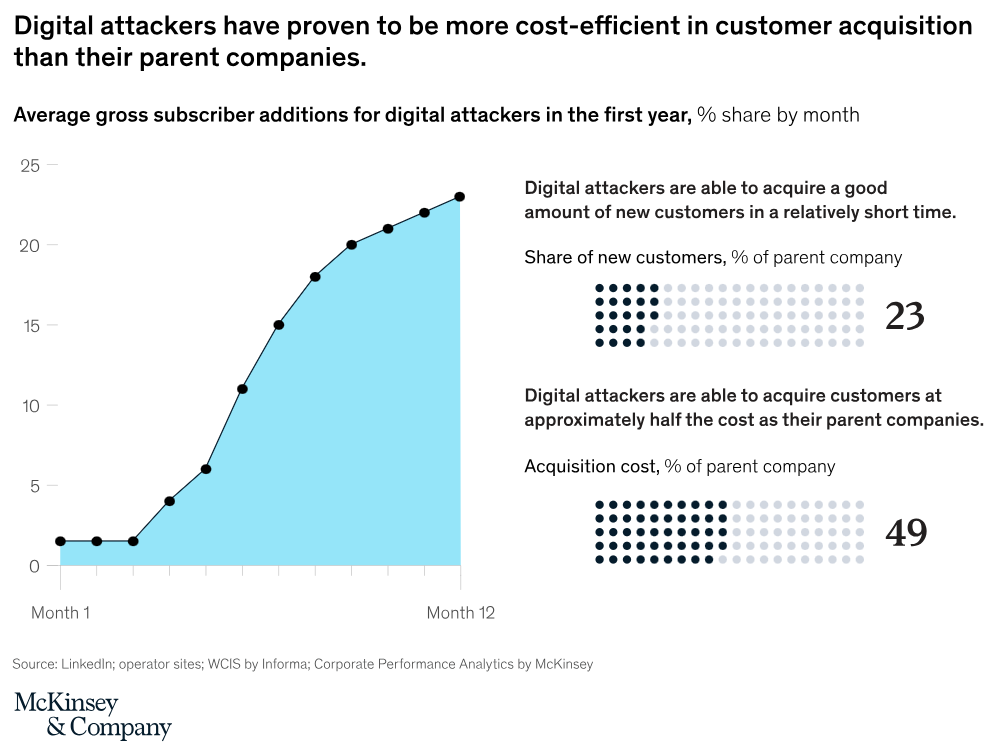 Circles.Life x e&
The launch of ONIC is the result of Etisalat's repositioning as the Emirati telecommunications services rebranded itself as e&. Last year, it announced its ambitious plans to transform into a global technology group and also bought a 50.03% stake in Careem's super app business worth $400M in April 2023. On 24 May, e& International entered into a strategic partnership with Circles, a technology company from Singapore, to "empower its network of Mobile Network Operators (MNOs) and other operators based in the region to launch digital telco brands that deliver delightful digital experiences for the digitally savvy generation."
Circles X is the technology and platform that Circles will provide, allowing e& to launch digital telco brands across its many subsidiaries. Bypassing the legacy systems and institutional inertia that comes with established MNOs, CircleX will claim to enable MNOs to launch digital brands within 6 to 12 weeks.
The rationale behind new brands
Flanker brands aren't exactly new in the telecom, as operators around the globe have experimented with this strategy. According to GSMA Intelligence, over 200 of these sub-brands have already been launched. The goal is to capture different customer niches, often by positioning as a hip alternative for younger audiences.
Now, the question is, why does PTC want to do it? Let's look at some history and economics to understand that. When all telcos were jumping on the 4G bandwagon, Ufone missed the memo and instead stayed firm on 3G. As a result, while the other providers are well above 20M subscribers each for 4G alone, Ufone touched 15M across technologies both only a few months back.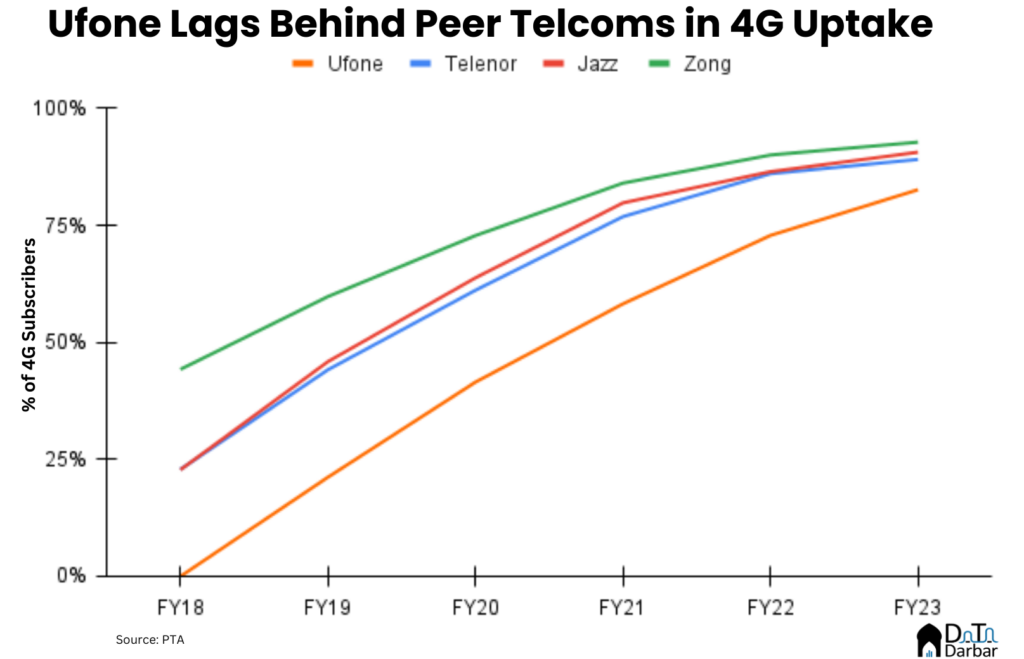 Now, onto economics. You see, telcos traditionally used to get most of their income from selling voice. Primarily because people were using WhatsApp or other messengers for communication. Personal text messaging (as opposed to B2B communications) pretty much disappeared, and value-added services started fizzling out too. This, along with rupee depreciation, has put serious pressure on the average revenue per user, which stood at just PKR 232 in July-Sept 2022.
Pushing it up requires more customers that are using broadband instead of just voice. And that's where Ufone really lags, standing in fourth place. This kind of explains the marketing campaign around high-volume data packages at minimal prices and being digital first. How are they doing that?
For starters, the packages are designed from a data-first view, with even the basic one offering 30GBs for PKR 890. That limit goes up to 200GB, which is almost on par with some fixed broadband providers. Among new brands, including the MVNOs, voice, and messages are secondary and often given in excess. ONIC is offering 5,000 minutes (without distinguishing between on and off-network) and 1,000 SMS.
Risk and Reward
We tried to compare the pricing of ONIC with existing providers and created a simple price-competitive index1. While Telenor surprisingly topped it, ONIC came in second. What's interesting but expected is that Ufone takes the last place. Therefore, you can see why it would want to launch a digital brand to shake up things.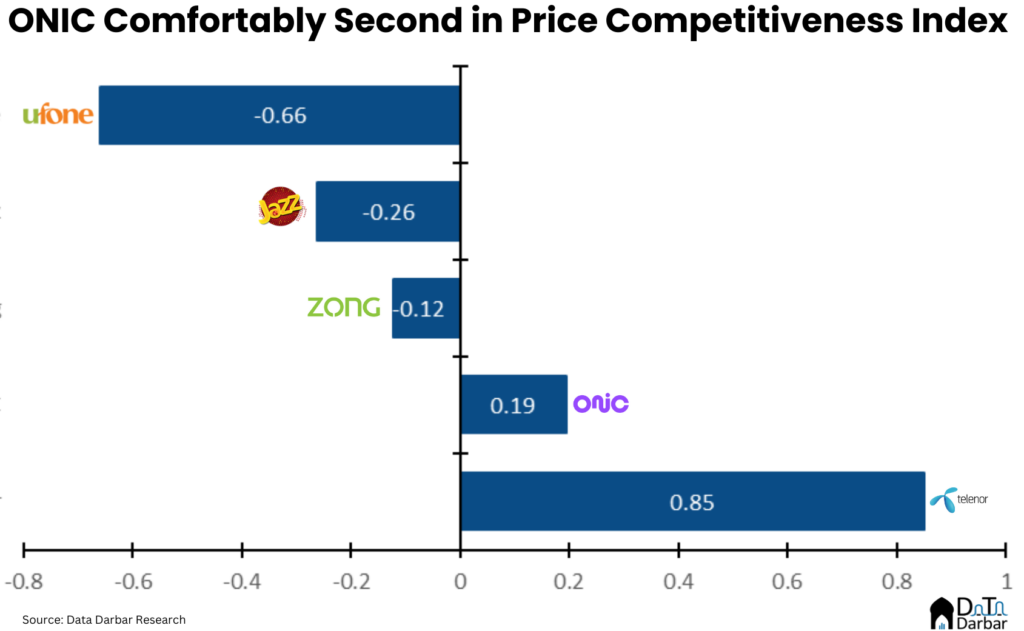 Though discounted prices may lure customers in initially, can it be sustained? Especially considering how telcos are struggling to maintain their ARPU, let alone grow it. Recently, Telenor's outgoing CEO talked about this and how they want to focus on higher-value clients. We have also seen that shift in tech companies too. That said, e& has all the money in the world to bleed money for prolonged periods. Let's see if they do.
Correction: A previous version of this article stated that Etisalat has acquired a stake in Careem. It was in Careem's Super App, and not the ride-hailing business.
Methodology: A weighted multi-variable index was created using the following variables: variation of price from the sample monthly plan, MBs, minutes, and SMS. The weights were decided using their proportionate share of telecom revenue. The sample packages were selected based on their proximity to ONIC's standard monthly package in the number of GBs in the plan. Off-net and On-net minutes were standardized using a weighted ratio that gave more value to Off-net minutes. ↩︎