There's a lot of hype around Pakistan's digital payments, especially as to how fintechs will change the ecosystem forever. Perhaps they will, but data suggests that the shift is already well underway, mostly led by banks. Shocking as that may be.
Before we get into that, let's understand what channels of payments exist in Pakistan and what they include. First is obviously the paper-based instruments such as over-the-counter cash deposits and withdrawals. Then you have PRISM, a high-value real-time gross settlement system, to which only 59 entities in the country have access. This is what banks use to send proceeds among themselves, or how money flows into government securities. Finally comes "e-banking", which comprises seven channels:
Real-time online branches — that facilitate transactions between branches
ATM
Internet banking
Mobile Banking
Call Center/IVR
Point of Sale
E-commerce
As a primarily retail channel, e-banking is what really matters to us. But not all of it is truly digital, at least from a user's perspective. RTOB and ATM are largely cash-based so we'll ignore them from our analysis. Instead, we will stick to POS, e-commerce, internet, and mobile banking. So let's unpack the data the SBP published recently.
Mobile Banking
For years now, mobile banking has been the fastest-growing channel. That trend continued in the latest quarter as throughput soared 81.9% YoY to PKR 5.3T, from PKR 2.9 T. Remember, this is already coming off a high base. Similarly, the number of transactions jumped to 155.3M in Oct-Dec 2022, from 94M in the same period last year.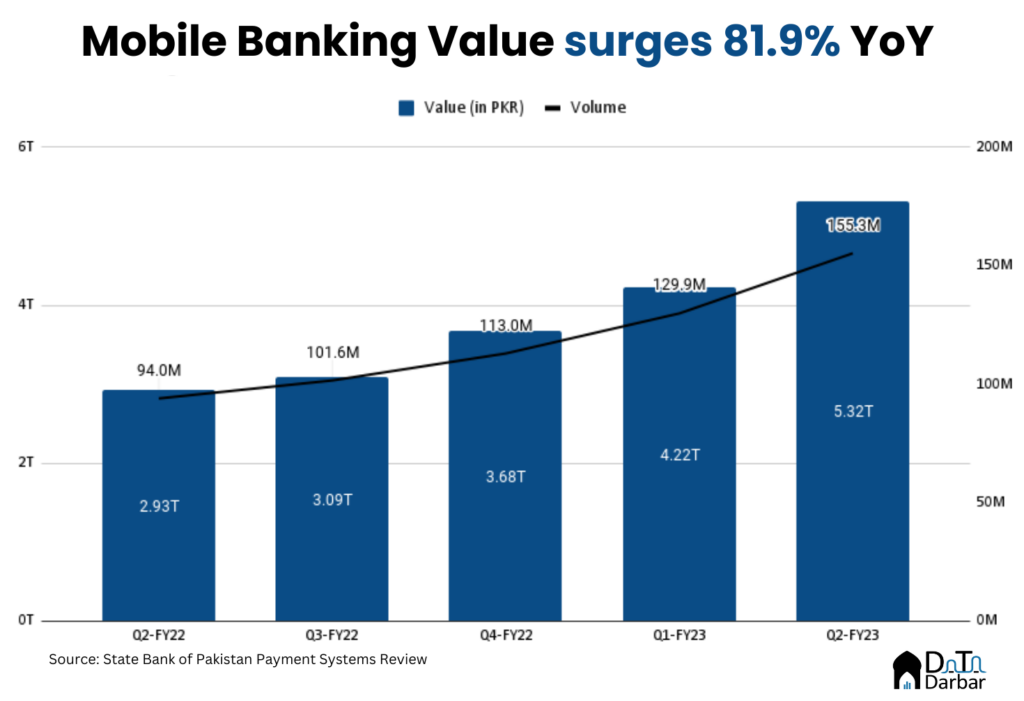 This makes mobile banking the second biggest channel in e-banking in terms of value and volume. Meanwhile, the average transaction improved further to PKR 34.3K during the last quarter of 2022, from PKR 31.1K in the same period last year.
Put another way, mobile banking accounted for 25% of all paper-based and e-banking transactions during Q2'FY23. A year ago, that share stood at 18.7%. So basically, not only has this channel grown the fastest, it increasingly accounts for a greater proportion of the overall pie.
Internet Banking
Internet banking posted a healthy performance, with throughput growing 58.6% YoY to PKR 3.8T in Q2'FY23. Volumes were up 34% to 45.3M during the quarter, from 33.8M in the same period of last year. As a result, the average transaction increased to PKR 84.9K, compared to PKR 71.7K in Oct-Dec 2021. However, it was still lower than PKR 94K in Q1'FY22. The reason ticket sizes are higher is because this channel also includes corporate accounts.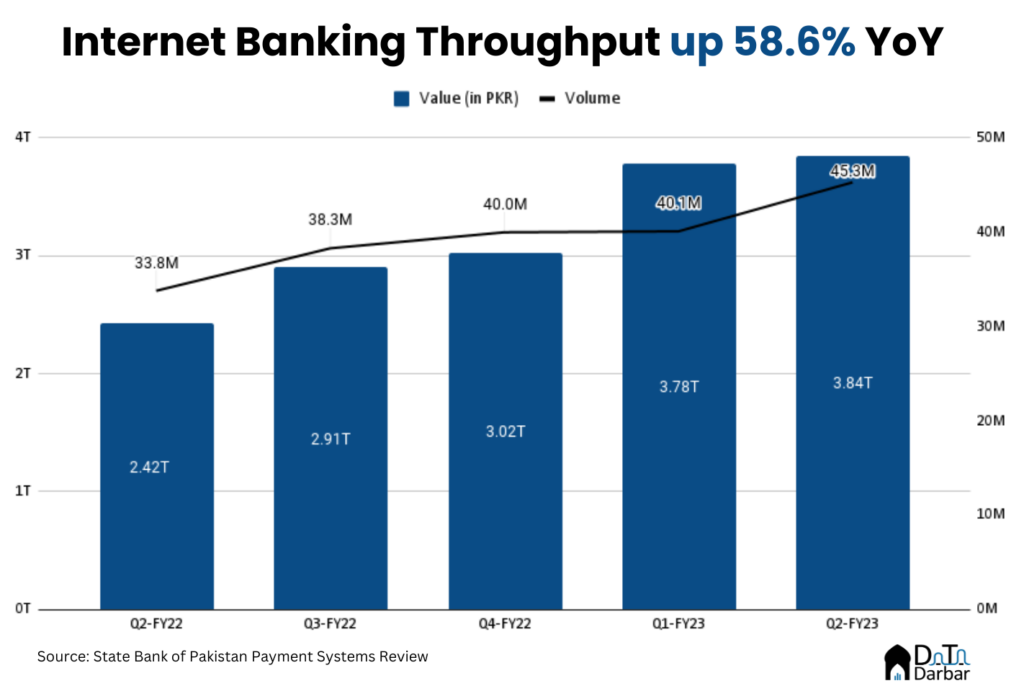 E-commerce
If there was any doubt before, it should be clear now: e-commerce is slowing down in Pakistan. Nay, it's actually declining. Digitally paid transactions fell to 8.2M transactions, down almost 40% compared to 13.6M in the same period last fiscal year — which was also the peak quarter. However, throughput has continued to edge up consistently, reaching PKR 34.2B.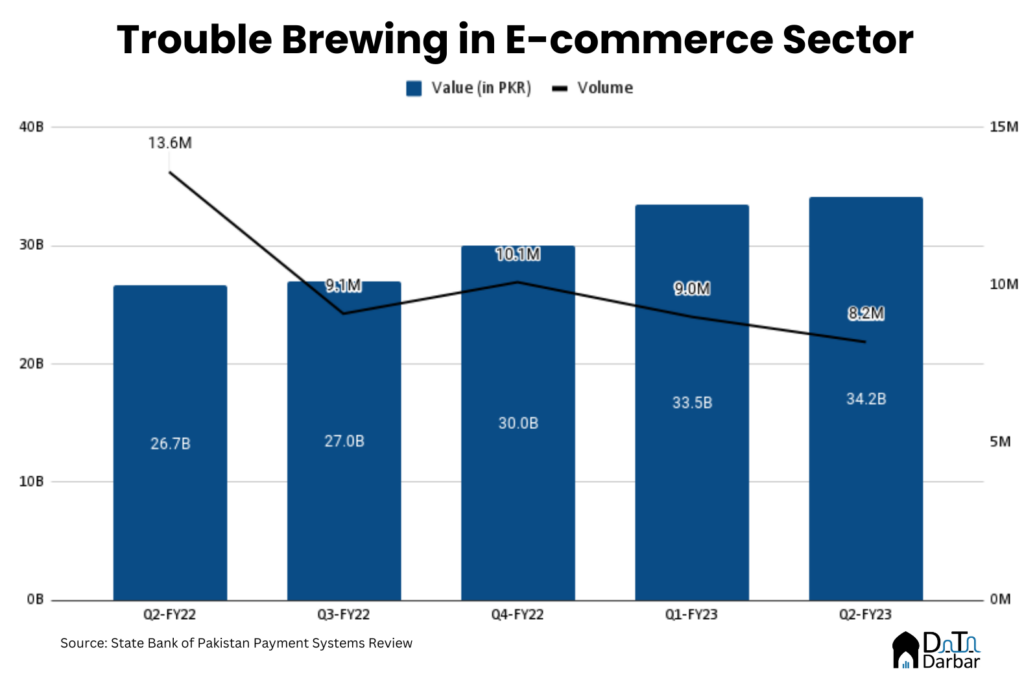 Similarly, the number of merchants registered with banks clocked in at 5,954 by December 2022. This is ~2,000, or 50%, higher compared to 3,968 in the same period last year. For the first time, the SBP also disclosed e-commerce merchants of EMIs too, which reached 5,484. Do note that there could be an overlap between the two.
There was trouble brewing on the issuing side too — meaning spend via Pakistani cards and not necessarily on local merchants. The number of transactions came in at 12.7M during Oct-Dec 2022. While this represents growth of 6.7% compared to the previous quarter, it's considerably lower YoY. Even the throughput edged lower by 1.7% QoQ to PKR 73.8B — the first time it happened since early Covid-19 when there were lockdowns.
Point of Sale
Meanwhile, point of sale continued its run, with the number of terminals reaching 108,899 by December 2022. The ecosystem has lately seen a number of players enter, including Meezan, OPay, and Paymob. Similarly, acquiring throughput clocked in at PKR 266.6B during the quarter, up 49.7% YoY from PKR 178.1B. Volumes surged 60.2% to 50.3M in Q2'FY23, from 31.4M.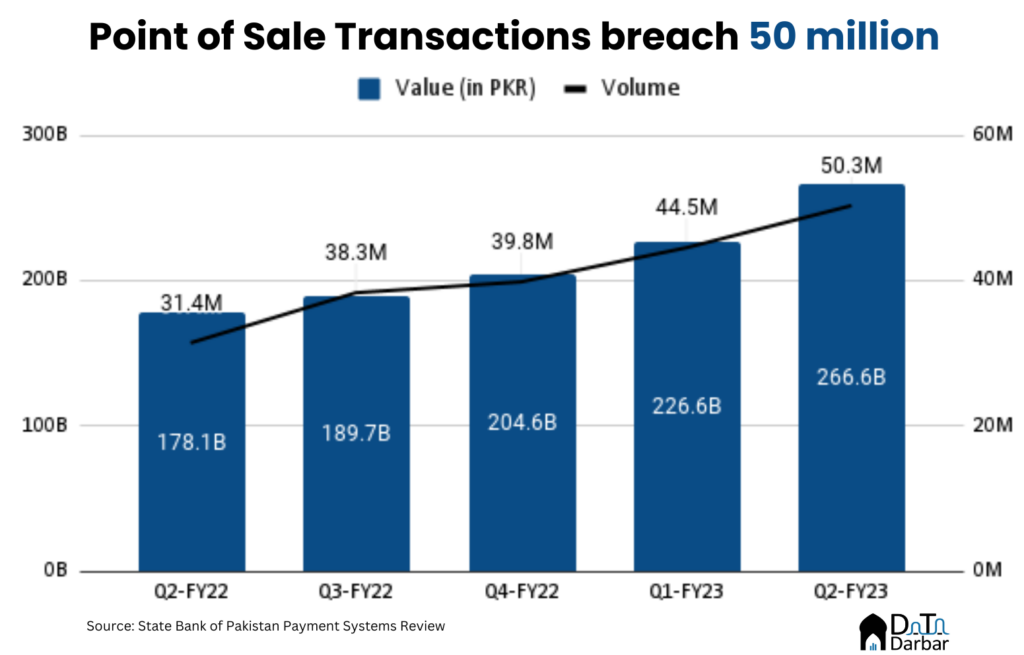 POS activity had only begun to pick up two years ago after a regulatory change started reaping dividends. However, recent changes in the merchant discount rate regime have put the industry on the backfoot.
What lies ahead for digital payments?
Going forward, Raast will continue to be the key driver of Pakistan's digital payments ecosystem, by hook or by crook. However, in order to unlock its true value, the use case has to evolve beyond p2p transfers where it doesn't really offer much additional utility. This is where person-to-merchant and pull payments could potentially change the game, the former especially with respect to the economy's documentation.
Gradually, the numbers from Electronic Money Institutions are also beginning to show in Pakistan's digital payments data. However, their scale is unlikely to prove any match to incumbents. In any case, there is a serious need to develop other verticals in fintech, especially credit to traditionally underserved segments. And for that, the macro economy will need sustainable growth, no matter what.