Welcome to the 13th edition of Appistan. It was a pretty dull week for the apps ecosystem, no new movers made it to the top 10 of the Data.ai Activer User Ranking between December 18th and 24th. Daraz retained its leadership, despite slipping by three notches. Islam360 also made major strides but that wasn't enough to change its spot. Downloads-wise, CapCut had a great week with 482K installs while StarMaker couldn't retain its stardom. For this deep dive, we finally looked at Jazz Pakistan's OTT strategy and how it has become one of the biggest players in the space.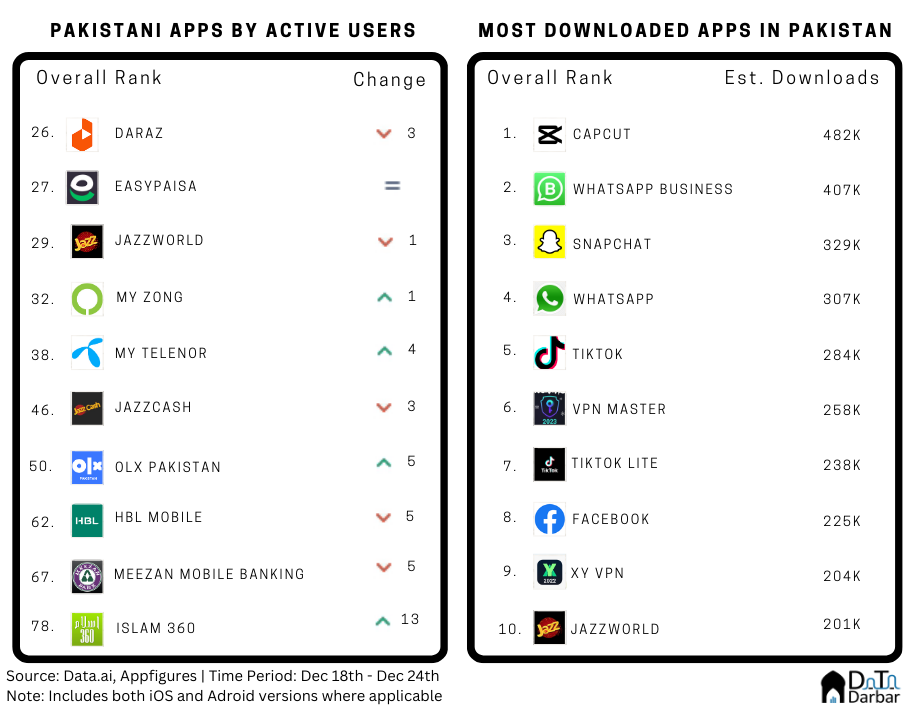 From Super-App to unbundling of apps
Back when money was pouring into startups and it was all about growth, everyone wanted to build a super app. Careem was obviously the most vocal proponent but it wasn't the only one. Bykea and TelloTalk had long been staunch believers of the idea, and newer players also seemed to be jumping on the bandwagon.
But long before them, it was actually Jazz Pakistan that first flirted with the idea of a super app. As part of a global push into OTT, the company launched Veon, a personal internet platform inspired by WeChat, in July 2017. And they didn't shy away from coughing up money.
A Profit story from 2017 noted: "According to people familiar with the matter, the company has spent in excess of $100 million as part of the launch evident enough from a lucrative launch ceremony in Lahore, a nationwide ad campaign, and promotions like free nuggets pack from McDonald's and Rs3000 worth of credit for shopping at ChenOne, a high-end chain of fashion and home accessories, available to all those downloading the Veon app."
However, this adventure lasted barely two years. In February 2019, Veon had been removed and all that money seemed down the drain. Well, not exactly. While Jazz Pakistan did abandon its super app ambitions, it didn't give up on the OTT and unbundled the offerings instead. Sort of, because many of the products existed earlier too but were never really pushed much.
Currently, Jazz Pakistan has at least 25 unique apps live on different storefronts (without double counting iOS and Android versions). That obviously doesn't really mean anything in itself, but the impressive bit is how many of them have decent scale. In fact, nine of these have crossed one million installs on Google Play, including three to have surpassed the 10M mark.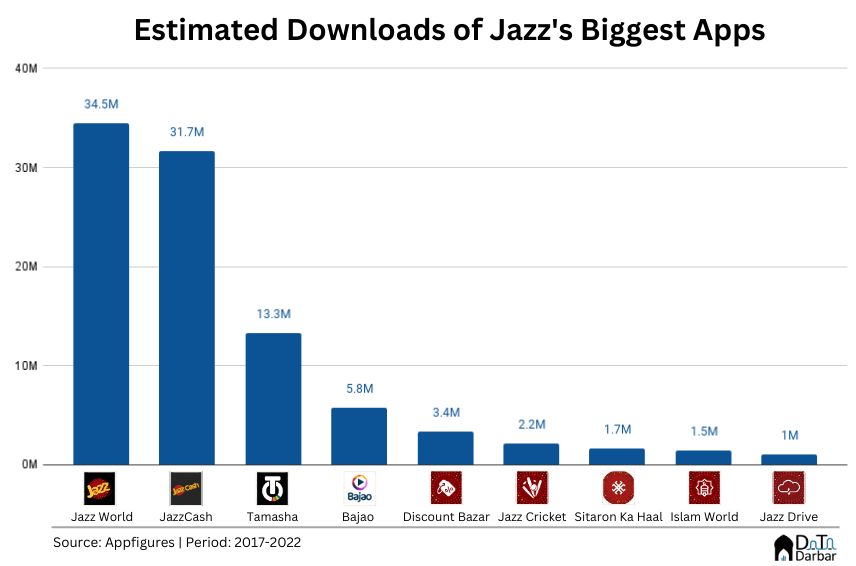 For those who haven't read the previous issues of Appistan, this is pretty damn good by Pakistani standards. Besides a couple of gaming studios, Jazz probably has the biggest apps portfolio in the country by downloads. The nine apps from Jazz over the 1M mark combined have around 95M installs, according to Appfigures.
It goes far beyond just downloads. Three of these are actually market leaders. Jazz World usually tops Data.ai's weekly active user ranking while JazzCash is already the biggest digital wallet in the country. Lately, Tamasha has also been capturing the video streaming market and is the most installed app in the category in Pakistan, even edging out Netflix. Bajao, though behind Spotify, has also done well in audio.
In 2022, Jazz World, JazzCash, and Tamasha were the core focus of the company's OTT strategy. These and BiP, a Turkish-origin communication platform they recently launched here, which is currently trending ninth in its category on Google Play. "We are always scouting for new opportunities to further expand our portfolio though," says, Aamer Ejaz, Jazz Pakistan's Chief Digital Officer.
Finding success in scaling its OTT strategy
So we have established that the company is doing something right somewhere with respect to its OTT strategy. But what makes unbundling more successful than the super app approach? "Every category can have its own super app, like Tamasha for entertainment or JazzCash for financial services," says Ejaz. He adds: "Part of the reason why Veon couldn't fly was that the tech and design were centralized and not localized enough."
This time, they have built an in-house team that not only is decentralized and localized. Another difference is how they are trying to dissociate the apps from Jazz itself to reach a broader audience. Basically, make it network agnostic. And so far, this seems to be working.
When the company launched Veon, there was one simple reason. WhatsApp had heavily dented the use of calls everywhere, including Pakistan, and that was eating away Jazz's revenues from voice. While it has grown its data business to PKR 27B in 3Q2022, that hasn't been enough.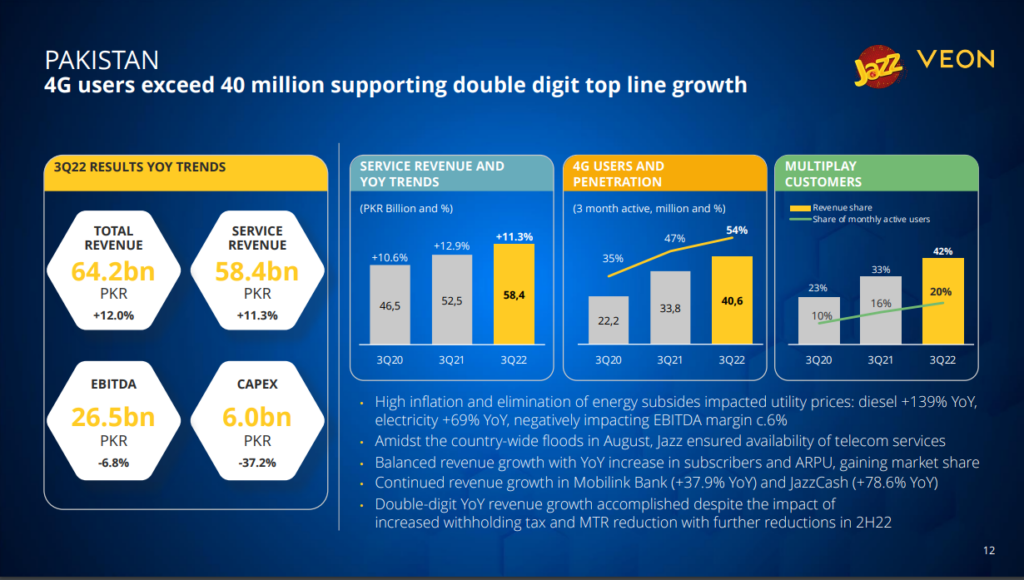 It's a tough market for telcos in Pakistan, which face two major problems: they earn in rupees and invest in dollars. When the local currency is consistently depreciating, it's extremely difficult to increase the average revenue per user (ARPU). This is where the OTT strategy comes into play: it creates new use cases for customers and helps increase the topline.
"The ARPU of a data customer is higher than that of a voice-only user. Similarly, people using Jazz World generally do more transactions," he says. "For now, we look at data and digital as one picture," Ejaz adds. According to him, the company has over 13M multiplay MAU — i.e. customers using more than two services.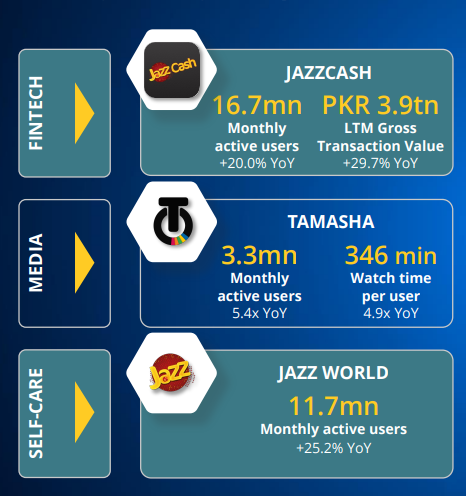 The road ahead for Jazz apps' portfolio
While Jazz World may help push up the number or value of transactions of a given user, it's JazzCash that brings the most revenue on its own. In 9M2022, the microfinance bank behind it reported a net markup income after provisions of PKR 8.6B. Meanwhile, Tamasha is still in the early phase where user acquisition trumps monetization.
"For now, we are using sports streaming as hero content to help attract more users. The issue lies with filler, as Pakistan doesn't produce a lot of its own local content. Dubbed has a huge market but that involves forex, which is always a risk," says Ejaz. "To promote Pakistani content, we recently made exclusive agreements for two movies: London nahin jaungi and Parde me rehne do." And now, they are doing what every OTT eventually ends up doing: launching Originals.
Other telcos also have a similar playbook: they either run an app in-house or go via the traditional value-added model by partnering up with other players. Telenor already has EasyPaisa and is trying its luck with Goonj, though both have their fair share of troubles. Zong too has a video streaming platform and recently launched PayMax, a digital wallet. The simple idea is the same: engage users with add-ons because voice alone won't be able to cut it.
This model has worked well regionally: in neighboring India, telcos like Jio and Airtel hold some of the largest app portfolios in the country. But can Pakistan-based players successfully replicate it and build a strong app monetization channel? At least Jazz seems to be on the right path there.