Pakistanis are obsessed with content, as the success of Tiktok and other such platforms has shown. Obviously, it's no surprise in an overwhelmingly young country where access to the internet is growing by the day. For example, broadband subscribers have more than doubled from 44.6M in FY16 to 118.8M by FY22. Naturally, these users are turning to digital platforms for their content consumption, be it news, sports, or other entertainment. However, this trend doesn't only apply to short format, but the broader video streaming landscape as well.
This has attracted a number of contenders, both local and international, to cash in on the growing demand. The market is far bigger and more diverse than what many of the Pakistani Netflix users imagine. And it's growing fast too. For this analysis, we limited our lens only to the players who had a mobile app (Android or iOS) since the universe of web-based portals is too complex to track.
Even based on this criteria, there were as many as 35 players either operating or popular in Pakistan. Excluding all news live streaming and exclusive products of cable TV companies. Some of the names, such as Rakuten's Viki – known for Korean content – are not exactly present in the country but still find some viewers.
Between 2017 and June'22, apps based out of Pakistan alone have seen almost 33.8M downloads globally, according to Appfigures estimates. That doesn't include Daraz since its entry into streaming as there's no way to separate e-commerce and streaming downloads. But based on market estimates, it accounts for a significant share (thanks to cricket tournaments). On the other hand, international OTT players managed to get 23.9M downloads from Pakistan during the same period.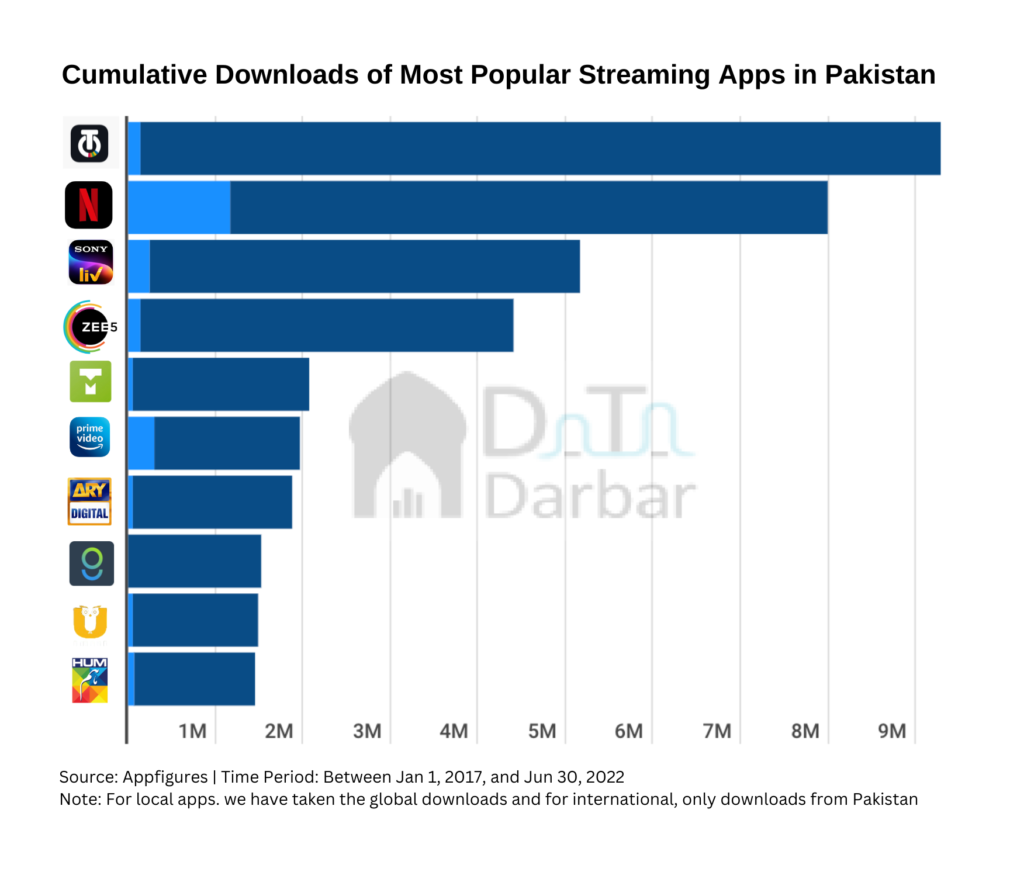 Of course, not all downloads are users and even after that, metrics like average session duration are better KPIs. Plus, in most cases, there's going to be web users as well. To account for the latter, we also looked at the traffic for selected players. There, Netflix remains the undisputed king where its monthly traffic has grown from just 149K in Jan'17 to 2.8M in Jun'22, as per Semrush. Meanwhile, the monthly website visits for SonyLiv and Zee5 have wildly oscillated during the comparable period.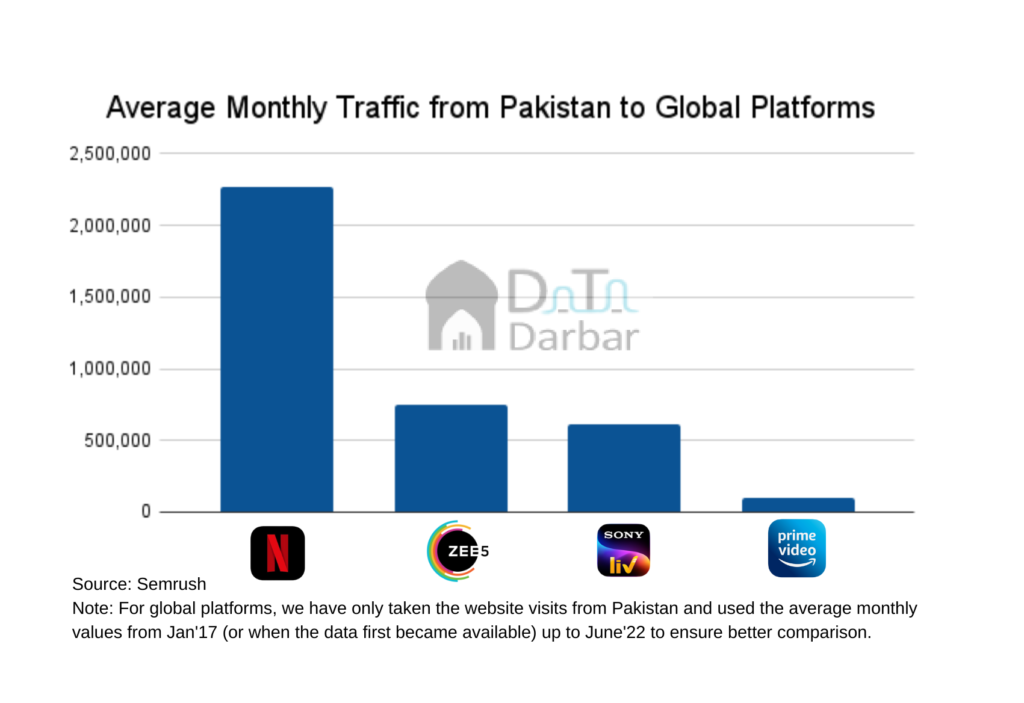 Among the local video streaming landscape, ARY Digital leads by a margin and has seen its web traffic increase from 171K in Jan'17 to reach 636K in Jun'22. Meanwhile, Tapmad has grown the most over this period and closed Jun'22 at 291K.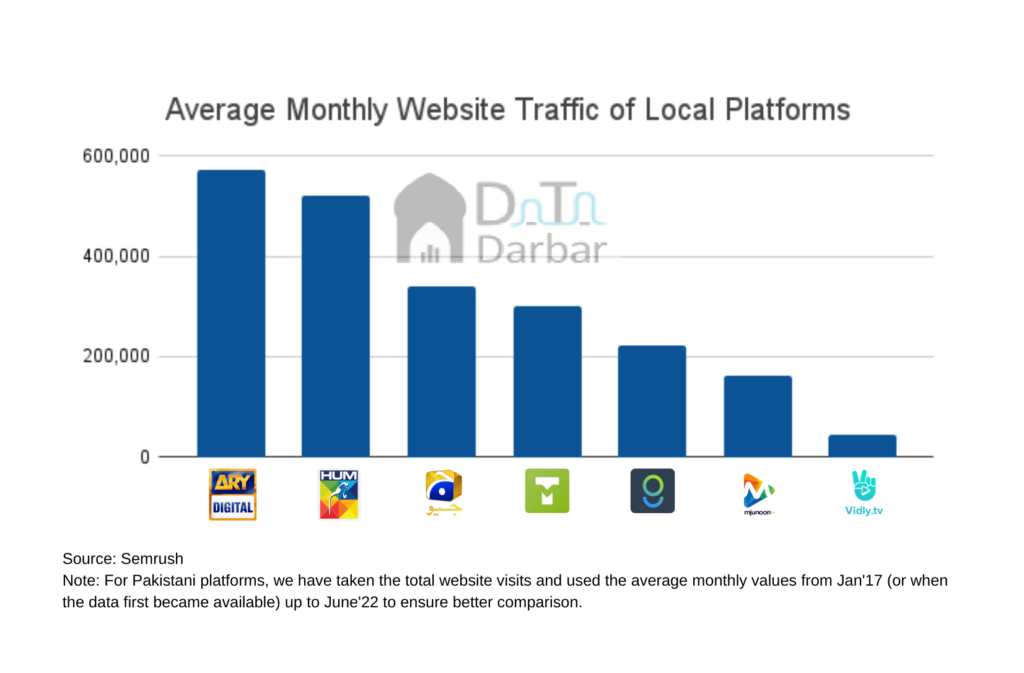 Now that we have some idea about the kind of traction in the video streaming landscape, let's move to the business model. There are essentially two ways an OTTs monetize: subscriptions and advertisements. Here, the local players have kept their plans quite affordable, starting as low as as Rs15 a week.
What makes them more accessible is the use of carrier billing, meaning the user can pay for the subscription directly through their mobile balance. Everyone from Tapmad to Tamasha is primarily relying on this channel, in addition to Easypaisa and JazzCash. This has helped expand the reach, along with flexible pricing plans which allow viewers to buy even daily packages. That's, in fact, extremely popular, according to a source.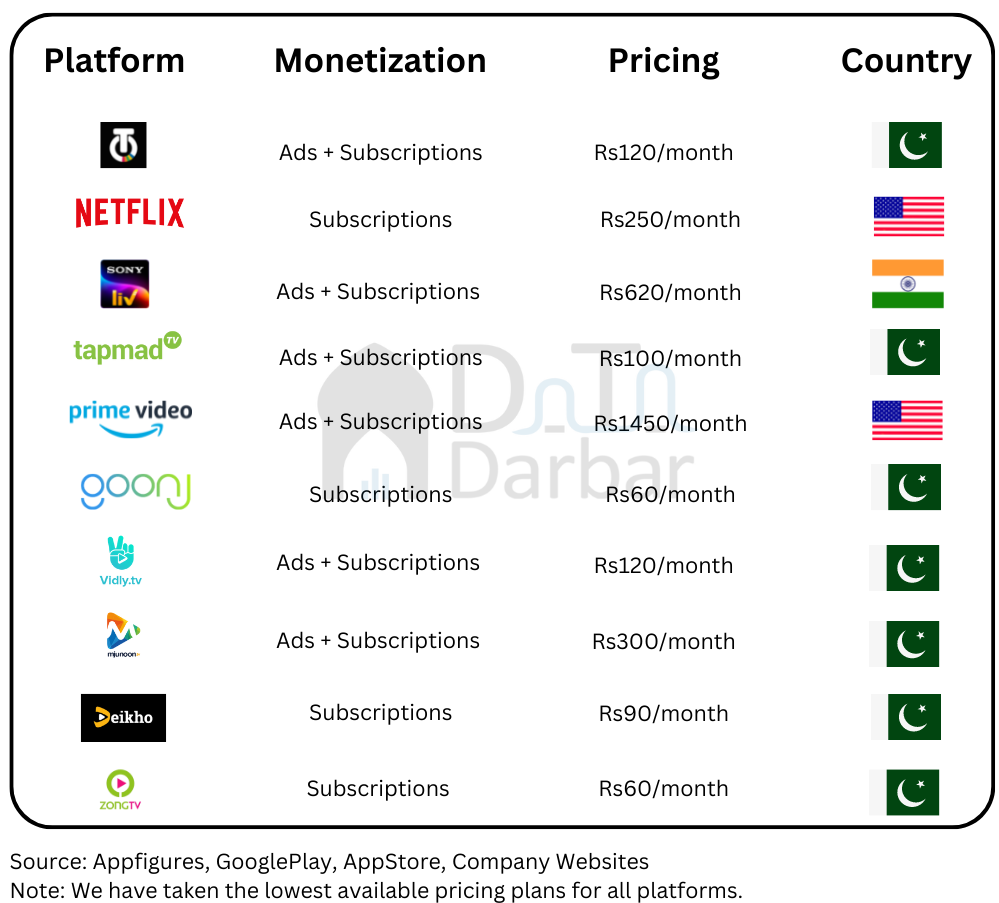 In terms of content, the local platforms have taken a slightly different approach from their foreign counterparts. Instead of just doing on-demand, they have tried to offer a mix of on-demand plus live television. In fact, it's the latter that has proved quite successful, primarily due to one reason: cricket. Whenever Pakistan is playing, there is a spike in downloads or web traffic for the platform which has acquired the broadcast rights.
Beyond that, dubbed content also enjoys popularity among users, be it Ertugrul or something else. However, acquiring rights for international films and shows is a costly venture so the catalogs are still quite limited. For example, Tamasha has a total of only 91 movies and 76 shows in its directory. According to an industry expert, foreign content alone can eat up to 40% of the total revenues.
This has pushed some to try out their own production, such as Tapmad's Baarwan Khiladi – a series on cricket – or broker exclusive partnerships with those already creating content. However, expanding the catalogue requires a lot of capital, which has been sort of a missing link. At least the venture capital. In fact, only two players have disclosed raising any investment. All other local platforms are usually internally funded – whether by a software house, media organization or a telco.
There's nothing unusual with that though. Leading media organizations everywhere have aggressively tried to push their OTT platforms, even if results have been somewhat mixed. In India too, the landscape is dominated by Hotstar, which was originally a Star Group venture until its eventual acquisition by Disney.
But what possibly sets us apart from others is how no single player has truly made it yet. Perhaps other than Tamasha which, as per sources, has become the biggest revenue puller for Jazz Pakistan after Jazzcash. According to Apptopia, 10 local streaming platforms had total monthly active users of 2.8M between Aug'25 and Sept'25.
Of this, Tamasha alone accounted for over 41% of the number. Mjunoon comes in second with 520K MAU, which is not bad for a platform that has not marketed too aggressively. The others have been quite inconsistent, to say the least. For example, Goonj has appeared and disappeared from Play Store more times than one can count while Tapmad currently has a rating of just 2.5.
In a sense, Pakistan's OTT landscape is quite similar to the broadcast media scene where everyone has a TV channel but spare a couple, no one occupies a meaningful scale. There's so much fragmentation that individual companies have multiple platforms, even for the same use case at times. That unncessarily adds to the costs, which the rupee's depreciation won't help either. With the tech industry obsessing over super apps, a unified OTT experience might be a timely move.