When Zameen.com started out in 2006, property classifieds used to be a major cash cow for the print media. Getting your inventory displayed in the Sunday newspaper was no mean feat. Fast forward to today and that revenue stream is all but dead. In little over a decade, the proptech company moved the industry online, capturing almost the entire market in the process. While that is disruptive in its own right, Zameen also grew its revenues 20x in six years.
The company's top line increased to PKR 5.9 billion in 1H2022, from PKR 281.5 million in 2H2016. This is 20x – or an average semi-annual growth of almost 35%! Even in dollar terms, Zameen grew its revenues to $31.9M during January-June 2022, from $2.7M in July-December 2016. That's 11x, despite the PKR depreciating to less than half its value over the same period.

It has since continued the upwards trajectory, posting revenues of PKR 3.4B in 3Q2022. That represents a YoY increase of 75% compared to the same quarter of 2021, based on the average exchange rates. For context, the top line of Systems Ltd – Pakistan's information technology company – grew from PKR 1.3B to PKR 8.8B during the same period, which is 6.8x.
Of course, during the same period, the country has had multiple real estate amnesties and a host of other incentives for the construction sector, pushing up property prices manifold. For example, Zameen's own indices show an increase of 52% in house rates, 62% in plots and 66% in residential property. [Note: their data is based on listings and doesn't necessarily incorporate the actual transaction value].
Tech company or a property developer?
For the first 6-7 years of its journey, Zameen was like any classifieds business, where real estate agents could list their inventory and customers could see it. However, earning a commission just wasn't possible as most property transactions are cash-based. So the platform turned to a subscription model, charging property brokers a recurring fee for the leads.
That wasn't enough for a robust business model though. "It's quite tough for services businesses in our markets: the leads you give to the agencies, they don't realize its true value and invest only a negligible share back in marketing. What these guys understood were transactions, so we started building on that on the side," co-founder CEO Zeeshan Ali Khan had told me in an interview two years ago. "The farther away you are from control (over the life cycle of the business), the more difficult it is to manage things and it was important to take that in our hand," he added.
To tackle this, Zameen first moved into marketing for real estate developers, basically doing on-ground sales on their behalf for commissions. And then, it finally started building properties itself, where the company would have more control over the value chain. In fact, these "transactions" – as they call them – are where most of the money is reportedly made. As per investor documents, the real estate entity has done 6,908 transactions in 9M2022.
Digging Deeper: Margins and Multiples
According to Frontier Digital Ventures, Zameen is cash-flow positive and posted earnings before interest, tax, depreciation and amortization (EBITDA) of PKR 761.8M in Q32022. Similarly, margins rose to 22%, from 20% in the same quarter last year. Since 2H2016, the company's EBITDA has increased from negative PKR 171.4M to PKR 1.07B by 1H2022. In dollar terms, that translates into -$1.64M and $5.78M, respectively.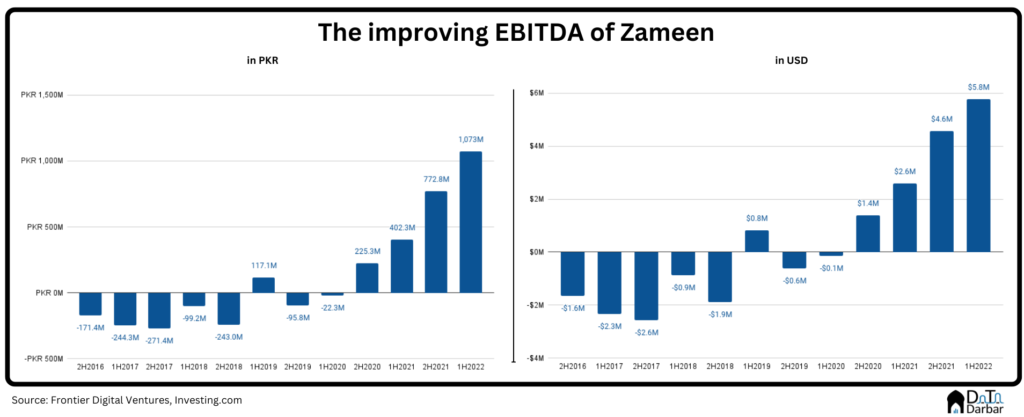 As a result, its margins have improved from a low of -60.88% to close at 18.13% during the period under review. Apart from showing a consistent improvement over time, the number doesn't mean much in itself. Unless we contrast it with industry benchmarks or comparable companies. But what exactly would those be: classifieds, real-estate operations or maybe sales and marketing? Ideally a mix of all three, which will become clear if the company goes public, as its investor hinted recently.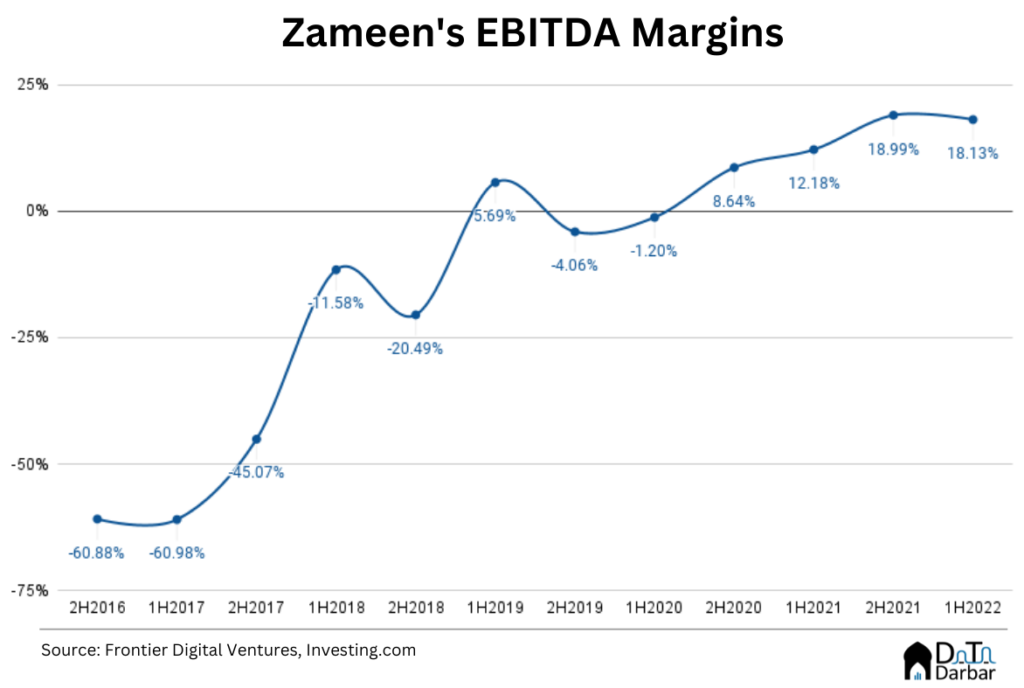 However, just for context, the broader technology sector in the US had EBITDA margins of 21.6% in Q32022 while the real estate operations industry stood at 41.43%, according to CSIMarket.com. So compared to the two benchmarks, Zameen's gross margins are actually lower.
Based on their last internal funding in December 2020, the company's pre-money valuation was $400M, representing a 100x return for FDV since its initial investment at $4M. In that quarter, Zameen.com revenues stood at $9.07M and EBITDA at $877.92K. These translate into annualized numbers of $36.28M and $3.5M, respectively. Accordingly, its revenue and EBITDA multiples would be 11x and 114x! Assuming no change in them since, the current valuation should be between $670M and $1.56B. Up to you to decide which is more probable.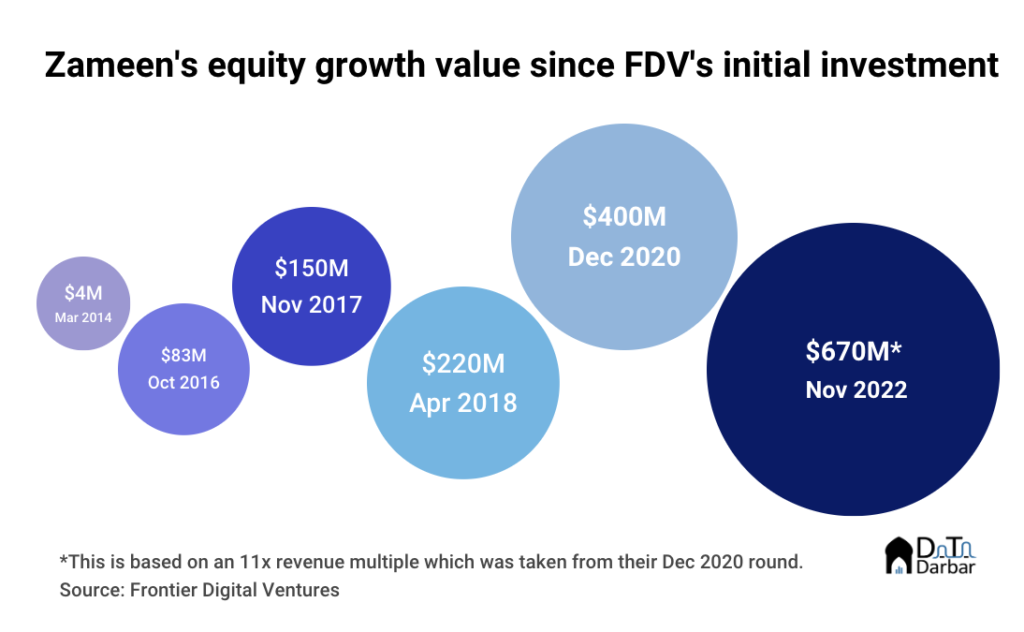 Emerging Markets Property Group, Zameen's parent, has also continued its fundraising journey, reaching unicorn status in Apr'20 with a $150M investment. On October 27, 2022, it raised another $200M at a "significantly higher valuation".