If you drive around downtown Lahore, you will come across a lot of buildings branded by Zameen. The proptech platform-cum-real estate developer is arguably the biggest 'tech' company ever built from Pakistan. Not just in terms of the brand value, but also the sheer scale, which continues to grow. In 2022, Zameen's revenues surged 58.9% to PKR 11.7B, from PKR 7.4B the year before.

By any measure, this is really healthy growth but what makes it even more impressive is the how the company's topline increased by 26.6% to $57.4M last year. According to Katrina Lee, an analyst at Vesparum, Independent capital markets advisors to Frontier Digital Ventures, transactions versus classified mix hasn't changed much from last year.
Back in 2021, around 85% of the company's topline came from transactions, which include building and selling its own properties. The remaining 15% was through classified. While FDV didn't disclose the latest full year numbers, Zameen did 6,908 transactions in 9M2022. If we just extrapolate it to 12 months, that gets us 9,210. 
Using the average revenue per transaction of $5,673 for Zameen, we get an estimated $52.25M — or 91% of the total topline — made through this channel. Meanwhile, the unit economics of classifieds looks quite underwhelming, as the revenue per lead is not even a dollar. The difference between their magnitudes is massive and indicates serious issues with platform-based monetization in Pakistan.  
Beyond revenues too, Zameen continued an impressive run. According to Frontier Digital Ventures, its EBITDA surged by an exceptional 90.7% to PKR 2.2B. Even in dollar terms, it rose 51.9% to $10.9M in 2022. This helped boost the company's EBITDA margins to 19.08%, up from 15.90%. It's also an improvement from 1H2022 level of 18.13%.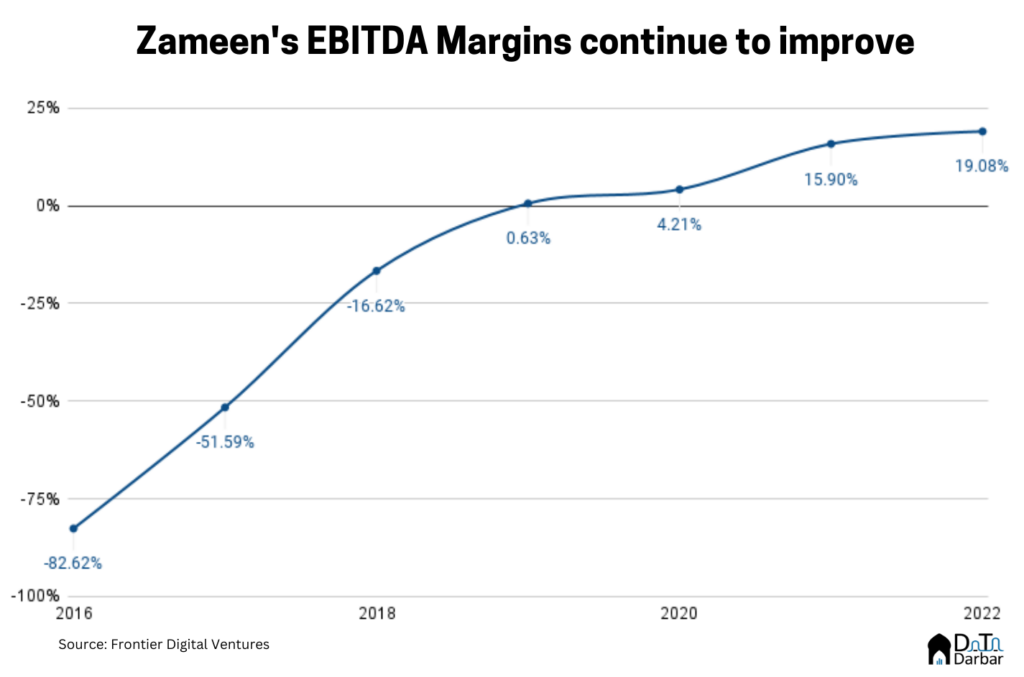 However, neither the revenues and EBITDA nor their growth in itself mean much. At least without knowing how they fare up against similar companies. This is where it gets tricky because who'd be the right comparables? Other classified platforms, property builders or real estate marketing agencies? Because Zameen is effectively a vertically integrated company that does all three. It started off as an online marketplace connecting buyers and sellers (plus renters and rentees) but then started deploying its own staff to help do sales for big projects. And ultimately, it became a real estate builder.
For the last part, finding a true comparable in Pakistan is next to impossible since most real estate transactions are done via cash. That too at throwaway official rates which are not reflective of the market values. This also happens to be Zameen's biggest, and most meaningful, revenue stream. And as we wrote above, the difference is mind boggling. In this regard. FDV's Infocasas is a good peer for it also does a mix of both.
On the other hand, Southeast Asian PropertyGuru has a somewhat similar scale to Zameen in Singapore while lagging behind in Malaysia and Vietnam. However, it predominantly depends on classifieds for revenues, instead of transactions. In any case, we have plotted each against each market to give you a better idea.
In terms of overall revenue, Zameen stands out as the clear winner as its topline of $57.4M is higher than everyone. Meanwhile, it only lags behind PropertyGuru Singapore on EBITDA. The difference becomes glaringly obvious when you look at margins. Here, both of the FDV portfolio companies are laggards compared to their Southeast Asian peers.
At an impressive 68.78%, PropertyGuru Singapore leads the charts while the Malaysian and Vietnamese subsidiaries recorded 40.21% and 22.75%. Zameen's EBITDA margin of 19.08% pales in comparison while InfoCasas's 3.78% seems dismal. So what explains the difference? While the FDV didn't give much commentary, the difference possibly lies in the business models.
The former three monetize on the platform through classifieds — which has the potential to offer venture-like unit economics at scale. Whereas the latter two mostly make money by building and selling properties in a more traditional way. And that industry has been reeling from serious cost pressures. It also raises serious question marks about online monetization for the broader Pakistani ecosystem as well.