If there was a dollar for every time a basic Pakistani bro got overly excited just watching an expensive car pass by the road, the country wouldn't have needed an International Monetary Fund programme. And when that's not happening, they all daily turn to scrolling through the listings on Pakwheels, a platform that has become synonymous with anything autos related. It's arguably one of the best case studies on online communities in the region. But as we recently reported, that hasn't necessarily led to a stable financial performance — a trend that continued in 2022.
Pakwheels revenue surged by an impressive 46.19% to PKR 494M in 2022, from PKR 338M, according to the annual report of its investor, Frontier Digital Ventures. But with devaluation and the resulting car prices, it may not be indicative of much. In dollar terms, the company's topline was up by a relatively muted, but healthy, 16.46% to reach $2.4M from $2.08M.
While the company has managed to make headways since a dismal 2020 when car sales and production grounded to a halt, the revenue doesn't look too appealing when stretched over a longer period. Since 2017, the company's topline has grown by only an incremental $1M.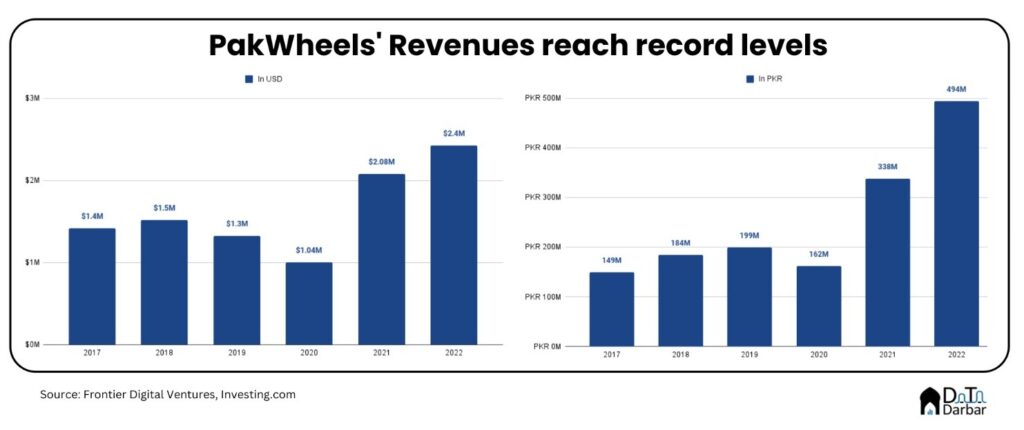 There was no information on which channels contributed this money. However, Frontier Digital Ventures did share a rather damning chart: Pakwheels' classified revenue per lead was only $0.07 in 2022. So after two decades and a massive community, there's still no way to meaningfully do platform-based monetization. On the other hand, revenue per transaction was $501.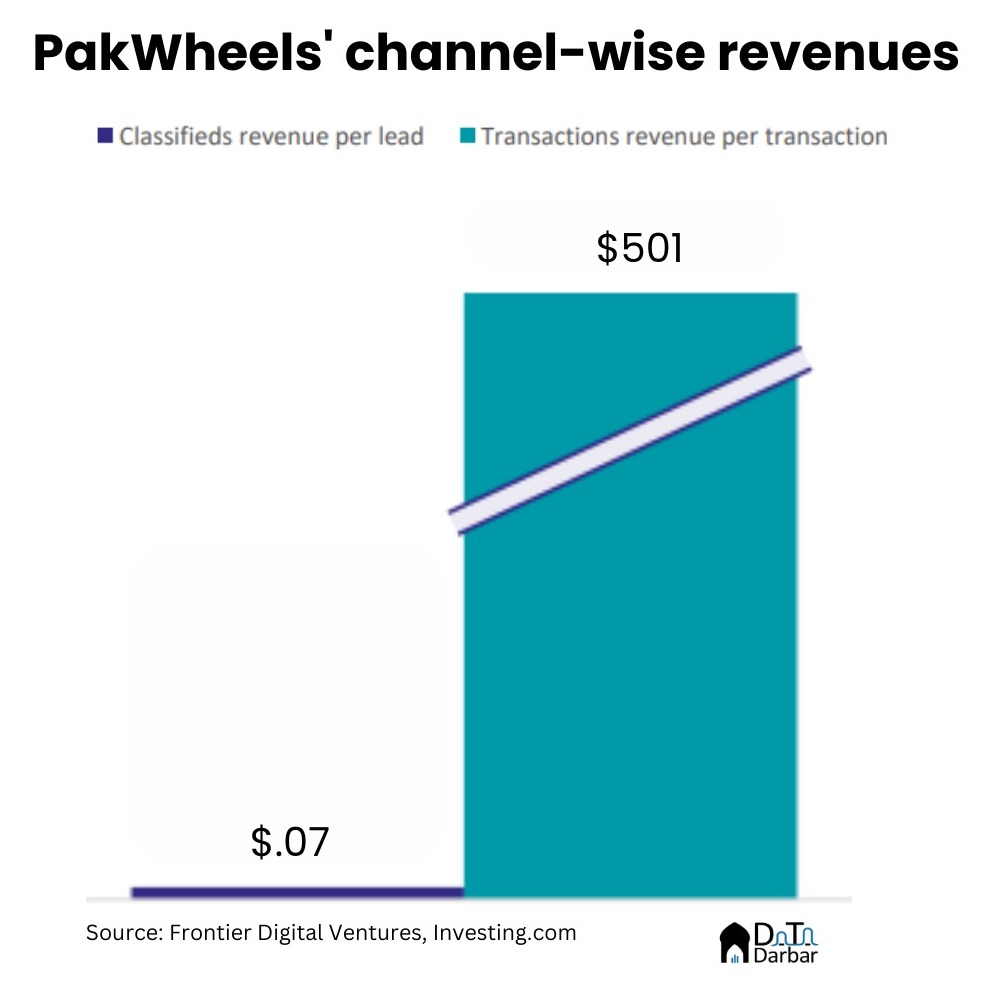 Trouble beneath the topline
Below the topline, things didn't look that good though. Pakwheels maintained its history of an inconsistent EBITDA, which plunged by 62.8% to just PKR 17M in 2022, from PKR 45M. In dollar terms, the decline was even steeper, at 70.4%, to $83.4K. Remember, the company had managed to post a positive EBITDA for the first time in 2021 but failed to capitalize on the momentum.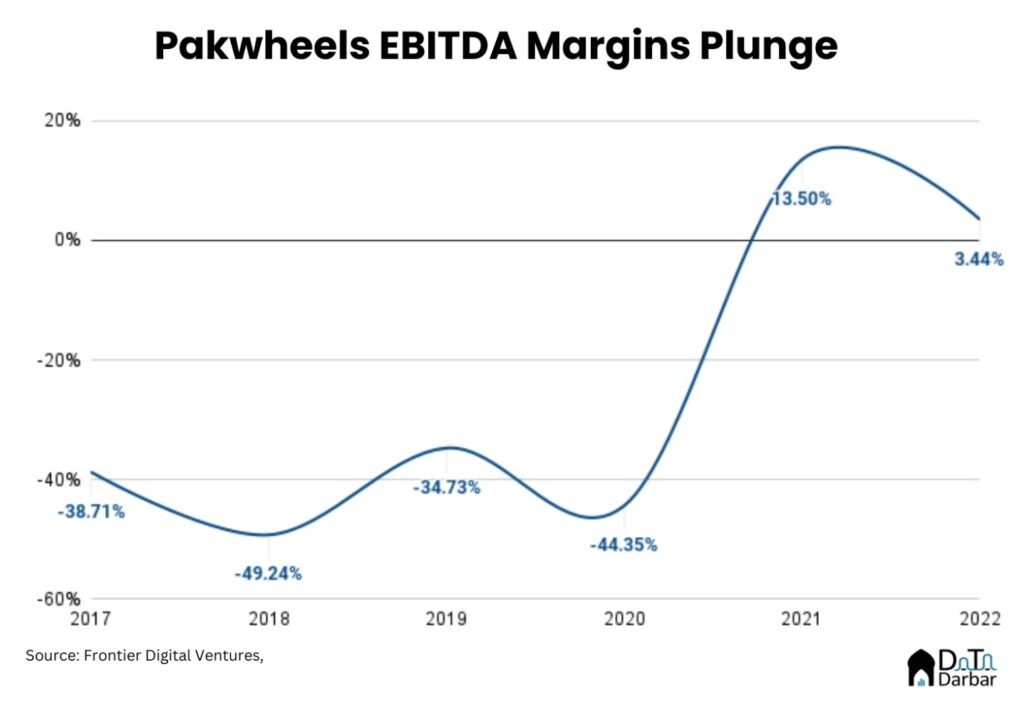 As a result, EBITDA margins worsened significantly to just 3.4% in 2022, from 13.5% the year before. On a standalone basis, this doesn't look promising considering how Pakwheels is literally the oldest surviving product-based tech company in Pakistan. But perhaps the more important question is: how did it fare in relative terms?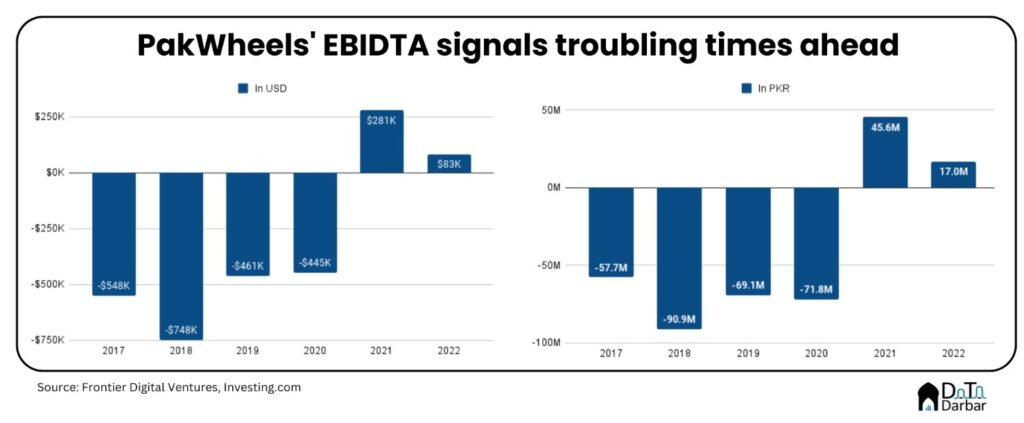 Peer Group Analysis
While there are a myriad of other auto platforms in Pakistan, none of them are remotely as popular. CarFirst and VavaCars — two of its biggest competitors, albeit with a different model — have already exited the local market in the wake of economic uncertainty. OLX also has an auto category but it continues to be more of general classifieds, hence a comparison may not be possible. Plus, none of these players have publicly available financial information.
Therefore, we need to broaden our beyond Pakistan but even then, there aren't a lot of comparables with publicly disclosed financials. A few companies do but their scale is much higher in terms of revenues. So let's just stick to FDV's own portfolio — Autodeal from the Philippines and Moroccan Moteur.
In terms of revenues, Pakwheels is way ahead of both at $2.42M against Autodeal's $1.38M and Moteur's $0.42M. Even its growth rate of 16.46% is also much higher than its Filipino and Moroccan peers at 0.62% and negative 10.63%, respectively.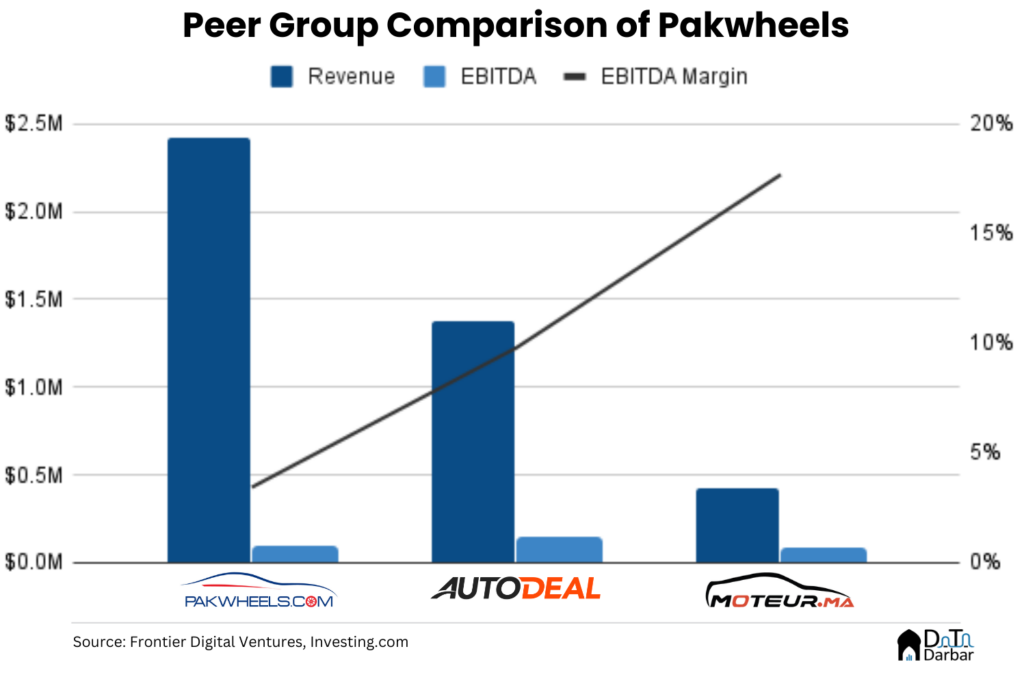 However, the picture is a little mixed below the topline with Pakwheels EBITDA margins the lowest among the peer group at 3.44%. In contrast, Autodeal stood at 9.80% and Moteur's at 17.69%. So the question is: when exactly will the company finally be able to deliver on those mythical venture returns that so many tech players brag about? Or is it just a glorified auto dealer with good social media following?