The early years of the internet were mostly about surfing through niche forums and blocking your family's access to landline. In the process, you made new friends from all over the world. And in Pakwheels' case, one of the biggest marketplaces in the country. When the company started out of Hanif Bhatti's garage in 2003, it was a simple forum where auto geeks could share their thoughts and ask questions. Almost 20 years, countless prime ministers, and an ownership change later, it still holds that baton.
Over the period, Pakwheels has become the first place where everyone who wants to buy or sell a vehicle goes. The website has over 70K listings today, from Karachi to Abbottabad, and countless towns in between. However, that growth hasn't necessarily translated into financial stability, exhibiting the same cyclicity that symbolizes our auto sector. In this edition of Analyst Notes, we will look at the company's performance.
The company's revenues increased from PKR 52.9M in 2H2016 to PKR 209.6M in 1H2022. While that is still an impressive growth of 296% over the period, details show a relatively mixed picture, in line with the broader auto sector trends – which hit rock bottom in Covid-19. In fact, in April 2020 – the first month of lockdown – car sales and production literally fell to zero. Unsurprisingly, Pakwheels also had a dismal 1H2020.
In dollar terms, the Pakwheels topline shows a relatively slower growth: from $505.23K in 2H2016 to $1.13M 1H2022. Its revenues have since increased to PKR 128.9M PKR in 3Q2022, surging 49% over the same quarter last year. During this six-year period, the prices of autos have skyrocketed while the rupee has depreciated to less than half. Both trends are closely linked as a rise in dollar value is the biggest reason vehicle rates go up. In the last half, devaluation impact dominated: sales edged lower by 0.79% to $1.13M, from $1.14M in 2H2021.
Beyond Revenues
However, as we dig deeper, there are some signs of trouble. The company had become cash-flow positive in 1H2021, when it recorded EBITDA margins of 11.24%, which further improved to 15.27%. But in 1H2022, EBITDA plunged 62% to $65.7K, taking the margins to 5.82%.

Things deteriorated further in Q32022 as EBITDA margins turned negative 3.5%, translating into an absolute value of -$20.5K. While the comparison is not apples to apples, auto assemblers on the Pakistan Stock Exchange have also recorded shrinking EBITDA margins recently. Since the beginning of the year, the sector index has fallen -30.35%, against KSE-100's -10.68%.
Business Model Primer
We have talked in detail about the financials without still touching on how Pakwheels makes money in the first place. Unfortunately, segment-wise numbers aren't reported but a 2017 case study published on the company in the Asian Journal of Management Cases listed six revenue streams. Since then, they have also launched their own e-commerce offering for auto parts and introduced inspection services.
Contrary to popular perception, Pakwheels doesn't make a whole lot of money from content. In fact, that department is still incurring losses. Or at least did back then (Munj didn't respond). But over a year ago, he told me their "main revenue streams are the inspection services or the partnerships with banks for auto loans." They also have a "Sell It For Me (SIFM)" where the company manages the entire transaction for customers.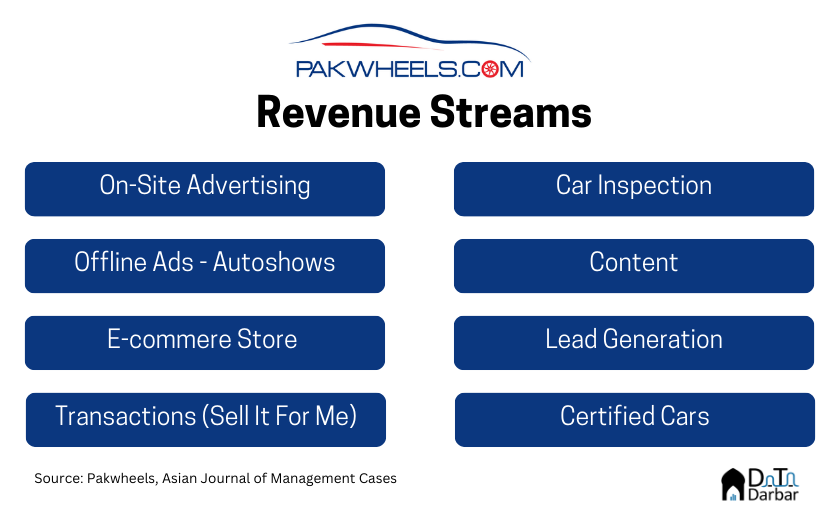 Back to Basics: Community and Content
The cyclicality of Pakistan autos (and economy) may make it extremely difficult to build a sustainable business. But Pakwheels has stuck to one thing it does best and has in its own control: growing the community. The channel may have changed from forums to social media platforms like YouTube and Facebook, but the popularity remains.
Over the years, Pakwheels has turned into a content behemoth. First layer to that is their own website's blog where they post scoops on autos, prices, or other relevant news. But it's videos that bring the brand the most virality. From test drives of the latest models to documentaries on what makes Parsi cars so special, they produce a wide variety of content. In fact, Sunil Sarfraz Munj has stated time and again how he wants to do proper auto journalism.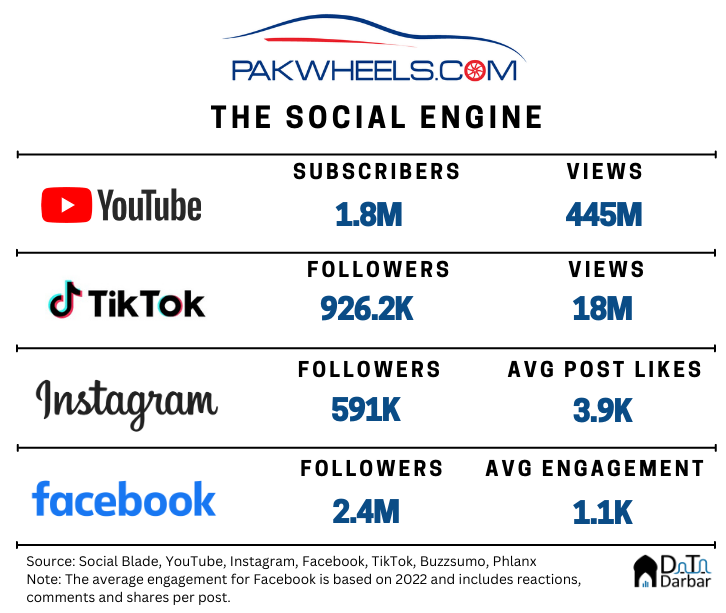 The numbers speak for themselves, giving a solid idea about Pakwheels reach. Their YouTube channel has 1.8M subscribers with 445M video views to date while the Facebook page boasts 1.2M likes. They have also jumped on the Tiktok bandwagon and gained 926K followers on the app. Add to it another 591K followers on Instagram.
It's not just passive onlookers, but rather a pretty active community. For example, Pakwheels' Facebook page has seen more than 6M engagements (reactions, comments) over 2022, as per Buzzsumo. The corresponding numbers for OLX and Careem in Pakistan were 335K and 239K. Sure, these two posted far less frequently but their average engagement rate was lower nonetheless.
But the main question is, can the company continue to consistently cash in on that community and post growing revenues and improving margins? Or will it continue to exhibit the same cyclicity as our broader auto sector?