Hello everyone, due to some other commitments and deadlines, we have been sending out Appistan twice a month instead of the usual weekly frequency. It will be back to business as usual very soon. Anyway, let's get to the numbers now. During the week of Jan 29th to Feb 4th, EasyPaisa maintained its top place on Data.ai's Active User ranking. In terms of downloads, TikTok was on top of the charts, with CapCut following right behind. This also brings us to today's deep dive: who's really winning the Meta vs. ByteDance battle?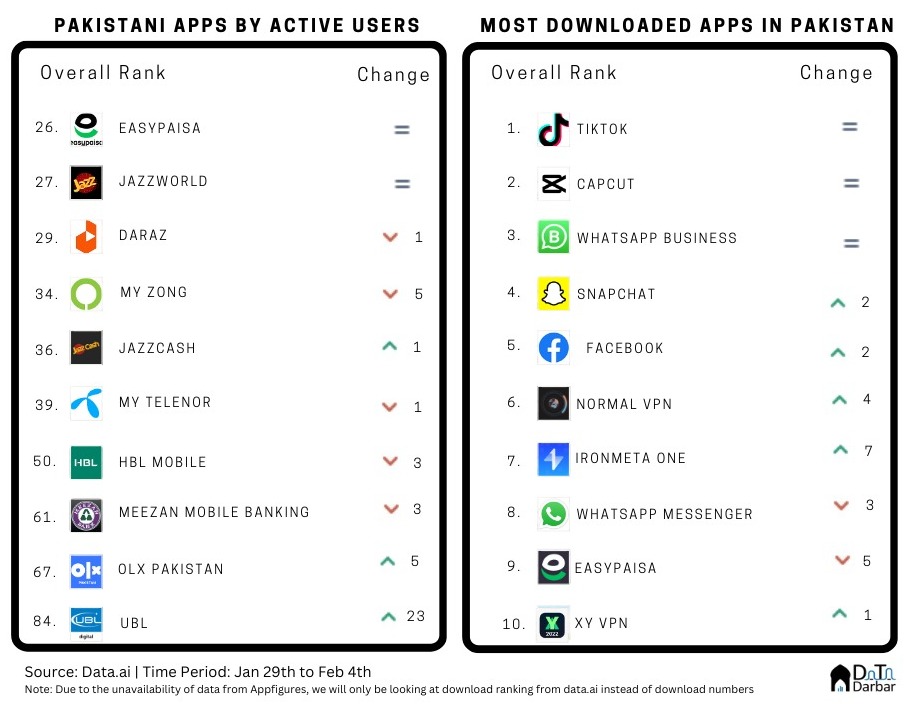 Meta, ByteDance, and the hyperbole
For all the hype around innovation, there is a tendency among social media companies to brazenly rip off others' products. And for users and commentators to prematurely write obituaries of certain platforms. When Instagram introduced Stories, followed by Facebook and WhatsApp, it was pretty much a literal replica. The conventional wisdom dictated no one would use Snapchat anymore and many confidently pronounced its death. Over half a decade later, Snap Inc is still a big-league social media player generating $4.6B in revenues and its app has been on the top charts consistently for a few years.
More recently (and popularly), the virality of TikTok across the world pushed all social media giants to jump on the short-format video bandwagon. Instagram came up with reels, YouTube launched Shorts, and Facebook, well, they also tried something. It was the next frontier of the digital age, where the GenZ were excitedly flocking to.
In 2020 and 2021, it was the most downloaded app worldwide and boasted a truly exceptional growth trajectory. Seduced by the new kid on the block, pundits had a lot to say: about its extraordinary algorithm, working-class ethos, and whatnot. Others were simply no match, apparently. A lot of that was directed toward Facebook, which hasn't been having the best time lately. At least PR-wise.
Since the Cambridge Analytica scandal, Meta has found itself in the crosshairs, of the press, regulators, and lately, even investors. Mostly for the right reasons, too: its role in enabling authoritarian governments, excessive spending on Reality Labs, or creepy tracking leaves little sympathy for the company. But a lot of that doom and gloom is unfounded when it comes to growth, both with respect to product and financials.
For starters, it was the biggest app publisher globally in 2022 in terms of downloads, according to Data.ai. On the other hand, ByteDance was third on the list. This trend replicates in Pakistan where Meta's aggregate portfolio grew far faster compared to the Chinese giant every single month in the past two years. In 2022, the former recorded 77.8M installs versus the latter's 38.6M, as per Appfigures.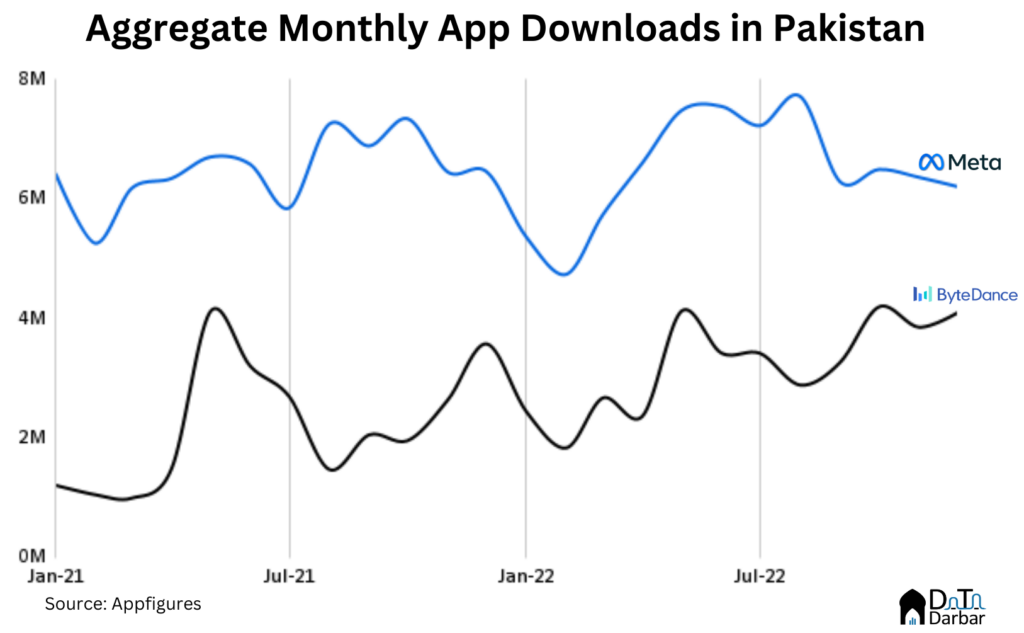 Tiktok may be growing, but Facebook is in another league
Now, you could probably argue that Meta is a much older, and bigger, company with a lot of global products. And that's a fair point. But the thing is that even at an individual app level, it has done better than ByetDance. For example, Facebook had 20M more global downloads than TikTok managed in 2022.
In fact, it has had the highest Monthly Active Users worldwide for at least four years in a row. And guess what? The next three on the list are WhatsApp, Messenger, and Instagram. Basically, not only does Meta's flagship beat out its rival in terms of users but so do its three other apps. Really puts into perspective how unfounded the entire hyperbole is.
But of course, the story is not as simple. For example, TikTok is banned in India, where it was once hugely popular, choking off the second-biggest market in terms of user mass. Plus, the tensions between US and China have also adversely impacted ByteDance. So comparisons with Meta are indeed a bit unfair.
One way to overcome this could be to look at specific markets and how TikTok and Facebook have done there. We analyzed the downloads for both apps in five countries — Pakistan, Egypt, Turkey, Indonesia, and the Philippines — since 2017. Two trends emerge. First, Tiktok is already in the lead in East Asia and second, it's closing the gap in the first two markets. However, the issue with installs is it's a bad metric, especially so for global products. And ByteDance has a so-called advantage of backwardness which basically means it has more room to grow.
When it comes to users, TikTok is far behind. Not just compared to Facebook but Youtube too, and in some cases, even Messenger, Snapchat, and Instagram. According to Data Reportal's estimates, it has 16.5M users, which dwarfs YouTube's 71.7M. Or even SnapChat's 25.7M.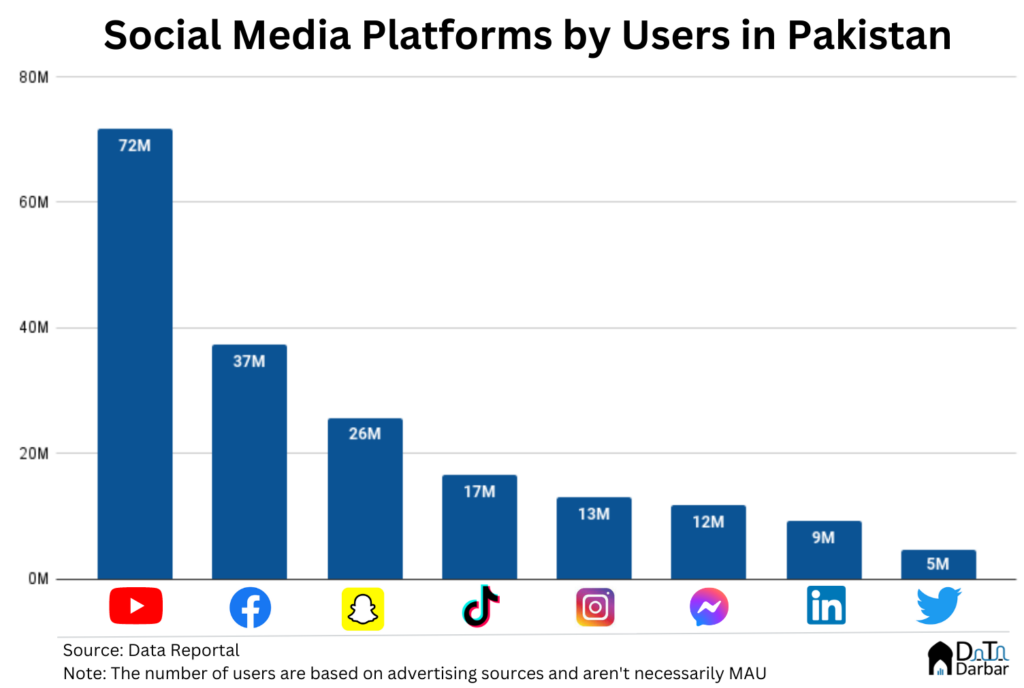 Except for Indonesia, TikTok doesn't even make it to the top three social media apps in any of our sample countries. In four of them, YouTube leads and by a margin, while Facebook follows behind. Sure, a lot of YouTube videos are now taken from TikTok, but it's still the king of video.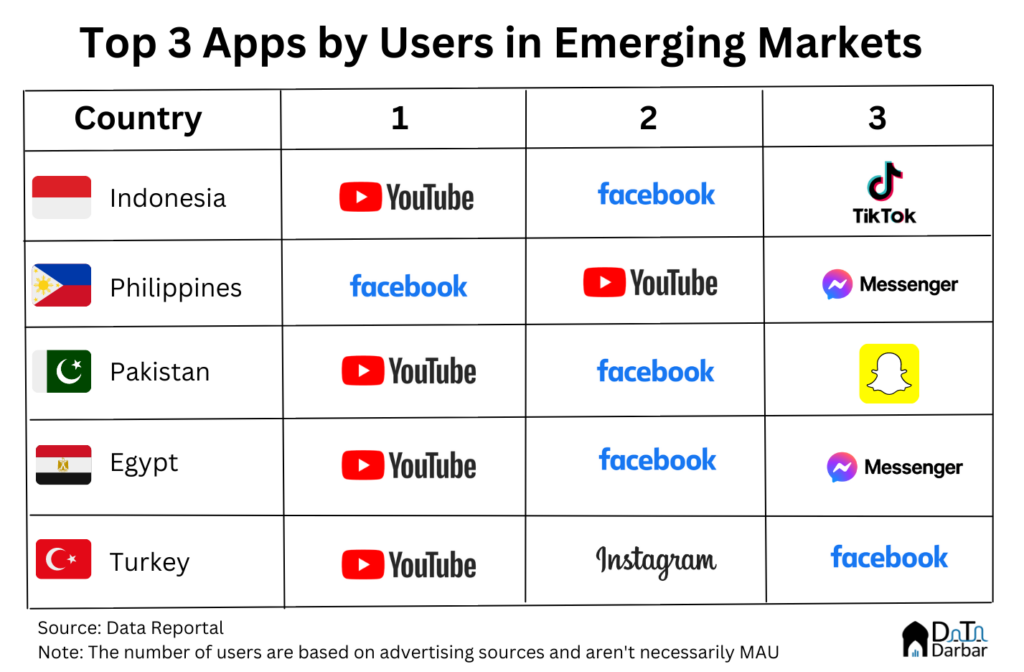 So while ByteDance has done extremely well, especially in reaching GenZ, it still has a lot of catching up to do. That's despite Meta trying everything in its stead to mess up for the last few years, from ruining the user experience to Zuckerberg's obsession with the metaverse.