Hello and welcome to another edition of Appistan. On the active user front, Islam360 made an exit from the top ten list and was replaced by UBL Digital. All other apps in the list remained pretty much the same with only slight changes in their spots. Tamasha made a long-awaited entry in the most downloaded apps list while ByteDance's TikTok and Capcut dominated the top spots along with Facebook. But our focus today will be elsewhere, on something that many Pakistanis jumped on two weeks back. We'll be looking at how the social media (and mobile broadband) shutdown by the government resulted in people flocking to VPNs on Google Play.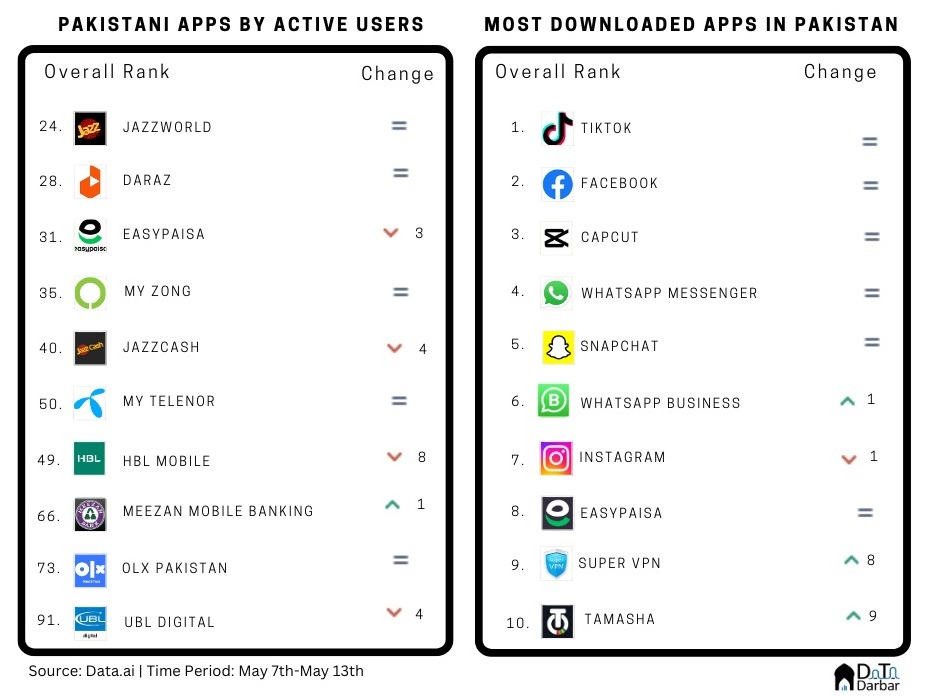 Turning it off
The fact that you can read (and we could write) this edition is a blessing in itself, given that the country was pushed back into the dark internet-less ages just a few days ago. With nearly 125M people impacted by this, a good old VPN app was the only thing stopping the country from descending into anarchy (or what I assume would have been a reenactment of the movie Purge). So for this edition, we will be looking at how VPN apps found a new purpose (we all know what purpose those apps were being used for before this) in Pakistan during the recent internet blackout.
On the 9th of May, millions of Pakistanis like myself found themselves in a truly horrible situation. Yes, the political dramedy was a horror in itself but what was truly the most alarming part of the whole ordeal was the enactment of the internet blackout. Mobile internet experienced an almost complete shutdown while those with fixed broadband were unable to access certain social media websites. In a country that ranks 150 on the Press Freedom Index, it's no wonder that people have designated Twitter to be one of their primary sources of reliable information. So in order to control what information reaches the masses, a (quite unsuccessful) social media ban was enacted. It would have worked too, if Pakistanis hadn't been dealing with PTA's ridiculous bans for years now. 
From blocking Tinder to keep away consenting adults from casual dating to banning access to Tumblr for a reason still unknown, the government has been taking helicopter parenting to a whole new level. And so during all these tumultuous times, Pakistanis have found themselves seeking the aid of VPNs — which frequently feature among the most downloaded apps in the country week after week.
This time was no different as Pakistan's VPN demand surged 1,329% on May 10, compared to the previous 28-day average. So we decided to dig deeper and understand key trends like the overall downloads, biggest gainers etc. Let's get going.
The rise of VPN apps in numbers
We looked at the most downloaded VPN apps in Pakistan on Google Play since Jan 2022, with a cutoff at 100K. This left us with 20 unique applications with cumulative installs of 39M until May 15, 2023. Of this, 2.36M, or 6.03%, came during the week starting from May 9, when internet and social media blockade started.
Before we move on, it's important to address the elephant in the room. Pakistanis didn't download VPN apps 39M+ times during this time period because they wanted to find memes on 9GAG or read stories on fanfiction.net. They embraced the security of virtual private networks primarily due to the ban on pornography. The only reason install numbers were not WAY higher was because A LOT of people already had access to VPNs.
Anyway, cumulative Pakistan downloads of these 20 apps surged to 200,850 on May 9, from 133,791 the day before — you know, when things were somewhat normal. The following day, they further jumped to 364,070. All but four products witnessed a spike as their cumulative daily average installs jumped to 336,807 during the blackout week, compared to 74,546 between Jan 1, 2022 to May 8 of this year. That's an aggregate spike factor (defined in the chart) of 4.52.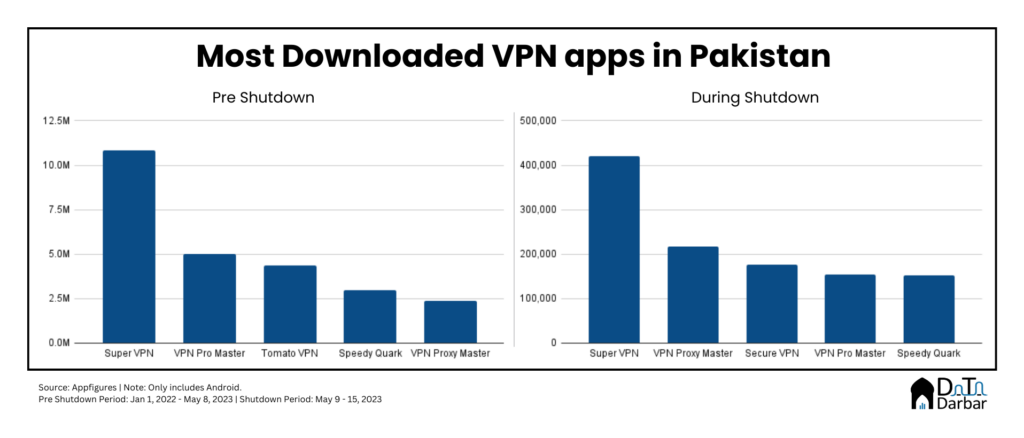 In absolute value, the biggest jump was naturally seen in SuperVPN — the most popular app in the country since 2022 — whose average daily in the blackout week reached 60K, from 21.9K. But in percentage terms, VPN – Super Unlimited Proxy's installs surged 10.3x during the period under review.
Pre-blackout, Pakistan made up just 8.59% of the global downloads of these VPN apps. This share shot up to 21.33% during the seven days since May 9 and was visible in 16 products. In fact, up to May 8, only five apps had more than 10% of their installs coming from Pakistan. During the week since May 9, all but four did.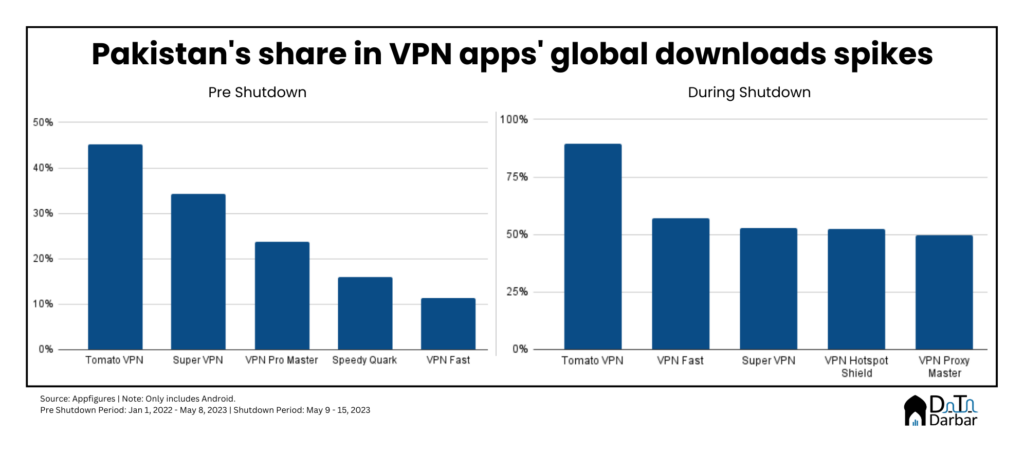 Movers and shakers
Tomato VPN recorded the biggest increase as 89.44% of installs came from Pakistan after the ban, up from 45.29% before. But in relative terms, perhaps none was as impressive as Proton VPN. On May 9, it literally had no installs but by the next day had reached 31,626. This helped its share of Pakistan downloads from 0.42% pre-blackout to 45.56% post. VPN Hotspot Shield (the OGs would remember) came close, as it went from 4.3% to 52%.
There was also a minor shuffle among the top spots as some capitalised on the newfound demand from Pakistan better. For example, VPN Proxy Master improved its place from the fifth most downloaded app to second with 216K+ installs during the blackout week. Similarly, Pakistan's share in its global downloads went from 8.80% to almost 50%.
Secure VPN too took advantage of this opportunity well as it became the third-most downloaded app in the country. Its average daily downloads surged to 25,249, from 2,580 while the share of Pakistan in global installs almost 10x'd to 25%.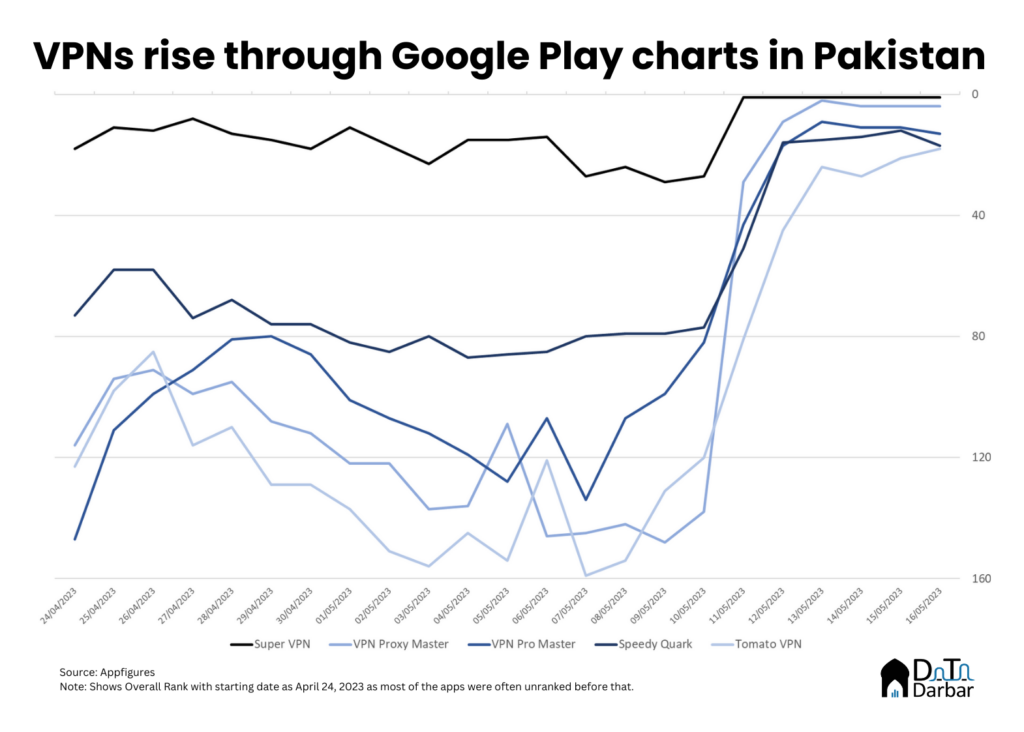 We also looked at the daily "overall" ranking on Play Store for the five most downloaded apps. Here again, the spike is all too obvious. Post blackout, all of them were within the top 20 — a feat only Super VPN could claim before May 9. Even there, the jump was big: it rose to the top spot on May 11, from 27th the day before. Others saw their places improve from far worse.
Now that more people have turned to light, VPN downloads are only going to grow further. Because if there's one thing you can count on is the govenrment continuing to use the ban button indiscriminately. Which btw has been trying to bring them under Big Brother's eyes too, rather unsuccessfully though.