If you look back at 2022, what will you remember Careem for? The times you were getting super late for work and it swooped in to save the day? Or the time you were contemplating all the ways you could use your dupatta as a weapon after the ride started veering into an unknown route? The point is, in recent times, it's not Careem's brilliant service (or the lack of it) that endears customers but rather their social media gimmicks.
From hilarious (or haraam, depending on who you ask) billboards offering their services for runaway brides to snarky replies to users on Twitter, Careem's antics have always ended up being a talking point on social media. Most recently, it was their cricket-fueled banter with Zomato that made customers forget for a hot minute how exceptionally bad their service has been lately. 
While it's true that the brand may have sobered down A LOT after its acquisition by Uber, social media has always been one of Careem's strengths. After Ufone's brilliant TV commercials in the 2000s, it's probably the only case of marketing done right in Pakistan. But what other local startups have been playing their social media cards right? Especially among the new ones, who until last year were poaching their spending fortunes on marketing talent.
To find the answer, we looked at all the funded tech startups in Pakistan and ranked their social media following. We excluded Daraz, Careem, PakWheels, Rozee, and Zameen who have been in the market for much longer.
Facebook
Marham's the clear winner here with 1.2M followers and is eons ahead of the competition. The healthtech startup which has raised $1M in funding primarily posts informational content on its page alongside promotional offers. Instead of purely focusing on selling their service, the page instead gives customers a reason to have the page on their timelines – by handing out tips and tricks on how to fix certain ailments, etc. Moreover, most of their content is in Urdu which could also be a factor in its popularity.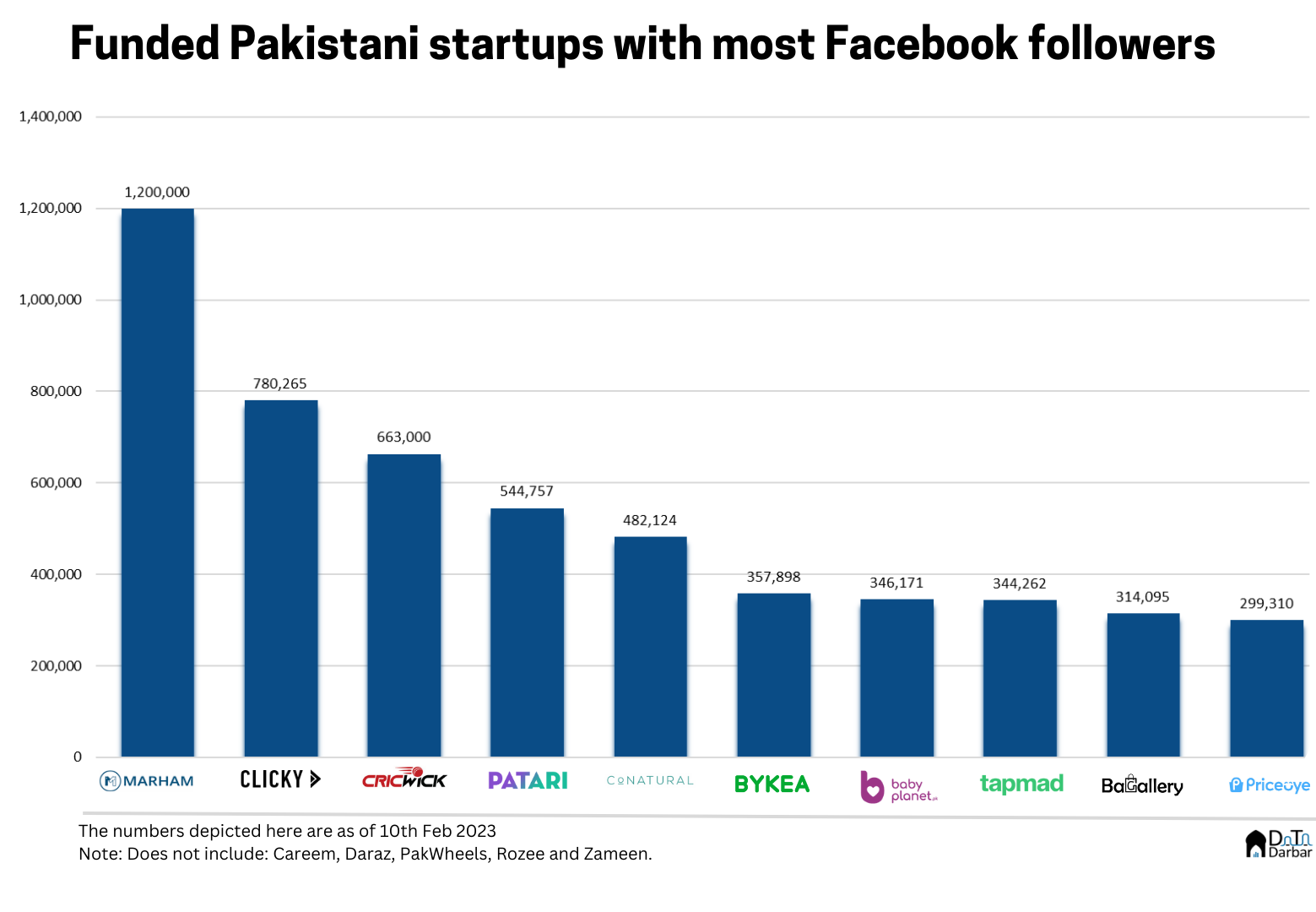 But while there are other healthtech startups that have been here for a far longer time, none of them feature in the top ten list, which is heavily dominated by e-commerce startups like Clicky, Bagallery, Conatural, and BabyPlanet.
Instagram
On Instagram, it's unsurprisingly an e-commerce affair. 8 of the 10 biggest accounts in our sample are e-commerce startups, with a strong beauty and fashion tilt. In the race for most followers, Bagallery takes the top spot with 691K. The e-commerce startup has been recently using the channel for live commerce campaigns. When it's not influencers that are going live on the page to promote different categories, the brand is either promoting the many sales it has throughout the year or doing giveaways. With constant user engagement, it's not surprising that it's a fashion brand that's making the best use of Instagram.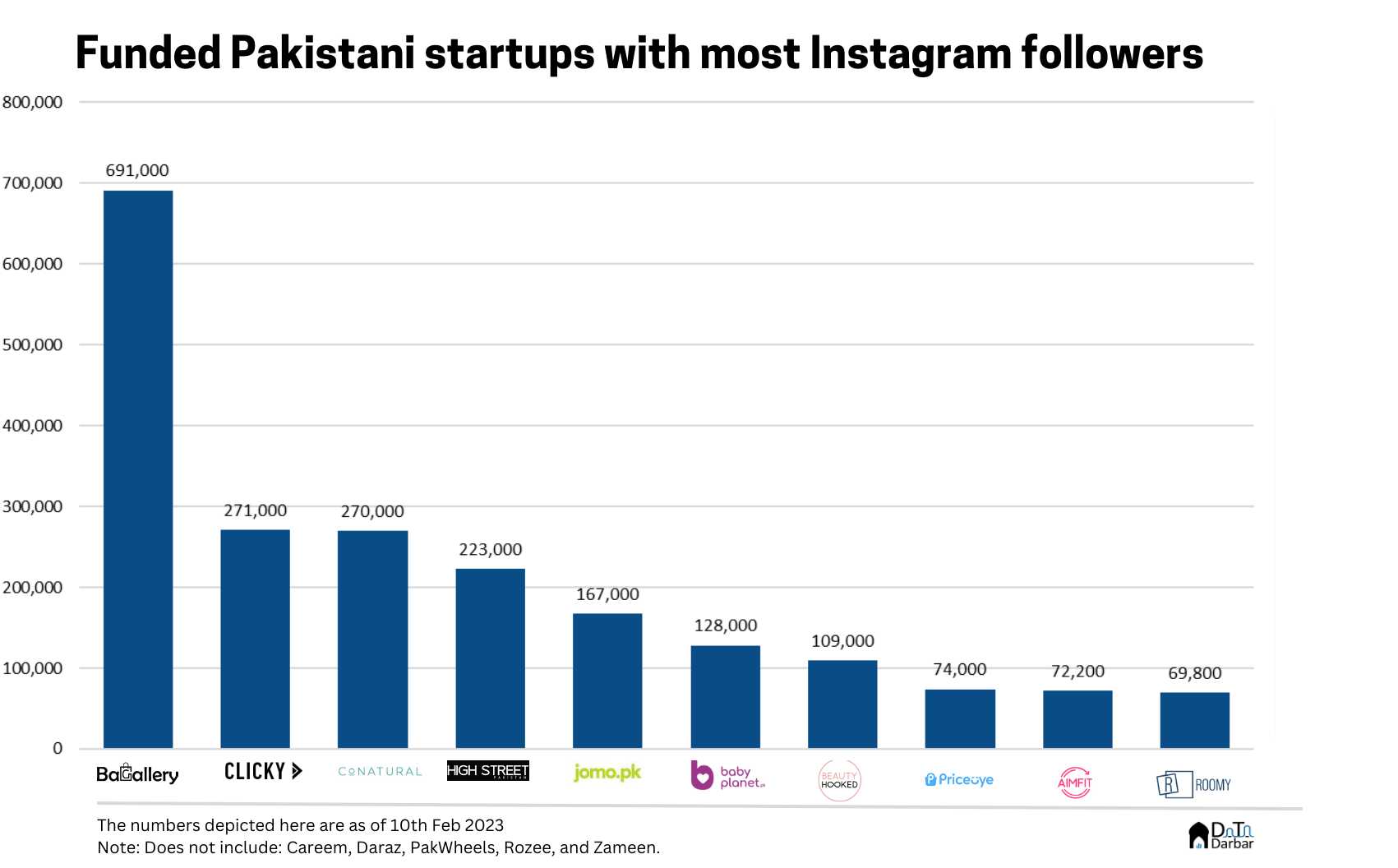 Apart from e-commerce, where Instagram obviously serves as a major sales channel, there is a growing trend of using the platform to attract GenZ talent. Short videos like "What is it like to work at X" or "day in the life of Y" are gaining popularity.
Twitter
Twitter is one of the most underutilized channels and almost entirely off the startups' radar. This is despite the bird app's unique ability to build a narrative and craft an identity, which then echoes across other platforms too (especially Facebook and Instagram where some people literally feed off stolen content). It's so ignored that three companies with less than 5,000 followers made it to the top 10.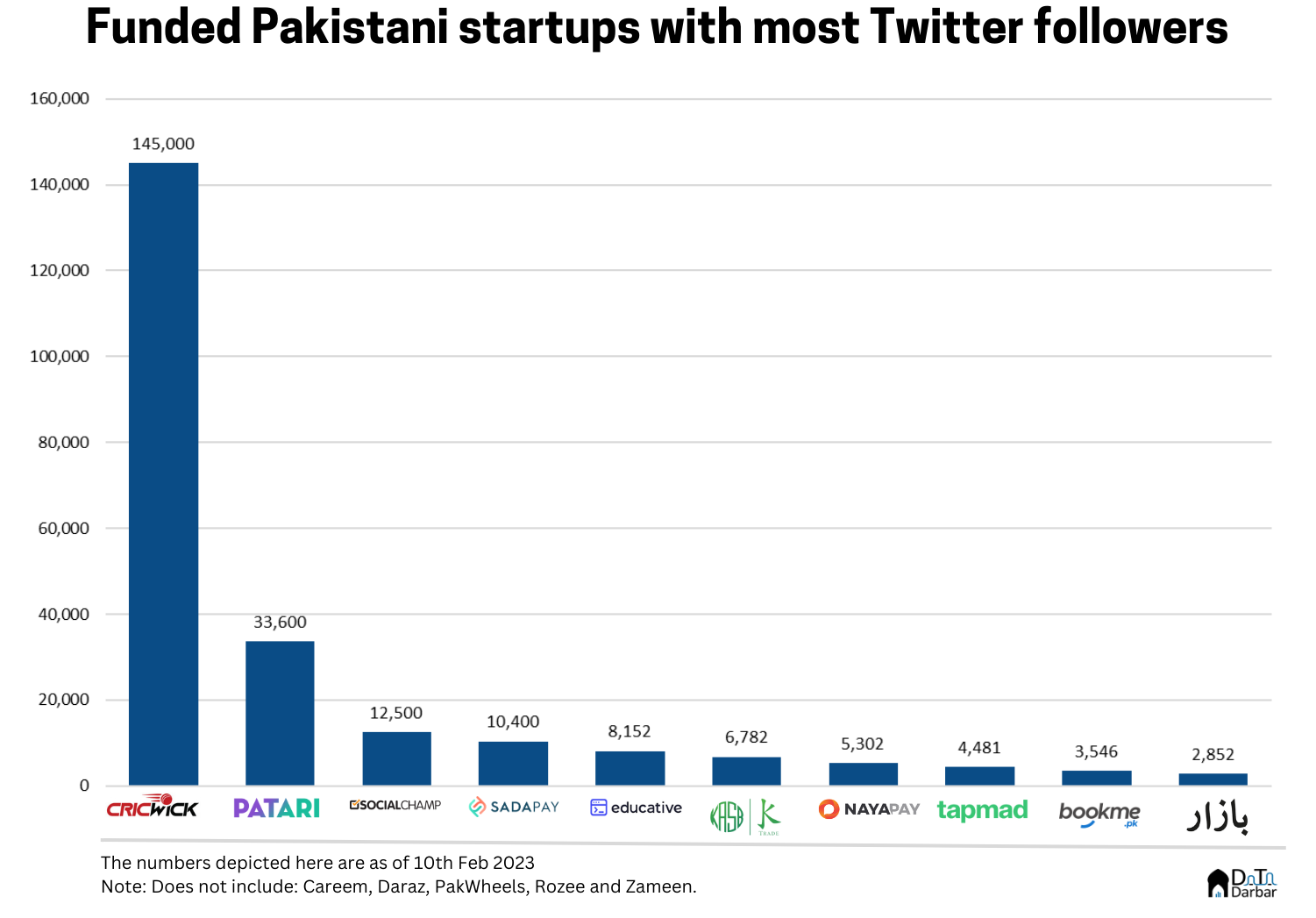 The only one that really seems to be paying any attention to the bird app is Cricwick. With 145K+ followers, it literally edges out the next nine COMBINED. So what exactly are they doing right or at least better than the rest? Well, the startup is in the business of content and cricket, two ingredients that generally make up for a bigger audience. Basically, they can put out a new post literally every other hour, including short clips of Babar's cover drives, which do wonders for engagement. Meanwhile, Patari is feeding off the gains made half a decade ago. Despite being second on the list, its engagement lies probably in the 10th percentile of Twitter.
Tiktok
Another oft-ignored channel is TikTok despite its gaining popularity among the masses. Of the 161 startups in our sample, only 46 have an account on the platform and just 14 have more than 1,000 followers. But that's a terribly low bar, to begin with.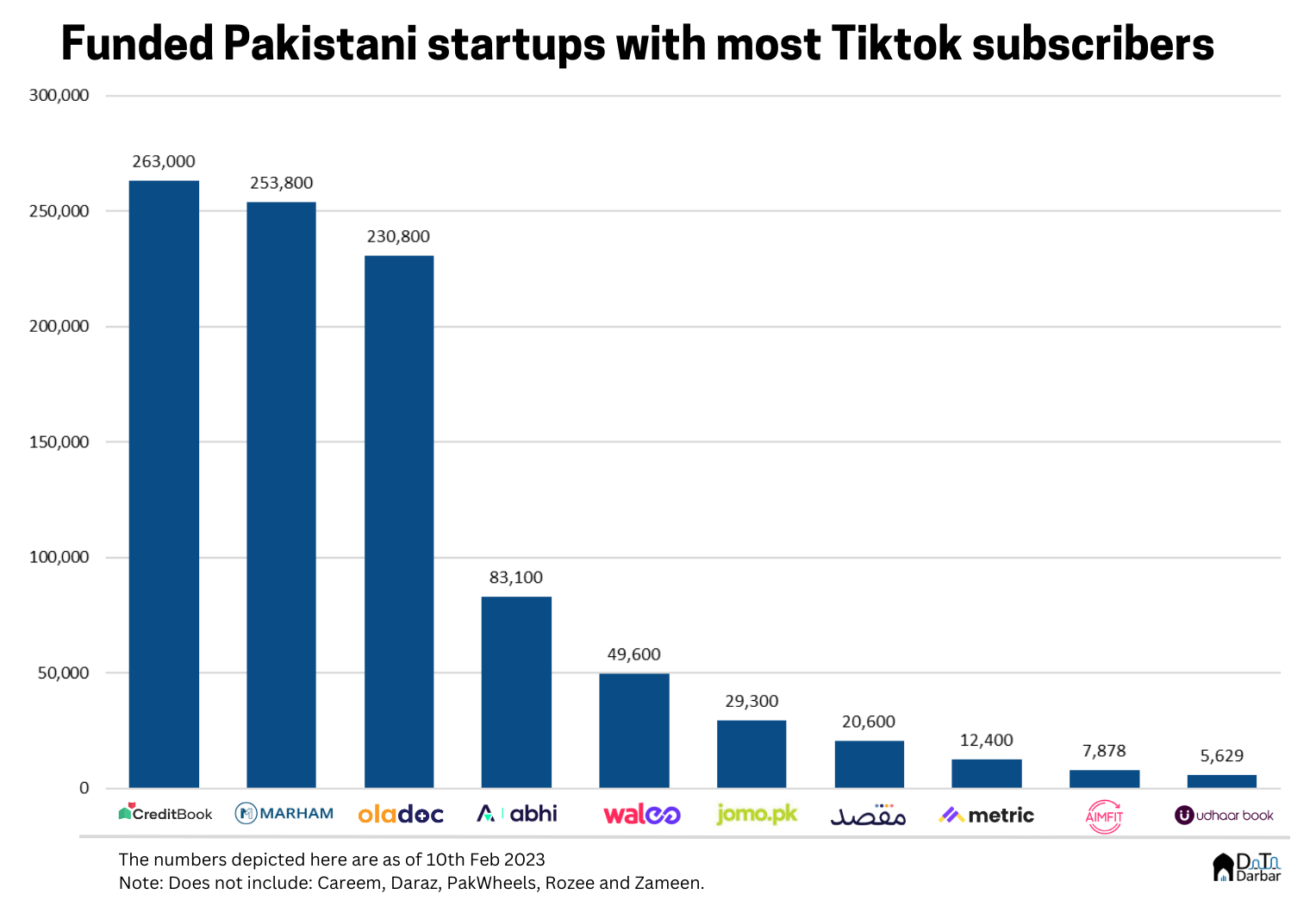 There are a few startups that have leveraged the short format video well though, including Creditbook with its 263K+ followers. This is smart from because Tiktok is particularly popular among their target audience of kiryana store owners. Some of their most-liked content features brand ambassador Babar Azam while other videos contain use cases and testimonials from customers.
Marham and Oladoc also boast 200K+ followers each and have generally leveraged social media well, especially video content. For example, the former has 1.2M subscribers on YouTube and the latter 1.5M, boasting 108M+ and 155M+ views, respectively.
LinkedIn
In relative terms, this is the best-used social media platform as 43 companies had at least 10,000 followers here. It obviously makes sense as they all want to attract top talent and try to position themselves as THE place to work at. Think of all those mandatory "Happy to start my new journey" posts with fancy welcome packages. On this platform, the scales are tipped in Sadapay's favor with 97K+ followers.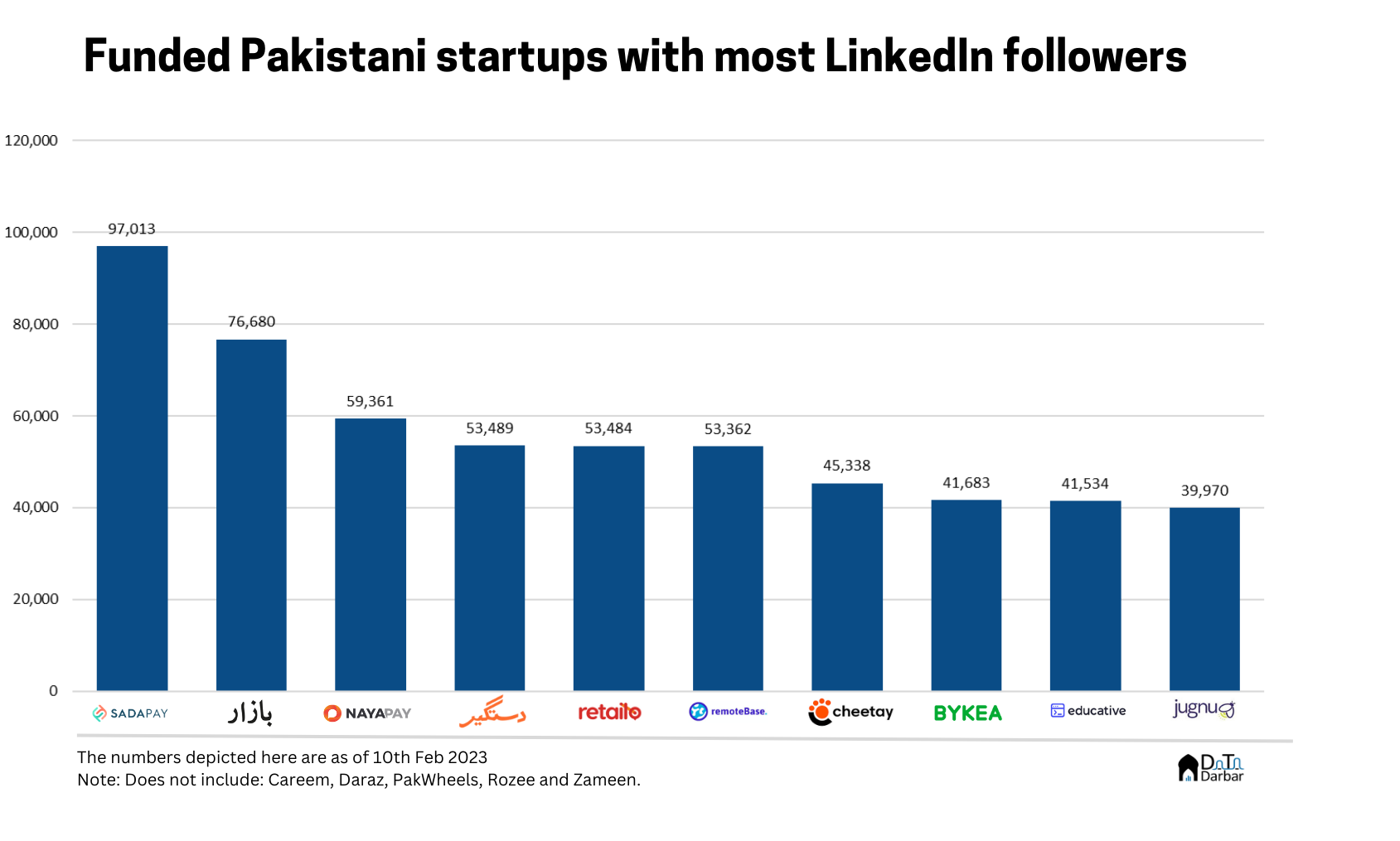 One reason for that could be their (completely organic?) user-generated campaign, which features users flaunting their Sadapay cards. But more than anything else, what really stands out on LinkedIn is venture funding: the top 10 players have raised some $330M between them. The only outlier is Remotebase with $3.5M in capital, but they are a recruitment company so it makes sense.
Now, of course, the number of followers barely scratches the surface in assessing how a particular startup is leveraging social media channels. It misses not only the growth but other metrics like engagement and reach too. And most importantly, it doesn't reveal anything about their content strategy and brand positioning. For example, Oraan, which didn't feature in any of the top 10, is doing fairly well on Instagram, making relatable memes and posts.
Rarely do you see any tech company going out of its way to build a strong identity. You know, like Muzz has done now or Careem did years ago. That lack of creativity is glaringly obvious and it's a massively missed opportunity. Except for Marham, literally, no one has hit a million followers anywhere even though all top social media platforms boast user bases running in tens of millions.