Welcome to the sixth edition of Appistan! All of us are still recovering from Pakistan's reincarnation in the T20 World Cup 2022, as the team is now on its way to the final after 13 years. Barely four days back, the green shirts were all but out of the tournament until a surprise Netherlands victory over South Africa brought us back to life. But while we get a chance to process this, local OTT platforms don't. Currently, they are seeing their biggest business season, and the data shows as much. Between Oct 23 and 29, three of the 10 most downloaded apps – Daraz, Tamasha, and Live Cricket TV HD – in Pakistan were offering cricket streaming.
In terms of active users, Jazz World has retained its top spot among local players even as its overall rank declined by two notches. All in all, 12 Pakistani apps made it to Data.ai's top 100 apps by active users. For the deep dive this week, we look into the world of dating and matrimony apps in the country, and how many still continue to be popular despite government crackdowns.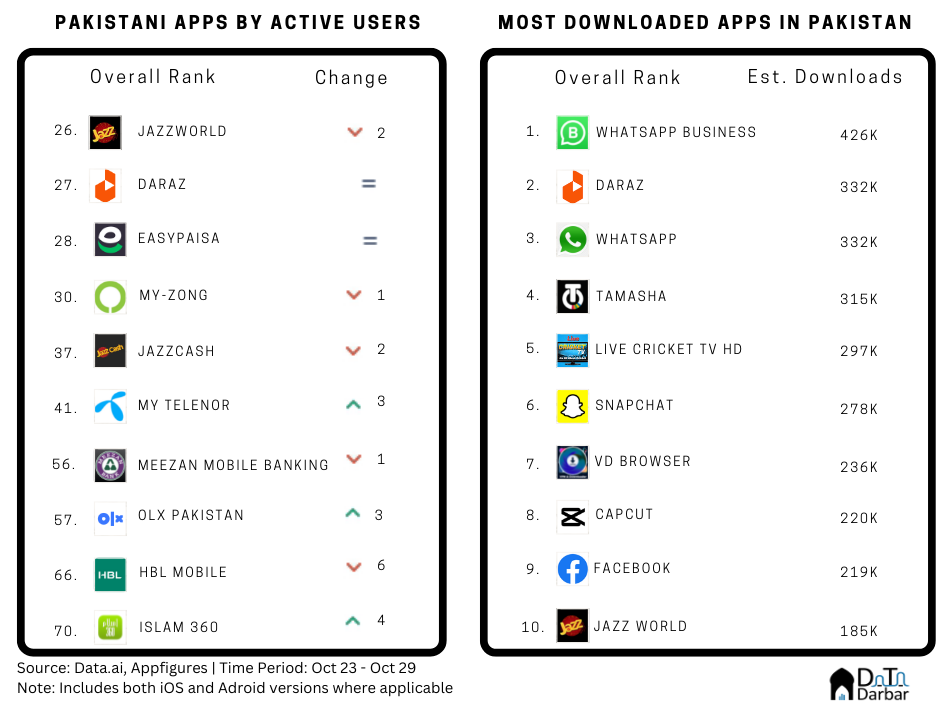 Finding your im(perfect) match
While Pakistan may not have much to offer in terms of extreme adventure sports, it compensates for that thrill in the form of the dating life of young adults. Dating is a precarious task in the country, one only made slightly easier (more dangerous?) through social media. Given the LinkedIn DM screenshots posted on Twitter every day, it's true that desi men go by the motto that anything can be a dating app if you try hard enough, but it's matrimonial apps where truly the lines between dating and marriage are blurred.
The biggest dating app in the world, Tinder, found similar success in Pakistan before falling prey to the government's trigger-happy ban policies in September 2020. Given the state's penchant for banning things left, right, and center, Pakistanis were not going to let a little hiccup get in the way of their entertainment. Even after the ban, Tinder continues to see an average of ~500 daily downloads on the Play Store and has accumulated over 1.5M downloads in Pakistan since 2017, as per Appfigures. It also gets around 10K visits per month on the web, according to Ahrefs data. and continues to remain a popular choice for people looking to not only date but also find spouses.

Following close behind with over 800K downloads is an odd choice – Happn. A French location-based social search app, Happn seemed to be Pakistan's fav dating app from 2017- 2019. As a self-proclaimed connoisseur of dating apps in Pakistan, my lack of knowledge about Happn really stung, Why was there a dating app just out there being used by everyone else but me? But my FOMO aside, while Twitter and Bumble dominated conversations, apps like Happn and Badoo dominated the download charts.
With over 400K downloads on both the App Store and Google Play, Bumble may not have the strength in numbers but it made up for that by offering users a safer and more vetted pool of candidates to choose from. One reason for the app's unpopularity in numbers as compared to its counterpart Tinder may be related to how Bumble only allows women to initiate the conversation and asks for profile verification by comparing uploaded pictures and selfies. This extra level of safety may seem off-putting to some people (read: men) as it allows the dating experience to be comparatively smoother and safer, unlike Tinder where in-person dates can be a gamble between finding the love of your life or ending up as the inspiration behind the next crime patrol episode.
Operating on the more halal side of things are matrimonial apps. Like Maggi is to instant noodles, Shaadi.com is to matrimonial apps for desis. Established in 1996, before the internet wave came to India, the website only saw popularity among NRIs but as internet adoption increased, the app became one of the most trusted matrimonial websites for desis. While its popularity may have dwindled in Pakistan, its success in digitizing the rishta hunting process made it possible for other entrants to establish themselves in the market. Naseeb Networks (the parent of Rozee) also tried something similar, but by catering to Muslims in western countries.  

While matrimonial sites came and went by the dozen, the first app focused on Pakistanis and their rishta-hunting needs was Muzz. With 7M+ profiles worldwide, the app has over 680K members in the country, according to Danish Khalid, the company's Marketing Lead for Pakistan. From promising to pay off the fines levied on women who wore burkinis in France to getting on the wrong side of Jamat-e-Islami for the words used on their billboards, Muzz has enjoyed its time in the limelight, in part thanks to some catchy copywriting.
So if Shaadi.com opened the doors and Muzz did all the heavy lifting for creating a market for such apps, it's Dil Ka Rishta that has been reaping the benefits. At least for the past couple of weeks, even though the product has been available on the Play Store since late 2020. With in-your-face marketing and billboards plastered all over the country, Dil ka Rishta claims to have pulled over 520,000 profiles for the app while AppFigures puts their downloads at 386,220 (the Android version is yet to cross 100K).
Founded by former PITB chief Umair Saif, Dil ka Rishta started by allowing only consultants (just a fancy name for a rishta aunty) to sign up on the app, and then families could submit their profiles only via the consultant. It didn't matter that you were not sitting in front of a prospective groom serving chai to your guests as your mother waxed poetic about your culinary skills, Dil Ka Rishta ensured that even with the digitization of the whole process, families held the reins when it came to the rishta process. Most of these have come over the last few weeks.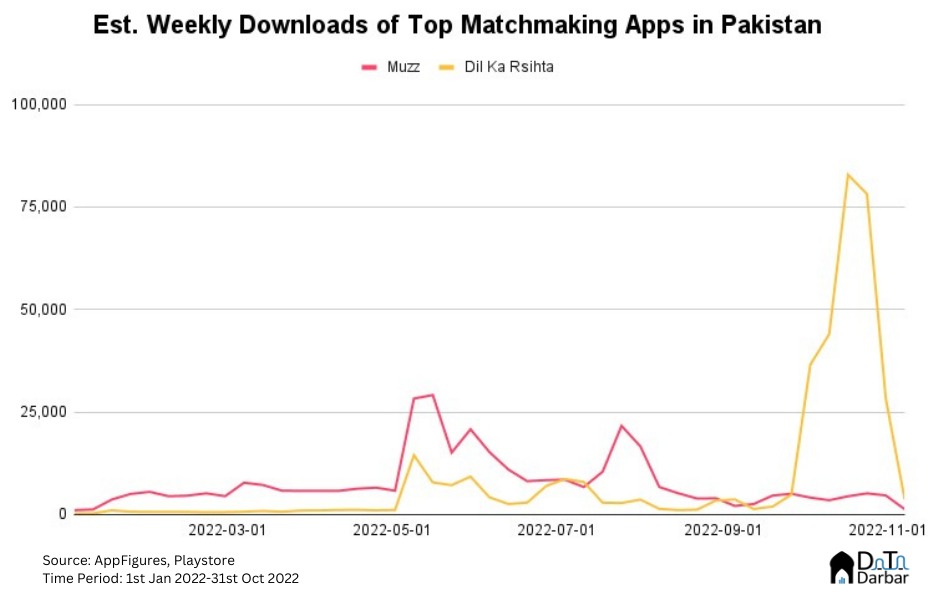 Both Muzz and Dil Ka Rishta have portrayed themselves as purely matrimonial apps and have put mechanisms in place like the addition of chaperones to oversee conversations. But they quite underestimate how much Pakistanis want to find suitable apps for dating. And naturally so. In a country this young, it's completely understandable. Not for the government though, which jumps on the first opportunity to play Big Brother and ban things. However, that's not going to stop Pakistanis — who will find one medium or another, from Facebook to TikTok to some other platform that doesn't exist right now.