Welcome to another issue of Appistan, where we expand our lens a little. For this very special issue, we will break down the biggest trends from the State of Mobile MENA 2023 by Data.ai. Back in February, we had published a pretty detailed State of Apps 2022 for Pakistan so it's only natural for us to now look at the broader region. So let it rip.
Understandably, Pakistan was the forerunner in MENAP with 3.52B downloads in 2022, putting it firmly in ninth position globally. According to Sensor Tower's data digests for 2023, we stood at eighth in the first two quarters. The country was also miles ahead of Saudi Arabia, which had 1.76B installs last year. Other MENAP markets were far behind like Bahrain retaining its 96th spot for the third year in a row.
Download: State of Apps Pakistan | 2022
Similarly, Pakistan also retained sixth position globally in terms of time spent for the third year straight. With 161B hours in 2022, Pakistan outpaced both Egypt (82.4B) and Saudi Arabia (27.42B) by an order or magnitude. However, it lagged on the Northstar metric. Its consumer spending of $82.9M was nowhere close to Saudi Arabia's $1.12B. This obviously shouldn't come as a surprise to anyone: because while we are a great "volume" market, the ability and willingness to pay are pretty low.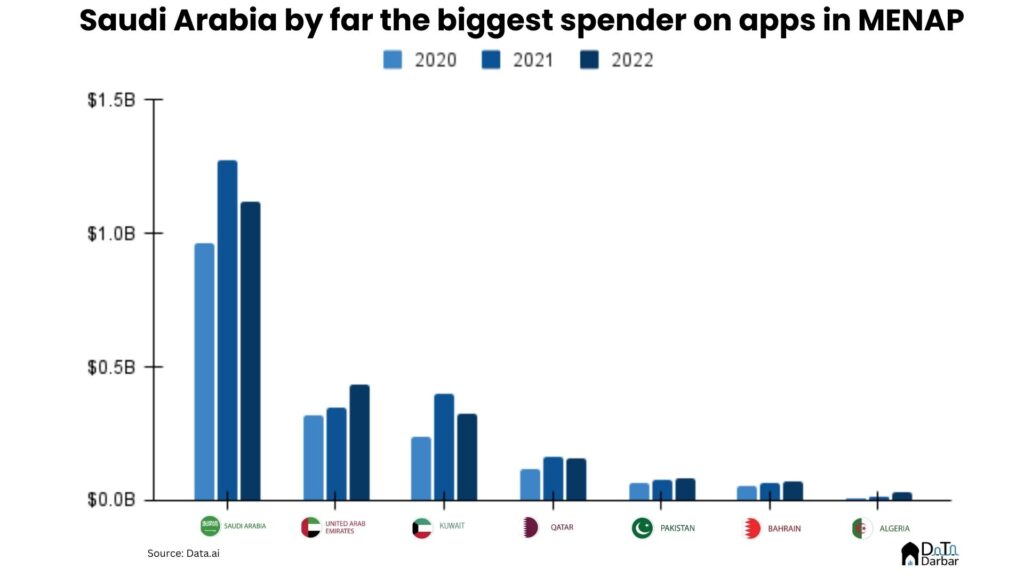 Meanwhile, the KSA, despite an 11.7% YoY decline, still ranked 13th globally by consumer spending. It was miles ahead of others in the region and part of an exclusive club of 15 countries where this figure stands at $1B+. This also explains why everyone's so bullish on Saudi Arabia these days: not only has it a sizable population but those people have high disposable incomes as well. Unfortunately, Data.ai didn't disclose the value for Egypt. Ranked 65 since 2020, Pakistan fared better than Algeria and Bahrain who each spent $70M and $29.8M in 2022.
The biggest categories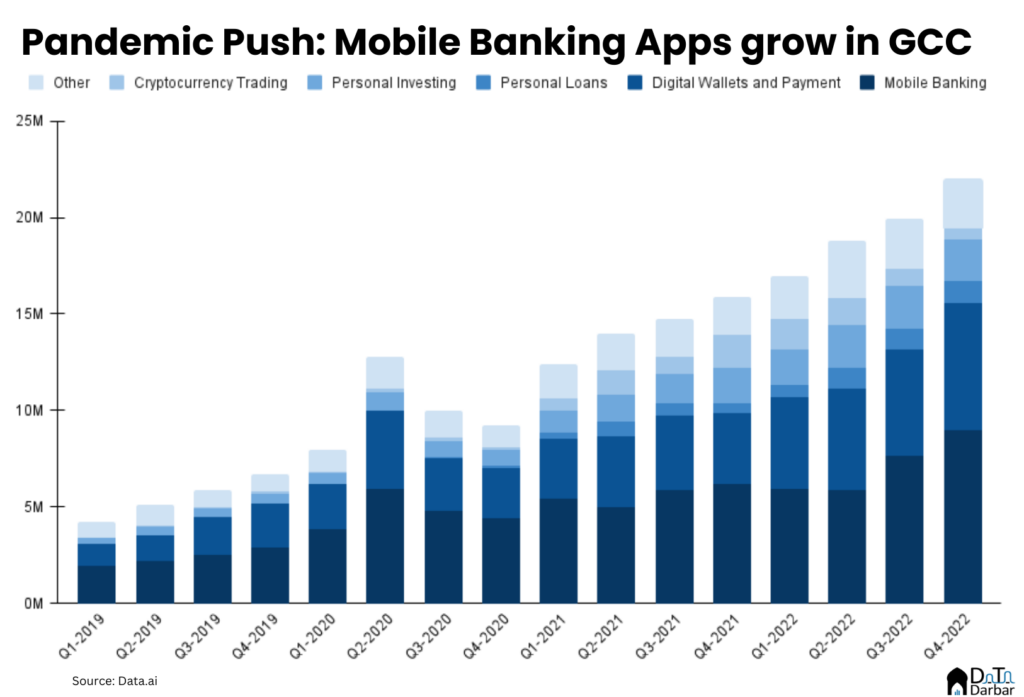 In finance, the two most popular subgenres were mobile banking and digital wallets with 28M and 22M installs. But what stood out was the uptick in digital lending, a trend we have closely seen in Pakistan for the last two years. The same category also found popularity in Egypt as personal loan apps grew from 99,000 in Q1-2021 to 2.1M by Q4-2022. Moneyfellows is one of MiddleEast's top fintech apps while the other contender on the list was EasyCredit [which has since been removed from the Playstore].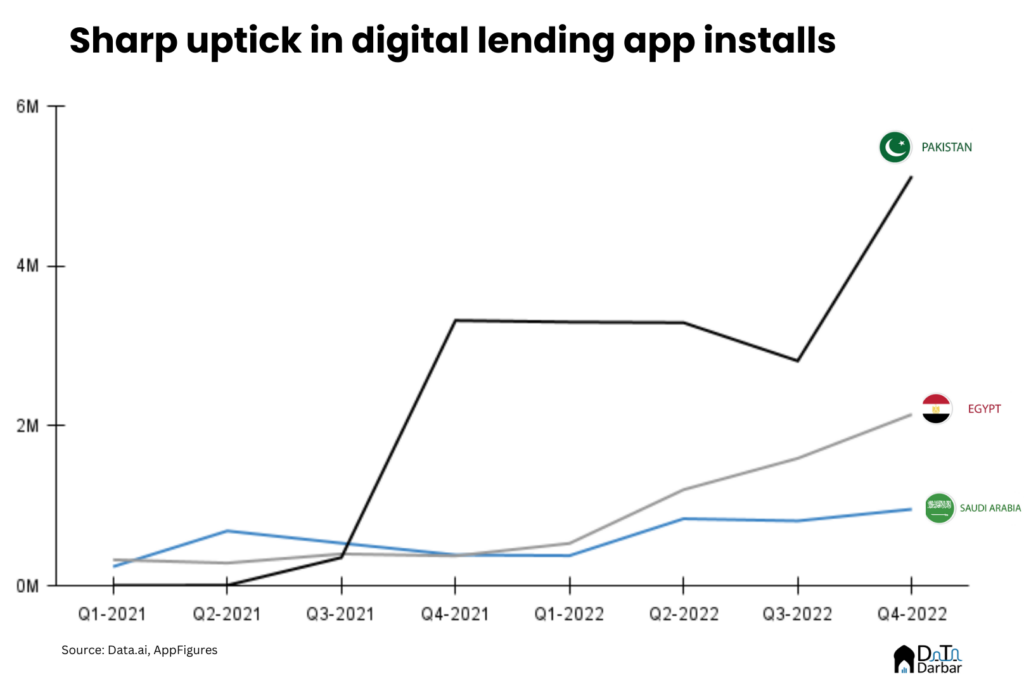 On the shopping front, BNPL was the highest-growing category in GCC, surging 235%. However, e-commerce (retail) still had the largest absolute value by a margin. At the product level, Alibaba's dominance was hard to miss as it was among the 10 most downloaded apps in every single market. In food and drinks, we finally got a clear winner for the war between KFC and Mcdonalds' (at least for MENAP). It was Colonel Sanders who swept the Top 5 charts in all countries except Saudi Arabia.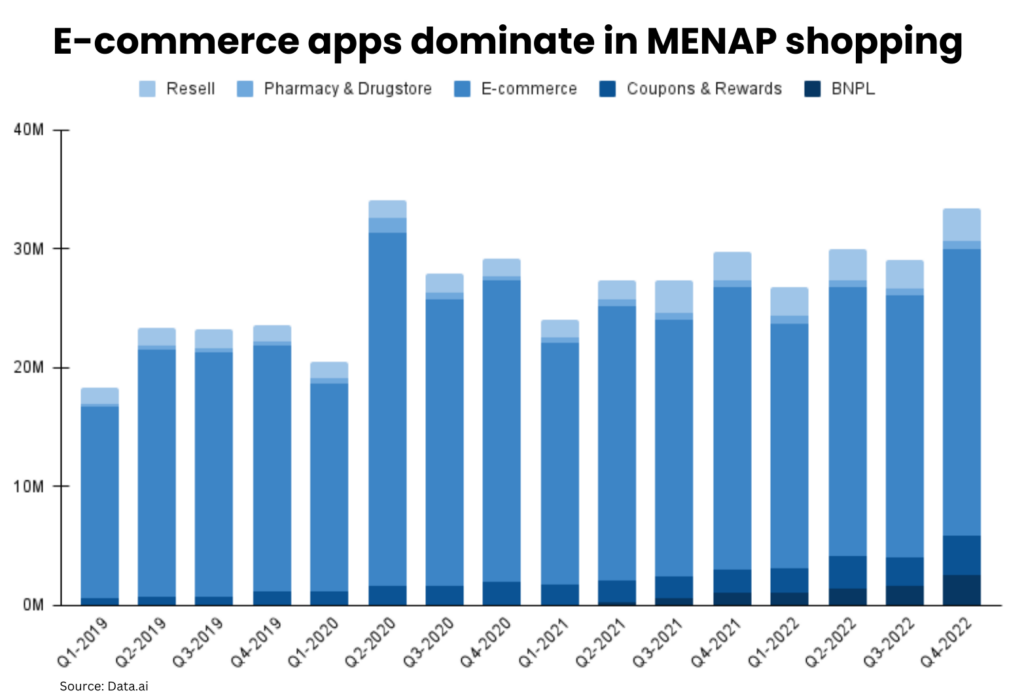 Perhaps the most interesting bit was sports where cricket supremacy was visible across the GCC, thanks to the large South Asian population. The biggest beneficiary was a Pakistani app called Live Cricket HD [formerly named PTV Sports Live], which stood atop the downloads leaderboard in every country. The OG fans know about it. Meanwhile, the official PTV Sports live-streaming app also featured among the top 5 in all but one market.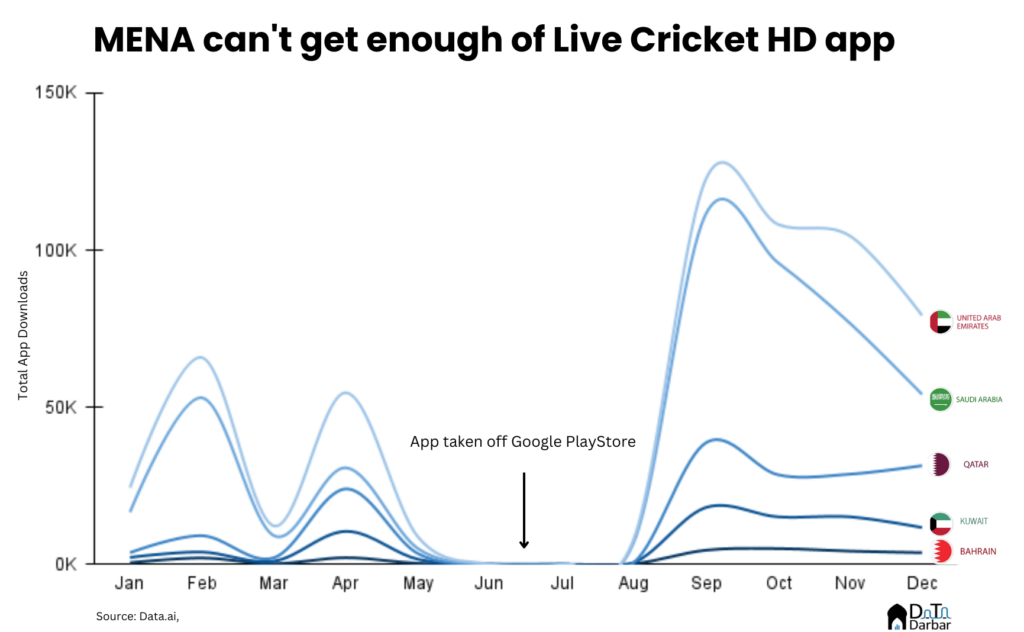 The short video craze grips MENAP
The story of short format's global craze is familiar, but let's tell it just once more. Like most other regions, the Middle East is OBSESSED with these apps. Nothing signifies this trend better than the fact that TikTok leads by both downloads and consumer spending in EVERY SINGLE country where data was available. The second spot in all markets except Oman was taken by Bigo Live, which recently came under fire in Pakistan after it was reported that $8.93M was remitted out of the country since 2021 through chat-room apps. More interestingly, Yalla, a regional player, managed to get some share of the social apps market.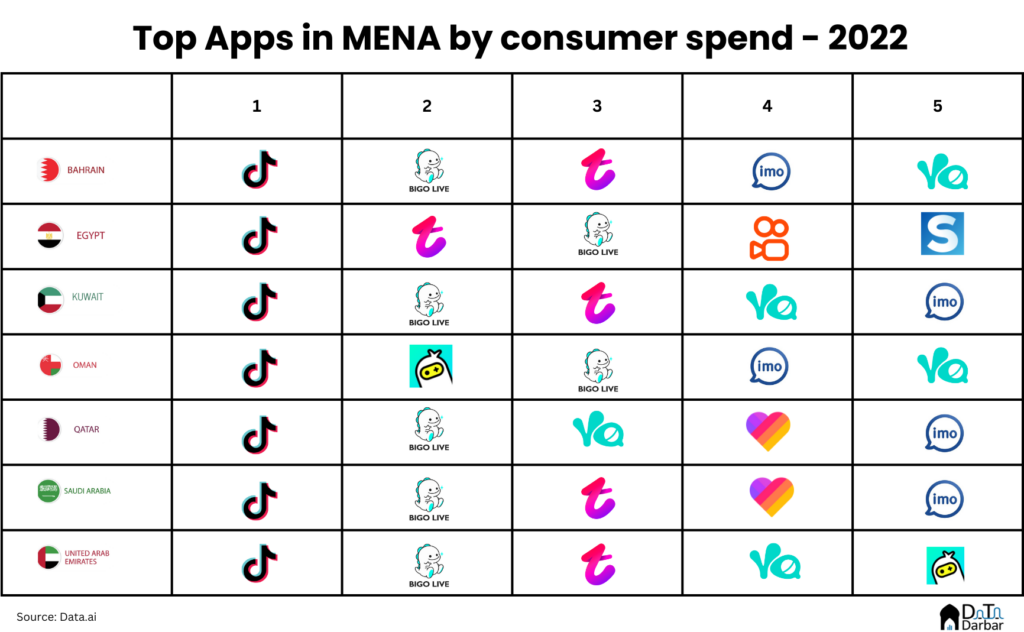 Cumulatively, social apps had 188M installs in the GCC during 2022, up 15.8% over the last year. Similarly, total time consumed in this category jumped 12% to 21.97B hours while consumer spending edged 2.5% lower to $571M. But that didn't shake the monopoly of social apps in terms of spending, which account for 25% of dollar value in the GCC.
Game On
Globally, spending on mobile tends is concentrated towards games, which usually dominate the list of biggest earners. In fact, until 2020, no single app had ever crossed the $1B mark annually while two games had achieved this milestone in 2015. The Middle East ecosystem mirrors this trend. For instance, 40.7% of all the spending in GCC went to games in 2022. However, this share has come noticeably down from 46.7% just two years ago, in part thanks to players like TikTok and Bigo Live.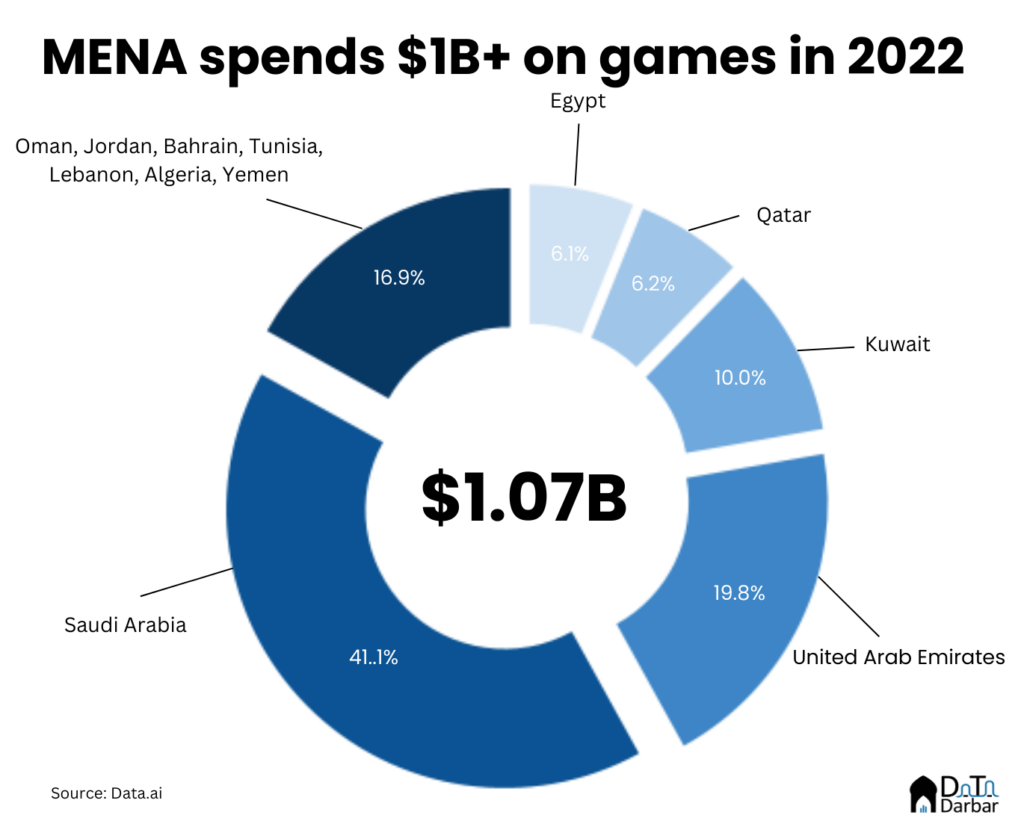 Even the absolute dollar value slipped a little in MENA during 2022. In GCC and Egypt, the spending on games declined by 15.3% and 8.2% to $903.9M and $65.2M, respectively. The former is much steeper than the 5.4% dip in global consumer spending on games and comes largely from Saudi Arabia, down $99.2M and Kuwait lower by $102.6M.
The supply side of apps in MENAP
The downloads and spending numbers are incredibly valuable in understanding the demand. But an equally important question is: what does the supply look like? And is it local or foreign? One way to look at it is the number of publishers from each country. Here, Pakistan comes out on top with ~4.7K developer accounts* across Google Play and App Store.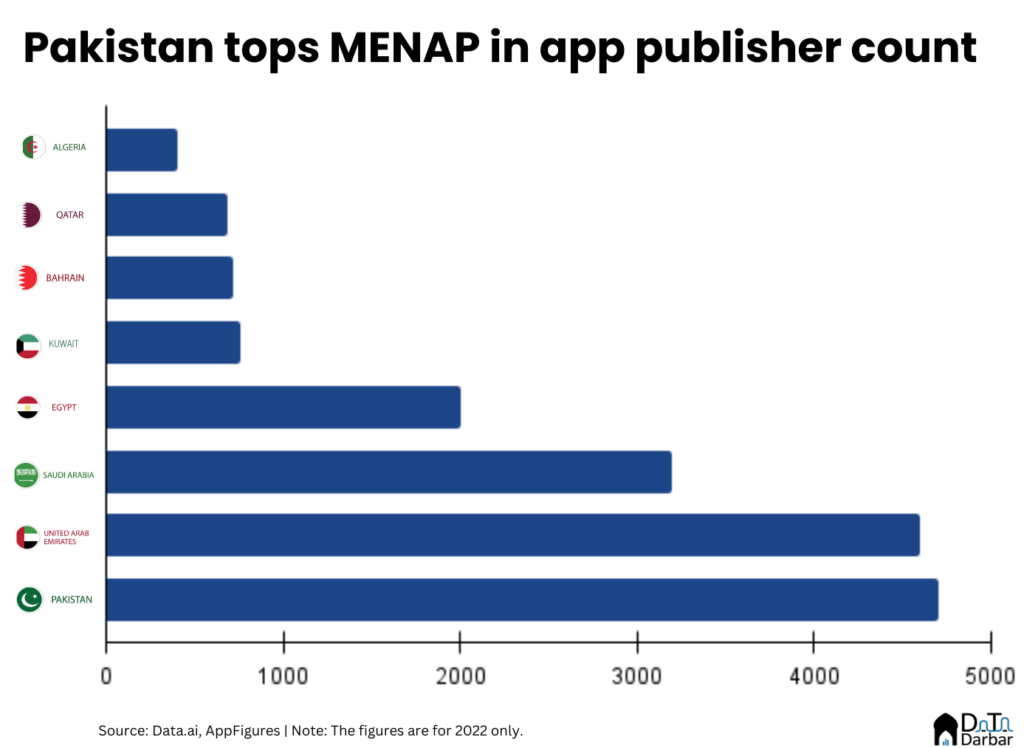 The United Arab Emirates stands right behind with ~4.6K publishers. This is much higher than Saudi Arabia's ~3.2K and Egypt's only ~2K. Part of the reason could be that many companies register here for official purposes given it's a business-friendly jurisdiction.
At ~21K, Pakistan also led in the count of apps by local publishers, according to Appfigures estimates. The UAE came in second with ~18K, followed by KSA at ~13K, and Egypt at ~8K. But once we put a filter of products with >5M installs (on Google Play), the numbers obviously change dramatically. This criterion leaves us with only 221 apps in Pakistan, 131 in UAE, and 25 in Saudi Arabia.
Across emerging markets, it's a common theme that local apps don't usually make it to the top lists. Or even generally lag behind in terms of installs. For example, while Egypt has 4,153 products on Google Play with 5M+ installs, just 25 of them are by local publishers.
The biggest winners
No matter how local the app consumption patterns of different markets are, the biggest winners are almost always pretty global. Looking at the top three companies with the most downloads in GCC and Egypt, it was a dance-off between the usual suspects — META, Google, and ByteDance. In Pakistan too, Meta and ByteDance have had stiff competition with former's aggregate portfolio growing faster than the latter's.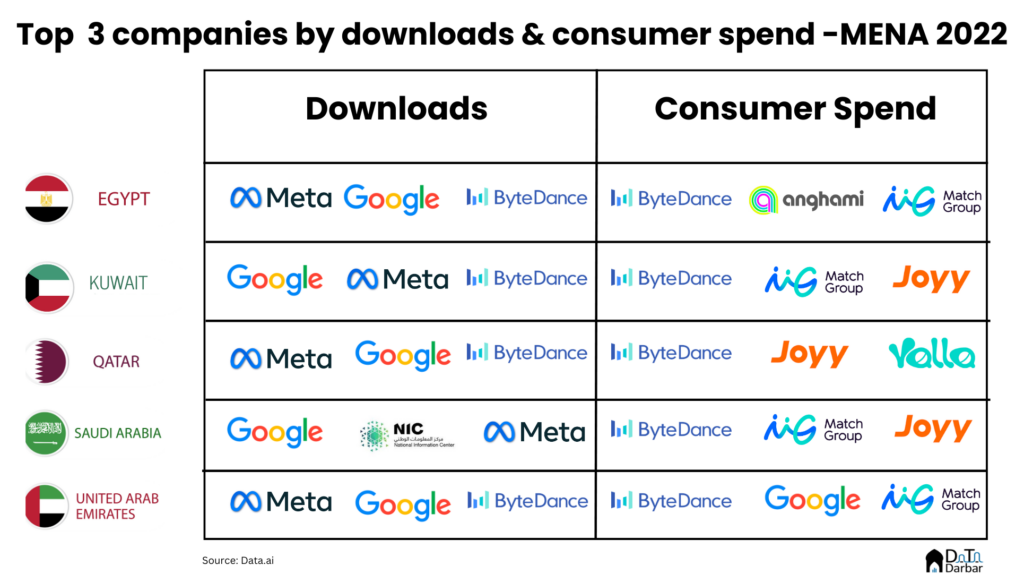 However, in Saudi Arabia, the National Information Center — an e-government initiative managed to rank second, pushing ByteDance to the fourth spot. In terms of consumer spending, ByteDance was ranked number one with MatchGroup [the company behind Tinder] showing up in the top three list of all markets except Qatar.
Here, there is one honorable mention: Yalla, the UAE-headquartered company that now lays claim to some of the biggest apps in the region. It appeared in the top 10 games publishers by consumer spending in at least 5 of the MENA markets and was the only regional player.
The key takeaway here is that MENAP has a young and mobile-first consumer market, thriving both in value and volume. Now the only question is: will local players be able to capitalize on that momentum?
*Note: There'll be repetition here as some publishers will have accounts across both Google and App Store. Also some publishers will be registered abroad