Hello everyone, and welcome to another edition of Appistan (FINALLY?). It's been a long while, but let's not waste any more time. On the active user front, Daraz finally cinched the top spot. The Azadi sale did well, it seems? Other than that, nothing really unusual except for MyUfone dethroning UBL. Meanwhile, a new VPN featured in the most downloaded chart (to no one's surprise). For our previous issue, we looked at the sudden popularity boom that VPN apps experienced amidst a government-imposed internet blackout. For this week, we're looking at how chat room apps have opened up a new earning stream for content creators nationwide, largely thanks to the unwavering desperation of Pakistani men.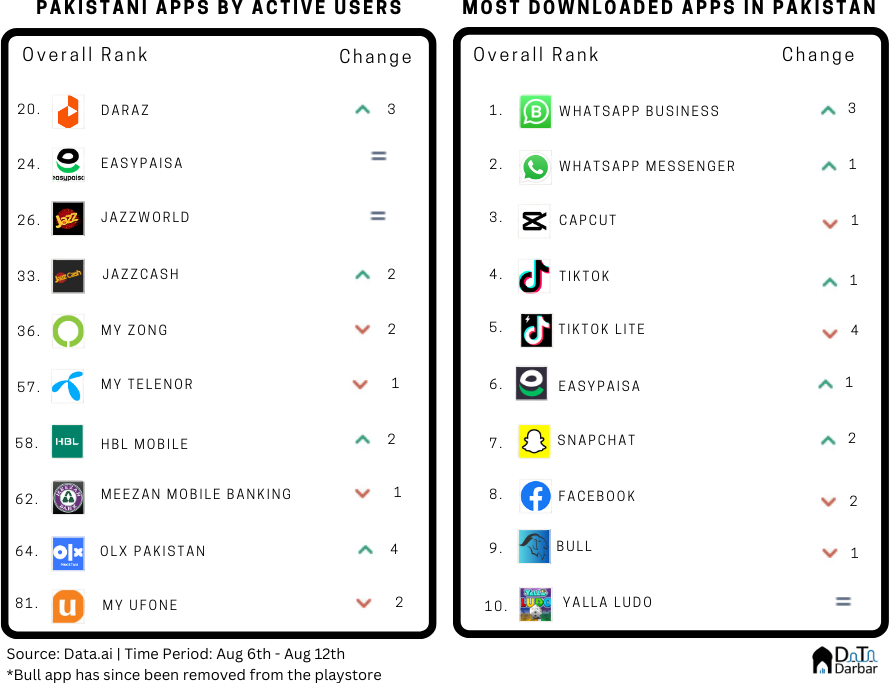 Monetizing attention via chat room apps
Though the primary mantle for making money off of doing nothing except sharing your life on social media has been taken up by the mainstream Insta influencers, the creators you find on chat room apps like Bigo Live and Badoo are tapping into an entirely different market segment. Yes, while there are live sessions where you can watch people play games or show off other skills, most users on these apps seem to be for one purpose: to watch women. Watch women do what? To find out, we put our best investigative hats and downloaded eight of the most popular chat room apps in Pakistan: StreamKar, Mico, Lamour, Snack Video, Chamet, Bigo Live, Uplive, and Likee.
Turns out you don't need to conduct much of an investigation to find out why these apps are so popular. Honestly, you don't even have to scroll a lot to get the answer. One look at a live stream and its comments, and you'll know it takes little to excite (no pun intended) men. As a viewer, you can join different live streams of creators and show your appreciation by sending them virtual gifts. Creators have the option to convert these virtual gifts into real money. The content itself is not as lewd as you might think, as it mostly borders on suggestive behavior, which is enough to keep the masses entertained, as evident by the constant gifts sent to women in these live streams.
Understanding the scale
Between Jan'18 and Jun'23, the big eight apps in our sample — Likee, Bigo Live, SnackVideo, StreamKar, Lamour, Uplive, Mico, and Chamet — had a cumulative ~157M downloads, according to Appfigures estimates. This is a big number by any standard, even outpacing popular categories like instant personal loans.
While this category has always been popular at some level, it really shot up after Covid-19. You know, when Pakistanis were looking for online companions to kill their loneliness. Downloads spiked in Q3-2020 to 12.1M — crossing eight digits for the first time, which continued until the third quarter of 2022.
The uptick in Q3-2020 mirrors the global trend when downloads peaked at 248M. Since then, the worldwide numbers have come down considerably and stood at a relatively modest 39.6M as of Q2-2023. Similarly, in Pakistan, these apps had just 4.8M installs in the corresponding quarter — in line with the Q4-2018 levels. It makes for a pretty neat (slightly rightly skewed) normal distribution curve.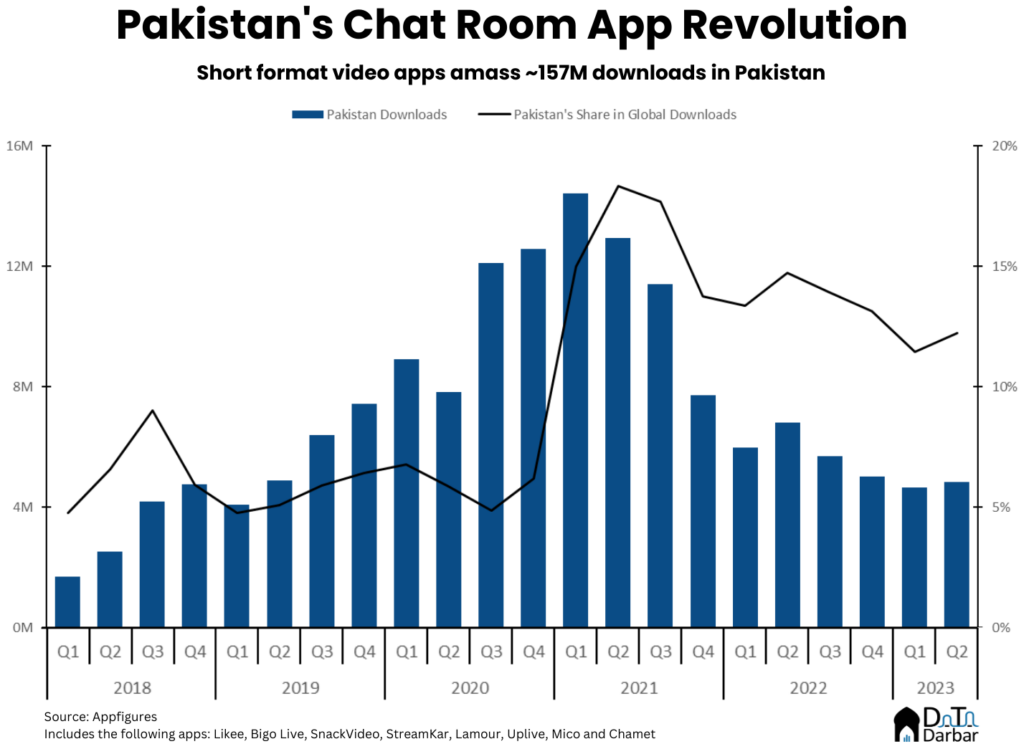 In terms of downloads for chat room apps, Likee is by far the global leader with ~819M, of which 52.7M are from Pakistan. Bigo Live comes in second with 34.2M installs in the country or 8.41% of the worldwide total. Both are owned by the same company, JOYY, which is also the developer behind the messaging platform IMO. It basically specializes in building mobile apps for emerging markets, from Indonesia to Mexico. In Q1-2023, the entity earned net revenue of $53.6M and a profit after tax of $28M. According to the Pakistan Telecom Authority, Bigo is the country's second most used VoIP protocol after WhatsApp.
While Likee and Bigo Live continue to dominate the aggregate numbers, the 2.5 years have been all about SnackVideo. Since Jan'21, its downloads have outpaced that of the other two, and at 33.5M, it is all set to overtake the latter in a couple of months. Next in line is StreamKar, with 13.2M installs in the country. Though the number is relatively smaller, Pakistan's share in its global downloads is 18.52% — the highest in the sample of eight. Mico, at 16.5%, follows right behind.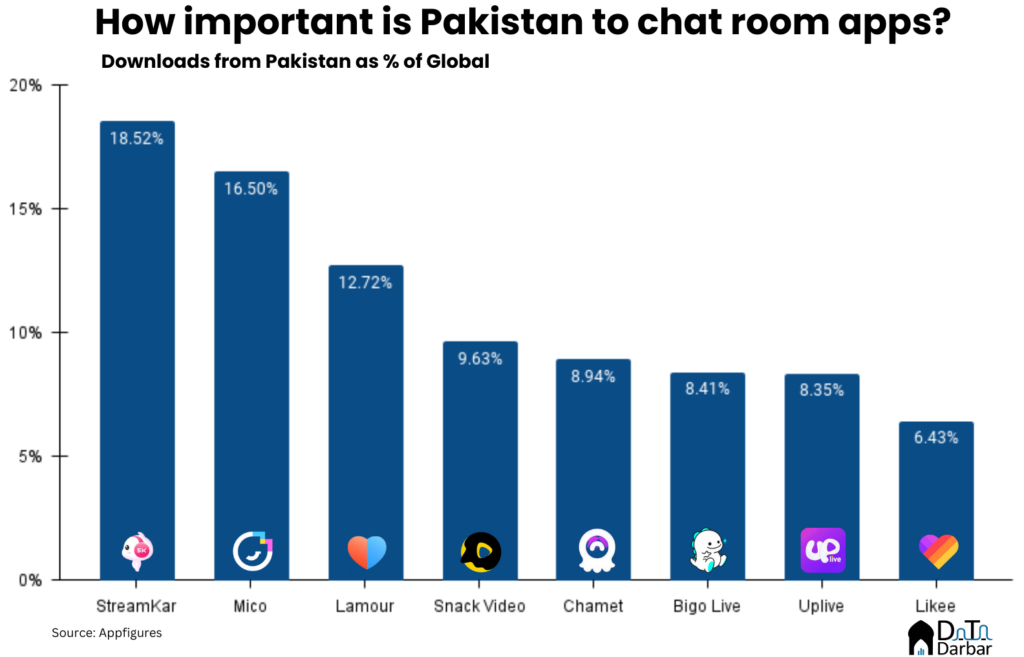 The Lure of Gamification
The success of these apps is partly owed to the interactive elements that come from a marketing strategy called gamification, through which companies take "something that is not a game and apply(ing) game mechanics to increase user engagement, happiness and loyalty". A quick use of the Bigo Live app will undoubtedly leave you a little overstimulated (desi version) since so much is happening in the user interface.
The app design loops unsuspecting consumers into becoming active participants. You watch a broadcast through which you earn XP and Coins. You can buy gifts and give them to your favorite streamers through those coins, which gets you their affection. This neat infographic by Factor Daily summarizes the core loop perfectly.
The question then becomes: without any tangible "benefits" to the consumers, how are so many willing to spend bucks? That too, just for the attention of some creators on the internet? A cursory stroll through a couple of chat rooms on Bigo Live reveals rooms with ten or more people on stream, communicating as if they're on a Zoom call. People from all over the country are just talking. Obviously, the host is a beautiful woman, which is the hook for each of the given rooms. But, the men with their cameras on just trying to have a conversation suggests something sadder at the root, perhaps pointing to the breakdown of real-life social connection in the internet age and the internet becoming a substitute for community spaces. Or maybe it's just Pakistani men being Pakistani men.
Money, Anonymity and Morality
Now, let's turn to the supply side of things. (Mostly) Female creators can earn through these chat room apps, which seems lucrative for a few reasons. Firstly, the stigma around women being able to work outside their homes in Pakistan makes a stay-at-home virtual job attractive. Oftentimes, filters on these apps allow them to hide or morph faces to become almost unrecognizable. This grants creators near-perfect anonymity. Most importantly, the money seems good.
How good? Enough for the policymakers to take notice. Earlier in March, the State Bank requested the Pakistan Telecom Authority to ban these apps to prevent "immoral content and the excessive outflow of dollars". It reported that $8.93M was remitted from the country over the last two years through chat room platforms, which in a dollar-starved economy like ours can raise concerns. Really shows our lack of imagination because this was a great opportunity to incentivise female creators for doing export-oriented livestreams and bring some inflows. Basically, the government should have cashed in on the desperation of men from other nationalities too. There's no business more scalable than that.