Welcome to the 15th issue of Appistan. This one comes after a break of two weeks due to additional workload and other commitments. During the week of 8th and 14th January, Jazz World topped Data.ai's Active User Ranking while the list overall remained the same. Meanwhile, Capcut led in terms of installs even though the volumes have drastically declined since the start of 2023. For the deep dive, we gathered the key trends prevailing our mobile ecosystem in 2022, from the most downloaded apps in Pakistan to comparison with other emerging markets. So let's dive in!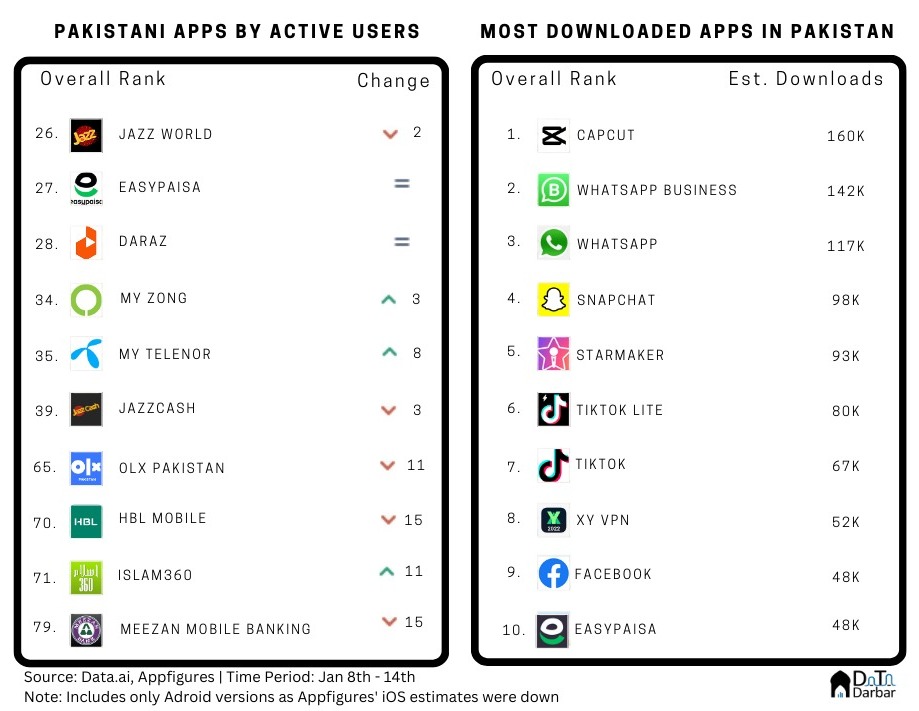 In the last edition, we looked at the main takeaways from Data.ai's State of Mobile 2023. Naturally, it looked mostly at the global trends and delved into the G20 nations. Pakistan was no more than a fleeting mention, only mentioned in terms of total installs and hours spent. Yes, we were the fastest growing market in 2022 as downloads rose 35%, but what apps drove this activity? How do our numbers stack up against other comparabale countries? Let's find out.
Download our State of Apps here.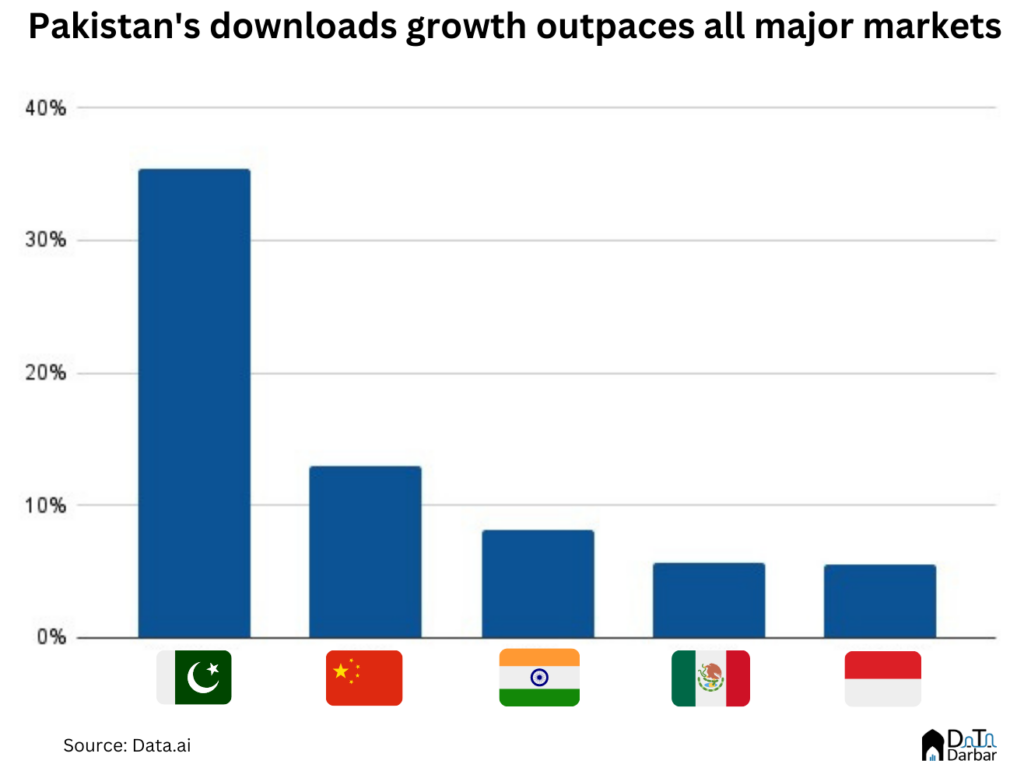 With 3.5B downloads, Pakistan was ahead of all comparable markets except for Indonesia. That trend replicated on other metrics: the Southeast Asian nation had both the highest number of publishers and locally made apps. However, these two numbers are always a little understated since many developers are registered abroad. Nonetheless, it's still a good proxy.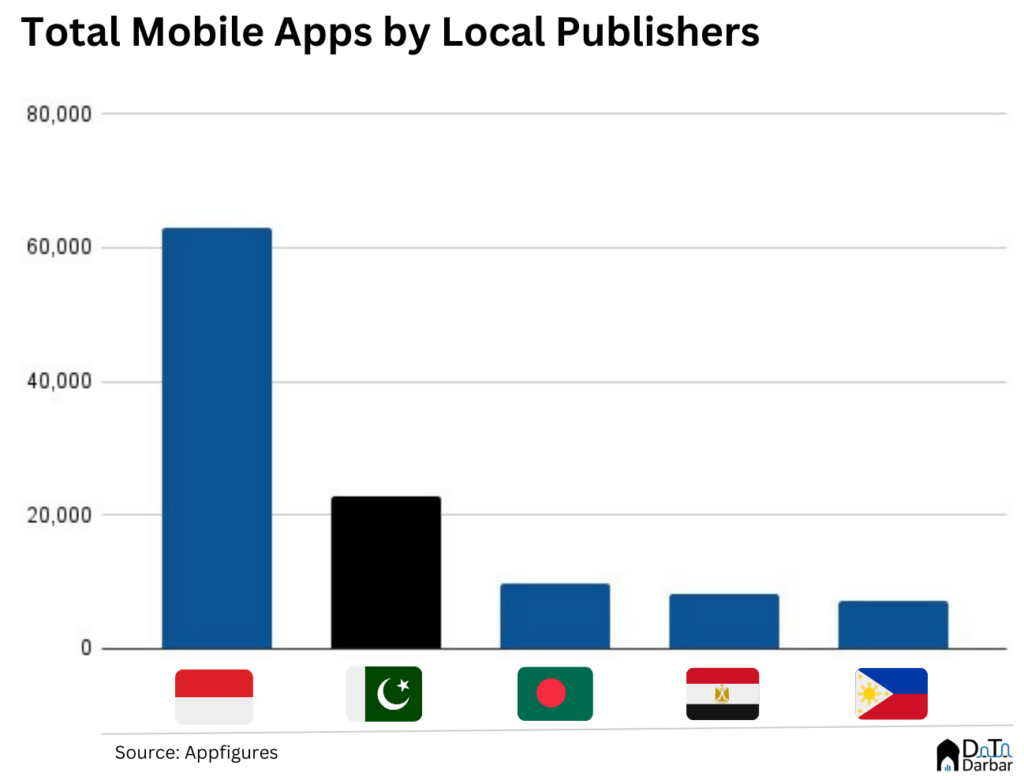 Meanwhile, WhatsApp Business was the most downloaded app in Pakistan during 2022. This is not surprising to anyone who checks our Last Week in Apps charts. Somewhat more curious is the case of Snapchat which continues to be the underdog story. For two years straight, it has outpaced TikTok's installs but barely ever gets a mention in cultural commentary or press.
Among Pakistan-based developers, telco products continued their dominance — a common trend not just here but other EMs like Indonesia and Bangladesh too. Universal TV Remote Control was the odd one out in the list. Most of its downloads were from outside the country, underlying how the opportunity in tools is truly global. Its publisher Codematics is a tech company based out of Abbottabad and claims over 100M users for this app.
The games data also reveals another missed opportunity: two of the most downloaded games in Pakistan — Yalla Ludo and Ludo Star — were from foreign headquartered publishers. Despite being a simple yet cultually iconic game, local developers haven't really cashed in. What our studios have relatively done well on is hypercasual, especially driving and stunt related games.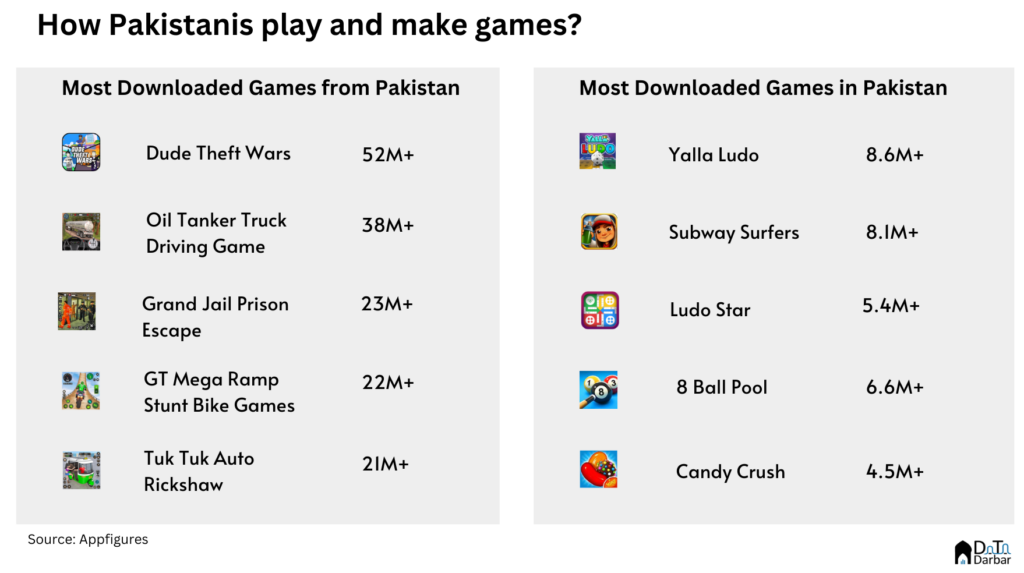 We also looked at the most downloaded apps in major categories, such as finance, audio and video streaming. Along with Pakistan's mobile evolution over the years. Everything was compiled in our State of Apps report that you can access here.