Welcome to the 14th issue of Appistan. To those reading it for the first time, we break down the key trends from Pakistan's app ecosystem here. Now to the main developments from the last week of the previous year. On Data.ai's Active User Ranking, Jazz World took the top spot, dethroning Daraz and continuing their usual musical chairs game. Pakwheels also broke into the list after jumping 16 places up. Meanwhile, Capcut maintained its dominance in downloads with 462K installs while Easy Urdu entered the charts at sixth position. Yesterday, Data.ai published its flagship State of Mobile 2023 which is packed with insights so we'll be throwing in a lot of stuff and charts in this edition. Quick summary: Pakistan was yet again the fastest growing apps market.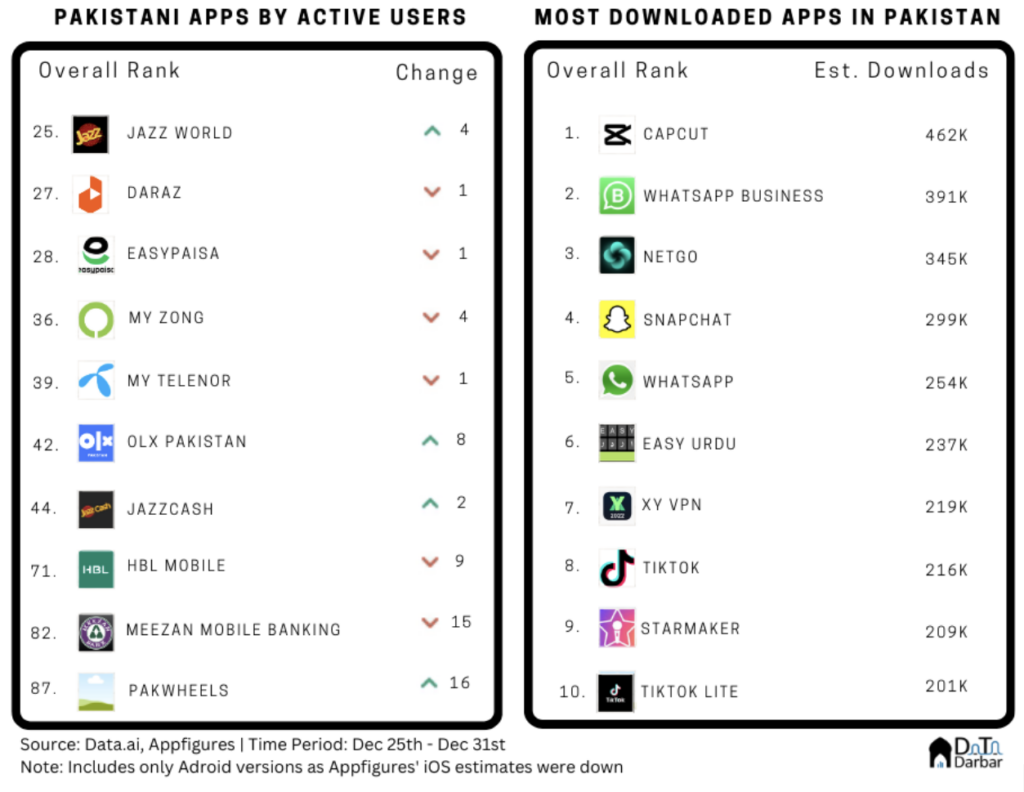 It was another phenomenal year for apps, which saw 255 BILLION new downloads worldwide in 2022, up 11% YoY. Around two-fifths of these, or 111.1B, came from China alone while India was relatively far behind with 28.9B installs, and the US in third place at 12.2B.

Pakistan recorded 3.5B downloads in 2022, standing in ninth place overall. That was an improvement of three notches from our 12th position in 2021 when the app installs stood at 2.6B. As a result, we were by far the fastest-growing apps market with downloads up 35.4%. That's almost 3x compared to China's 12.9%, which saw the second-highest growth.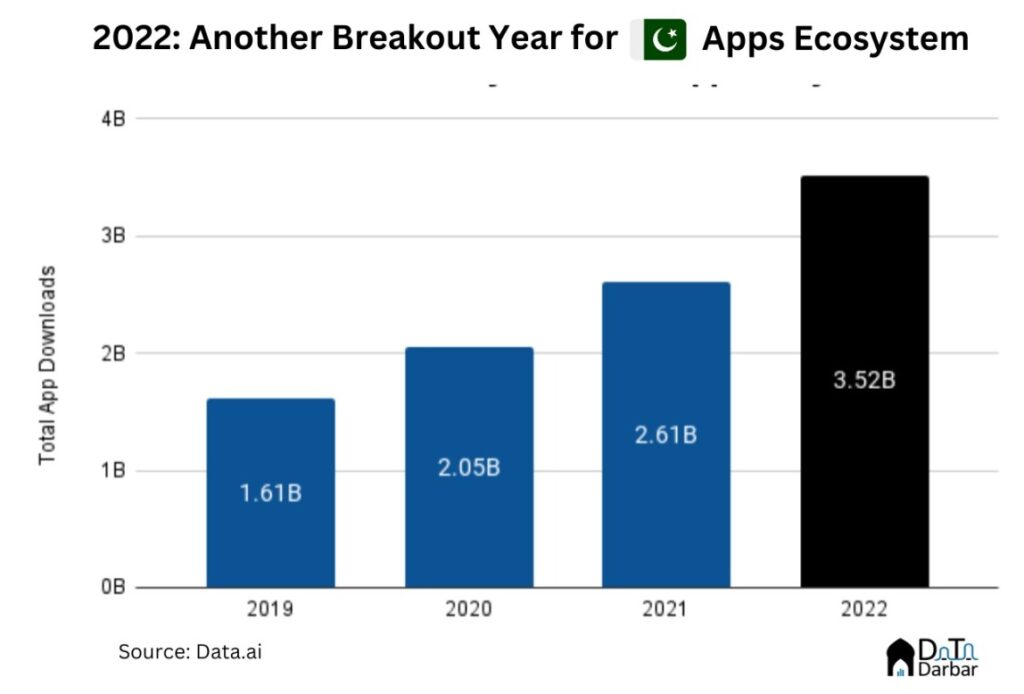 Overall, Pakistanis spent 161.2B hours on mobile in 2022, up from 134.1B hours the year before. This put us in sixth place, the same as in 2021. Unsurprisingly, China tops this chart as well with a whopping 1.16 trillion hours, while India follows behind at 655.6B. The Philippines is the only different country in this list, displacing Turkey. The global mobile ad spend grew 14% to reach $336B, driven by short video apps.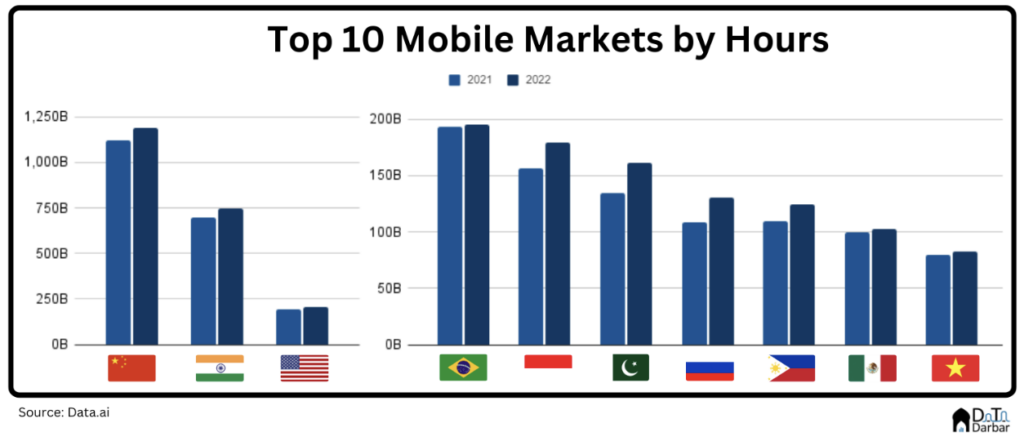 Now let's dive into the more micro trends. According to Data.ai, Instagram was the most downloaded app in 2022. This finally ended TikTok's two-year reign on the top as the short-format video giant slipped to second place. Meanwhile, Facebook came in third despite all the talk around its plateauing growth. It also led in terms of monthly active users, which is probably a better metric for a company its size. In fact, the next three biggest apps — WhatsApp, Instagram and Messenger — also belong to Meta.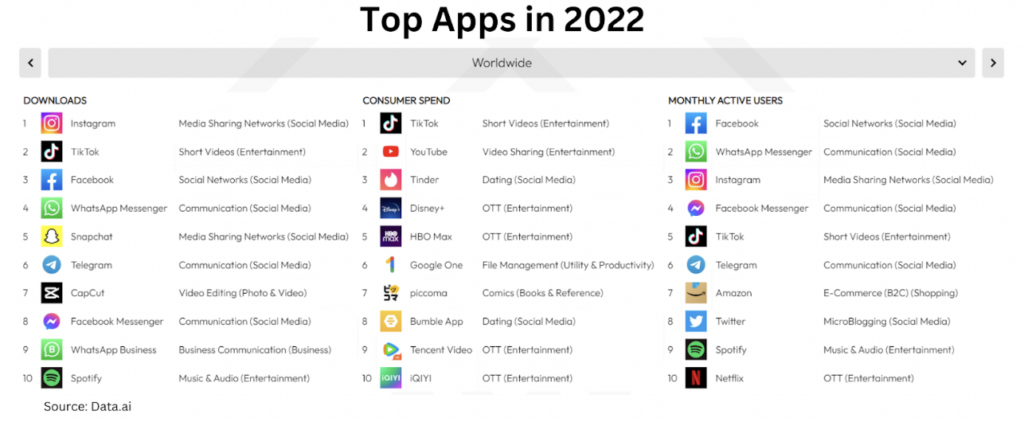 On the other hand, TikTok accounted for the highest consumer spend worldwide and actually became only the second non-game app to cross $6B in all-time consumer spending. For context, it hadn't ever broken into the top 100 of the list in any year before 2020. This is simply incredible growth.
At company level, Meta's portfolio saw the most downloads in 2022, dethroning Google. Wo The US-China rivalry (dominance) was on display here as well as all 10 names belonged to either of the two countries. However, in terms of consumer spending, two Japanese names — Softbank and Kakao — also appeared.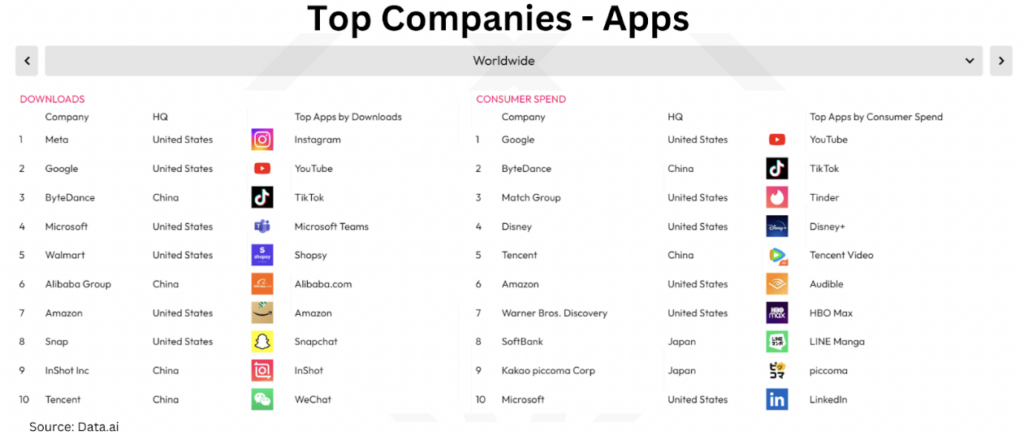 For games, it was a bit of a mixed year with downloads growing by an additional 6.67B to 89.7B in 2022. But at the same time, consumer spending fell by $6.31B to reach $109.51B. The RPG — role-playing — genre led with $25.5B though its in-app purchases declined by 8.3%. In terms of individual titles, Subway Surfers had the highest installs, edging out last year's winner, Free Fire. Meanwhile, Roblox had the most monthly active users and PUBG fell hard from first place the previous year to seventh.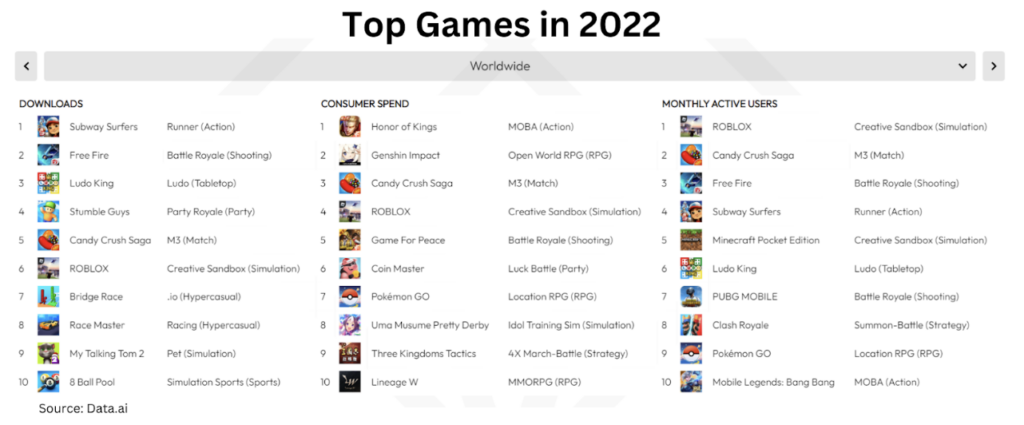 Unlike apps, there was also a lot more diversity on the leaderboard of gaming companies. While China led with three names each in downloads and consumer spending, Azur Interactive from Cyprus recorded most installs across its portfolio. Tencent maintained its dominance in consumer spending, with Honor of Kings as the biggest contributor.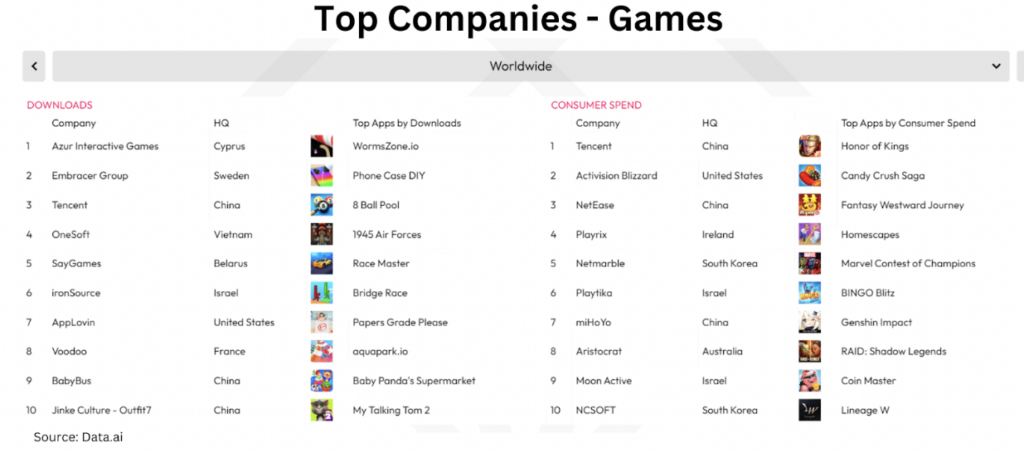 Most of this is pretty global so some of you are probably wondering where is Pakistan in all of it. Unfortunately Data.ai only shared a few data points relevant to us. But don't worry, we have been gathering data ourselves on the biggest winners from and in the country in 2022 and will be publishing it next week. If you aren't a subscriber, enter your details now to get a copy.