The wounds of Pakistan's surrender against England in the finale of an otherwise exciting series are still fresh. But while fans try to recover from the disappointment, streaming players are taking a breather from what's their busiest season of the year. Think of it as Black Friday for local OTT platforms, only that it stretches for days and occurs multiple times a year.
We touched on this last week in the first edition of Appistan, but the topic deserves a deeper look. So today, our focus will be to see just how much cricket drives activity for local video streaming platforms.
However, since only a handful of local OTT platforms actually stream live cricket, we will be limiting our analysis to them (Note: the top ones do). From our universe last week, Tamasha, Tapmad, Daraz, and PTV Sports are the usual broadcasters whenever Pakistan is playing cricket. Only the latter is a dedicated sports app so anyone who installs it is doing so with a singular purpose. But the same can't be said about the remaining three: Daraz will have a significant usage for e-commerce while Tapmad and Tamasha do have other content to offer. Therefore, aggregate downloads won't do us any good as it's impossible to identify the exact reason for installing the apps. But luckily, there are ways around it.
Then there are a few apps offering pirated streaming. In fact, one of them – named PTV Sports Live and published by Stream Inn – has actually way more downloads than the official PTV Sports Live app. Between Jun 22 and Sept 21, the former managed to get over 1.5M installs while the latter stood at almost 372K, as per Appfigures. The unofficial app has been removed from the Play Store since.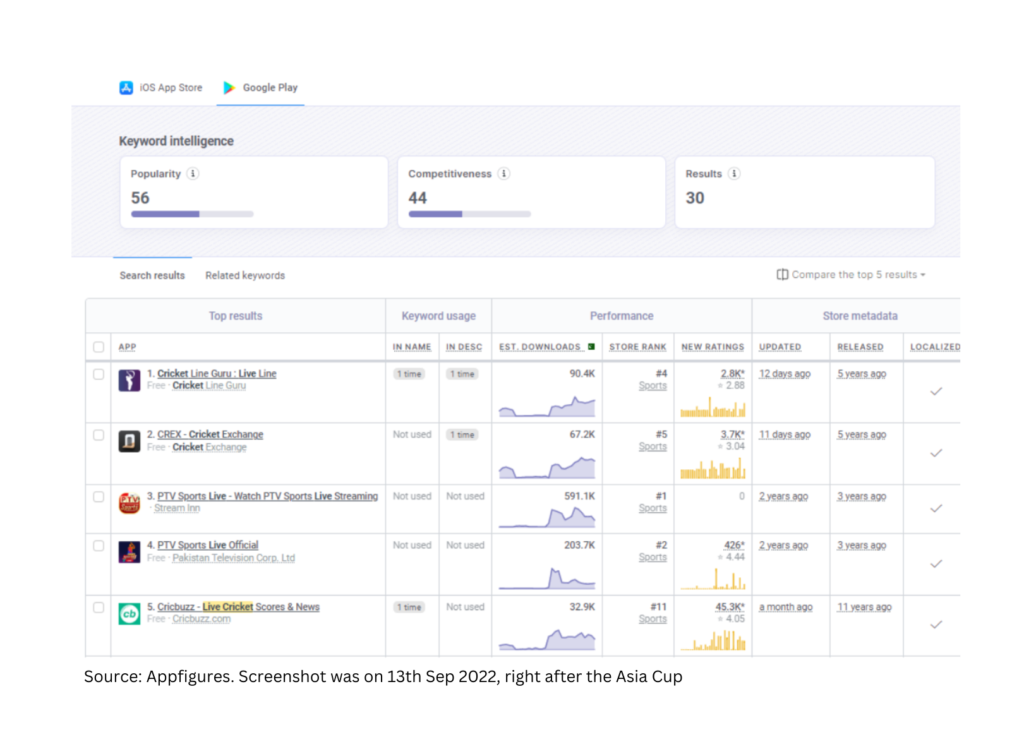 Back to how dominant cricket is in bringing usage to streaming (or e-commerce) players. The download trend reveals everything is to it. For example, Daraz was averaging 18,297 daily downloads across iOS and Android between Aug 15 and Aug 27. Over the next two weeks, its installs surged to an average of 83,275 a day. That's 4.6x the previous mean value. What changed so drastically? Well, Pakistan played its first match of the Asia Cup on Aug 28.
Downloads are not really Daraz's objective though. It wants to sell these viewers the goods on its marketplace. But for pure-play streaming platforms, cricket is that one golden chance to onboard users and earn subscription revenues. That's where the reliance on a single content category is most clear.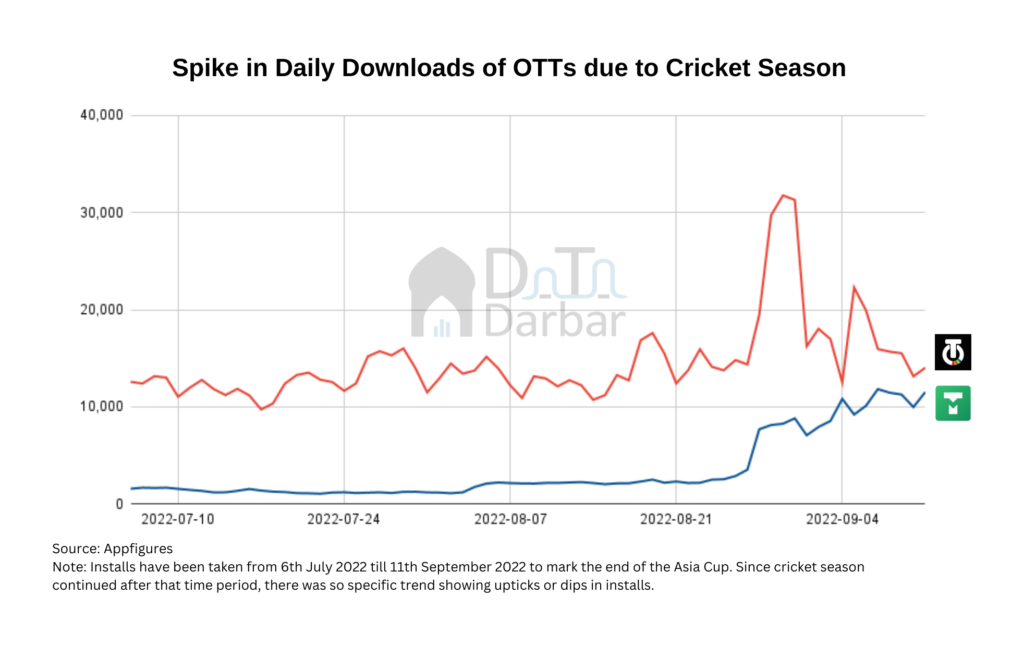 Tapmad and Tamasha, the two pure OTT platforms broadcasting cricket, were averaging daily downloads of 1,760 and 13,149 respectively between July 6 and Aug 26 across the two stores. Come Aug 28, when Pakistan played its first match, installs jumped to 7,703 and 19,477.
Over the two weeks when Asia Cup was being played, Tapmad and Tamasha had average daily installs of 9,522 and 19,512, respectively. For the latter, the numbers went further app during England's tour of Pakistan, touching a high of 39,115. Meanwhile, the former lost some of its momentum during the series, according to Appfigures data.
This over-reliance on a single content category probably makes for an ugly retention cycle. Not only does it make the revenue more cyclical, but the fight for digital broadcasting rights is also getting competitive. For example, in the 2021 T20 World Cup, Daraz managed to get exclusive rights to stream the tournament. ARY Group has also shown aggression in getting digital rights for most of Pakistan's recent bilateral series.
Interest from an increasing number of players has pushed up the price tag for broadcasting. As a result, live cricket is becoming costlier and possibly squeezing the companies' margins. Would a more diversified content strategy help? At least, in theory, greater options would make users more sticky and improve the retention rate. But does that justify the cost? Not necessarily. After all, acquiring foreign content is highly vulnerable to the declining rupee-dollar parity while producing it in-house is always riskier.