Welcome to the 11th issue of Appistan, where we decode the most important trends from the Pakistani app ecosystem. Between Dec 4 and 10, Daraz's Data.ai active user ranking slipped another two notches as the cricket and OND impact seemed to fade. Also, ARY ZAP broke into the top 10, thanks to the FIFA World Cup streaming. Meanwhile, WhatsApp maintained its position atop the leaderboard with 408K downloads, as per Appfigures. For the deep dive, we revisited the instant loan apps ecosystem and how they continue to thrive despite apparent regulatory tightening.
Last week in Top Apps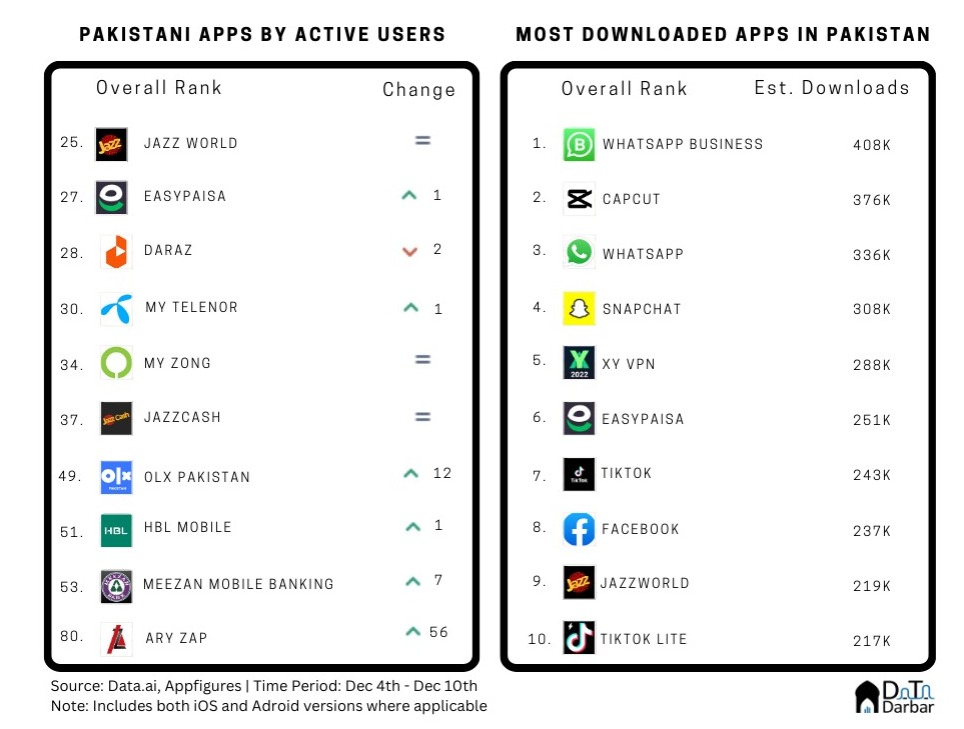 Loan Shark origins: How it all started
Over the past few years, I have been tracking the app ecosystem in Pakistan through whatever resources are available. Checking Google Play manually, using the limited versions of Data.ai and Sensor Tower, free reports from Apptopia, and full access to Appfigures. It was curiosity more than anything, to identify which companies are doing well, or where the users are flocking to. So whenever a product started getting decent downloads or topping charts consistently, I noticed. At least more often not. It was while I was researching for a piece on access to credit that I came across instant loan apps.
"And then come what appear to be unlicensed entities (alternatively, regulated by another name or yet to come under the SECP list which was last updated as of June 22) that are offering microloans. Among these is Barwaqt, recently founded by some financial services professionals, and has crossed 100,000 downloads already since its app launch on Jun 9. Duckloan is the second notable name, currently trending third in the finance category in the country, though scant details are available about its profile or team."
The numbers seemed impressive by Pakistan's standards but the lack of details was concerning. I moved on though, only keeping a casual eye on these apps once in a while. In less than a year, such apps had permeated through our Google Play's top finance charts. By then, it had become impossible to ignore them.
So in June, we did an investigative piece on these apps, basically highlighting their scale, exorbitant rates, and shady origins. This was basically our first deep dive into a particular category and set the structure for Appistan in the coming months. The piece was a hit on Twitter and LinkedIn (helped by Aatif Awan's shoutout) and reached policy circles & mainstream media. We followed it up with more coverage on the regulator(s)' inaction and the flawed math of instant loans.
Buzz on the street worked as the SECP and Google briefly pretended to care. The former tightened its noose on the licensed players, while still putting most of the blame on unregulated entities. The new draft NBFC regulations will apparently require these digital nano lenders to get a certification from Pakistan Telecom Authority.
Almost six months of media hype and regulatory supervision would have changed things. Or so I thought. But the situation on the ground (internet) is almost still the same, probably even worse. As of early 22nd December, Google Play's Finance Top 100 chart featured 38 instant loan apps. Back in June, that number actually stood at 27. So instead of going down amid a crackdown, the space has grown bigger.
We looked at the top instant lending apps on Google's Finance charts: there were 20 such names in the top 44 alone. Basically, almost every other app in the category is offering nano loans. All but four of them were actually launched in 2022, including 15 after the entire brouhaha on social media.
Combined, these apps have over 19.1M cumulative installs in Pakistan between June 2021 and November 2022 – i.e. just 18 months. For context, healthtech products have just 13.64M downloads in almost five years and edtech 27M over a similar period. Of these, only 5 have backing from a non-banking financial company. Meanwhile, two of the licensed apps didn't make it to the top 20.
Guess how many from our list claim to have a license or backing by an entity that does? Nine. Now, what does the latter exactly mean? Back in July, a number of NBFCs told me how they were approached by countless foreign players for access to their licenses. Since lending is a regulated business, you need to have authorization from the SECP to carry out operations. But given the traction in the space, quite a few interested parties have tried to leverage the licenses of existing companies.
Currently, QisstPay is powering licensing for two apps: CreditCat and Razcash (not in the top 20). The former belongs to a certain Jindou Service (Private) Limited while the latter doesn't even have a website, let alone a corporate name. Meanwhile, three others are claiming to rely on licenses of leasing companies – Universal, Asian, and Askari. No such entities appear in the SECP's latest list of licensees. They might have had it at some point in the distant past, but many of us weren't born then.
Dude, where is the regulator?
In our initial coverage of the space, we talked about essentially three things: scale, exorbitant rates (high triple digits annualized), and the murky origins. In the first part, it wasn't just the app downloads but the actual loan. For example, the licensed players disbursed over PKR 6B in cumulative loans in 2021, whereas the value for FY22 stood at PKR 10B. Barwaqt alone did PKR 4B in less than a year of operations.

This time, we didn't dig too deep into the interest rates because, well, the issue has been highlighted time and again by many. And regarding the shady origins, things are virtually the same still. For example, six of the 20 apps do not even have a website, and four have no address (check Whale Loan from Sibbi?). Some use Gmail and Hotmail emails for customer support. Let's not even get into their (lack of) data and privacy policies, or the harassment tactics – again widely covered. But shush, this is the SECP promoting financial inclusion in Pakistan.