You know it's PSL season when your Twitter timeline is full of expletive-laden traffic updates and people across the country uniting to collectively hate on Karachi Kings. That's not to say that the brand doesn't come up with something new and innovative each year for the public to scrutinize and criticize.
Sometimes it's spot-fixing controversies while other times it's about players leaving the franchise after payment disputes. This year too, PSL has given us something new to be confounded about — how betting companies are using surrogate ads to promote themselves during matches despite betting being illegal in the country.
If you are watching PSL8, you might have noticed some new or unfamiliar names among the sponsors. Brands whose products or services you might have never come across before the league. I mean what's that 1xBat on Karachi Kings jersey or Melbat on Lahore Qalandars'?
For anyone who has bothered to Google or even scrolled through Twitter would know they are betting companies. Taking a page right out of the Clark Kent/Surinder Sahni book of disguises, the companies have made minor changes to their names and hopped onto the "surrogate advertising" bandwagon. Since gambling is illegal in Pakistan, these entities are finding a way around to reach their audiences. Dafabet became DafaNews, Wolfbet is now WolfNews, and Baji777 transformed into BJ Sports.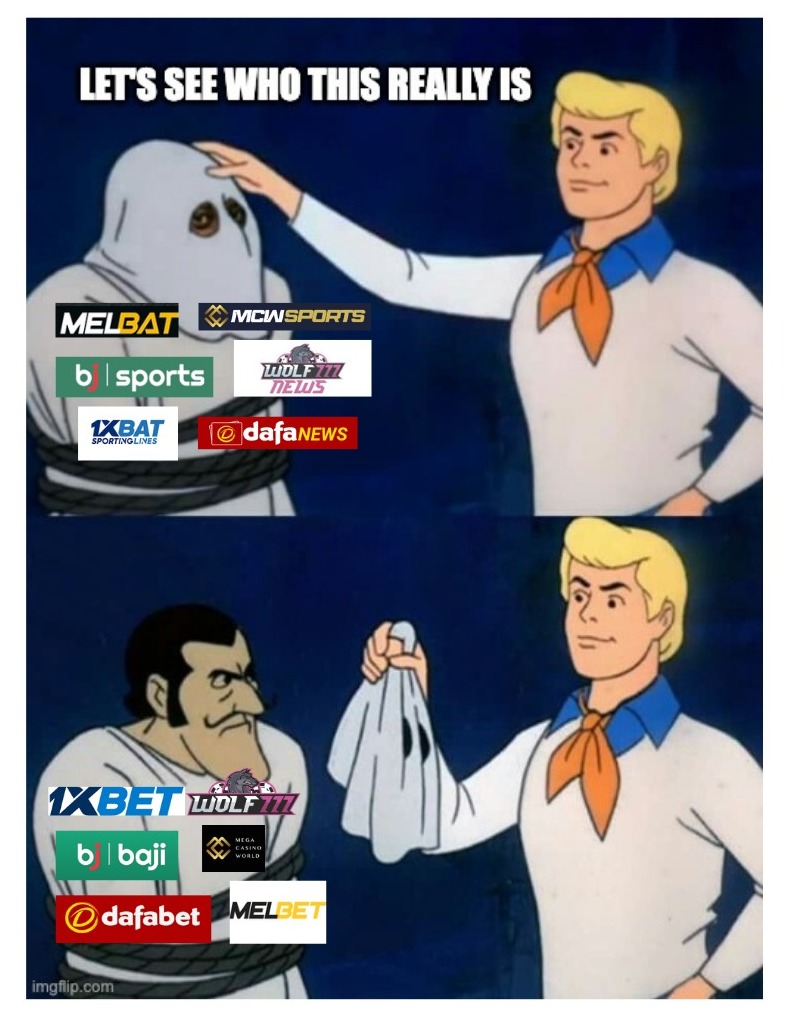 In fact, four of the six franchises have a betting platform as their sponsor while the league itself has another. Meaning five companies are aggressively marketing online gambling to millions of Pakistanis, all with the approval of our cricket board.
Silly, it's old news
Unfortunately, this isn't new either. DafaNews has been in the game for some time now and sponsored the last PSL season and our home series. When the issue surfaced last year, the PCB sought clarification from the company, which conveniently denied any links to betting.
"DafaNews is a fast-growing online news portal, which operates through digital app only. DafaNews has successfully sponsored other cricket events in the Middle East, while strictly abiding by the law of the land as well as the terms of the agreement.
"We contacted DafaNews to clarify their position on betting and they categorically stated and provided us documents showing that DafaNews is strictly a news website and are not engaged in any betting business. However, they also admitted that inadvertently and due to a technical oversight, the link to a betting website remained enabled on the opening day of the event, which was disabled after the first match."
A year later, open the website of DafaNews and literally the first popover ad is from DafaBet. Just like all others. Similarly, the logo is literally the same, except for the replacement of "bet" with "news". Yet, the PCB wants us to believe that there is no association between the two. Also, the "fast-growing online news portal" had 43K website visits in January, while the corresponding number for the gambling platform was 3.5M. Plus, both have the exact same phone number but apparently no association whatsoever.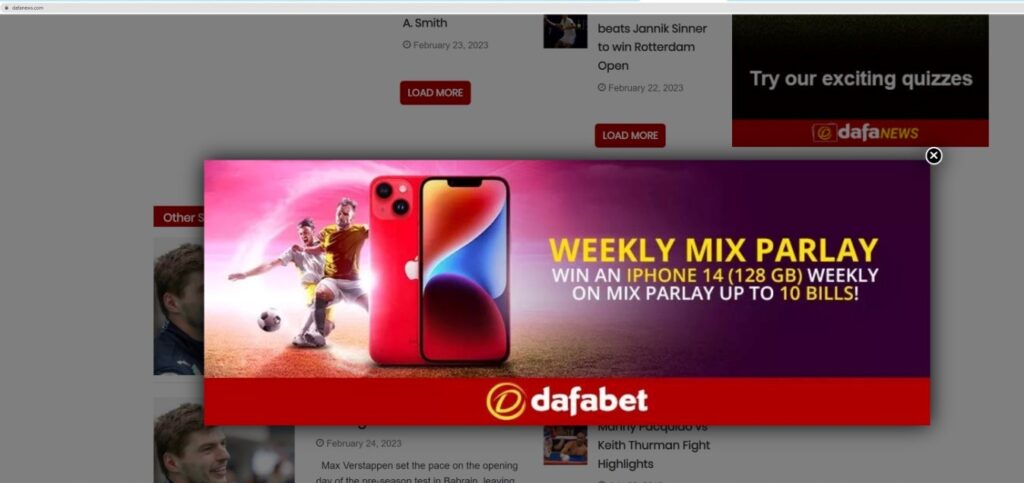 Multan Sultans had also tried to dismiss any links between its sponsor, Wolf777, and betting. "Wolf777 News is a sports website that is trying to compete on a regional level with other sports news websites. Multan Sultans categorically denies the speculation that Wolf777 News has any connection to betting/gambling nor there are links or tabs on its portal to any betting/gambling website. Our association is with Wolf777News only."
At face value, Multan Sultans is kinda right if one is willing to ignore the identical logos. Indeed, there are no links or tabs redirecting to the betting platform. But of course, the story has more to it. First of all, Wolf777News has barely any content; even their category pages are broken. At least Dafanews cares to do live scoring and pre-match analysis for the facade.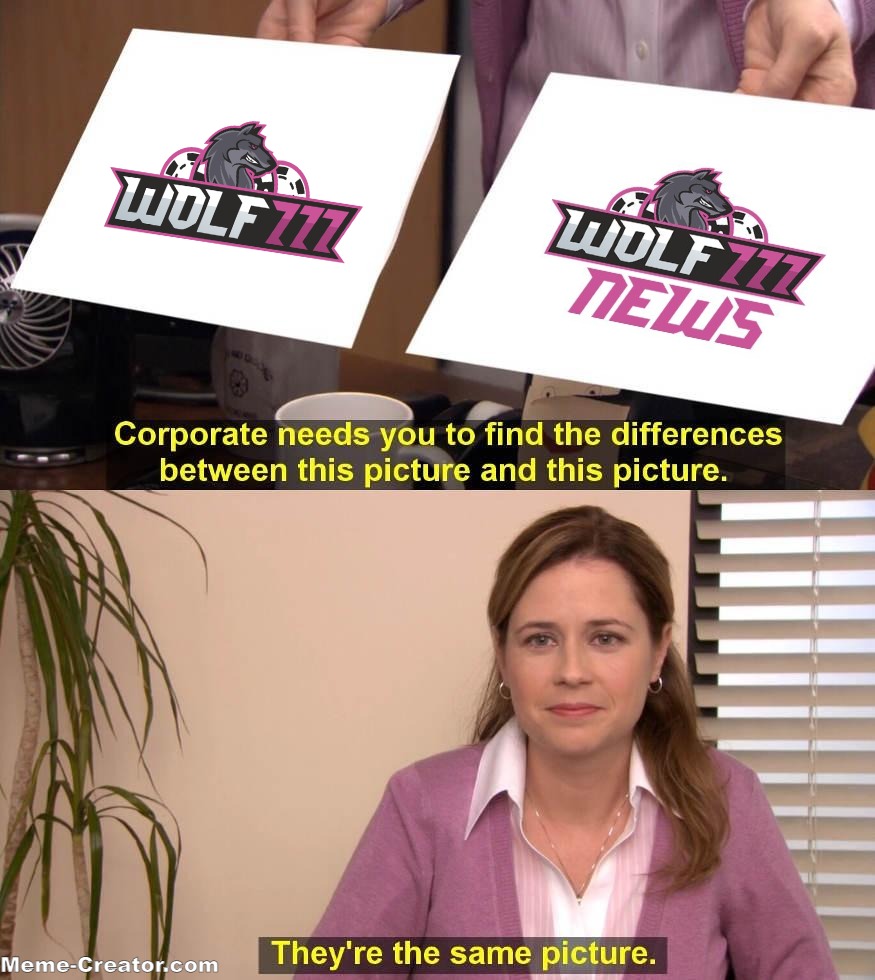 Anyway, the WordPress admin of Wolf777news is "mandla151970". Interestingly, the same fellow owns bookie platforms like Primebook9.com, mymoneybet.com, and more. But of course, we should ignore all these subtle and obvious links, and take Multan Sultans' word for it.
Most platforms have replicated this playbook. BJ Sports and MCW Sports, the sponsors of Quetta Gladiators, run news platforms as fronts, with banner ads redirecting you to the betting portal. Same for 1xBat, which has also put up a dummy shop page.
We tried to see how simple it would be to place bets on these websites and well, it was VERY EASY. No requirements for a VPN and multiple payment options are available. MelBet asks you to use Easypaisa to transfer "Iqra Iqra" your deposit while MCW has JazzCash as another option.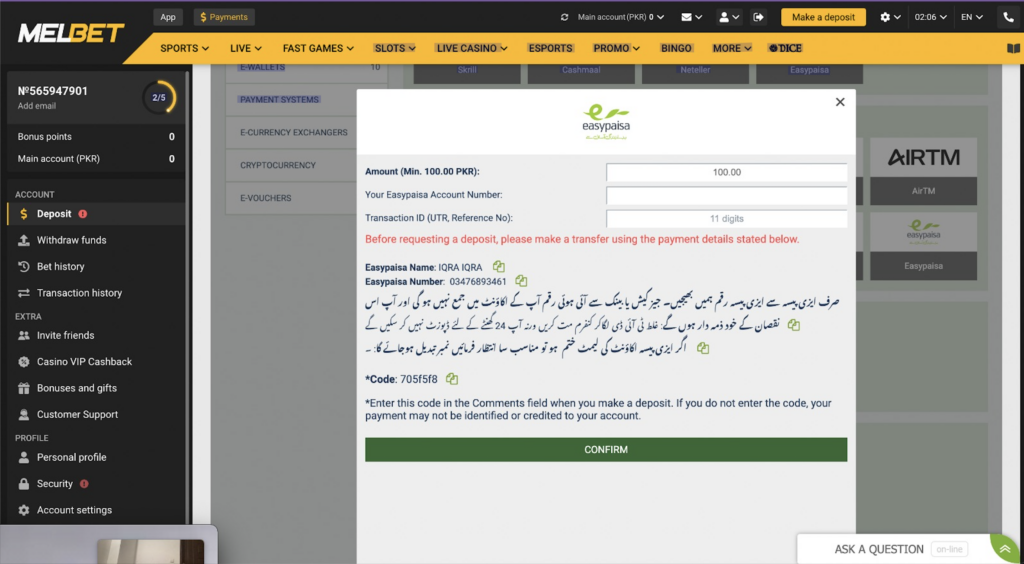 Again, this is a common feature by now. Whenever you come across some illegal app or website, 9/10 times they are using Easypaisa and Jazzcash for payments. We have previously reported this for unlicensed instant lenders but applies to other banned platforms too. Whether it's a lax KYC process or wilful ignorance, we don't know.
Pumping up some (B)love
As if this wasn't enough, the story gets better here: we have a new sponsor whose primary offering is not legal in Pakistan. Meet BFI Coin, a crypto asset powering the B-Love blockchain. The project is owned by Dubai-based Innovation Factory which is "designing entire ecosystems that will shape the future of digital finances and the economy."
It's literally a multi-level marketing scheme. I mean their own YouTube header reads: "an affiliate program with crypto benefits". The process goes like a typical pyramid scheme where you refer it to new people, who in turn bring more people, and get commissions based on that. All with a crypto touch of course, as more users joining the network, will pump up the price of BFI Coin.
They have another token, B-Love, that you can simply earn by downloading the app and tapping on a heart. You get 100 coins on signing up, and tap to get 1% reward DAILY for up to 500 days. Meaning, even if you don't invest anything more, and the price stays the same, the potential profit is 14,234%. Has earning money ever been simpler than this? The mobile application already has over a million downloads and ironically is atop the "productivity" charts on Google Play.
To promote this scheme, the company has brought in notable (not necessarily credible) personalities as ambassadors. That includes anchorpersons Shiffa Yousufzai and Ovais Mangalwala. But perhaps none as popular as the cricketing legend Wasim Akram, who is spreading (B)love too. They are also organizing an event at the Coca Cola Arena in Dubai, bringing artists like Shakira and Sonu Nigam. Yeah, you read that right. 
PCB negligience or wilful involvement?
To be fair, partnerships between betting companies and cricket teams or tournaments is nothing new. Even 1xBat came up with this disguise when they were sponsoring the Indian Premier League. But when the law of the land prohibits such practices, it's obviously strange how an official body — whose chief is selected by the country's prime minister — is letting them operate? There must be due diligence criteria for sponsorships? Or is it simply about the right price, no matter the advertiser?
The PCB and the franchises want us to believe the sponsors are mere news platforms even though a 5-year old kid can see through that facade. Unsurprisingly, there has been a spike in interest to betting websites, and it's reasonable to expect many would now be gambling there. All with the board's approval.
It's like people haven't pointed this out before. Former player Rashid Latif slammed the cricket board for getting into bed with these companies by signing them on as official sponsors of the teams. But the PCB is apparently a firm believer in ghar ayi lakshmi ko na nahin kehte.