Pakistan's startup funding fell to just $15.15M in Q4-2022, the worst since the first quarter of 2020. This represents a steep decline of 79.24% YoY and 72.65% QoQ and is not even 10% of the amount recorded in Q1-2022. Meanwhile, the number of deals declined to eight and entered single digits for the first time since Q2-2020.
This was also the worst quarter for the average and median ticket sizes which plunged to $2.53M and $1.15M, the lowest since Q1-2021. The pullback was rough as only 11 unique investors participated in deals in Q4-2022, of which only one was new. That's below even pre-Covid levels when capital hadn't properly started flowing into Pakistan.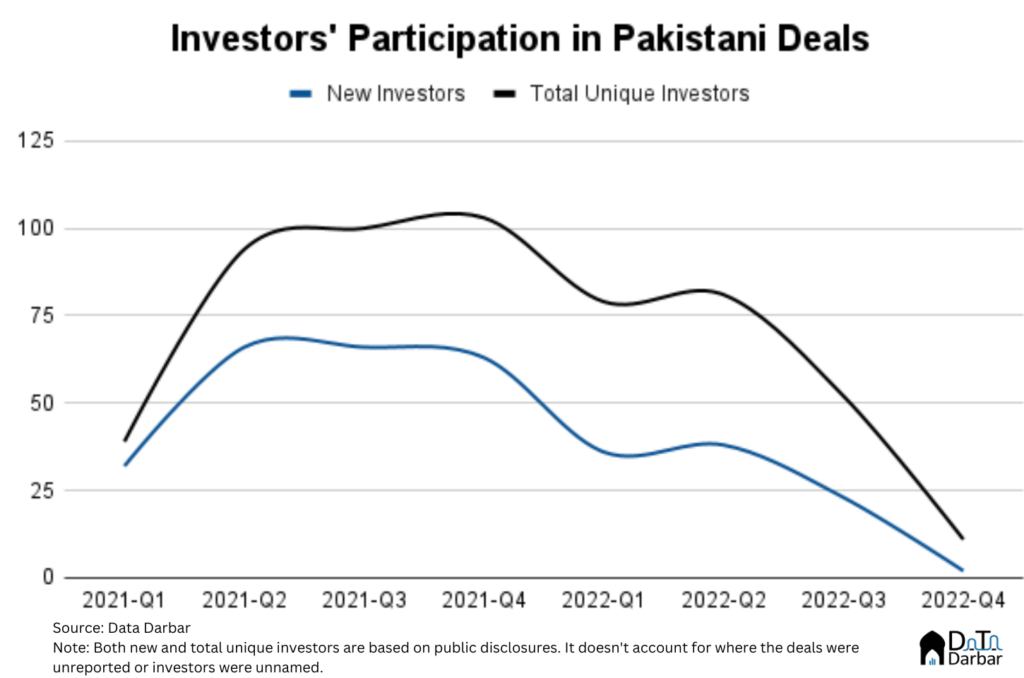 First Quarter to the 2022 Rescue
However, despite the dip in the second half, funding in 2022 still clocked in at $347.4M, down 5% from 2021. The number of deals also slipped to 70, from 84 the previous year. Note: the values are understated as a lot of investments were either undisclosed or never reported in the first place.
Stage-wise, Series A deals accounted for the lion's share of the money at $133.5M (across 6 deals) during the year. Seed followed with $83.35M and 18, and Series B grabbed $80M and 2. Pre-seed led in terms of the deal count at 18 while there were also 16 accelerator rounds. We also saw signs of some early consolidation as eight mergers and acquisitions were announced in 2022, though amounts weren't disclosed.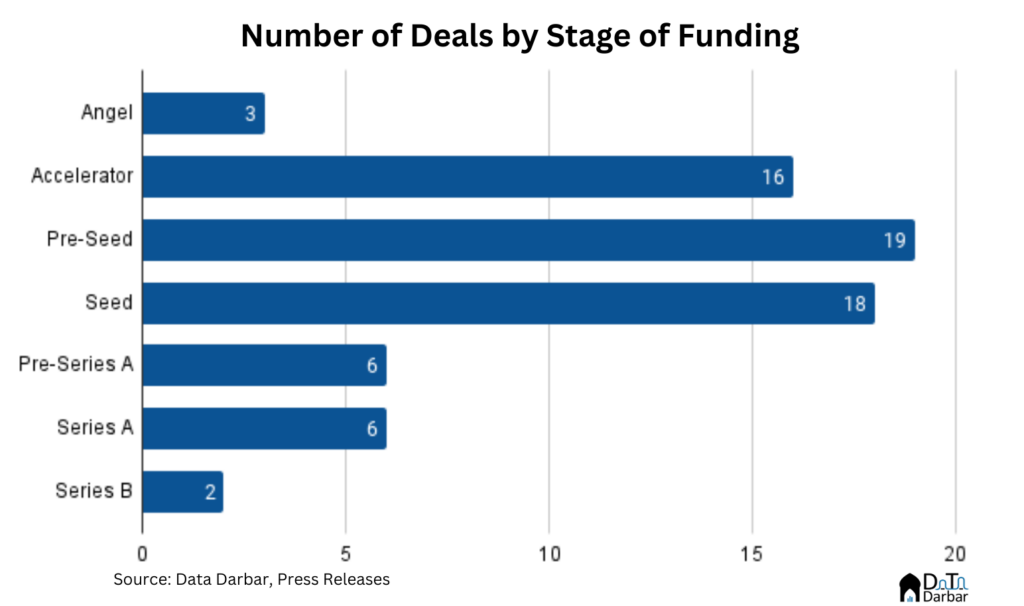 E-commerce took most of the money ($190.27M across 16 deals), thanks to four rounds of Bazaar, Dastgyr, Retailo, and Jugnu. These four accounted for $165.5M (87%) of the sector's total, and the investment activity almost choked during the second half. Fintech led in terms of deal count at 19 while its dollar value rose to $100.3M in 2022. Meanwhile, funding to transport and logistics fell by $7.3M to $28.1M even as the number of deals stayed flat.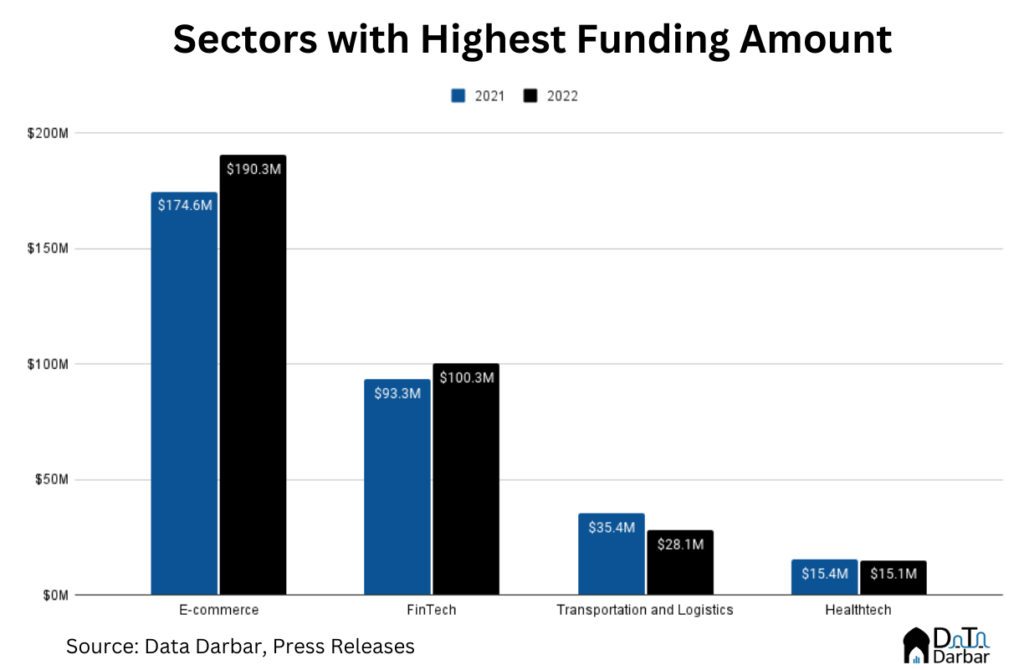 Capital allocation to women-led startups came in at $4.35M across 5 deals, which is slightly better than corresponding values of $4.1M and 3 in 2021. On the other hand, female cofounded companies saw a decline in investment to $21.55M via 7 deals, down sharply from $110.94M and 13.
Global Tailwinds and VC Underperformance
The slowdown is not exclusive to Pakistan: it has been a tough year for the venture asset class. Global funding fell to just $74.5B in Q3-2022, down from $164B in the same period of 2021. While markets generally fell in 2022, tech and growth stocks took a particular beating. For example, Pitchbook's VC-backed IPO index plunged 63.2%, far underperforming the Nasdaq Composite.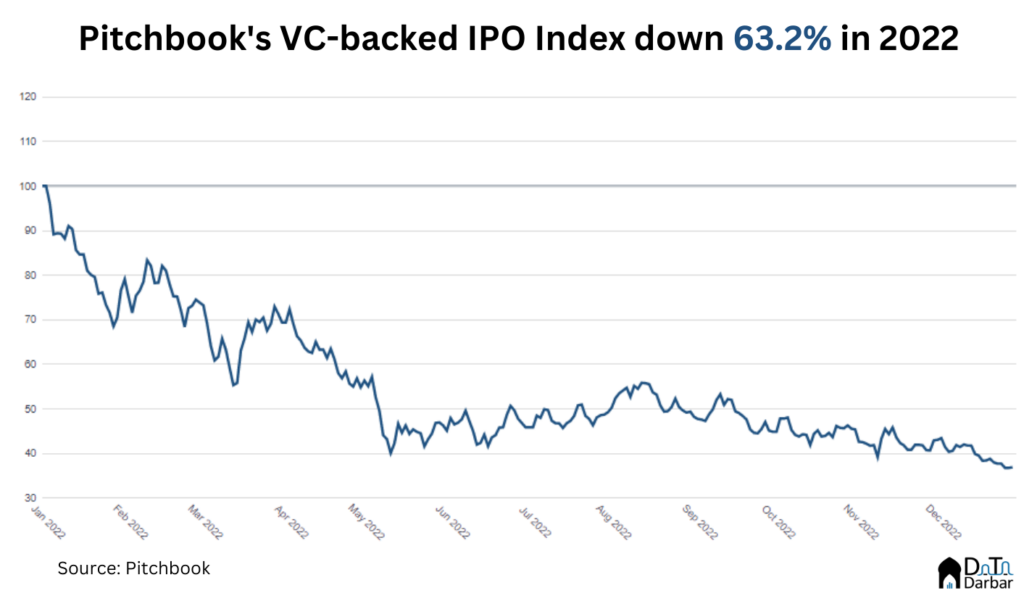 Due to the increase in Fed's policy stance, a higher risk-free return is now available to investors. As a result, it pushed up the premium for emerging markets, which have been witnessing capital outflows from all asset classes. For Pakistan, the country's risk premium is even higher due to macroeconomic and political uncertainty.
However, it's not all doom and gloom for startups. Firstly, while funding has slowed down, some of the most notable investors now have exposure to the Pakistani market. Dragoneer and Endeavour invested in Bazaar while Sequoia disclosed its stake in DBank. Once the dust around macros settles, there should be a bounce-back in deal flow. Earlier, we wrote about Pakistan's startup funding Outlook and some of the positive takeaways from the year.
Notes:
Numbers might differ slightly from the previous roundups due to readjustments
Sarmayacar alone invested in seven deals that the startups didn't disclose
We didn't include Systems Ltd buying NDC Tech in our M&A count
M&A transactions don't relfect in our analysis
Here's the full table containing all the deals, including M&A transactions: