Pakistan's startup ecosystem had its worst quarter since Q1-2020 as funding plunged to just $5.2M in April-June. This represents a decline of a 95% YoY and 77.5% QoQ from $104.1M and $23.1M, respectively. Meanwhile, deal count stood at 8, flat QoQ but down 65.2% YoY. At this point, the numbers are honestly meaningless to do any analysis. Basically the entirely ecosystem raised what was almost the average ticket size barely a year ago.
Of course, it's not exactly surprising. Pakistan's macroeconomy has gone through arguably its worst year with deafening chatter of default, which only seems to have now muted after the finalization of International Monetary Fund deal. In such an environment, most investors would naturally not be too excited about making bets.
The problem wasn't just with the country but with the wider asset class. Fundraising across the world has been gloomy, particularly in Asia where venture capital investments slipped below pre Covid levels sometime back and are yet to recover. While global data for the latest quarter is yet to come out, Crunchbase reported that global startup funding fell 44% YoY to $22B in May'23.
Anyway, the average deal size also fell to just ~743K in Q2-2023, from $4.7M the year before and the lowest since Q1-2019. The median value was $500K, plunging by 60% over the corresponding quarter of 2022 — worst since Jan-Mar of 2021. As a result, the difference between the two narrowed to its thinnest level of $243K.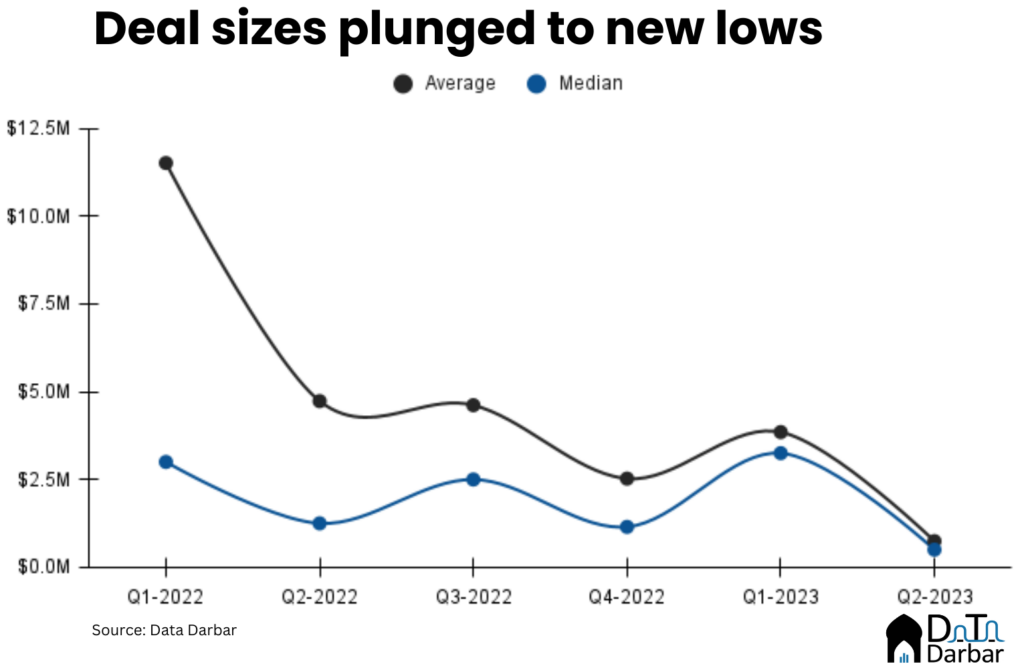 Understandably, most of the (in)activity was early stage with four of the rounds being seed, and three accelerator. Only Abhi's deal with BlueEx, a listed entity, was technically classifed as post IPO though the amount invested (assuming price of PKR 61.5 times 2.742M shares) seems anything but.
Sector-wise, fintech was the most dominant, whatever that means now. It accounted for half of the deals, and $4M of the disclosed funding. Beyond this, there was some diversity with automative appearing on the radar after sometime, thanks to OkayKer.
In 1H2023, total startup funding at $28.3M, lower by 60% over the previous six-month period. The decline was far steeper, at 98%, compared to $276.9M raised in first half of 2022. Deal count also slowed substantially to 16, from 26 in July-December, and 46 during January-June of the last year. These are the worst figures since 2H2020 by amount and the joint lowest by number of deals since 2H2019.
Here are all the deals in 2023 so far: