Three months into 2023 and the startup funding numbers for this year don't paint a pretty picture. The amount rose to $23.1M in Q1-2023, from $15.15M raised last quarter. This represents a QoQ improvement of 52.5% in amount but comes off a low base, while the deal count remained flat. However, deployed capital plunged 86.6% compared to $172.8M raised in Q1-2022 while the deal count is also substantially lower.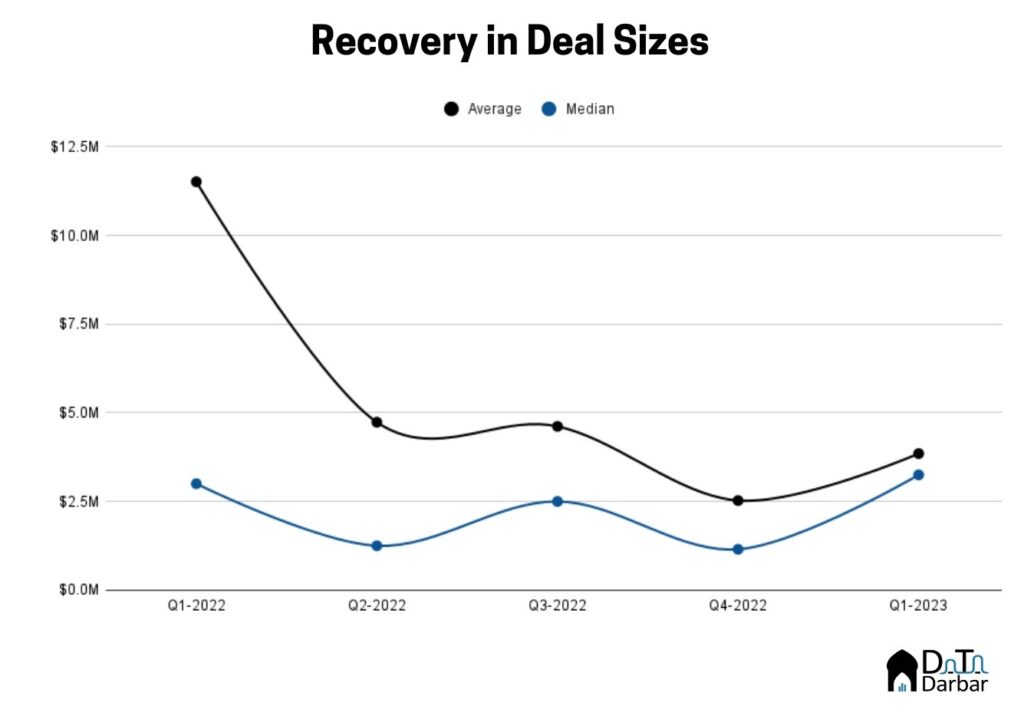 Meanwhile, average and median ticket sizes fared better at $3.85M and $3.25M respectively compared to Q4-2022 levels. This is one of the lowest gaps between the average and median, which widened significantly during the period of capital frenzy, peaking in January-March last year on account of big rounds like Bazaar, Retailo, and Jugnu.
Not just a Pakistan phenomenon
The slowdown in startup funding was seen on a wider scale too with global monthly investment falling to $18B in February, from $48.8B in the same month of 2022. Crunchbase noted: "Not since February 2020 has global funding dipped below $20 billion in a single month."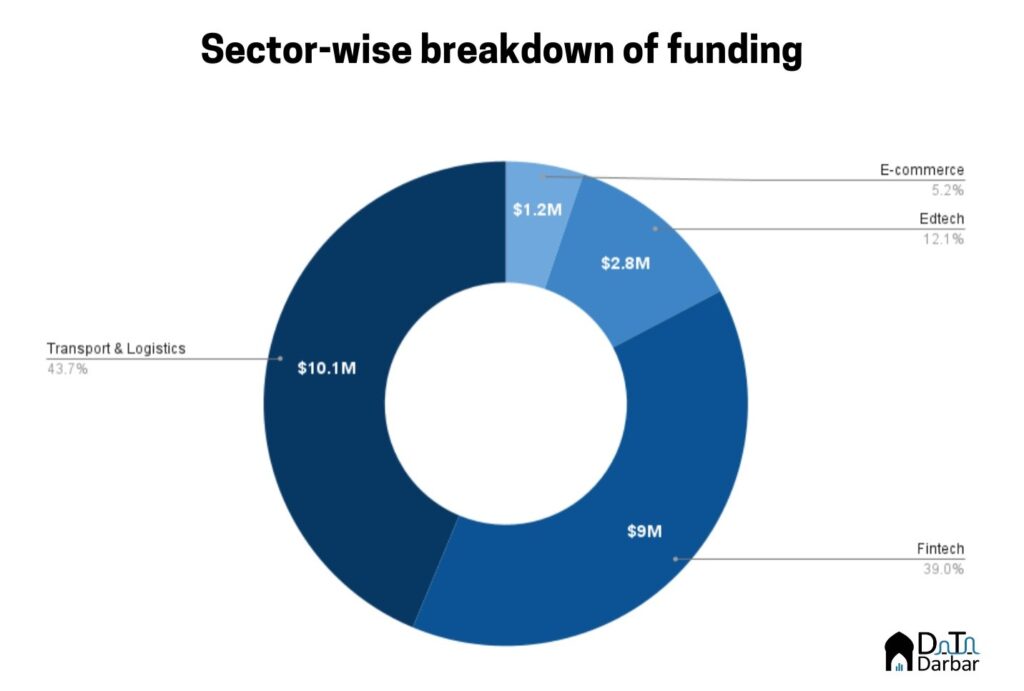 Most of the money in Q1-2023 went towards transport and logistics startups, who raised $10.1M across 2 deals. The sector's share in overall funding had lately declined from the highs of 2019 when it made up almost three-fourths of the total. [We classified TruKKr, which has now started offering credit, as T&L.]
Fintech came in at a close second, raising $9M across 2 deals. It also took home the biggest deal of the quarter, with Adalfi raising $7.5M.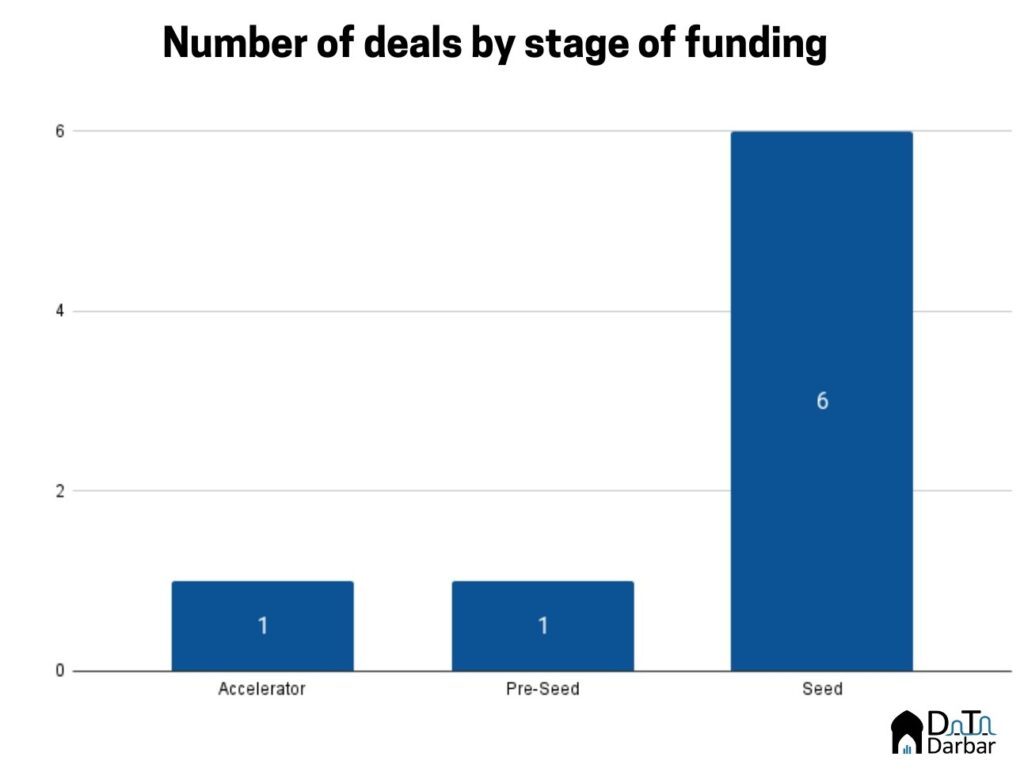 Six of the eight deals were at the seed stage and accounted for the entirety of disclosed funding. The pre-seed and accelerator rounds were never disclosed and thus not reflected in the amount.
No female-founded startups managed to bag funding this quarter, while TruKKr and Lokal were the only co-founded startups to do so. The quarter also saw some M&A action with a Portuguese firm s4 Digital acquiring stakes in both Bramerz and HRWays while Abhi bought a minority stake in BluEx Digital.
Notes:
Numbers might differ slightly from the previous roundups due to readjustments
M&A transactions don't reflect in our analysis
Here are all the deals from Q1-2023.
| | | | | |
| --- | --- | --- | --- | --- |
| Startup Name | Sector | Amount | Round | Investors |
| Befiler | FinTech | $1,500,000 | Seed | Cistech, Lakson Venture Capital |
| ezWifi | Advertising & Marketing | Undisclosed | Accelerator | Techstars |
| Adalfi | FinTech | $7,500,000 | Seed | COTU Ventures, Chimera Ventures, Fatima Gobi Ventures, Zayn Capital |
| Lokal | Travel & Tourism | Undisclosed | Pre-Seed | Wahed X |
| Trax | Transportation & Logistics | $3,700,000 | Seed | Amaana Capital, Tricap Investments, PNO Ventures, Omer Ismail, Jahanzeb Sherwani |
| Trukkr | Transportation & Logistics | $6,400,000 | Seed | Accion Venture Lab, Sturgeon Capital,Haitou Global, Al Zayani Venture Capital,Peter Findley |
| Maqsad | EdTech | $2,800,000 | Seed | Indus Valley Capital, SpeedInvest, Stellar Capital, Alter Global, Johann Jenson |
| Swag Kicks | E-commerce | $1,200,000 | Seed | Techstars Toronto, CrossFund, Rose Lake Ventures, i5 Capital, STAK Group. |