Welcome to the 10th edition of Appistan, where we break down the key trends in Pakistan's app ecosystem. After the high from November mega sales and T20 cricket wore off, Daraz finally saw a slight slowdown. Its active user ranking slipped four notches during Nov 20-26 and then another between Nov 27 and Dec 3rd. The impact was bigger in downloads, which fell below 100K and thus, out of the top 10. Major gains were recorded by My Telenor and HBL Mobile which rose up the ranks on active users. Capcut, whose installs rose to 500K+ during the previous week, maintained its top position with downloads slightly slipping. Snapchat and Whatsapp exchanged positions while JazzCash replaced VD Video Downloader. For the deep dive, we looked at the state of Pakistani healthtech from an apps perspective, the most popular players, and the key trends.
Last week in Top Apps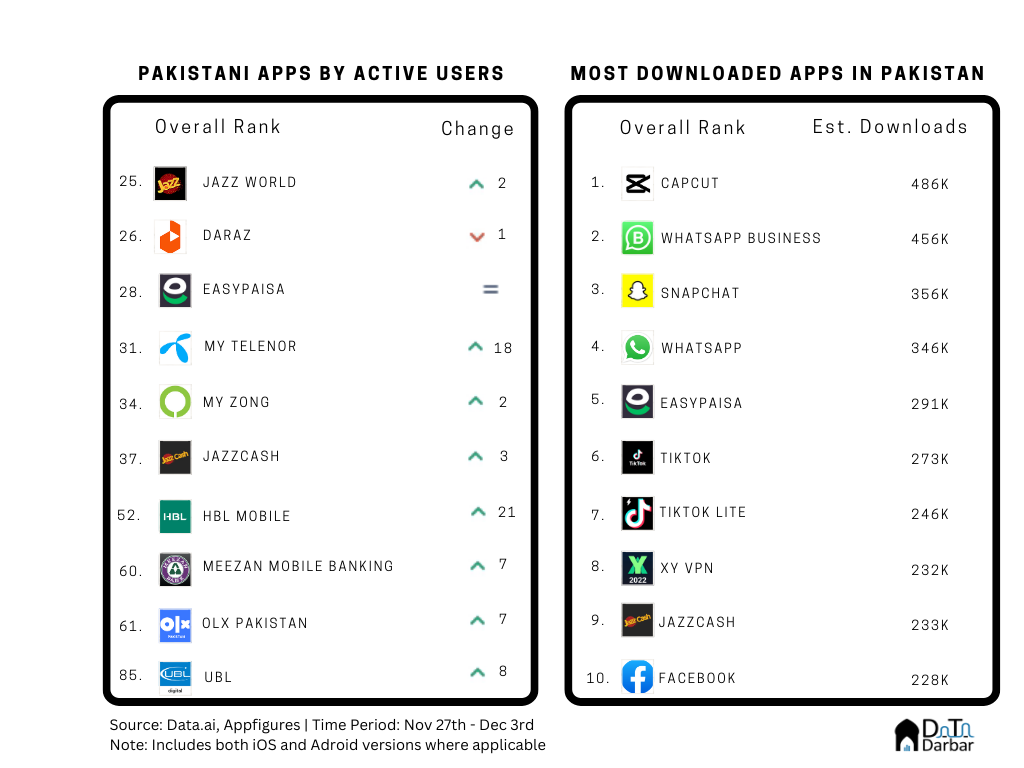 From accidental X-ray discovery to online pharmacy
In Physics class, we learned about the accidental discovery of X-rays, which eventually changed the course of medicine. It was one of the more groundbreaking applications of tech in healthcare, triggering a race towards new advancements. Over the next 150 years, technology became an integral part of the industry, from assembly lines for the mass manufacturing of drugs to the mapping of human genomes. The biggest and the brightest spend billions of dollars and thousands of hours to make breakthroughs in the field, to give humanity a better chance at living healthily.
Compared to that, modern healthtech might seem much less groundbreaking but that doesn't make it any less disruptive. Especially in Pakistan where even the most basic healthcare facilities are not accessible to the majority of the population. Unsurprisingly, entrepreneurs have looked for opportunities in this gap, selling the idea to wilful investors in the process.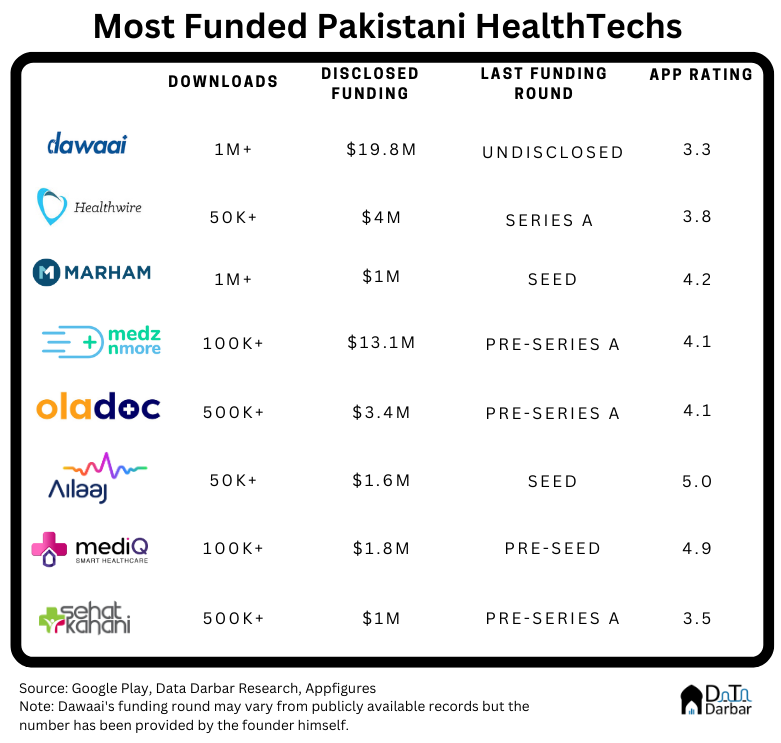 Since 2017, Pakistani healthtech startups have managed to raise $48.14M in cumulative funding in 23 deals. Most of that money has gone towards online pharmacies, primarily Medznmore and Dawaai, while doctor booking platforms have also found a few backers. However, limiting one's lens to just startups can give an incomplete picture as many legacy players adopted technology later on. From Aga Khan University Hospital to Dvago and the countless small-scale software solutions.
But since this is Appistan, we will only focus on mobile apps, both from the perspectives of Pakistani users and companies. Based on Appfigures estimates, healthcare apps have been downloaded over 13.64M times in Pakistan between January 2017 and November 2022 — well short of edtech or video streaming, for example. [Note: We have only included products that were on Google Play's Top 200 in medical and had crossed at least the 10K mark.]
A teleconsultation a day keeps the clinic away
Among Pakistani healthtech players, Marham comes on top with 1.2M downloads during the period, with Dawaai right behind at 1.1M. These are the only two platforms to have crossed the 1M mark on Google Play and have been in the market for more than half a decade. Compare this with khata apps, for instance, where despite starting out in late 2019 onwards, the big four have over 18M. That gives you an idea about nascent Pakistani healthtech still is, at least within the apps space. A number of startups, such as Oladoc, get decent traction on their website (and Youtube) as well, but that's for another day.
However, the most downloaded healthtech app in Pakistan is not from a local VC-backed startup. Instead, it's a heart rate tracker by a small studio, Fitness Lab, with over 2.2M installs. For this newsletter, we have ignored Covid-specific apps, such as Pakistani government's pass-track, which had the highest installs at 2.4M+.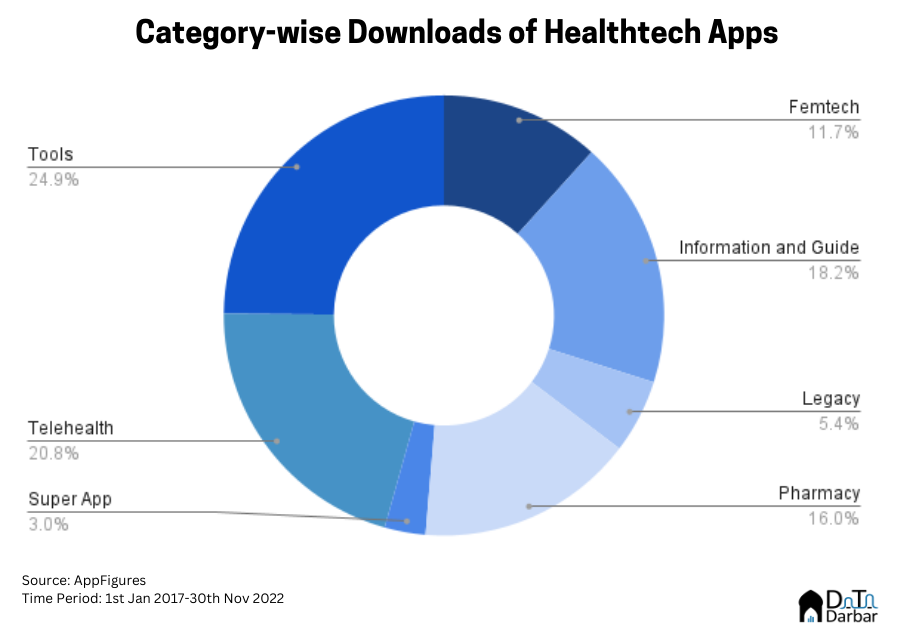 Category-wise, tools are in the lead with over 24.9% of the downloads while telehealth apps come in the second position. The former is where international names are predominant while the latter boasts of local names only. Now the question is: why aren't Pakistani healthtech companies building what the market demands? Especially given the recurring nature of healthcare services, you can actually go for subscriptions even if ads don't seem lucrative. This is what a lot of period tracking apps do, and last we checked, Pakistan has plenty of women. Similarly, the demand for blood pressure or heart rate apps is already there, but local players aren't affectively tapping on it.
Instead, many Pakistani startups have gone for healthcare super apps, where downloads lag their funding by a mile. We can actually say that about most categories, as highlighted earlier. But why? There could be a few simplistic explanations. Take doctor booking platforms, where most supply comprises specialists, even though patients primairly turn towards the small neighbourhood practitioners. That's where the user mass is, but existing solutions haven't yet fully tapped on it. Pharmacies have their own sets of challenges, including logistics and price regulation.
However, given the dismal healthcare infrastructure in the country and the state's unwillingness to fulfil this fundamental right, the job is left to private players. And in theory, none can do it more efficiently and at bigger scale than tech-enabled companies. Whether they do live upto the promise or not is another matter.