In our national calendar, November doesn't hold too much significance except for Allama Iqbal's birthday. However, for Pakistan's e-commerce sector, it's the single most important month – when sales are generally well above the annual average.
This is thanks to the numerous mega sales campaigns, from 11.11 to Black (or any other colour) Friday, which have become an integral part of our shopping experience. For teams at e-commerce stores, it's the most hectic period where all nighters are quite common. In fact, during the early years, these discount days accounted for over one-third of the annual gross merchandise value, according to one of the co-founders of Daraz, Ahmed Khan.
While that percentage may have come down over the years, both November and the overall October-December period (aka O-N-D in industry parlance) hold an outsize role in e-commerce. For the past 4 years straight, Pakistan's overall e-commerce value and number of transactions spiked during the quarter, as the chart below shows. These are only the digital payments, and the impact could be even bigger for cash on delivery sales.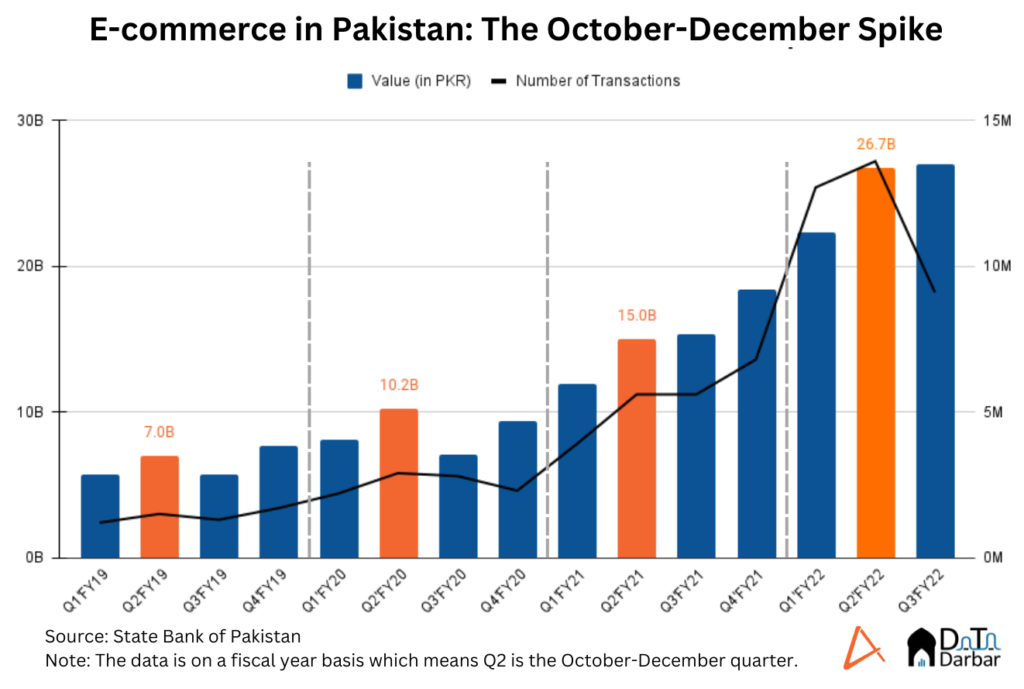 To give the extent of November's importance in the e-commerce landscape, Data Darbar partnered with AlphaVenture – the digital agency behind Pakistani Stores, the country's largest price comparison engine with data on over 6 million SKUs. 
While the full report will be published in early December as this year's sales end and the data become available, this is a preview of what the November effect (or the last quarter more broadly) means for the Pakistani e-commerce space. As the biggest player with the most aggressive campaigns, Daraz particularly amplifies this trend.
A company statement from last year claimed they did $10M of sales in the first hour of 11.11. Alexa data tracked by AlphaVenture shows a visible improvement in both Daraz's Global and Pakistan rankings. The former saw a boost of 87 positions compared to its Oct '21 rank.
Similarly, clicks to Daraz via Pakistani Stores jumped in November before peaking in December, as the figure below shows. You are probably wondering why June, in particular. also has a high outgoing traffic? There are two reasons for that. First, there is a spike in buying of eletronics – the biggest contributor to Pakistan's e-commerce – during the summer season. Secondly, electronics is also the category where Pakistani Stores generally ranks higher on Google. However, despite these two factors: the last quarter takes the lead.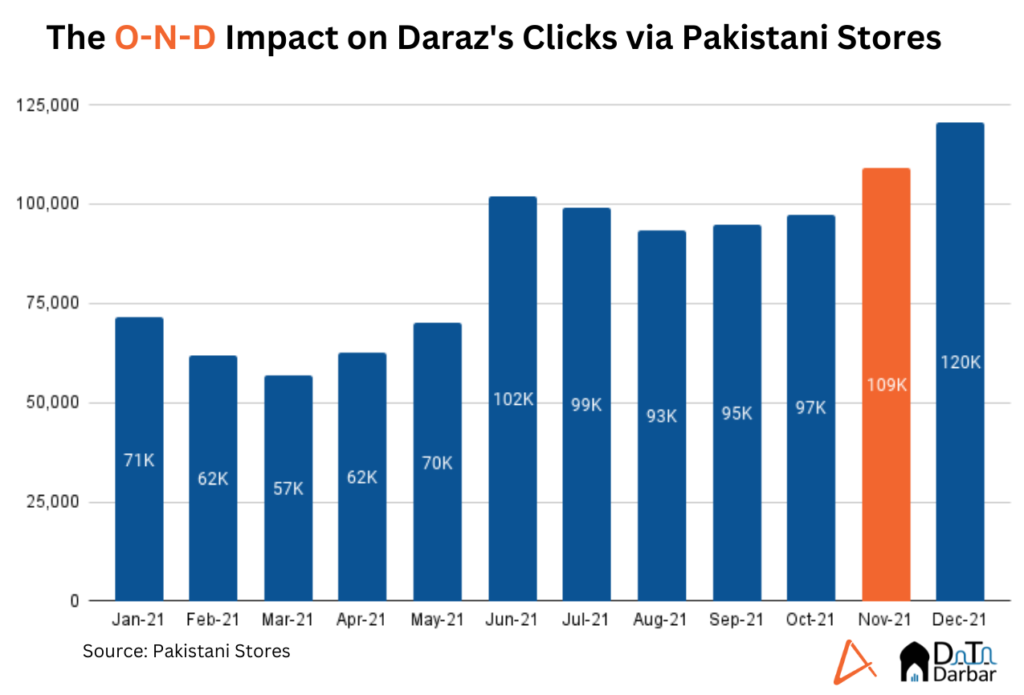 [Note: A significant chunk of activity also occurs towards the end of November, which leads to some lag in data. This, along with 12.12 is one of the contributors to healthy December numbers].
We'll soon be publishing more detailed insights on Pakistan's e-commerce space, exploring other platforms with updated 2022 data. If you wish to receive the report, please sign up below.