Welcome to the second issue of Due Diligence where we dig deeper into Pakistan's startup ecosystem and help you filter the noise. In this edition, we first look at how bad the last quarter was for fundraising. We also talk about Pakwheels and how despite a huge & constantly growing community, the company is yet to deliver strong and stable financial performance. Finally, we dive into the digital wallet space and how they plan to make money. Let's jump into it!
Q4-2022 Update: Pakistan's Startup Funding
Pakistan's startup funding fell to just $15.15M in Q4-2022, the worst since the first quarter of 2020. This represents a steep decline of 79.24% YoY and 72.65% QoQ. This is not even 10% of the amount recorded in Q1-2022. Meanwhile, the number of deals declined to eight and entered single digits for the first time since Q2-2020.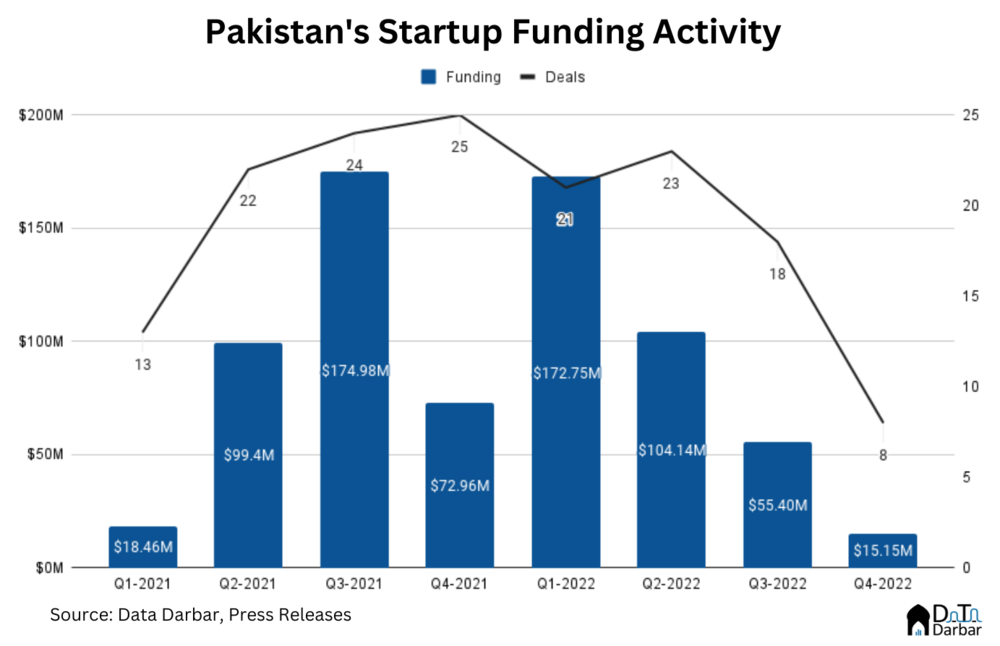 This was also the worst quarter for the average and median ticket sizes which plunged to $2.53M and $1.15M, the lowest since Q1-2021. The pullback was rough as only 11 unique investors participated in deals in Q4-2022, of which only two were new. That's below even pre-Covid levels when capital hadn't properly started flowing into Pakistan. Read more on how the startup landscape looked for Pakistan at the end of 2022.
PakWheels: Strong on community but weak on financials
From a simple idea that found its footing in Hanif Bhatti's garage in 2003 to becoming one of the biggest marketplaces in the country, PakWheels.com has been the go-to platform for auto lovers for almost 20 years. Most of this came on the back of a strong community, which now boasts millions of followers across social media.
But when it comes to financials, the picture is more mixed. While the company has increased its revenues by an impressive 296% to PKR 209.6M in 1H2022, from PKR 52.9M back in 2H2016, it has been a bumpy trajectory. Even more so in dollar terms where the growth has been relatively muted.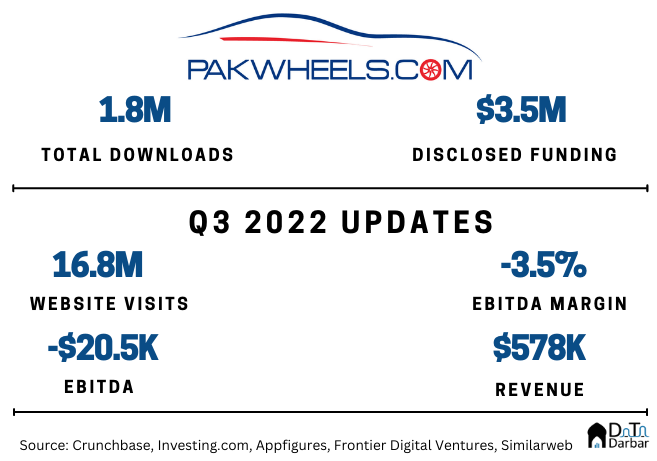 Beyond revenues, the story becomes grimmer, as 1H2022 EBIDTA plunged 62% to $65.75K, from $173.7K in 2H2021. It has gotten worse since then: Pakwheels EBITDA margin clocked in at -3.5% during 3Q2022, translating into an absolute value of -$20.5K.
Dig deeper into Pakwheel's financials and business model in our Analyst Notes:
What will VC funding in Pakistan look like in 2023?
The changing economic cycle and Fed's contractionary policy have hit venture capital hard. In Q3-2022, total VC funding clocked in at $74.5B, the lowest since Q2-2020, as per CB Insights.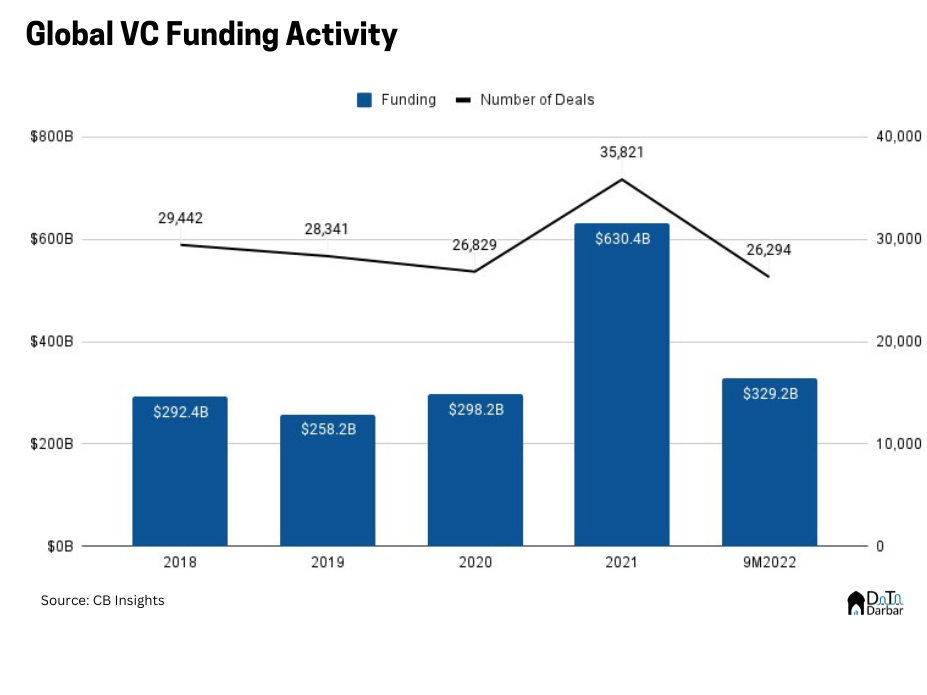 Unsurprisingly, that slowdown has spilled over to Pakistan where last quarter saw just $55M of investments, almost half of the already depressed Q2 total. The new fundraising environment has created a lot of uncertainty among founders about the future.
Read more as we dissect the slowdown so far but then explore the key factors that could determine VC activity in 2023.
Why are Pakistani fintechs obsessed with digital wallets?
Pakistan's payments space has grown tremendously of late, with internet and online banking transactions value reaching over PKR 22 trillion in FY22, from just PKR 1.6T back in FY18. That represents a compound annual growth rate of 67%.
The SBP further expanded the ecosystem by introducing EMI regulations in 2019, under which 12 companies have obtained some form of approval. Combined, the local players have disclosed funding of $83.5M. Add to it Careem's announced $50M for the wallet, and fintechs like Checkout.com, YAP, and Hubpay and you're looking at hundreds of millions in funding (not entirely for Pakistan).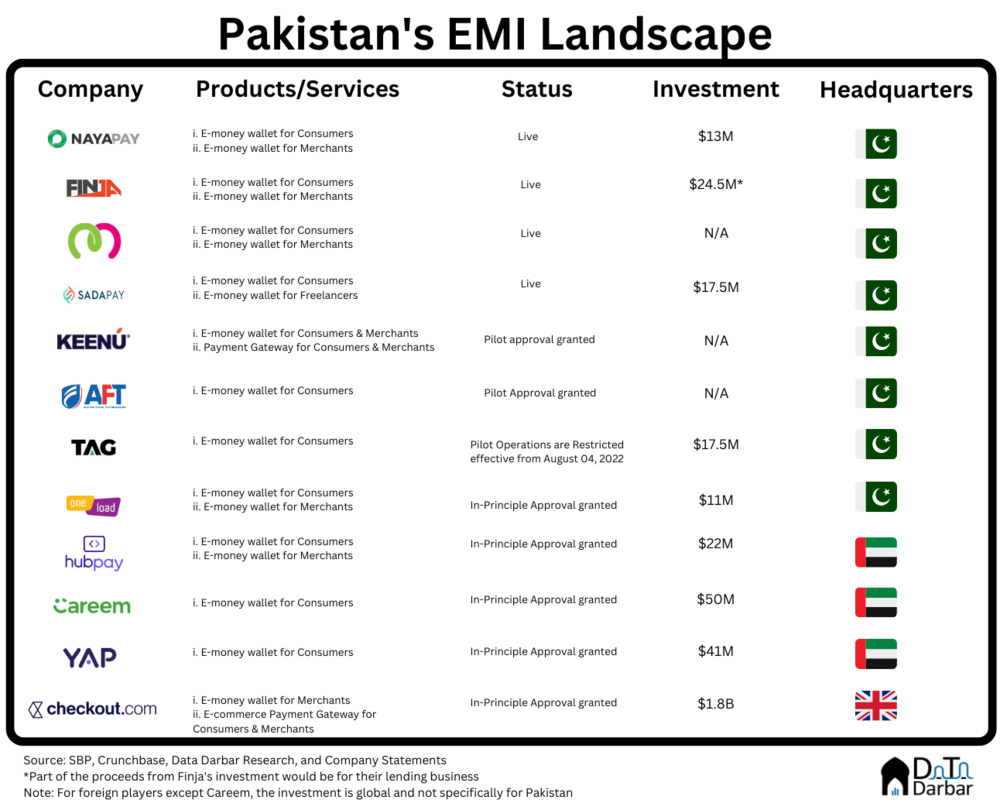 But is the market big enough for all these players, since banks do have a deposit (and regulatory) advantage? And how do they monetize in the first place? Generally, payments are not believed to be a money maker.
So to help you understand the business model, we built a basic financial model on how EMIs can monetize from deposits and what those revenues and the associated costs would look like. [There is an embedded calculator – with help from AlphaVenture – you can play around with, using your own inputs].
What are we reading?
2022 – a dismal year for Pakistani startups