Rom-com movies, young adult books, and hopeless romantics may have told you time and again that you can't put a price tag on love. But if that is true, why does Google show the "price of Sacha Pyar in Pakistan" that takes you to a webpage giving you a breakdown of the actual cost of true love? The answer to that lies in a bet. While talking about digital strategy and the underutilization of SEO & SEM in Pakistan, I asked my friend Hammad how long it would take to rank a meme on Google. According to him, less than 24 hours.
So I challenged him to it. Six hours later, the "Sacha Pyar" page was ranked first on Google.

This is a super low-volume keyword, but the fact that he was able to rank this within 6 hours is still significant. Pakistani Stores is a hobby project that ranks for over 10 thousand keywords. In a country of 240M people, if a hobby startup with 0 employees can rank for most of the competitive eCommerce keywords, then so can your brand.
The digital landscape in Pakistan is in the nascent stage
For relatively higher search volume categories, SEO progressively becomes harder as keyword difficulty begins to rise. However, that is not the case with SEM – which is practically still a greenfield in Pakistan. When it comes to digital consumers, the market here is very cheap. For example, our average cost-per-click on Google is almost 92% less than in the US.
Using Google Ads, we compared the CPC rates for Pakistan with three markets for 14 keywords. Our average cost-per-click came in at just PKR 69. This is not even 3.5% of the value for the US, 7.5% against the UK, and 12.2% versus the UAE.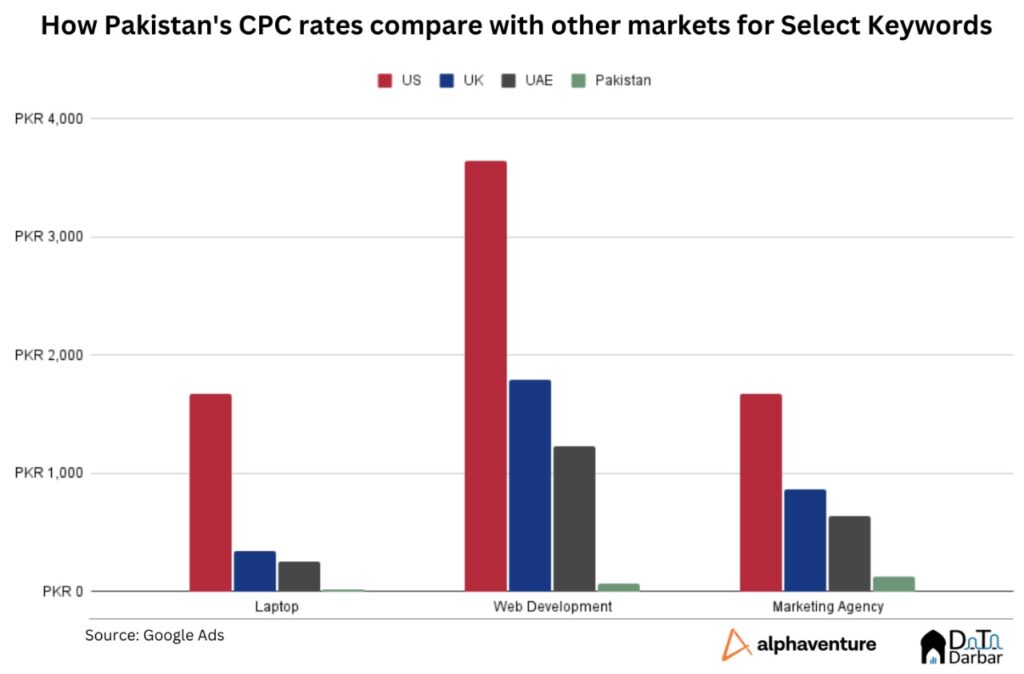 For people in the industry, this is obviously old news. Low CPC rates are what makes programmatic advertising such a difficult revenue stream in Pakistan. This is also why most media houses and major websites try to sell their ad inventory directly. But it also represents an untapped opportunity: by and large, businesses aren't still leveraging search engine marketing properly to acquire customers.
SEM: underpriced and effective yet still underutilized
For example, 48% of the total digital ad spend in FY21 in Pakistan- PKR 16.8 billion was on Facebook, according to Aurora. Meanwhile, Google and YouTube combined made up 37%. Even assuming a 50-50 split, we can say that purely search marketing makes up for a small share of our advertising preferences.
There are a number of reasons for that: First of all, many have the wrong notion that SEM is too expensive. Brands in Pakistan like to play it safe when it comes to advertising. Moreover, Facebook is the go-to platform for many small and mid-tier businesses, while they miss out on a fairly underpriced mass advertising tool — search engine marketing.
For your business, it presents a largely untapped opportunity to spend a few dollars to attract traffic to your website. With international players coming in, the CPC will continue to grow. If you are planning to market something, this is the best time to start.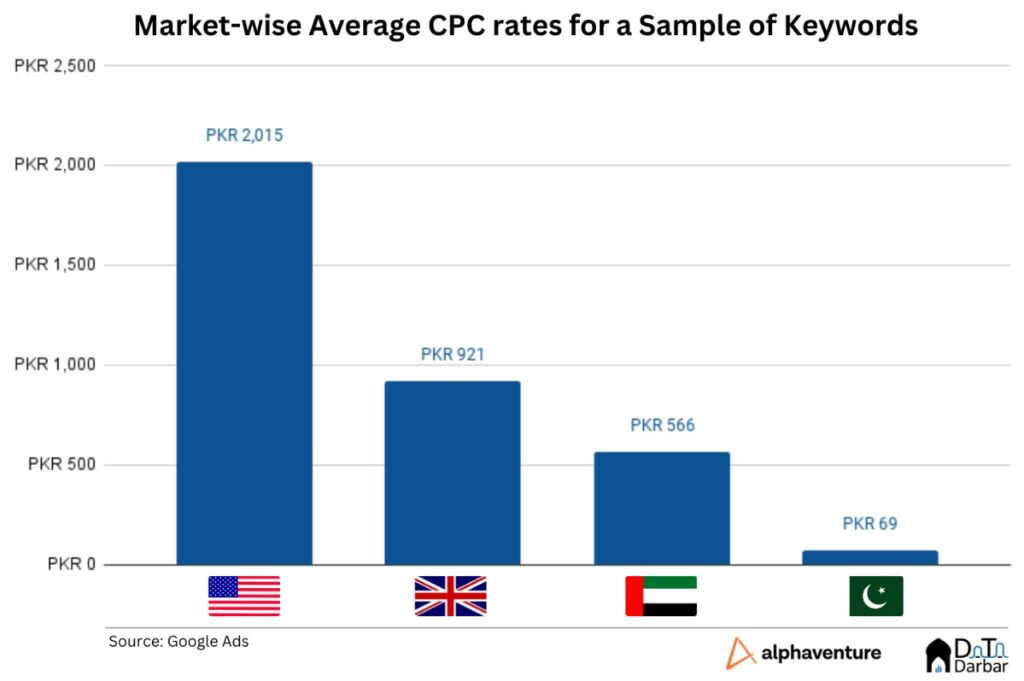 Using SEM comes with its share fair of perks. Not only do you get a continuous source of relevant traffic for your brand but you also get instant visibility.
Lastly, running a SEM campaign also helps you better identify high-converting keywords for your brand. Once you know what keywords perform best, it becomes easier to focus on them for your SEO efforts. This will help you generate more traffic organically, without having to spend a dime on marketing.
The Bottom Line
If absurd and quirky content can rank on Google within a few hours, then anything can.
With some consistent effort, ranking on relevant keywords on search engines in Pakistan is pretty doable. However, if you're looking for an instant increase in traffic, SEM is definitely a low-hanging fruit. In Pakistan, there's very less competition for keywords (the ones considered "highly competitive" in the US, UK, etc.) which is why the CPC is pretty low.
Search engine advertising is an untapped market. Now is the right time for Pakistani brands to capitalize on this opportunity because as the saying goes "All good things come to an end."