Hello everyone, Appistan is now a bi-monthly feature instead of a weekly one since absence makes the heart grow fonder and all that. During the week of Feb 5th to Feb 11th, JazzWorld overtook Easypaisa on the Active User Ranking chart. All the other apps shuffled their places a bit with Islam 360 once again making an entry on the top ten charts. Every other week we see a new VPN app enter the download charts and this week was no exception with Vold Speed climbing to the 4th spot. For this issue of Appistan, we are looking at how the entry of inDrive into the ride-hailing market shook up things for other players.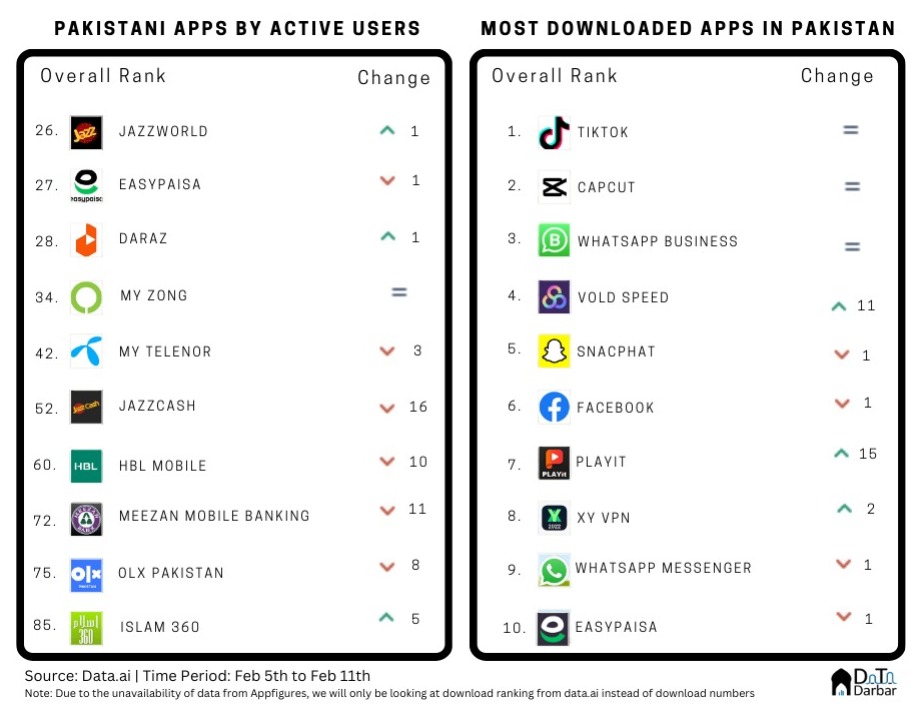 Long before we had the exorbitant fares of inDrive to complain about, there was another green-eyed ride-hailing app that was the subject of our angry tweets. Coming in hot on the heels of Uber, Careem swooped into the market that was just learning to use mobile apps for commuting. In a short period of time, it built the supply, captured the demand, and became a brand and a verb — while beating out Uber in the region.
But steep as the rise was, the fall has been harder. The rides not only invariably became more expensive (like everything else in Pakistan), they took much longer to find as well. People were desperate for options, you know something they could rely on to get from point A to B without four captains canceling on them. And the most unexpected player cashed in on that.
The Second Mover Advantage
InDrive entered Pakistan (and other markets) in early 2021, shortly after raising a Series C of $150M. The template wasn't exactly new: for the first few months, it quickly capitalized on the supply that Careem and Uber had spent years to build, and not charging any commissions whatsoever. At the same time, it offered far more competitive prices to attract demand.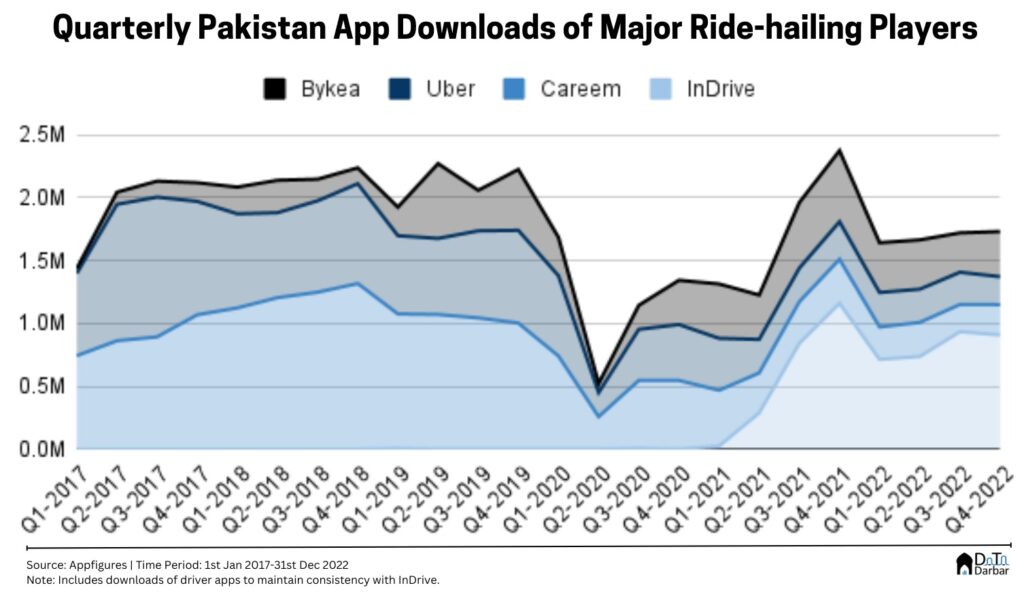 Once again, the strategy worked. During 2021 and 2022, InDrive recorded cumulative 5.6M downloads in Pakistan and has outpaced its competitors for three quarters straight. In fact, its's now getting more installs than all major ride-hailing players combined.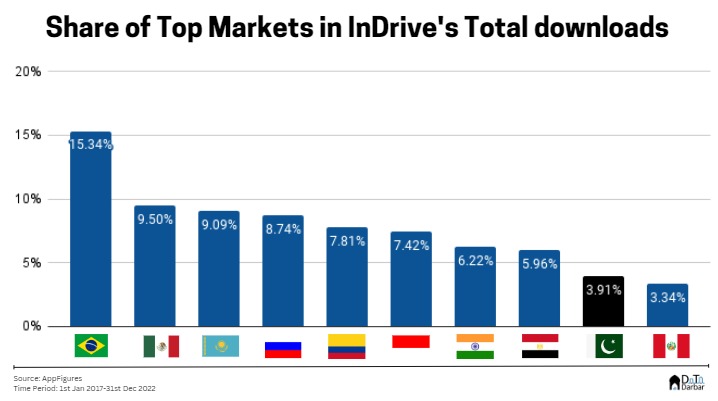 But we weren't the only country where InDrive made InRoads. It was the second most downloaded ride-hailing app globally with 61.8M installs, from 42.6M in 2021, and has found great success in emerging markets, especially Careem's former volumetric strongholds. The app currently leads the charts in Morocco, Peru, Panama, Nicaragua, Ecuador, Colombia, Bolivia, Pakistan, Nepal, Namibia, and Botswana.
Secret sauce for success
But what makes it so successful in such diverse geographies? And how? While the overall model was pretty much the same, InDrive brought in one innovation: it introduced the concept of haggling — a dream come true for desis, especially. This gave the power (or at least, the feeling) of choosing their ride back into the hands of the customers. Instead of letting captains pick and choose the demand.
According to their own VP, haggling made the experience more localized as most markets were developing countries. That also takes us to how it only accepts cash. For a sector where wisdom dictates every startup will be a fintech, a company with serious funding and scale intentionally not venturing into digital payments is really rare.
This also seemed to work as an incentive for the captains. While low (initially no) commission rates were a good enough reason on their own, the supply also apparently liked the company's laissez-faire approach. What Careem struggled with a lot throughout the years was the system it had enacted to enforce good behavior [no canceled rides, no misbehavior with customers, etc] in captains. Low ratings from customers meant no bonus or in some cases, being blocked off the service.
When InDrive entered the market, the supply of captains remained the same and so did their issues but now they had free reign to do whatever they wanted without the fear of repercussions. However, all that changed as the ride-hailing service gained popularity. With scale came the need to establish a bigger presence in the country.
Competition out of ammo
Just as Uber announced its exit, inDrive unveiled its expansion plans to add 5 more cities to its roster of 11 cities in Pakistan. With a new capital infusion of $150M in Feb 2023, the company has a clear road ahead to establish a bigger presence. 'Just as Uber announced its exit, inDrive unveiled its expansion plans to add 5 more cities to its roster of 11 cities in Pakistan. With a new capital infusion of $150M in Feb 2023, the company has a clear road ahead to establish a bigger presence.
Much like Careem, Uber, and Bykea before it, InDrive has expressed its super app ambitions, foraying into delivery, cargo transportation, and handyman services. From launching free IT centers in Karachi to promoting food tours through its service, inDrive seems to be following a similar route of padding its services with pomp. The only difference is they just got new supplies while the competition is all out of ammo.