Welcome to the fourth edition of Appistan! There was no newsletter last week as we were trying to experiment with a new format that does a mix of weekly updates plus a deep dive into a particular company or category. So from now on, we'll start with the top 10 Pakistani apps in order of their active user rank for the previous week, as given by Data.ai. Unfortunately, we don't have access to the actual number so it's only going to be a ranking. Additionally, we will highlight the most downloaded apps in the country (irrespective of the publisher's origin) using Appfigures estimates. For the deep dive, this week features how a Karachi-based company became a top apps publisher from Pakistan by picking a niche, or unsexy, market. Let's dig in.
Last week in Top Apps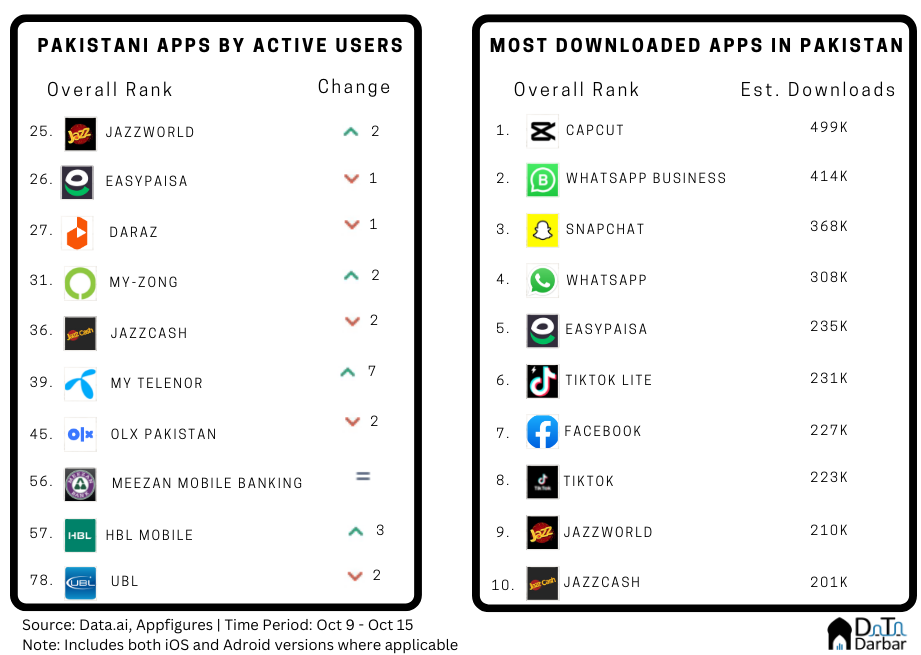 Over the past month, we have written about how very few local apps have been able to scale IN Pakistan. That's best reflected in the dearth of Pakistani products in Data.ai's active user rank. Between Oct 9 and Oct 15, there were only 12 Pakistani names in Data.ai's Top 100. Among these, Jazzworld had the highest rank (25). The telco and finance tilt here is hard to miss. Meanwhile, Bytedance-owned Capcut, a video editing tool, was the most downloaded app in Pakistan with an estimated 499K installs across the two stores. It has been on the top charts for some time so it's not a big surprise. Overall, the list is heavily dominated by global social media while among local names, telecom players are the usual suspects, led by Easypaisa. 
How a Pakistani company became a top mobile apps publisher
Last week, we mapped the religious apps landscape – both with respect to Pakistani user and the major local apps publishers. Leading that list was Pakdata, one of the earliest companies to enter the space. They actually started developing software for Islamic content in 1989, the year when the first Apple portable laptop was released. At the time, the total number of personal computers in the world was 43 million and wouldn't be more than a few thousand max here at home.
The company released its first Windows product in 1998 after an impressive debut of Windows 1998 while gray clouds hung over Apple's future. But when Steve Jobs launched the App Store, Pakdata jumped on the bandwagon with an iOS product by the name of 'Quran Majeed' in 2010. In 2014, they launched its Android version and today, the two apps combined have over 40M downloads.
This is how Pakdata entered the world of mobile, where today it's one of the biggest local players. Its portfolio has expanded to over 30 apps, with a strong focus on products catering to Muslims around the world. Currently, they have 21 Islamic apps on Google Play under their publisher account.
While it may not necessarily have been the motivation when Arif Hisam and Kashif Hisam, the founders, ventured into the space, Islamic apps are special in a way. "If a regular app has 10% of the downloads as monthly active users, in this category it's around 20%," says the company's Head of Growth, Hasan Shafiq. It's better and more consistent engagement-wise, more so than the typical lifestyle apps at least. "For example, every Quran Majeed user spends 12 minutes a day on the app on average," he says.
The market is local (languages)
However, it's not the only area where the company has established its footprint. Pakdata is arguably the biggest player in the local languages niche. What exactly is that, you might be wondering? Well, in pretentious liberal arts college students' parlance, you could call it a suite of products that make the internet more accessible to people from the Global South and indigenous populations. For normal people, it's basically apps in Urdu and other Pakistani languages.
Top among them is Easy Urdu, a keyboard app for anyone wanting to type in Urdu. You are probably thinking what's so special after this? After all, Gboard already gets the job done. Well, those were my first thoughts as well when I received an email from Pakdata almost four years ago. At the time, I was writing a weekly column in Dawn called Tech Talk. There I profiled a new product-based company every Sunday and was always on the hunt for unique or scalable ideas.
The meeting took place a few days later at their office and I came back truly impressed by the scale. Not in terms of team size: they still have just 35 staffers. But with respect to the reach of their products. At the time, Easy Urdu had already crossed 5M installs on the Play Store. Not exaggerating the relevance of downloads but it was a rarity. There were only a handful of home-grown publishers (except for Jazzcash and Easypaisa though they are multinationals) who could claim similar numbers and absolutely no one to have done so with a predominantly Pakistani audience. 
Things have only moved upwards since then and it has been among those rare Pakistani apps (beyond digital wallets and banks) to have almost consistently remained in the Top 100 on Play Store. As per Appfigures, Easy Urdu's estimated downloads are 34M between Jan'17 and Sep'22 – again beating Jazzcash and Easypaisa. That's no mean feat considering those two have hundreds of sales staff deployed across the busiest markets of the country to get people to download their apps (and create accounts). They also have two more keyboard apps – Easy Pashto and Easy Sindhi – which feature among the top products in Pakdata's portfolio.
In terms of revenues, almost all the money comes from Easy Urdu and Quran Majeed with roughly a 50-50 split. Store-wise, the former is more skewed towards Google Play while the latter gets majority of the income from the iOS version, thanks to its popularity beyond Pakistan.
The future of productivity tools and Pakdata
So it seems the focus on the local languages niche has served the company well because they are largely neglected by others. But with advancements in the field by giants like Google, how long can the strategy sustain? Even otherwise, many of the productivity apps have vanished over time as those tools now come built in on every phone – be it scientific calculators or alarms. It's certainly a risk and the leadership is cognizant of that but other markets have their own versions of Pakdata. India has app publishers like Lipikaar Keyboards and Desh Keyboards, for example, and they seem to be doing alright traction-wise. At home too, there are other players like Soloftech. And even today, productivity tools like Alarmy and ClevCalc Calculator are massively popular.
In the religious apps category, the problem is slightly different. The space is incredibly competitive but fragmented and homogenous. There is little brand building and a lack of unified experience. This is what Arif Hisam and his team want to do next. While they have already consolidated most of the features under a single product, they feel there is an opportunity to create a super app for Muslims. Something that goes beyond religious text or prayer timings. What could that entail? Still early but it could involve Shariah-compliant investing opportunities, for example.
Beyond that, the company is also exploring opportunities in hyper casual gaming where their existing experience of scaling productivity apps should come in handy. Plus, having a sizable monthly active user base running in millions is also going to help with customer acquisition. Whatever may come in the future, Pakdata serves as an interesting case study. It has done something that arguably no other home-grown player has done as consistently. Well, at least not in the local market.