It's the Islamic month of Rabiul Awal, and Muslims around the world are celebrating. In Pakistan, that means streets are lit all over and milaads and niyaaz are being organized. But it's not just the physical sphere that sees a bump in religiosity. It also plays out in the digital world as Muslims are increasingly turning online for their ibadat. In fact, Islamic apps are the most downloaded category in Pakistan, even edging out digital wallets.
The space is fiercely competitive (and quite unorganized) with hundreds of players. Many of them are home-grown and were among the earliest digital adopters, starting off with desktop apps well over a decade ago. Back in 2019, they were among a handful of local publishers (along with digital wallets and some gaming companies) to have crossed 5M installs on Google Play – a rarity at the time.
Behind this success was the early ethos of technology (and apps) where indie developers built platforms for daily use cases and reached a global audience. The (Muslim) world was their oyster. So for this issue of Appistan, we tried to map the scale of the space.
Unlike the OTT scene, the Islamic apps landscape is far more difficult to map. For starters, the definition is trickier: it can include anything and everything from the Quran (audio or text), to the Ramzan calendar. There's no consistent taxonomy as no one category exists: an app could be classified under 'Books and References', 'Lifestyle', or something else entirely. In many cases, it's an indie developer publishing by their own name instead of a corporate entity, which again makes tracking more difficult.
Then, each publisher can (often does) have multiple apps – as high as over 70 across the two stores. For example, Dawat-e-Islami has published as many as 73(!) apps across the two stores. Such high count is because most developers still treat it in sort of a hyper-casual manner, possibly for better app store optimization against specific keywords. For example, publisher of Quran app can have individual platforms for different Surah or dua.
Hence, the methodology is relatively subjective and more prone to errors and omissions. But we have tried to be as thorough and consistent as humanly possible. Using Appfigures, we filtered for Pakistani developers and searched against some popular keywords like 'Quran', 'Islam' etc. That gave out around 250 apps, in some cases both iOS and Android versions of the same products. To narrow down our universe, we only selected apps with at least 500K installs on Google Play and then checked their estimated downloads across the two stores (if available). Some Pakistani publishers are registered abroad, but were taken as local.
This brought down our sample to 20 apps by Pakistani publishers. Cumulatively, they managed to get 66.1 million downloads globally between January 2017 and September 2022, according to Appfigures estimates. Leading the pack at 14.6M installs is Quran Majeed by Pakistan Data Management Services, one of the biggest app companies in the country.
IslamicFinder's Athan comes in second place with almost 11M downloads across the two stores while Islam360 closely follows at 9.2M. The total universe of developers working within the religious apps space is even bigger, if we include the smaller players.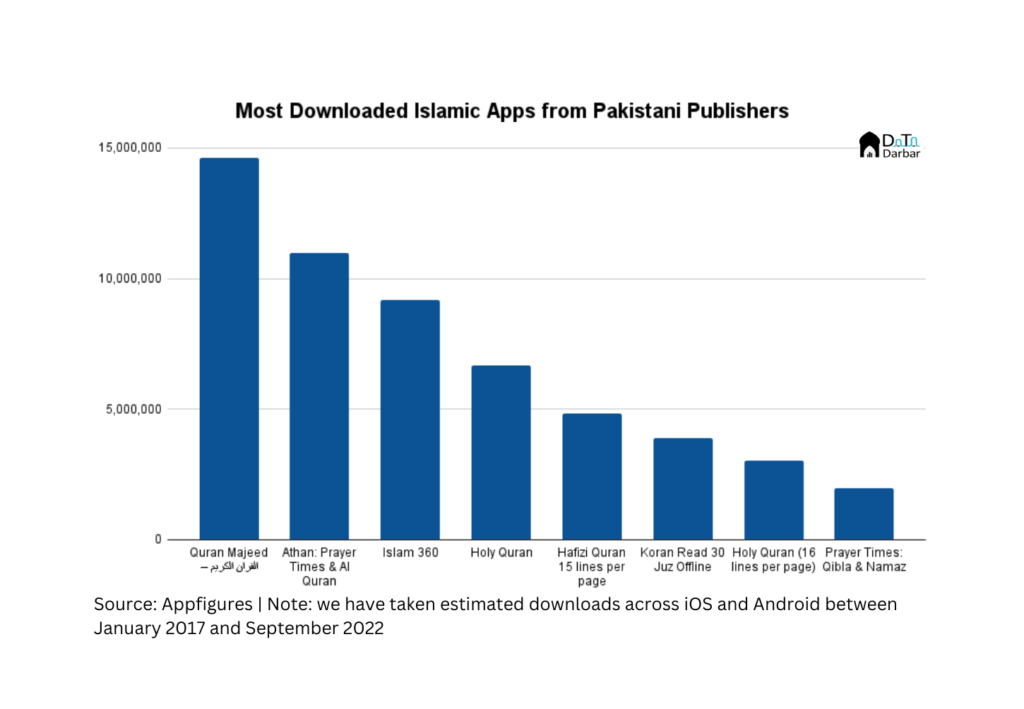 Of course, downloads are not the best indicator, but still help set a benchmark. What makes Islamic apps particularly interesting is how the user acquisition cost is almost negligible as demand is quite organic. If you are optimizing for the right keywords and at the right time, there is no hefty marketing spend. Not only that, usage metrics like Monthly or Daily Active Users are also better than other categories.
However, there is a flip side to it. From a business perspective, there's a tendency to shy away from charging (upfront or subscriptions) for the service. That said, both Islam360 and Quran Majeed do have paid, ad-free versions. Secondly, the markets driving bulk of the volumes have low cost per click (CPC) and therefore limited ad revenue potential. For example, only 8.1% of Quran Majeed's (Android) estimated revenue came from India and Pakistan even though they accounted for 35.6% of downloads during the period under review, according to Appfigures.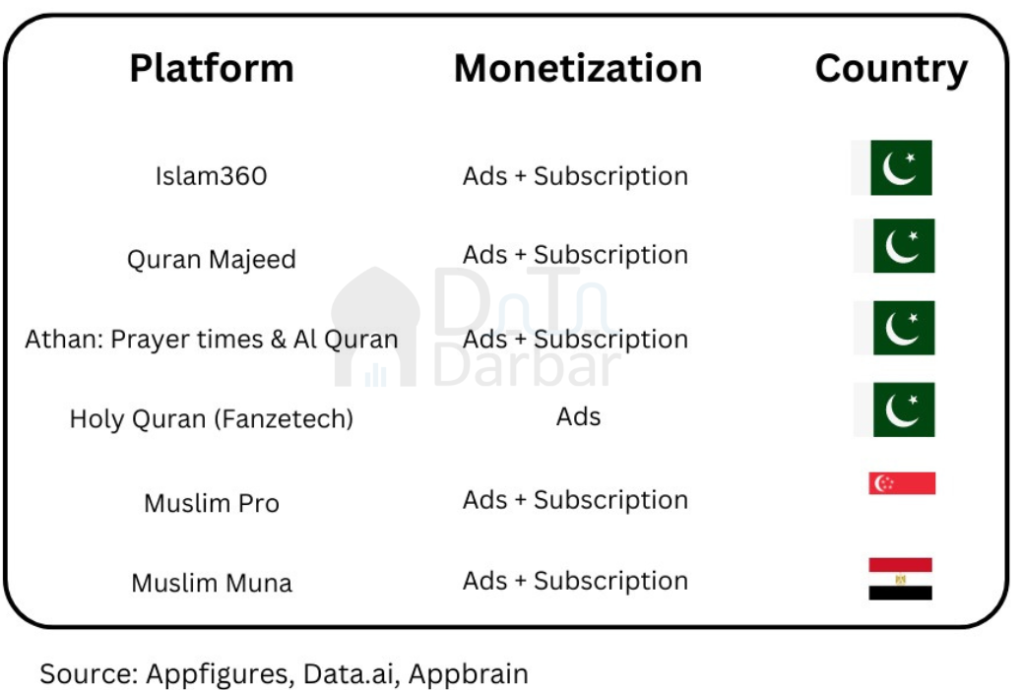 So far, we have highlighted the global potential for local publishers if they enter this space. But there's also a sizable market of Pakistani users of these apps, for both home-grown and foreign players. From our universe above, almost 19.8M – or only 30% – of the installs came from Pakistan.
But again, that only reveals part of the story, as local users also download foreign platforms. Eight major international apps that met our criteria had over 21.7M installs from Pakistan between January 2017 and September 2022. The numbers would be much higher if we don't filter out the countless smaller players.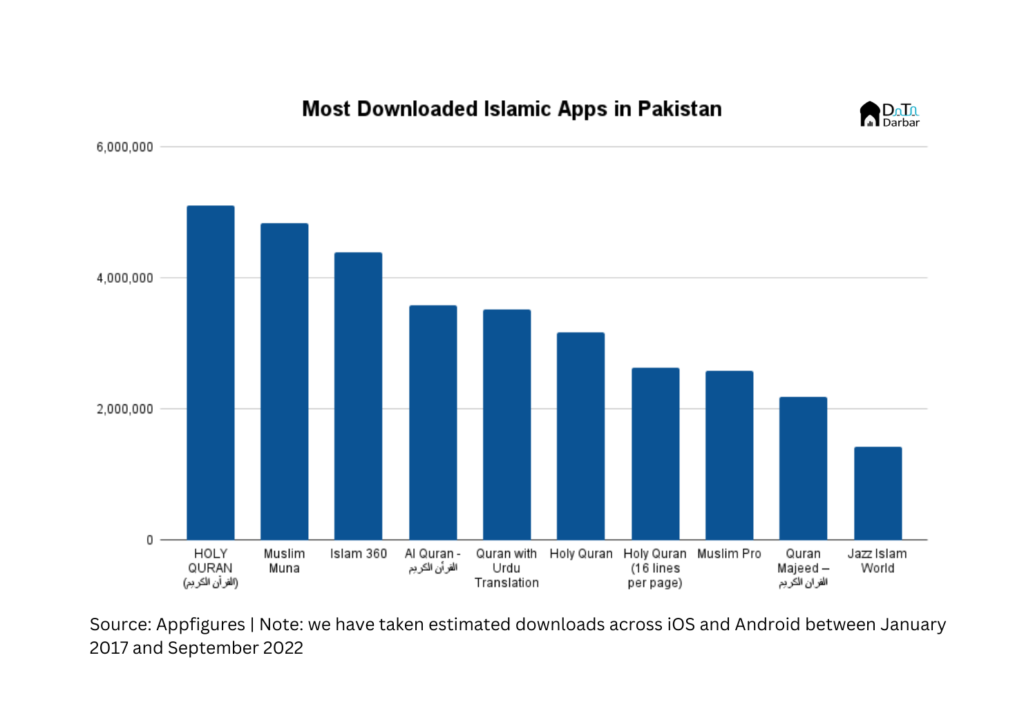 This is just a glimpse of the Muslim market and looks at just the most mundane of the use cases. The larger opportunity is much bigger, and only recently has been recognized thanks to players like Muzz or Wahed on a global scale. Meanwhile, a number of Pakistani startups, especially in fintech, have donned the 'Islamic' mask though their reach is still very much local. That's where Pakistani publishers of Islamic apps can serve as a potential case study to learn from.