Hello everyone,

Appistan was on a hiatus as we focused on breaking down the digital performance of your (least?) favorite banks and mapping the country's e-commerce landscape, but now we're back AND BETTER THAN EVER. There have been no radical changes in the active user list since we last left you in March, with JazzWorld continuing its reign in the top spot. On the downloads front, Whatsapp Messenger finally overtook Whatsapp Business and yet another VPN app made an entry in the top ten list. I mean when your country is being trigger-happy with the block button so everything from dating apps to a fanfiction website can be subject to a ban, it's no wonder that VPN apps are gaining so much popularity in the country.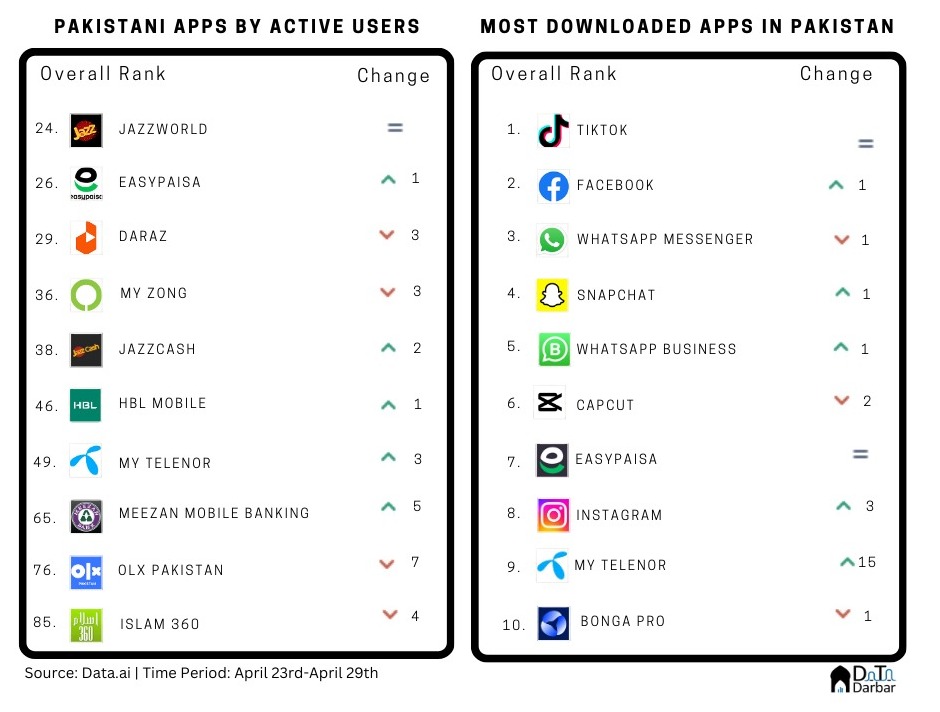 The growing reliance on religious apps
For our deep dive, we are taking a walk down memory lane to one of our earlier issues where we looked at the massive market for religious apps in Pakistan and how Muslims increasingly turned online for their ibadat. And boy, have we got some interesting insights for you!
We've all seen how everyone suddenly becomes more Islamic as Ramzan approaches. Beards grow longer, scarves come out of the closets, and songs turn into naats. But it's not just the physical sphere where that religiosity plays out: it's also pretty noticeable in the virtual world. In fact, even quantifiable to an extent.
According to a 2022 report by Google, prayer queries hit an all-time high in the two weeks before Ramzan. The mobile ecosystem is no different, where as the holy month closes in, and the downloads for religious apps shoot up. It's a recurring trend by now and is pretty much global in nature, from Malaysia to Egypt and in between.   
We decided to follow the data and looked at fifteen of the most popular Islamic apps in Pakistan. And guess what? Nine of them experienced a surge in downloads during Ramzan.
But to keep the analysis simple, we narrowed it down to six top apps: Quran Majeed, Islam 360, Al-Quran-ul-Kareem, Muslim Muna, Muslim Pro and Prayer Times-Qibla & Namaz.
Across this sample, the average daily downloads stood at 118.5K since the beginning of 2023. But during Ramzan, that number surged to 194.7K. That's 1.6x.
Putting a number to the spike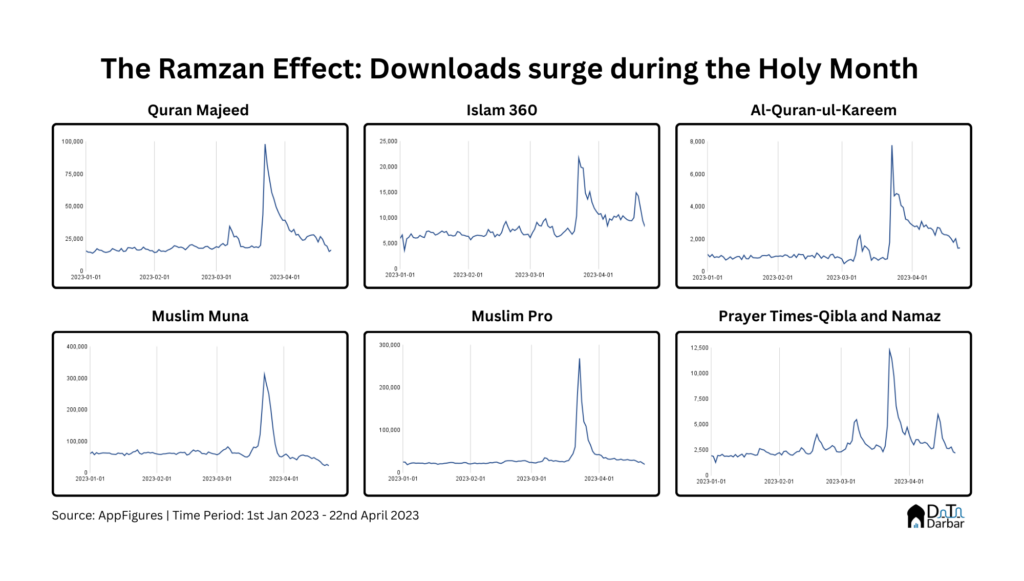 In relative terms, the biggest spike was seen in Al Quran-ul-Kareem, where daily downloads in Ramzan rose 3.1x to 2,948, though it may have to do with the low base here. But the trend is unmistakable.
Take Muslim Pro, which has over 140 million cumulative downloads worldwide and is the biggest product in the category, whose installs were up 2.2x. That's from a daily average of 25.3K to 56.3K in Ramzan and represents the biggest jump in absolute terms too. Interestingly, India led the numbers, beating out all other countries for a number of different apps.
Among home-grown players, Pakdata's Quran Majeed downloads on March 21st were 20K, but surged to 43.7K and then peaked at 98K on the two days Ramzan started across the world. As a result, its average daily installs of 18,119 since the start of 2023 jumped to 37,202 during the holy month. This is not just a 2023 phenomenon as a similar trend was observed during 2022 too. According to PakData, the spike in MAU was 200% in Ramzan. Average usage time also increased from 22.5 minutes to 37 minutes.
Muslim Pro was also one of the most downloaded Islamic apps during Ramzan 2021 with over 7M installs, according to a Sensor Tower report. 
Always on the quest to balance deen and duniya, Islamic apps aren't the only category that see a spike during Ramzan. The holy month has traditionally been a bumper season for retail and banking due to higher spend ahead of Eid. And that too is visible in the mobile sphere generally.
"Global installs increased 7% during Ramzan 2022, and 18% in METAP, compared to the yearly 2022 averages. This tremendous uptick in METAP can largely be attributed to the fact that this region contains a high Muslim population, with more people celebrating Ramzan and downloading relevant apps in their time off than those in other regions."