Pakistani banks have a penchant for theatrics over substance and probably none exemplifies this more than UBL. For the past few years, it has tried to position itself as the "best digital bank" courtesy awards that no one cares about except for the self-congratulating uncles in the boardrooms. But when it comes to substantiating those claims, the annual report offers very little.
There are bits and pieces in the corporate briefing so we put it all together to make sense of where UBL stands in its "digital revolution" — as the cover page of its annual report says. Remember, the lack of data itself speaks volumes of the bank's standing than any number of awards. Anyway, let's dive in though this edition will be much shorter than the rest. 
UBL was amongst the few early adopters of tech, launching its mobile banking back in the first half of 2017. By 2022, total registered customers on the app reached 2.7M, from 2M the year before. Of these, 1.08M were active users — login activity in the last 90 days — as of the outgoing December. This is an increase of 173K or 19.1% YoY.
UBL's mobile/internet throughput surged 52.9% to PKR 2.6T while the number of transactions jumped 47.4% to 56M in 2022. However, this gives the bank just an 8.7% share in industry value and 8.4% in volume. On the other hand, its average transaction size of PKR 46,428 was slightly higher than overall banking's PKR 45,024 during the year under review.
You can interpret it in two opposite ways. If UBL has access to high value users, then it's a good thing. Alternatively, it might suggest the bank is yet to democratize digital payments and people aren't yet using e-banking for routine, smaller transactions.
The bank's transaction mix became more digital as 33% of total volumes were through internet + mobile channels in October-December 2022. That's an improvement of 8 percentage points from 25% in the same period of last year. However, branches still accounted for the largest share at 37%. This means that UBL's Digital-to-OTC mix of 63% (ATMs included) is towards the lower end of the peer group. For example, the corresponding ratio of Alfalah was 72% in 2022 and even higher for Meezan.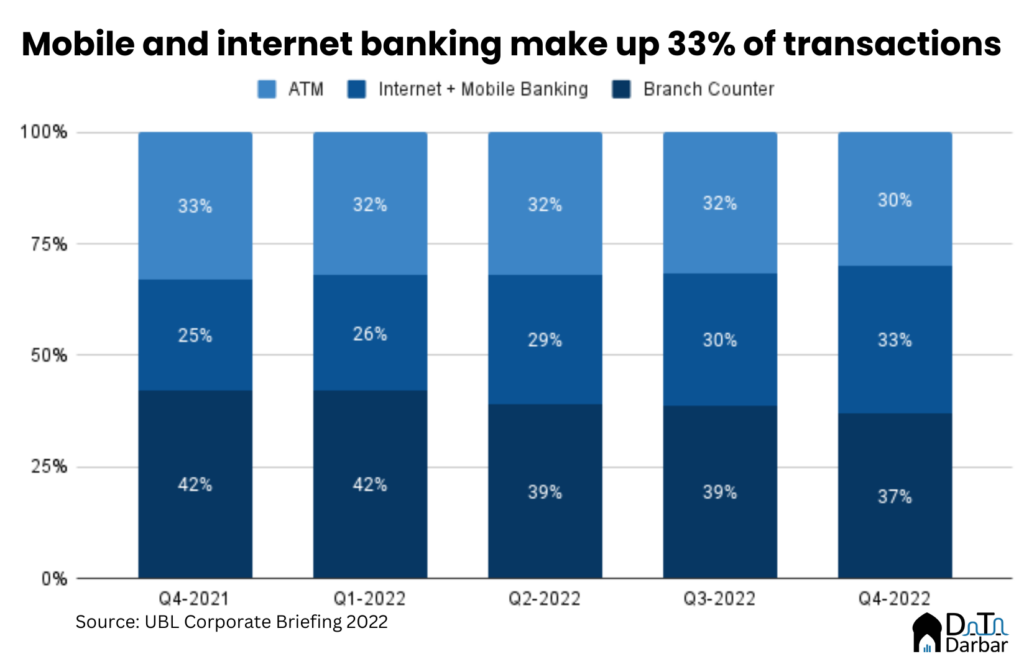 Its total information technology spending grew at 18.26% — just in line with the operating expenses — to reach PKR 5.94B in 2022. Of this, one third went to software maintenance while another 15% to hardware. The ratio of IT expenditure to operating expenses also seems to have stabilized around 10.6% — a level maintained since 2020.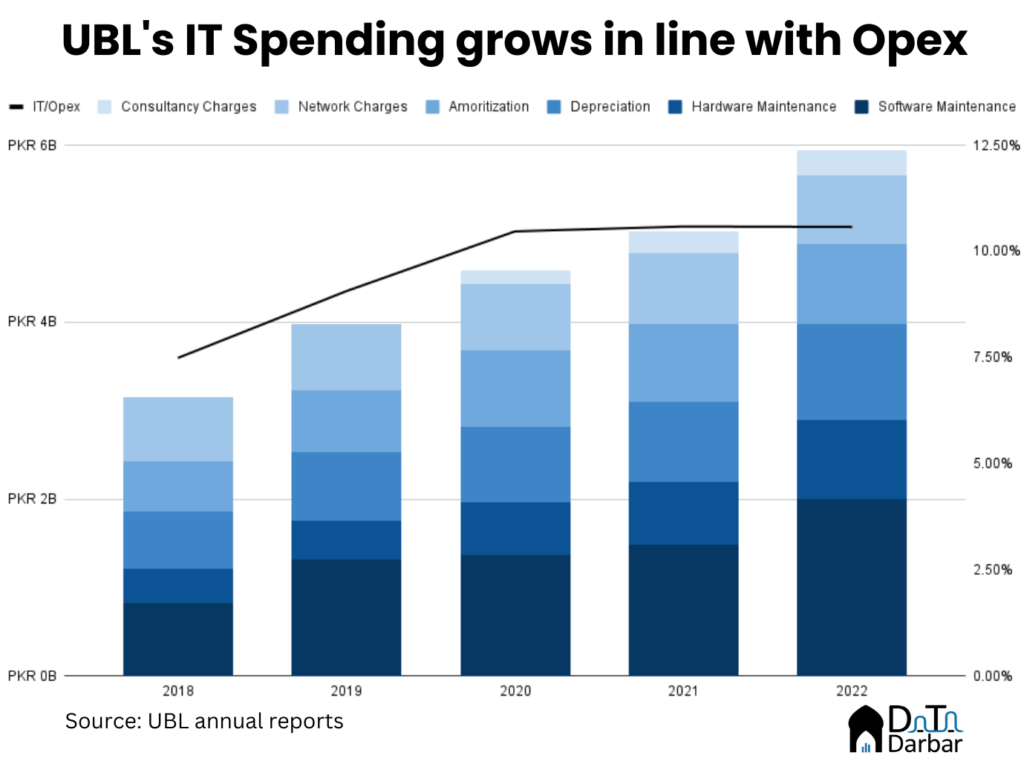 Despite being in the acquiring business, for both e-commerce and point of sale, UBL did not bore us with any details on its scale. Similarly, there was no mention of how many cards it issued or their spending. Because why make actual disclosures when you can post meaningless shoutout posters on social media or brag about the hip design lab? This is the state of a big five, private bank so imagine the quality of reporting elsewhere.