There's no doubt as to how Covid-19 was a watershed moment for digital financial services in Pakistan. All of a sudden, transactions spiked like never before. Unsurprisingly, most financial institutions were caught off guard and had to immediately make big investments in building the required infrastructure. Bank Alfalah was among the very few that had the rails in place as it already went all in 2019. It was among the early movers who were proactive rather than reactive. Today, we look at the state and scale of its digital channels.
Honestly, its 2022 annual report felt more like a product brochure that simply listed down everything the bank had on offer, instead of revealing material information that could guide analysts and investors to make better decisions. The signal-to-noise ratio was pretty off and I had few numbers to work with.
But in another communication, Bank Alfalah claimed to have annualized digital throughput of PKR 3.5T, registering a 128% YoY increase. The use of the word "annualized" makes the comparison a little tricky as it could be referring to the value in December 2022 multiplied by 12. At least that's the convention.
Mobile is the way forward
Users of the Alfa app increased by 400K, or 44.4%, to reach 1.3M while that of internet banking stayed flat at 500K. It's not clear if these are registered accounts or MAU. Anyway, this pushed up the percentage of digital customers to 31% in 2022, from 29%. [These numbers include 3M social securities benfificaries and the bank's own calculation of the metric yield 46% digitization of users.] Alfalah also claims a digital-to-branch transaction ratio of 72%, but that includes numbers from ATMs.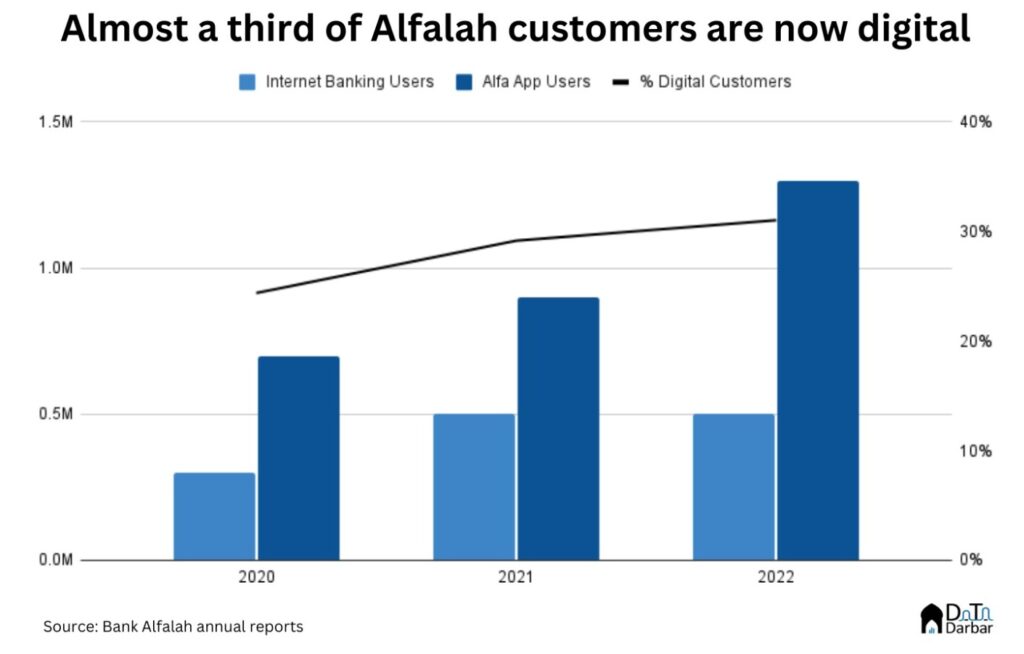 There wasn't much else available on the retail side, apart from the credit card holders, which reached 480K in 2022. That represented an increase of net 26.4K. Their total spend stood at PKR 120.13B, translating into almost 24% of the industry-wide throughput during the outgoing year.
The bank also continued its strong presence in payment gateway, with total merchants clocking in at 2,195. That's 93.7% higher compared to 1,133 back in 2021. As a result, Alfalah grew its share by a substantial 8.3 percentage points to 36.9% of the market. [Note: that's for the banking industry and doesn't include acquiring from EMIs.]
On point of sale, Alfalah only deployed 1,055 new machines, making it the second largest player with a 20.5% share of the total terminals as of 2022. However, that may not necessarily hold in throughput or volumes. In any case, its numbers are bound to increase next year thanks to the partnership with Paymob.
In terms of technology spending, the trend was somewhat mixed. While the total expenditure grew 33.4% to PKR 4.38B in 2022, it failed to catch up with the 36.5% increase in operating expenses. As a result, IT/operating expenses edged lower to 8.83%, slipping below 9% for the first time in five years. This stands in between HBL's 11.58% and Meezan's 5.93%. That said, the jury is still out on whether a high value for the ratio is better or worse.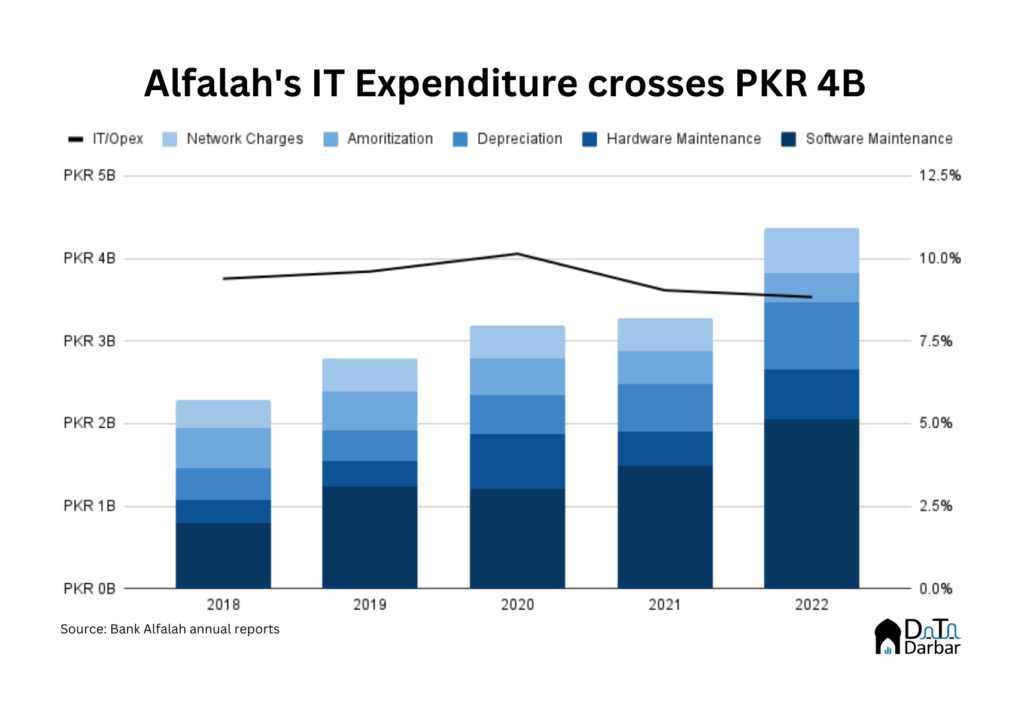 Digital Banking still a cost center for Alfalah
Alfalah is also interesting from an organizational structure point of view as it has carved out Digital Banking as a separate segment. This includes quite a few products and services, such as mobile and internet banking, Alfa Payroll, payment gateway, and even cash deposit machines.
Hence, we have a breakdown of this segment's income and expenses, which can possibly serve as a benchmark for other banks. Alfalah made PKR 1.33B from the digital banking group in 2022, which is just a paltry 1.35% of its total income of PKR 99.13B.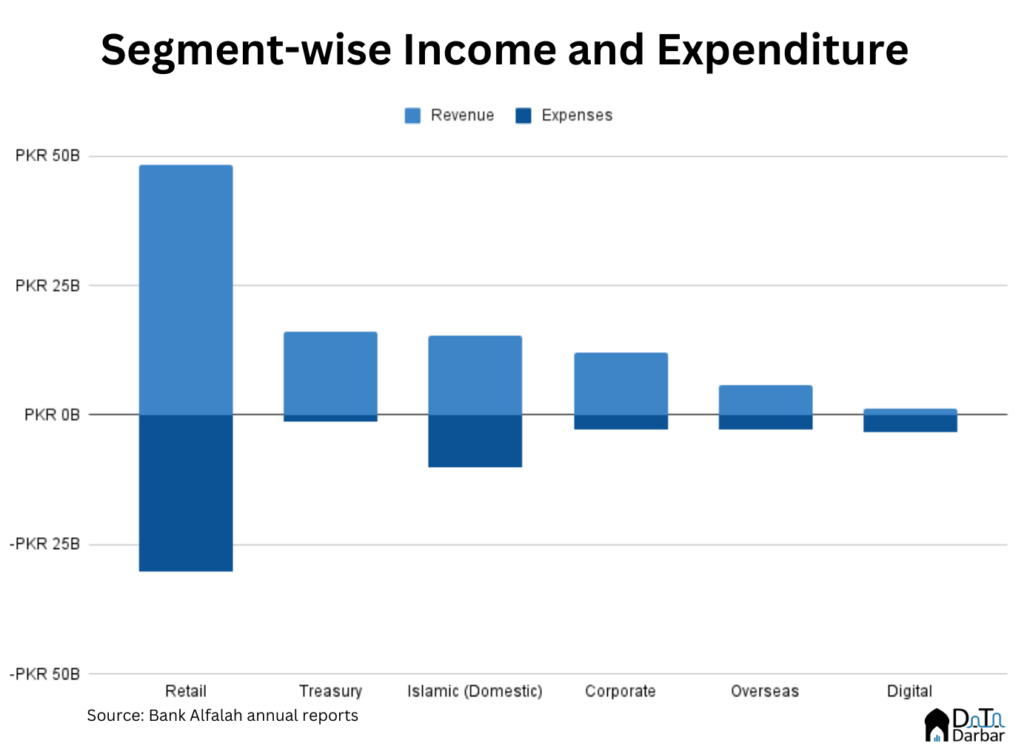 On the other hand, the bank's spending on digital clocked in at PKR 3.35B, making up 6.63% of the overall expenses. In other words, the segment brings in less than what it requires. However, that's not necessarily a problem. Even retail, the biggest contributor to income, earns less than the expenditure needed to maintain it.
After provisions and reversals, digital banking was the only group in red, incurring a net loss of PKR 2.18B. Again, this is not really a negative at this point as the segment is still new and requires investments. [This doesn't include the shadow income of PKR 2.8B from the segment, which is reflected in other channels like retail, according to Alfalah management. If that's taken into account, digital group is in the black.]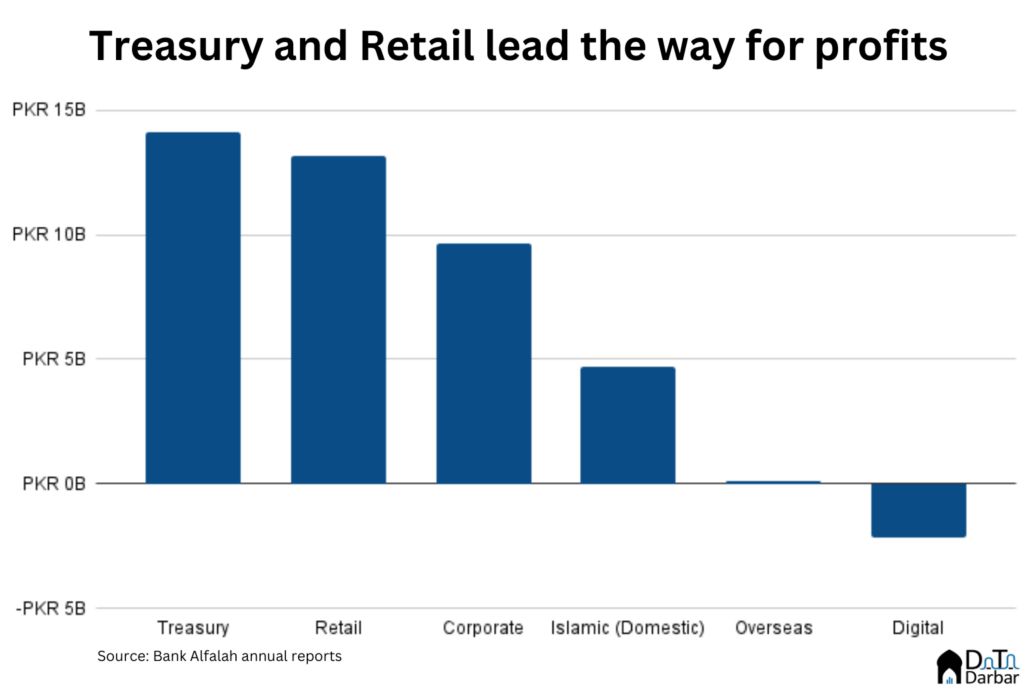 One area where Alfalah seems to have posted strong performance was product innovation. Particularly on the lending side where it does relatively well in the offline realm. For example, it launched Digital Working Capital Finance to Alfa Payment Gateway Merchants with a credit facility of up to PKR 15M. There are many more examples in the report, including nano loans or BNPL. But again, little information was provided on their actual uptake.