In late November, we released a preview on the O-N-D impact prevailing in the local e-commerce space. But given the dearth of information on the sector, we expanded its scope to prepare a comprehensive snapshot on the state of B2C e-commerce in Pakistan. The result is a 60-page document packed with data and charts covering all possible facets.
To begin with, Pakistan's B2C e-commerce market for 2023 is expected to be $6.4B, according to ecommerceDB, a leading data platform. Category-wise, electronics and media accounts for the largest share at 34.1%, with furniture and appliances following suit at 28.8%.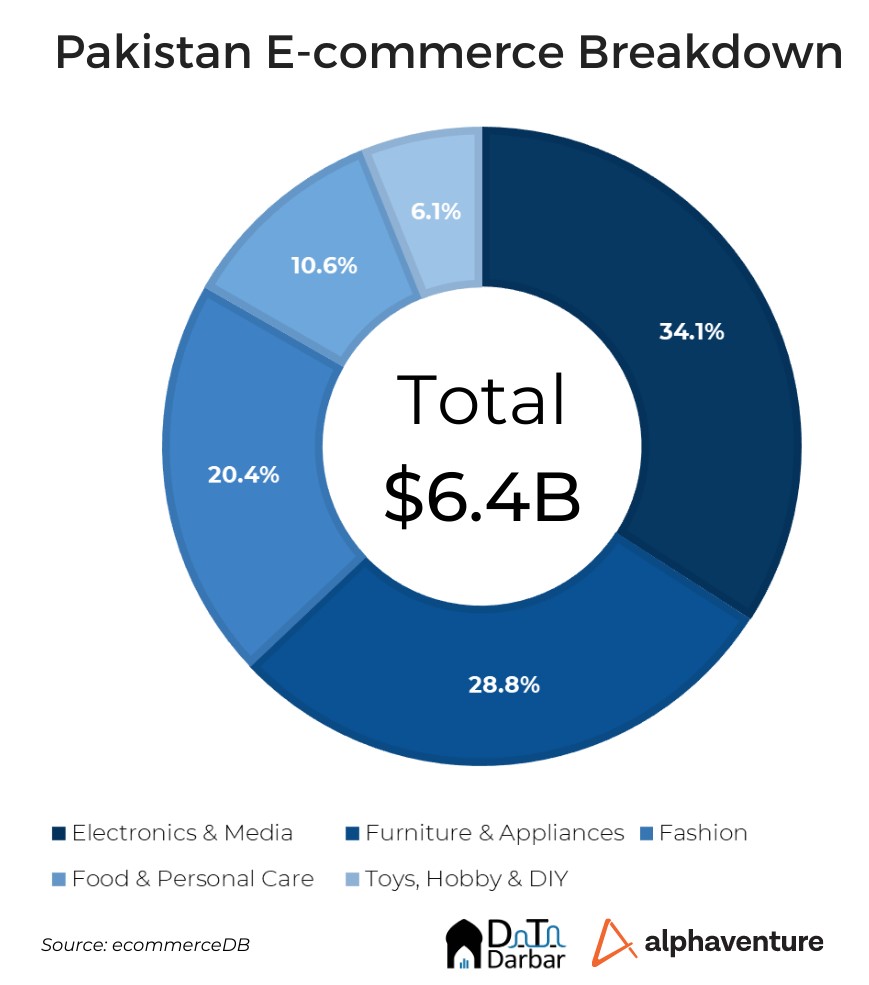 We also looked at how big the B2C market is in Pakistan in comparison to other emerging markets. And it's not a flattering picture. Our e-commerce-to-GDP ratio of 1.63% lies at the bottom end of the peer group, which includes Indonesia, Philippines, Egypt, and Bangladesh.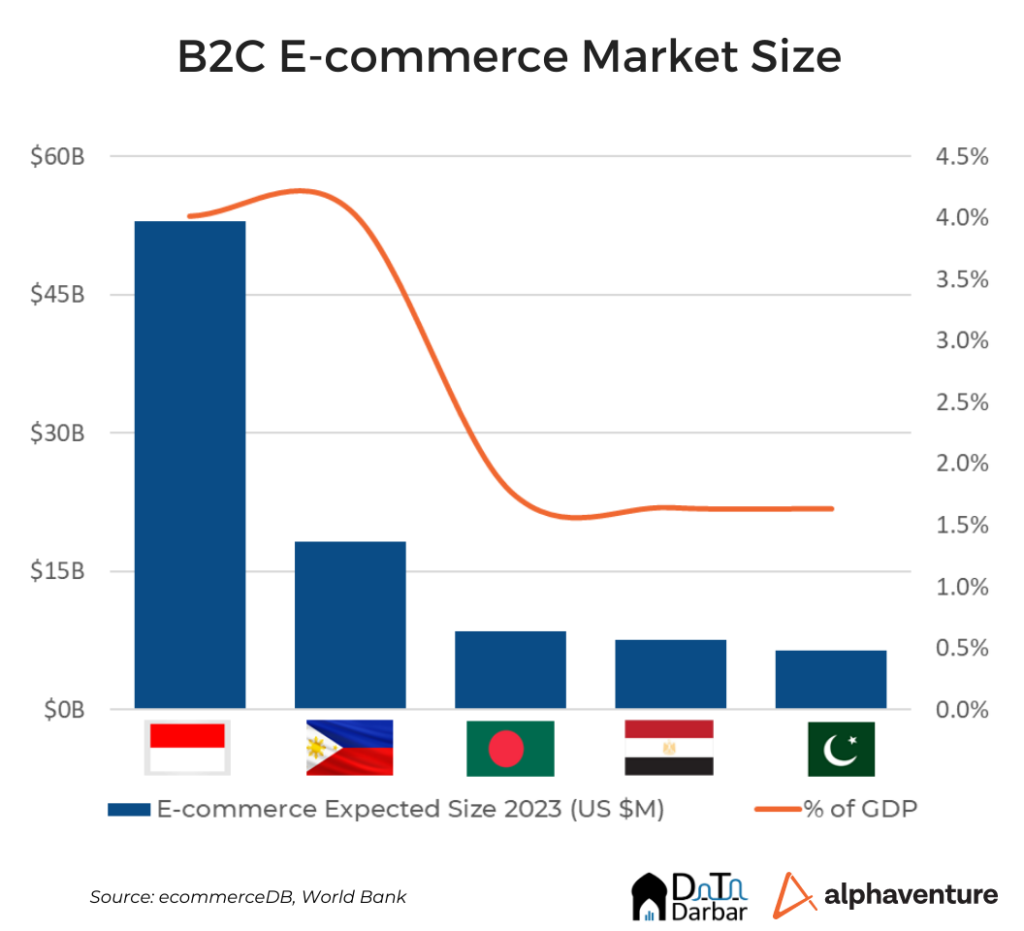 The report then delves into the digitally paid e-commerce orders, as reported by the State Bank. This section analyzes the trend in throughput, volume, growth in registered merchants, and average order value among other things. Get your hands on the copy by filling this form.
Ranking Pakistan's leading e-commerce players
We categorized the major e-commerce players by whether they are digitally native or have offline presence as well. That's because click-and-mortar stores — as we refer to them — account for a signifcant share of the market volumes thanks to the presence of retail giants. In this category, J. led the charts with traffic of 10M and an estimated global revenue of $71.8M in 2022.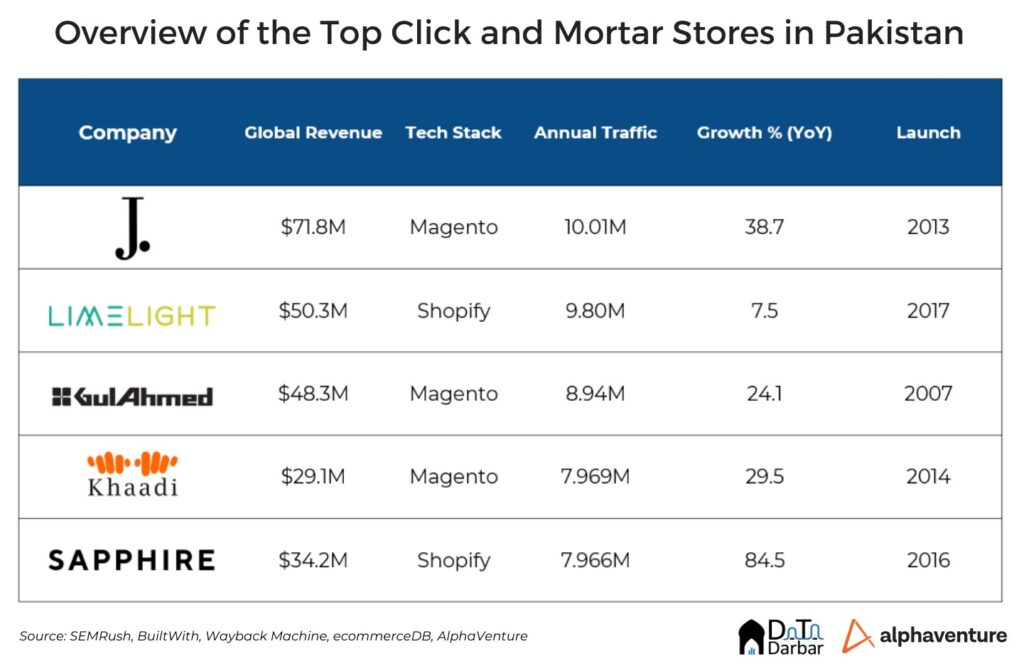 On the digitally native players — simply termed as e-commerce stores — Daraz was naturally the leader, with a massive 112M in annual traffic during 2022. PriceOye was a distant second at 14.7M, as per SEMrush data. [Since the report evolved from measuring the O-N-D impact, Food & Groceries and Health were not analysed.}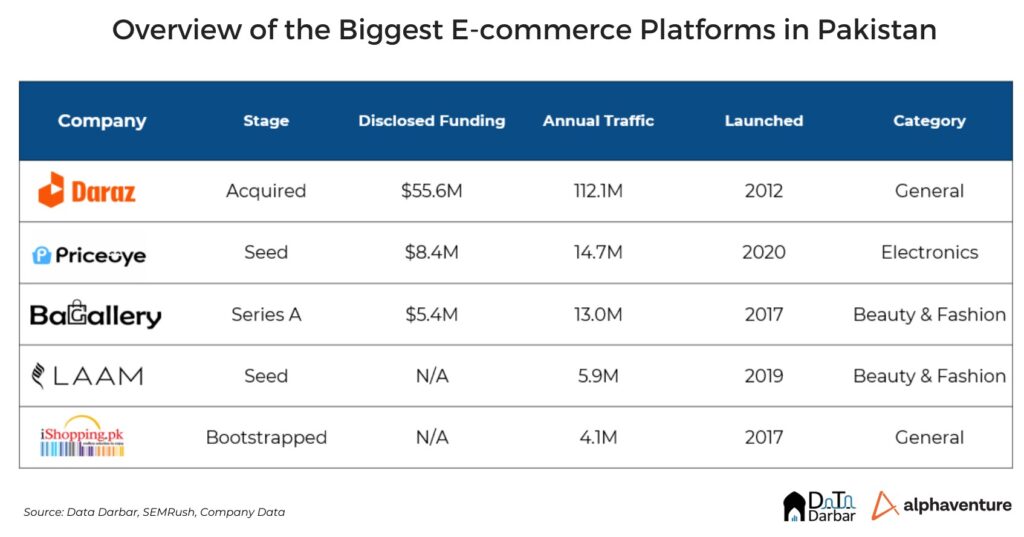 To get a better view, we also looked at the e-commerce fulfilment space from a third-party logistics perspective. Here, PostEx comes on top with an estimated average monthly shipments of 1.45M. Founded in 2020, the startup has raised $8.6M, and recently acquired one of the leading players, Call Courier.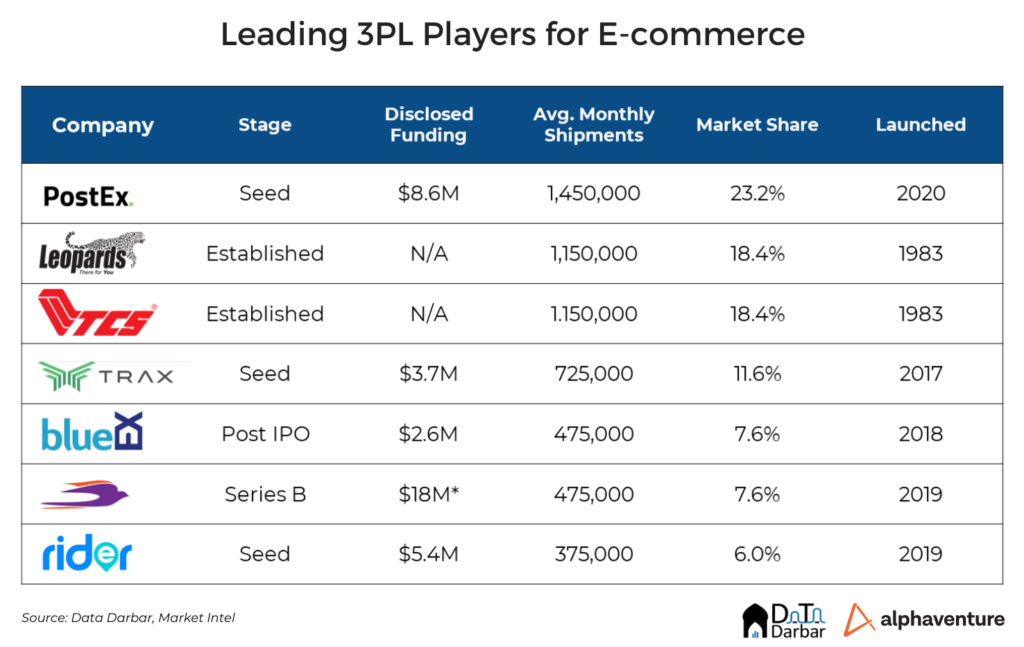 The report also explores the seasonality in the e-commerce, which has traditionally seen higher sales in November specifically and the last quarter generally. We tried to quantify this impact for all major stores and found it prevalent in four of the seven e-commerce and all of the click-and-mortar stores. To enable a better comparison, we briefly analyzed the trend in other emerging markets as well.
Finally, we try to address the most pressing concern: the slowdown. Conversations with leading players already present a bleak outlook of the market. But the report attempts to put data to it. Year-on-year traffic analysis show a clear downard trend across e-commerce. On the other hand, click-and-mortar's numbers were somewhat salvaged by massive clearance sales. However, the SBP figures are unmistakable as transaction volumes in October-December 2022 plunged 40%.