It's that time of the quarter again when the State Bank of Pakistan publishes its Payment Systems Review. The report gives an almost definitive view of the payments landscape of the country, particularly with respect to digital. That continued in Jan-Mar 2023, with 11.2% of overall retail throughput and 43.4% of transactions had been digitized1.
Before we get into that, let's understand what channels of payments exist in Pakistan and what they include. First is obviously the paper-based instruments such as over-the-counter cash deposits and withdrawals. Then you have PRISM, a high-value real-time gross settlement system, to which only 59 entities in the country have access. This is what banks use to send proceeds among themselves, or how money flows into government securities. Finally comes "e-banking", which comprises seven channels:
Real-time online branches — that facilitate transactions between branches
ATM
Internet banking
Mobile Banking
Call Center/IVR
Point of Sale
E-commerce
As a primarily retail channel, e-banking is what really matters to us. But not all of it are truly digital payments, at least from a user's perspective. RTOB and ATM are largely cash-based so we'll ignore them from our analysis. Instead, we will stick to POS, e-commerce, internet, and mobile banking. So let's unpack the data.
Mobile Banking
Once again, mobile banking was the standout channel as its throughput surged 120% to PKR 6.78T in Q3'FY23, from PKR 3.09T in the same period last fiscal year. QoQ, the value was up 27.4%. Similarly, the volumes rose 77% YoY to 179.7.M in Jan-March 2023. This brought it closer to ATMs, which processed 202.3M transactions during the quarter.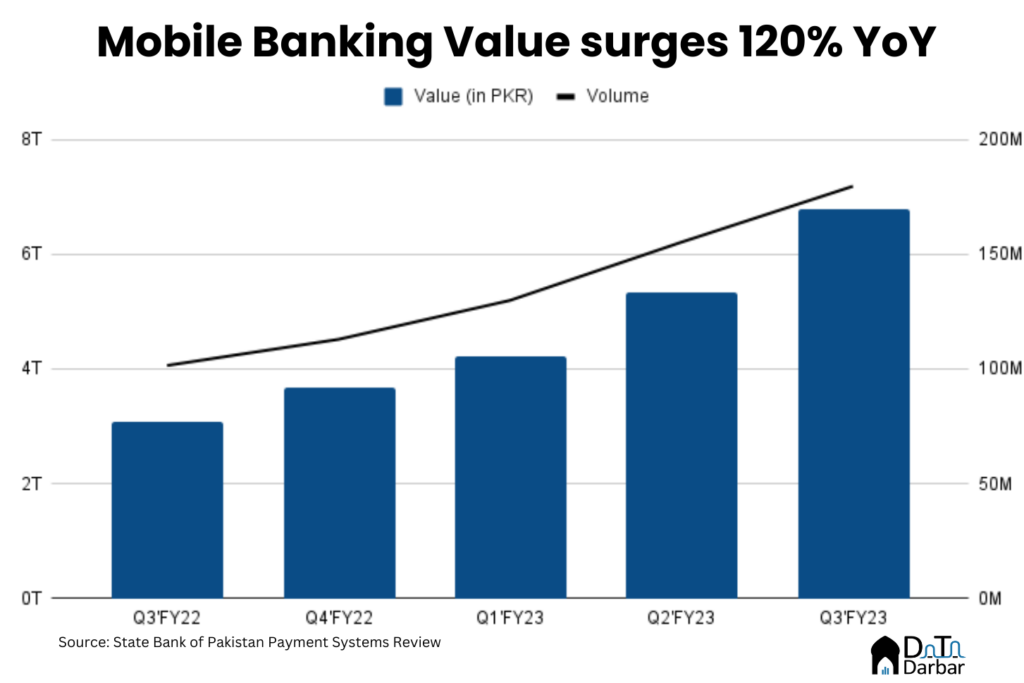 Another way to understand the absolutely phenomenal growth in mobile payments is to look at its share in overall e-banking. It now accounts for 18.08% of all throughput and 50.57% of the volume. The corresponding figures in the same period last fiscal year were 9.54% and 32.81%. It gives the extent of this channel's dominance in the overall pie of digital.
Meanwhile, the average transaction size improved to PKR 37,743 in Jan-Mar 2023, representing an increase of 24% compared to the same period of the previous fiscal year.
Internet Banking
Internet banking also had a decent quarter with value rising by 42% to PKR 4.13T during Jan-Mar 2023. However, this — or all throughput numbers for that matter — need to be taken with a pinch of salt because of the inflationary pressures. On the other hand, volume inched up by a modest 6.2% to reach 40.8M transactions.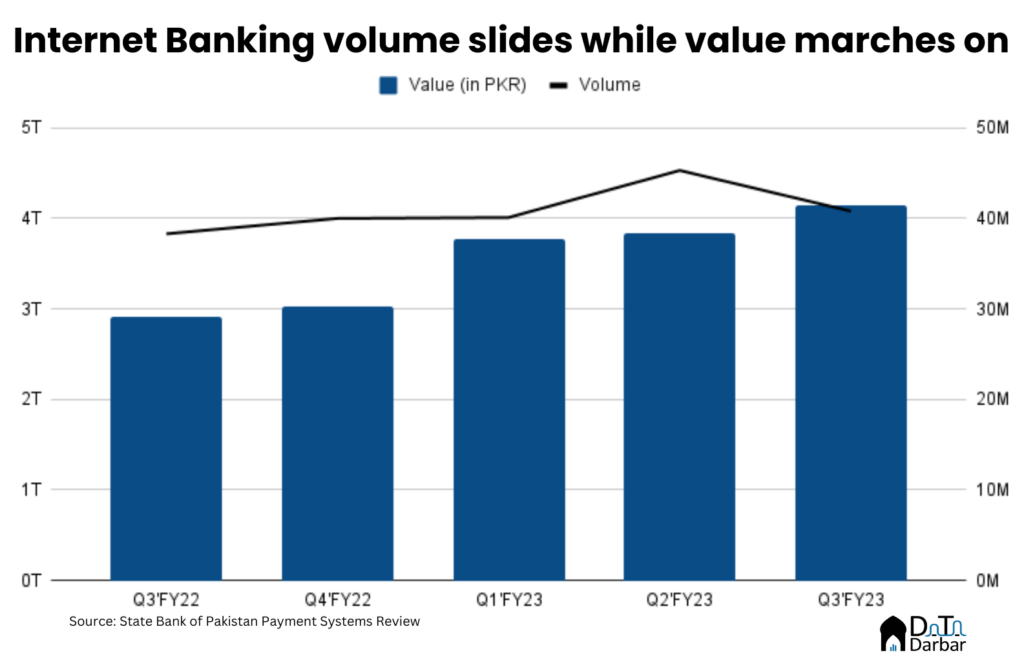 Given the channel is primarily used by businesses, the average transaction was higher at PKR 101,466. This represents an increase of 33.7% YoY from PKR 75,898 — again, probably inflationary pressures at play.
E-commerce
This was carnage as digitally paid e-commerce volumes fell 30% to 6.4M in Q3'FY23. For context, that's the lowest number since the first quarter of 2021. Throughput held up and rose 35.56% YoY and 7.02% QoQ to PKR 36.6B. This helped pump the average transaction size to PKR 5,179 — the highest since Q1'FY18. However, it's not really a cause of celebration, as we recently talked in our report.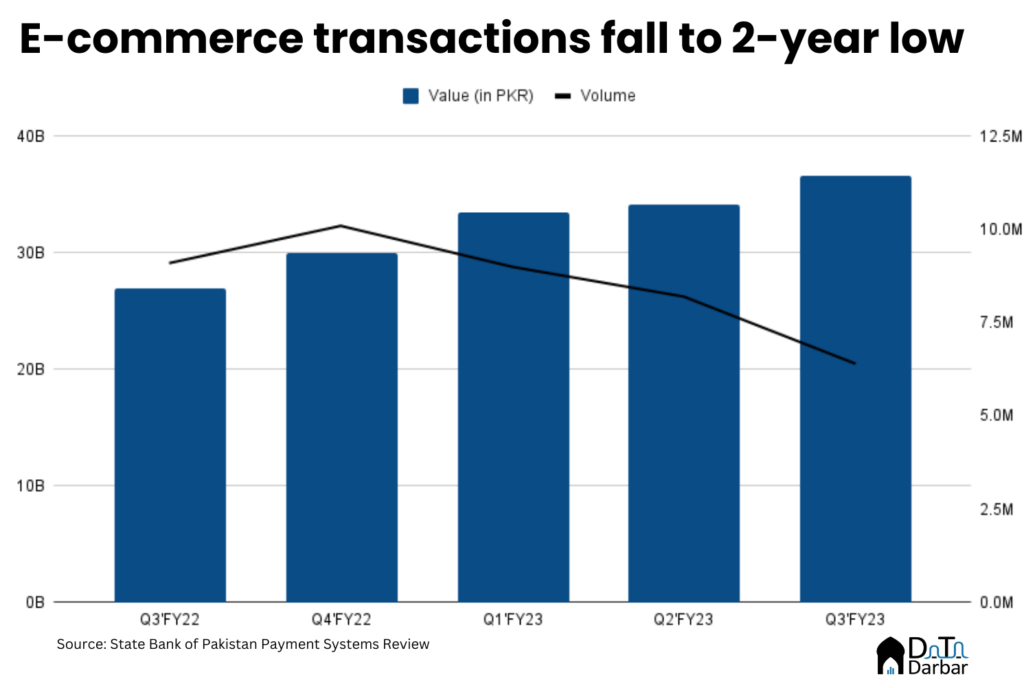 On the supply side, merchants registered with banks and electronic money institutions reached 6,562 and 4,955 (excluding freelancers). These aren't necessarily unique as many e-commerce vendors are registered with multiple institutions. In any case, the latter has done a tremendous job in making it easier for small merchants to conveniently access financial services and the numbers affirm that.
Things weren't pretty on the issuing side either as volume fell 11.9% YoY and 0.8% QoQ on 12.6M in Q1'FY23. Though again, throughput increased by 24.9% to PKR 81.1B compared to PKR 64.9B in the same period of last year.
Point of Sale
Point of Sale's honeymoon period was in full swing as value jumped 49.1% YoY to PKR 282.8B in Jan-Mar 2023. That's PKR 93.1B higher compared to the same period of last year and a still impressive 10.12% QoQ increase. While new merchants like Paymob and OPay have entered the market in the last two years, HBL continues to drive ~30% of throughput. On the other hand, the issuing side breached PKR 300B for the first time.
Volumes through the channel clocked in at 51.8M in Q1'FY23, up 35.25% YoY and 2.98% QoQ. Despite growth in the denominator, the average transaction size rose to PKR 5,459 — the highest since Q1'FY21. That said, the expansion of POS terminals is now tapering off with a net addition of 3,403 or 15.81%, which is the lowest in nine quarters.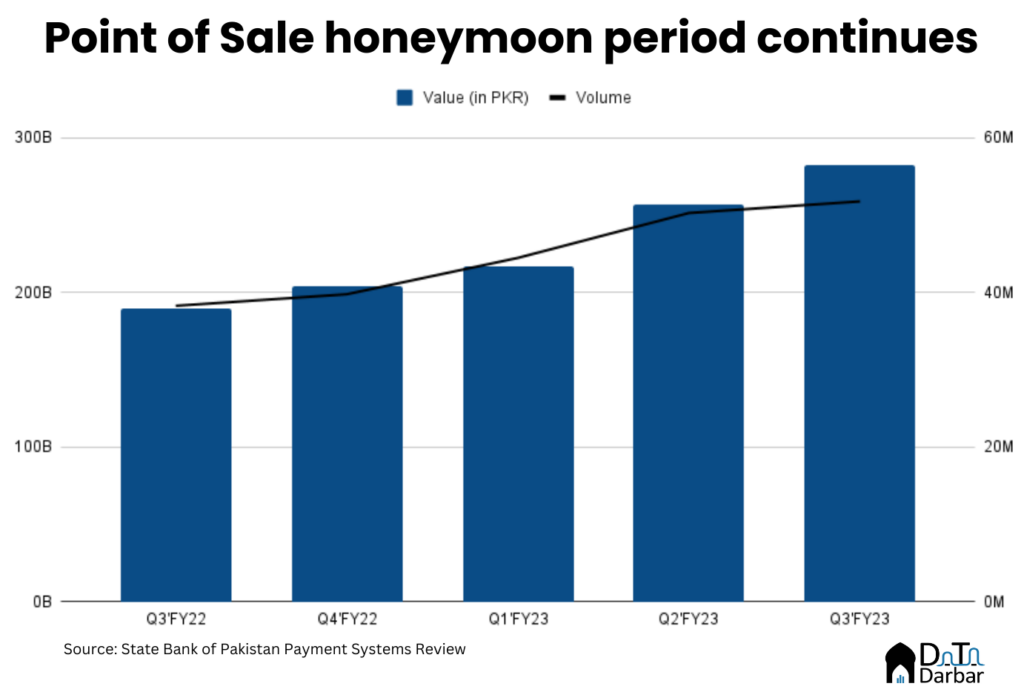 Raast and EMIs: the future of payments?
However, the steepest growth came through Raast where P2P throughput was soared 10,612.6%(!) YoY to PKR 872.8B in Q1'FY23. Yes, it's coming off a base of just PKR 8.5B in the same period of last year but the QoQ growth was a decent 50.8%. Volumes jumped to 41.2M, from 21.5M the preceding quarter. On the other hand, bulk value reached PKR 29.9B across 124,900 transactions. That's an average ticket size of PKR 239,392 and not really bulk as such.
Meanwhile, EMIs, after a long period of lull, are beginning to show their prowess as they opened 415,811 digital wallets to close the quarter at 1.6M. The most notable growth came from the freelancer segment where the industry added ~40K accounts.
Unlike SBP and banks, we have a stricter definition of digitization, which is the sum of IB, MB, POS and E-commerce divided by the aggregate of e-banking plus paper-based instruments.