A few days ago, we reported on the reckoning facing Zameen as its revenues and EBITDA dwindled to 2018 levels. This came as a shock to many since property is the one business that thrives in Pakistan. And people rejoiced on Twitter at this news, happy that the unproductive sector finally faced the wrath of our macroeconomy. 
Now, it's time to look at Pakwheels' financials, which represents yet another deeply loved sector: automotive. True to its form, the results were a mixed bag. While the revenues dipped to PKR 220M in 1H2023, from PKR 286M in 2H2022, the organization still managed to grow 5.1% YoY. But that was it; in dollar terms, there was a consistent decline as the topline fell to $817K, from $1.3M in the preceding half and $1.13M in the corresponding period of last year.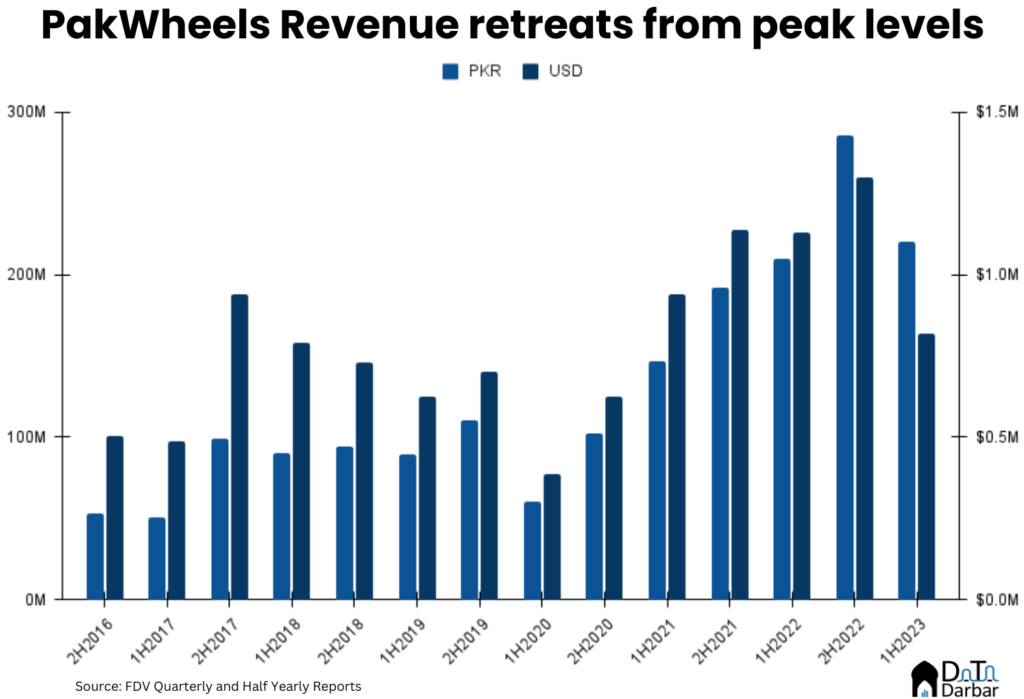 Similar was the story of EBITDA, which rose almost 4x to PKR 16.88M in 1H2023, compared to PKR 4.28M in 2H2022. Even in USD, it increased to $62.6K in the latest half, from $19.4K in the preceding period. As a result, margins improved to 7.66%, from 1.5%.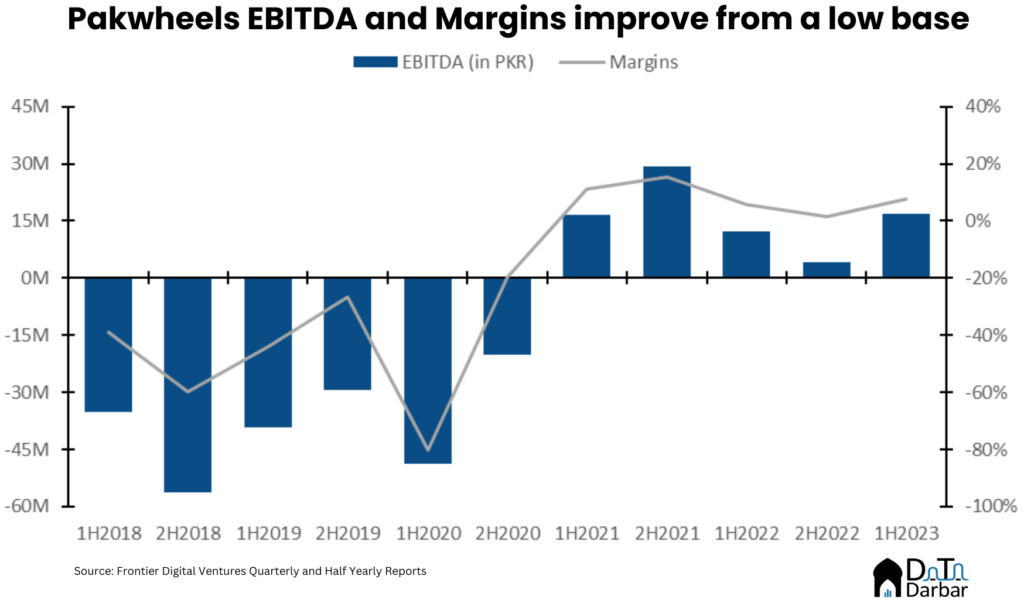 While that may strike as impressive at first look, the growth can largely be attributed to a low base. Ever since becoming EBITDA-positive in 2021, Pakwheels has been highly inconsistent with no upwards trajectory as such. It peaked in 2H2021 before declining for the next 12 months and now has recovered partially. This is true for both USD and PKR. Therefore, margins have also been unstable, if you stretch the period a bit. The 7.66% recorded in 1H2023 is only half the peak of 15.27% seen in the second half of 2021.
What went wrong for Pakwheels?
Ever since last year's devaluation on steroids, things haven't been easy for Pakistan's auto sector. Both sales and production currently hover lower than post-Covid-19 levels (except for the first two months). Backed by their audacity and excuses, the industry has liberally raised prices at the expense of volumes. But Pakwheels is not an assembler, so why are their revenues decreasing?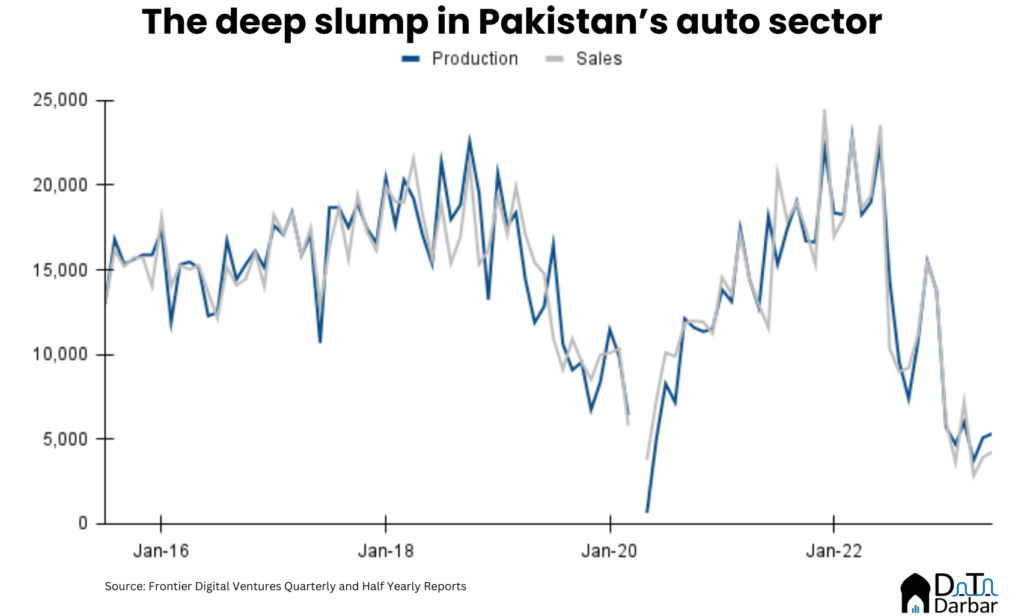 While the company has a couple of revenue streams, auto shows and inspections appear to be key. It was the former that helped keep revenues afloat, as per Frontier Digital Ventures report. Plus, one can argue that due to declining car production, more people might be turning towards the second-hand market, which means Pakwheels is poised to gain. But given the extent of price increases and the overall economic situation, it's not hard to see why the topline would go down.
How's the industry doing?
As always, there are hardly any local peers of Pakwheels. Whether that speaks of the overall industry's backwardness or of the company's dominance is a debate in itself. But to assess their performance, we stacked it against Autodeal from the Philippines and Morocco's Moteur. When we published the 2022 analyst note, Pakwheels had a healthy lead against both competitors in terms of revenue. That changed in 1H2023 as Autodeal now trails by only $100K.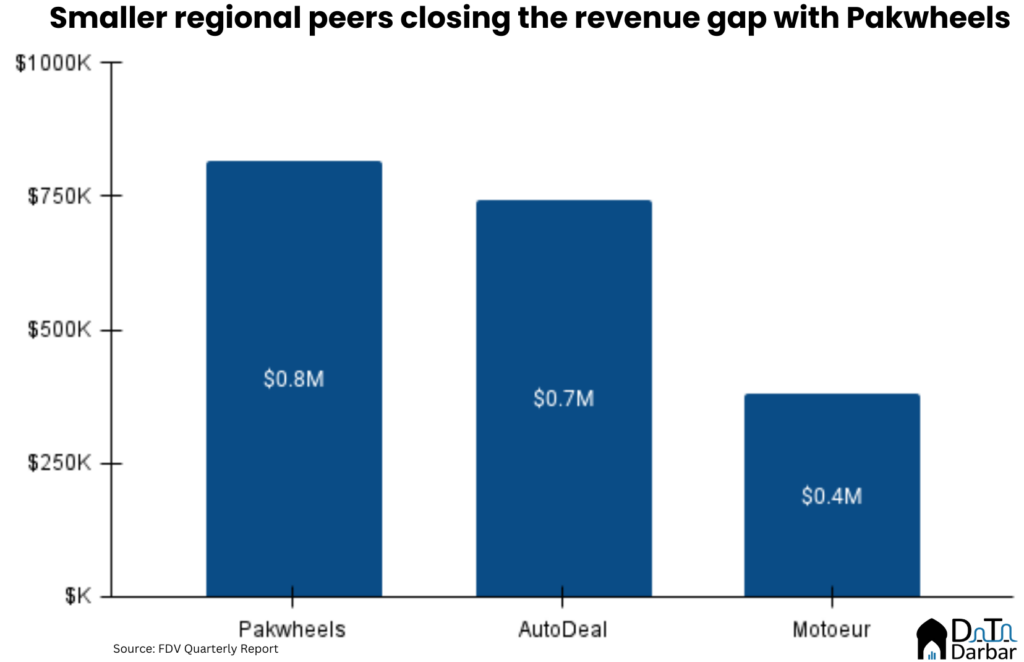 When it comes to EBITDA, the story is quite different one where Pakwheels hasn't shown consistent performance. At $62.6K, the company followed behind Autodeal's $71.9K while barely edging out the much smaller Moteur's $60.1K. Obviously, that means its margins were the lowest among the three, despite being in the business for the longest.