Last week we published the funding data and it didn't make for a comforting read if you are part of the ecosystem. Basically, with just five disclosed deals in Q3-2023, it was the slowest quarter volume-wise since the end of 2018. The amount was also down 87.7% YoY to just $6.8M, while still edging up from the previous quarter. 
It was rough to put it mildly, but we need to zoom out here. Pakistan wasn't the only market where this happened. Of course, given our early stage, the numbers are already small and any change — increase or decrease — feels more pronounced. Add to it the economic and political uncertainty over the last couple of years which any sane person, let alone foreign investors, would like to avoid.
But this was very well a global trend, permeating across regions. Pitchbook-NVCA Venture Monitor gives us a great peek into the extent of the pullback. In Q3-2023, funding amount reached $73B, down 10.2% QoQ from $81.4B. Compared to the same period of last year, the decline was even steeper at 31%. If that didn't convey the intensity, this was also the lowest value since Q4-2017. 
In terms of volumes, it is probably even worse depending on how you look at it. The deal count fell to 7,434 — their lowest level since Q3-2016. This is the first time in almost 6 years when the number was under 8,000. The reality may be slightly better as Pitchbook estimates there were another 2,661 undisclosed deals. But even then, it would be the slowest quarter since Q1-2020.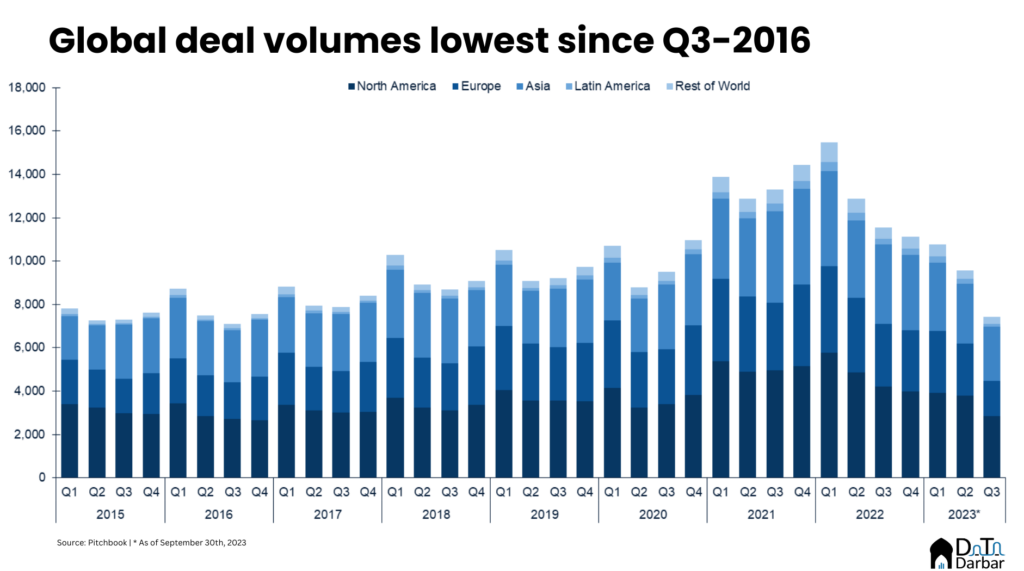 The trend persists across all geographies, albeit to different degrees. Asia has seen the sharpest pullback with an amount of $19.4B, the lowest since the first quarter of 2017 and the first time during this time when this number has receded below $20B-mark. North America also witnessed a sharp correction as dollar value dipped 30% YoY to $33.6B, the worst in over five years. On the other hand, funding to Europe edged up 6.5% QoQ to $17.3B in Q3-2023 amid a low base. While there was a 16.9% YoY decline, it was much better than other regions.
By deal count, the situation was worse as Europe recorded the fewest deals since Q3-2015. Asia fared relatively better at 2,485 deals, which was in comparison only a three-year low. All other regions have slipped well below their pandemic levels.
Another way to look at the pullback is how steep the decline is compared to peak values. Globally, the amount in Q3-2023 is 65.8% lower while the deal count is down 52%. Here, Latin America's fall has been the sharpest, plunging 88.2% by value and 66.8% in volumes — worst for any region.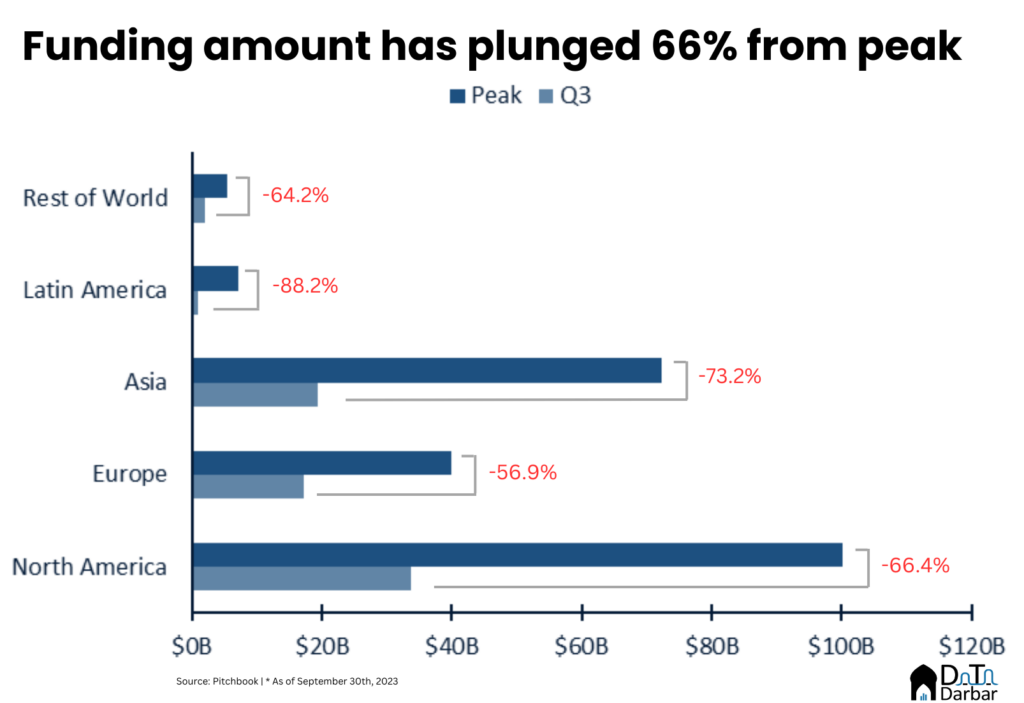 Meanwhile, Asia's funding amount has receded 73.2% compared to the peak seen in Q4-2021. But the deal count has somewhat held up in the continent, down "only" 44.1% from a high of 4,444. This makes it relatively the best region, as all others have fallen by well above 50%.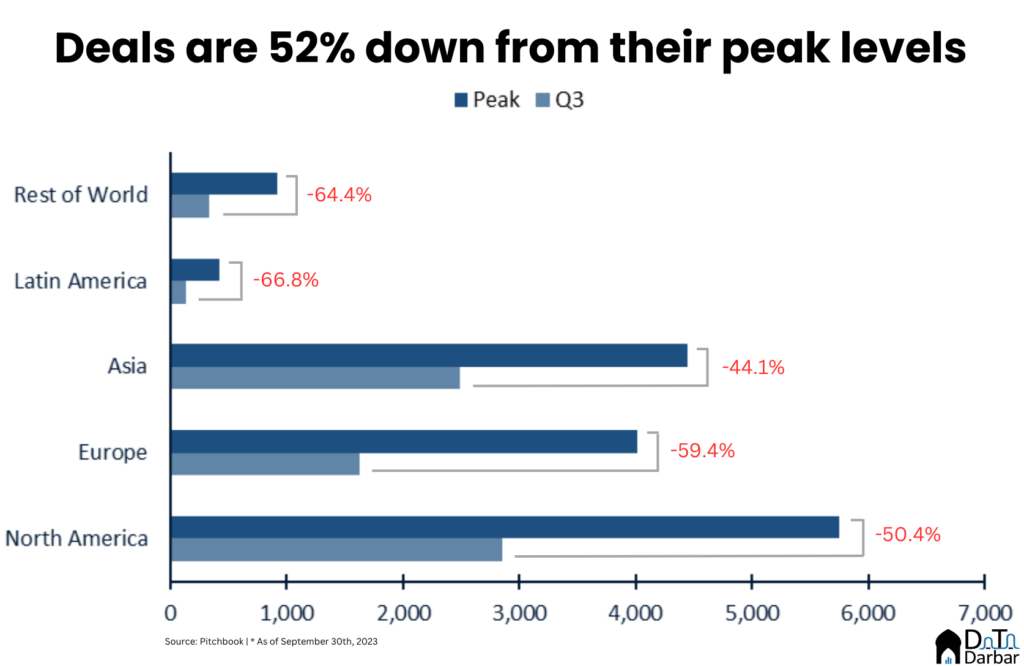 In Pakistan, things are bleaker with funding and deals plunging 96.1% and 80% from peak. Since comparing one country to an entire region would be apples to oranges, let's look at how we have fared against peer markets. In terms of amount, others seem to be in a similar boat. For example, Bangladesh's on par, witnessing a 95.8% decline from its record levels, which by the way was a fraction of ours. On the other hand, Egypt actually peaked earlier in Q1-2023 thanks to MNT-Halan's $400M round, taking the quarterly funding to $426M. Compared to that, there's been a 97.3% nosedive, but remember it's coming off a much higher (and recent) base.
However, we should focus more on the deal count than the amount, as Egypt's example above shows. One or two big rounds can swing the pendulum and make the picture seem better than it might be. Volumes are more important because they show the depth of the market, instead of a couple of a few outliers here and there.
And that's where things begin to look bad for Pakistan, in relative terms. With 5 deals, Q3-2023 was the worst since Q4-2018 and down 80% from the peak. Contrast that to Egypt, which still saw 16 deals in the latest quarter, though they have always had more activity than us.
It's hard to stress how much more important that is than the dollar value. We need more businesses being able to access finance than a few getting eye-popping amounts. A few unicorns will not fundamentally alter the corporate landscape but a cluster of multi-million exits certainly might. The latter requires a somewhat different approach than what we see currently. 
Now of course, you'd perhaps argue that it's not the domain of venture investors as they provide risky capital. Banks and other financial institutions should step in to fill in the gap here and that's not happening either. But VCs did conveniently switch to private equity overnight not long back and happily went all in with asset-heavy models, years after insisting how those weren't scalable.
Everyone understands well enough that the typical VC model will not work in Pakistan. Not given how the broader economy has performed in the last 15 years. That mythical scale just isn't there and not coming anytime soon, at least within a given fund's life. This is not me being pessimistic but is actually based on the performance of some of the biggest tech-driven organizations in the country. If they, with all their sponsor-backed discounts and virtual monopolies, still have barely gotten there, it's gonna be an insanely uphill task for others. I am not even talking about the unit economics or profitability here, just the topline numbers.
Just to be clear, lest anyone willingly misconstrues it, this is not VC bashing. There's no doubt about the asset's class ability to generate superior returns for investors and foster some of the most innovative businesses in the world. Plus, it's not like we have other forms of capital available. But Pakistan's realities are unfortunately different, where things take a lot longer and numbers tend to be much smaller. And we need to be honest about it, instead of simplistic copy-pasted assumptions from other markets.  
Don't just take my word for it and gloss over the revenues of the biggest listed companies in Pakistan. Based on the current exchange rate, there are a grand total of three entities with a topline of $2B on a trailing twelve month basis. All of them are owned by the government. Why is that relevant to VC? Because valuations for any sector have to be grounded in local realities as well, instead of convenient top-down projections based on unrealistic market sizing exercises. 
But what do I know? I am just another keyboard warrior with no stakes in the game. Because apparently, in order to have an opinion about the entrepreneurial ecosystem, the prerequisite is to have raised a few million bucks. Plebs and bootstrapped founders not allowed.