We're nine months into the year and unless Pakistani startups manage to cinch record-breaking deals in the last three months, 2023 is not going to end on a good note. At this point, this whole exercise is becoming a formality as the numbers are too small for a meaningful analysis.
Anyway, investment in the third quarter rose to $6.8M from $5.2M raised in Q2-2023. While this represented a QoQ increase of 30.8% thanks to a low base, funding was down 87.7% from Q3-2022. This took the 9M2023 figure to just $35.1M, which is 89.4% lower compared to the same period of last year.
Deal-wise, it was again a dismal quarter with only five funding rounds being announced, showing a 50% YoY, and a 37.5% QoQ decline. For 9M2023, the volume was only 21, which is basically the same as recorded in Q1-2022 alone. Consequently, average ticket size went down 70.5% YoY to $1.36M in Q3-2023, from $4.26M. Compared to $742.9K last quarter, this still represents an increase but one coming off of a very low base. So not exactly a cause for celebration.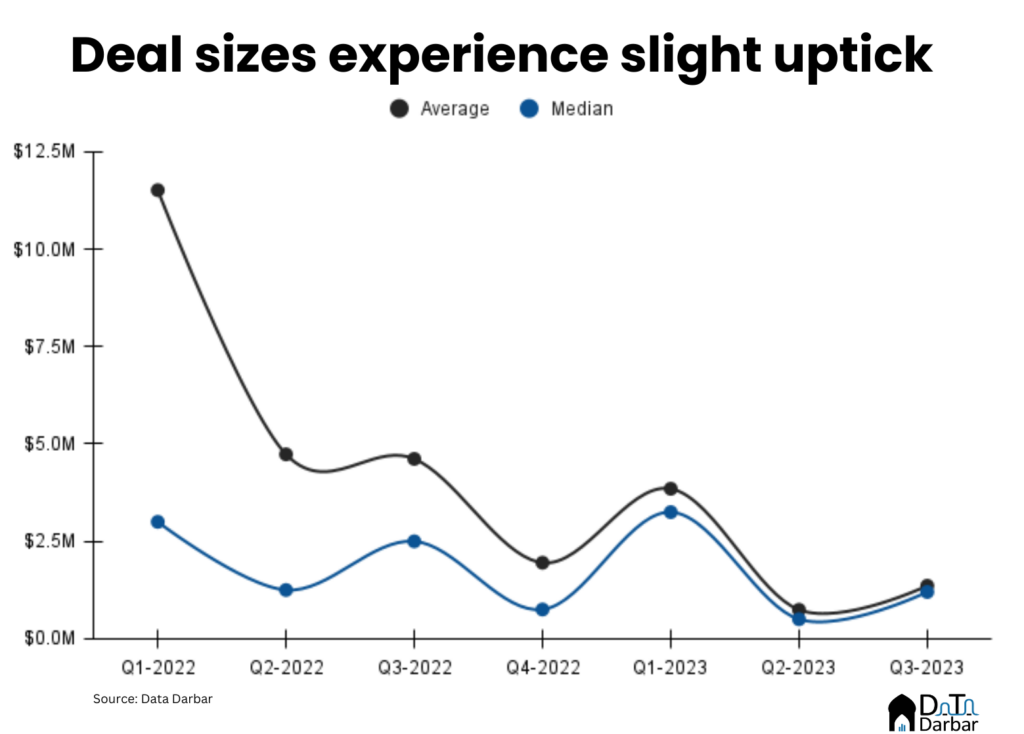 Round-wise, there wasn't much of a variety with all five startups raising seed deals during the quarter. Even in 9M2023, seed is the most dominant stage representing 15 of the 21 deals. It's hard to ignore the disappearance of pre-seed investments — the stage which had become conspicuous during the frenzy days when investors were willing to throw money on just a pitch deck. Those days are long gone and now traction is a must.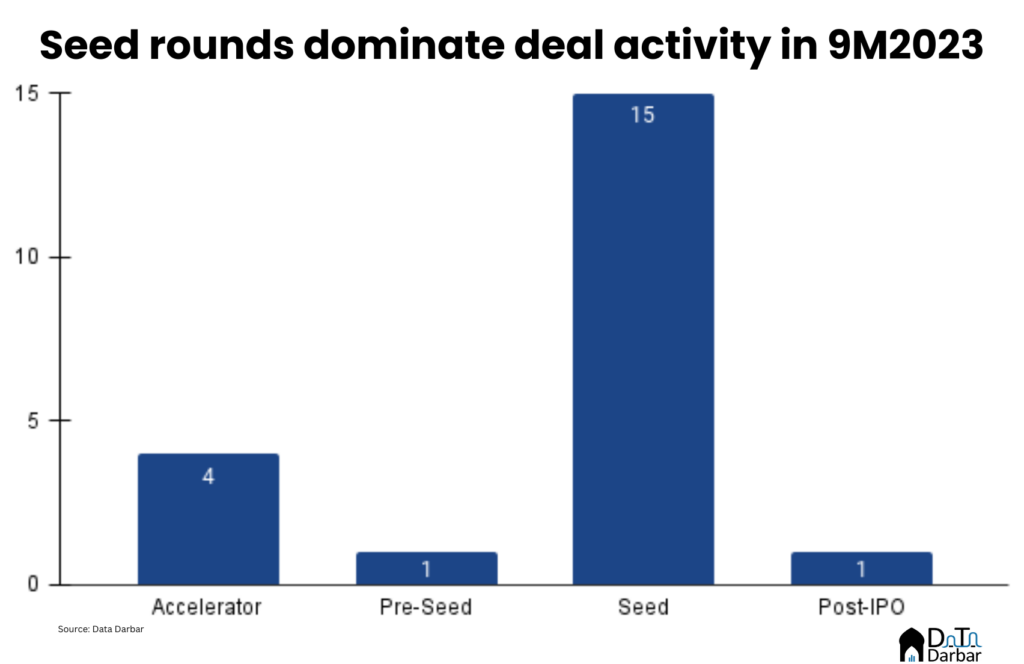 Meanwhile, each of the five deals were in different sectors during the quarter. Of this, edtech — thanks to Taleemabad — accounted for the largest share at $2.6M. But with such a small pie, breaking down the data feels a little forced, at least over a three-month period. During 9M2023, fintech was the most dominant both by amount ($14M) and number of deals (7). Transport and logistics followed behind at $11.M and 4 deals.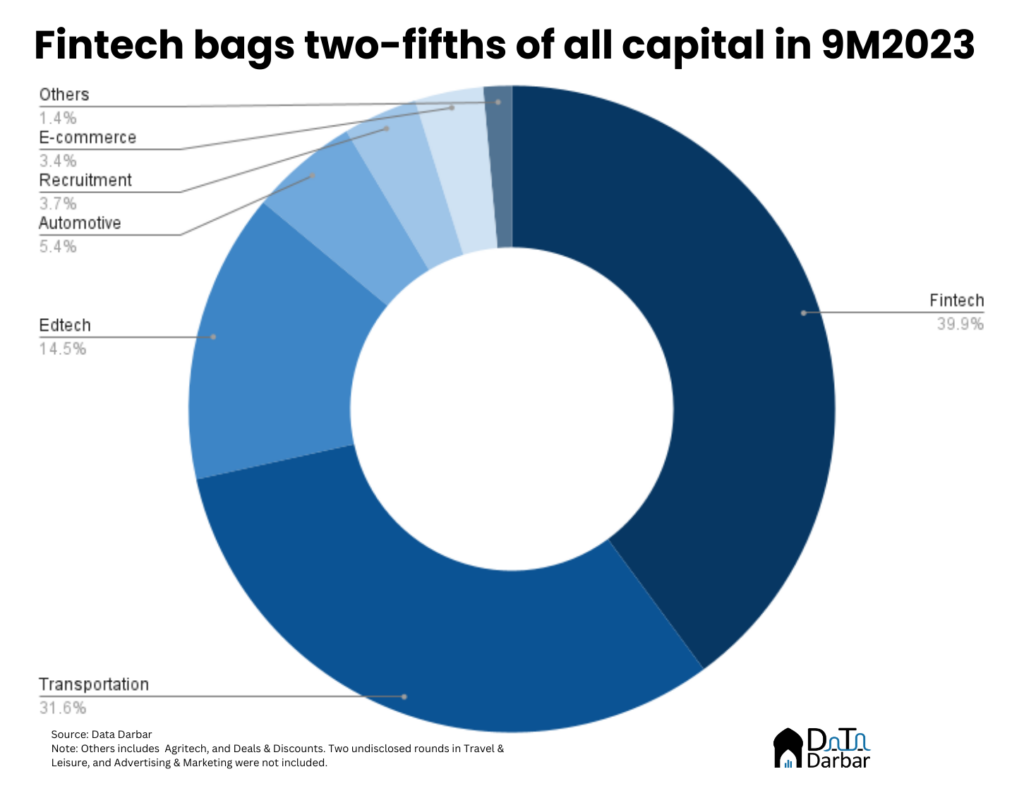 Indus Valley Capital was the only investor with 2 deals in the quarter while Sarmayacar had one. Zayn VC, i2i Ventures and Fatima Gobi did not announce any investments in Q3-2023 and have only one each disclosed in 9M2023 as well. However, this can also mean that local VCs are just not making many announcements, but still deploying a bit of capital.
Again, this lacklustre deal activity is not unique to Pakistan but is rather a broader feature of VC. In Q2-2023, global venture funding stood at $60.5B, which is the lowest since the first quarter of 2018, according to CB Insights. That means the high base we got to witness after 2020 have disappeared and the investment activity is now back to pre-Covid levels. Even traditionally red markets like India are under strain with Q3'23 being the lowest in the last five years.
Overall, this quarter was quite gloomy, starting with the shutdown of Medznmore, which was among the most-funded companies. Then soon after, Jugnu also ceased its core operations. As per Carta database, this year has seen record startup closures so the trend is truly global.
Even established companies like Zameen, which until now had grown multifold, began to feel the pinch. The only sectors to have done well lately are the ones that basically feed off Pakistan's structural imbalances, like banks (fiscal deficit) or energy sector (devaluation). For the rest, the near-term offers no relief and it will be a while before things change gears.
Here are all the deals from 2023: