The global macro situation has hit Pakistan's tech ecosystem hard as investment fell to $55.4 million in Q3-2022. This is the lowest startup funding since Q1-2022 and represents a 68% YoY decline and 46% QoQ.
There were 18 unique deals during the quarter, again the lowest number since Q1-2021. This brought the average ticket size to $4.63M, down from QoQ from $4.9M and YoY from $9.21M. However, in 9M2022, investment hit $331M across 61 unique deals, and can possibly surpass last year's startup funding of $366M. Note: as many as 17 deals announced in 2022 did not disclose the amount.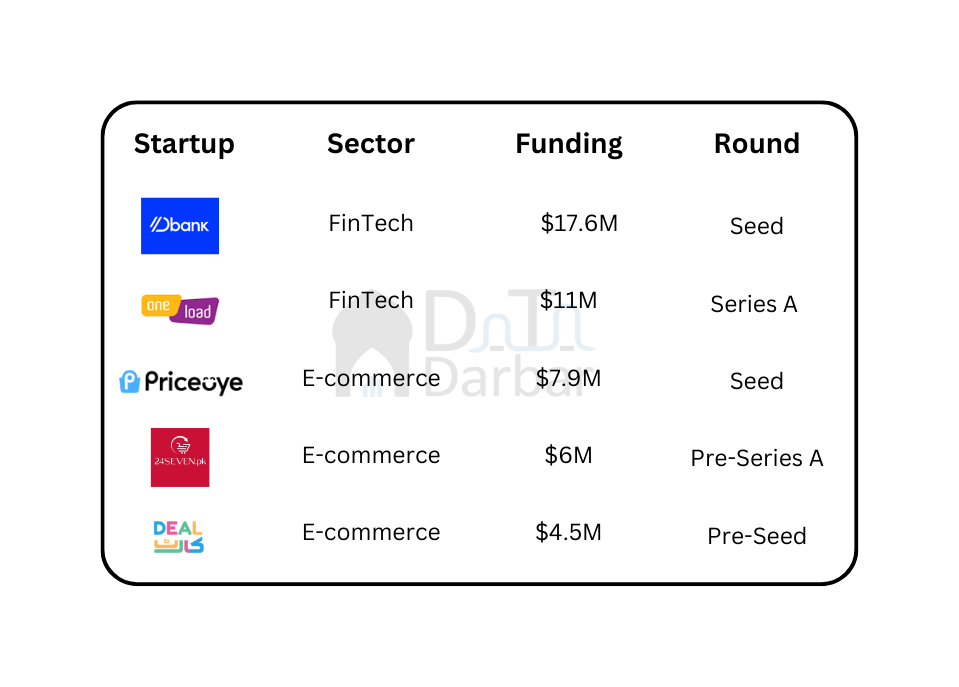 Pakistan is not the only country to have seen market correction this year. After the change in monetary stance by the Federal Reserve, growth stocks have witnessed a serious meltdown, spilling over to private markets. As a result, global VC funding hit its lowest level in two years this August. On top of that, the local macro situation such as the talk of default and dip in foreign bonds have raised the country's risk premium.
Sector-wise, fintech took the lead both in terms of deal count (8) and amount ($35.85M), with almost half the total coming from DBank's $17.6M seed. E-commerce came in second place during Q3 with $21.6M across six deals. For 9M2022 though, it is still the most funded sector with almost $193M so far.
Most of the money during the quarter came at seed stage ($28M), taking its 9M2022 total to $82M. On the other hand, only one Series A of $11M was recorded – again the first instance since Q1-2022. Meanwhile, pre-seed led the charts in terms of deal count at six, worth $9.6M, in Q3-2022.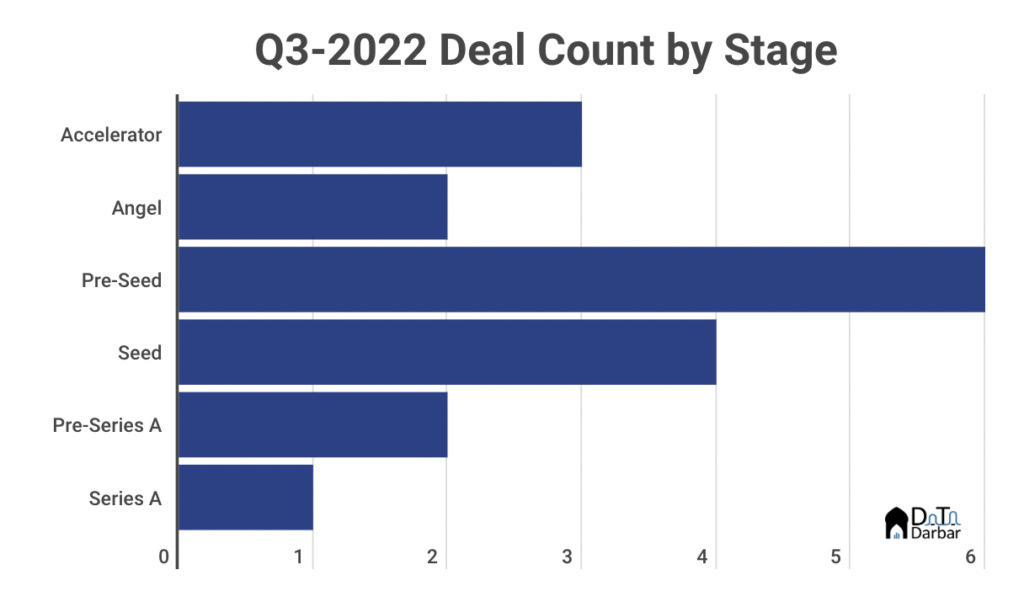 Another indicator pointing to the pullback is how this quarter saw the lowest participation from financiers since Q1-2021, with 52 unique total investors. In contrast, the corresponding numbers for Q2-2022 and Q3-2021 were 81 and 100.
Among local investors, i2i Ventures and Fatima Gobi Ventures were the most active in 9M2022 with seven deals each. Zayn Capital and Sarmayacar followed with six deals while Deosai Ventures and Indus Valley Capital have made four investments so far. There were also some signs of consolidation with three M&A deals (other than Cloudways).
Notes:
There were three SOSV deals this quarter, two of which (NearPeer and KalPay) have been classified as accelerator rounds. For both, we have taken $150K as the amount and demo day as the date. However, since Linkstar announced a clubbed round with other investors, we have included it as pre-seed with undisclosed funding.
The third accelerator round is Krave Mart, with $500K as the amount and demo day as the date, as per YC terms.
Revolving Games wasn't included in the roundup as both the founders and headquarters are based abroad.
Any changes in our previously published roundups are due to restatement of data or announcement of undisclosed rounds
All deals during the quarter are here: