It was the usual suspects in Data.ai's Active Users Ranking, with Daraz topping the charts yet again from Nov 13th-19th. Bank Alfalah's Alfa was the only new entrant to the list while Pakwheels also appeared in the list of 100 apps. Downloads-wise too, the e-commerce (and now video streaming) platform was ahead for the second week straight, with 423K installs. Meanwhile, Tiktok finally made it back into the top 10, after quite a few weeks away. For the deep dive, today's Appistan will be a little different as instead of exploring a particular publisher or category, we will talk about something more pressing affecting the apps ecosystem of Pakistan: the suspension of direct carrier billing and its fallout.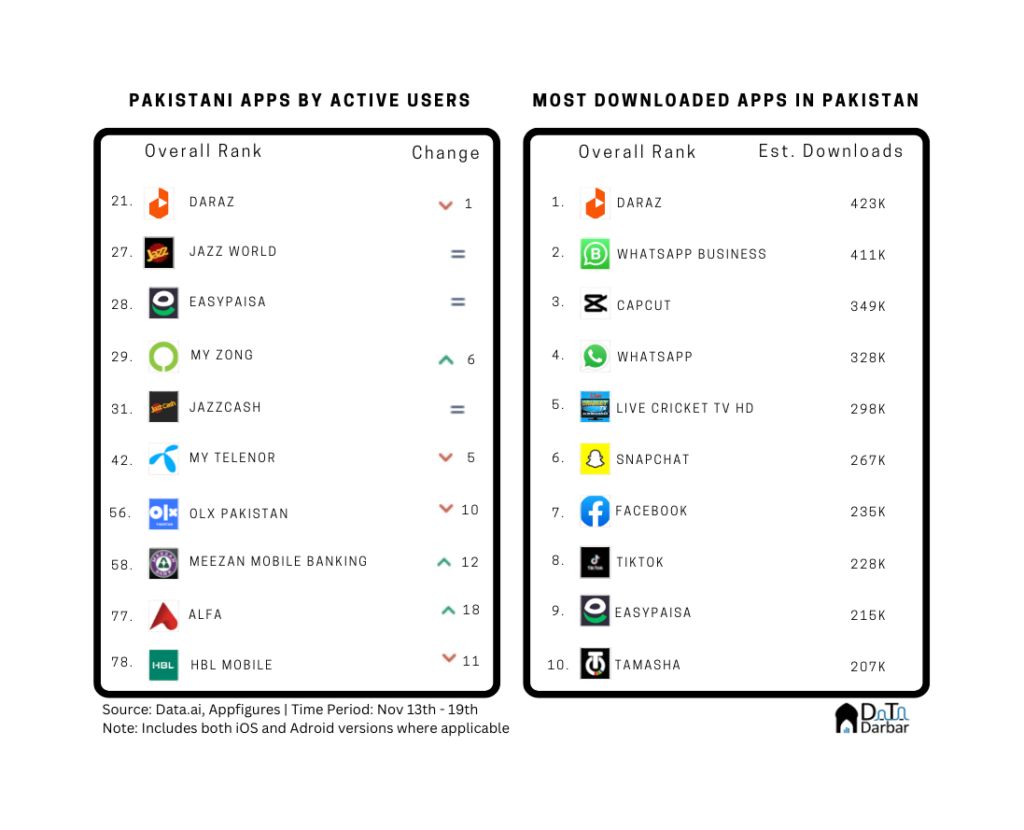 The fault in our payment options
When Yasser Pasha founded Tapmad, a Pakistani OTT platform based on a subscription model, he had a problem: how to charge its users? Generally, in more developed markets, this is where credit cards come in. But that wouldn't work here as there were only 1.25 million credit cards in the country back then.
Tapmad needed something more localized. Luckily, there was already a blueprint: direct carrier billing. Essentially charging for the services through your network provider, whether prepaid or postpaid. This was nothing new, Telefun did it ages ago and made a song that the '90s kids still reminisce about. Pasha had to apply the same mechanism to an OTT platform and make it network-agnostic.
This is how Simpaisa, a direct carrier billing platform, was born. The immediate goal was to get subscriptions for Tapmad but that soon turned into the vision of creating a payment option that the masses could use. Now, why am I talking about all this? Because last week, local media was rife with news of Google Play's suspension in Pakistan.
While that was swiftly fact-checked, it turned out that direct carrier billing will become inaccessible in Pakistan from Dec 1. That means you won't be able to pay for, say Spotify, by directly paying from your mobile balance. What triggered it? In technical terms, violation of foreign exchange regulations by telcos. But more simply, it was probably just the State Bank panicking about the outflow of dollars.
SBP enters the chat
Let me explain. As a business in Pakistan, it's incredibly hard to take money abroad, even if it's yours. Ask multinationals, they have been complaining about the matter for years. The reason is that we almost always have a dollar shortage — which takes us to the International Monetary Fund. Hence, the SBP tries to keep strong checks on foreign exchange outflows.
However, the SBP allowed Pakistani companies to remit a maximum of $100,000 per invoice for availing IT services for their own use – software licenses, subscriptions, etc – which were mostly based abroad. They had to designate a bank, get it approved, and then process their payments without any other regulatory back and forth.
According to the central bank, "during recent off-site reviews, it was observed that in addition to utilizing the aforesaid mechanism to remit funds for IT related services for their own use, Telcos were remitting bulk of the funds for video gaming, entertainment content, etc. purchased by their customers using airtime, under Direct Carrier Billing." Basically, the money paid for apps like Spotify or buying coins on Candy Crush was being taken out using the said facility.
"The Telcos were allowing their customers to purchase above mentioned products through airtime and then remitting funds abroad reflecting such transactions as payments for acquisition of IT-related services. Thus, in effect, the Telcos were acting as intermediaries/ payment aggregators by facilitating the acquisition of services by their subscribers. Therefore, in view of the violation of foreign exchange regulations, SBP revoked the designation of banks of Telcos for such payments," noted the regulator.
How DCB stacks up against other payment options
That's all okay, but did the SBP really not know about it? After all, DCB has been pretty popular in Pakistan for half a decade at least. Or did the telcos recently start remitting funds under the IT service facility? Because one way or the other, they would have been sending money abroad. I mean, if you pay for a foreign app on the Play Store using carrier billing, how else would they be compensated? For the developer to earn their revenue and Google its cut, telcos would have had to clear the payments. Even if the app is local, the telcos still need to settle Google's commissions. Guess what? That also requires remitting funds abroad.
Now it's all gone, and with that, the most effective payment channel for anyone monetizing apps in the country. From Spotify and Islam360 to Bigo and PUBG, it affects everyone. Sure, one can still pay via bank cards but they are honestly no match. For instance, between October-December 2017 and January-March 2022, the number of credit cards has increased by only a modest 531K.
Compare that with the growth in broadband connections, which rose from just 44.6M in FY17 to 118.8M by FY22. Inevitably, these people coming online would be downloading apps on Google Play, and probably paying for that too. How does the SBP think that happens, if not through DCB? Because its dearest banks are doing little to expand the banking net to this new generation of internet users.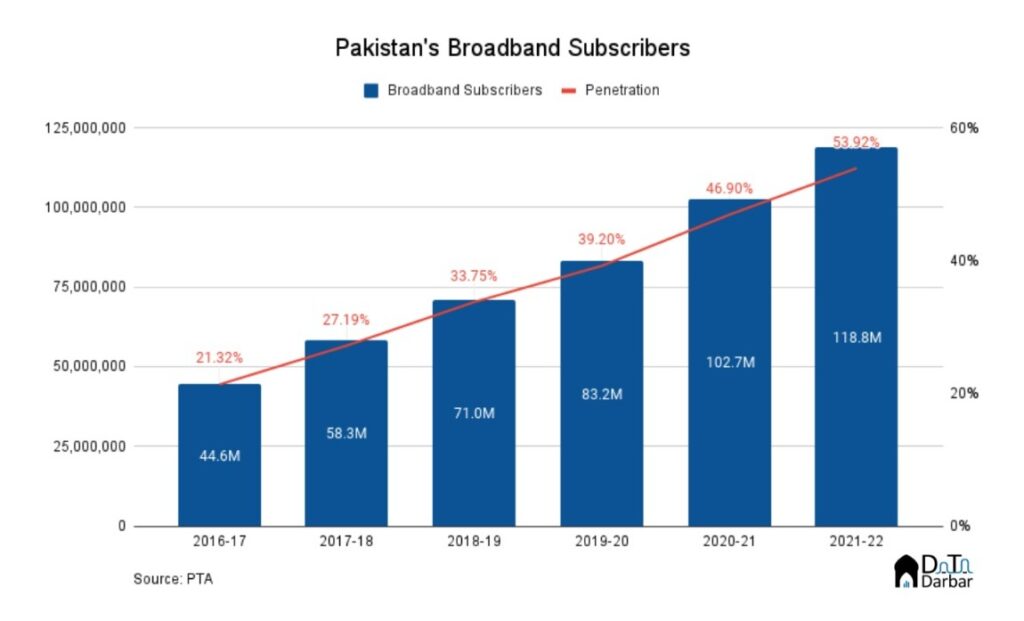 As per a telco source, 70-80% of all spend by Pakistanis on the Play Store is through DCB. According to them, the total spending on Google Play from Pakistan is about PKR 590 million a month. Volume-wise too, DCB is no less significant with reportedly one million transactions a month. Point is, it reaches the masses like no other channel and democratizes access to digital goods.
The Expected Casualties from DCB suspension
While the suspension of DCB obviously limits users' ability to pay for apps, it will also choke a key source of revenues for publishers. And as we have been highlighting, that ecosystem has just begun to take off with Pakistan becoming the fastest growing market. If they can't monetize their products effectively, what's the point?
Essentially, there are two ways you can monetize your product: in-app purchases (one-time or subscriptions) and advertisements. The problem is that Pakistan is a cheap market, with the cost per click/action/whatever too low – making ads a tricky stream.
This is not to suggest DCB is easy. "The average mobile balance in Pakistan is just Rs3 per user, which becomes a huge challenge for a business like us that depends a fair deal on recursive payments. Often people subscribe to our merchants but at the time of the next payment, they have nothing in their account," Simpaisa co-founder and CEO, Salim Karim, told me four years ago.
Therefore, the traditional monthly subscription model wasn't best suited for Pakistan. At least in reaching masses, because they neither had the mobile balance nor the commitment to get into "long" contracts. That's why platforms started offering more modular packages: daily, weekly, etc. In fact, in audio and video streaming, these shorter plans are extremely popular. Even the government might feel a pinch for it receives 38-39% in taxes and commissions through DCB payments, compared to just 1% via debit/credit cards.
Perhaps, the impact would be a rounding error compared to the $34B of forex in our dollar-starved economy. But its repercussions for the app ecosystem will be massive, for both the publishers and the user mass. The IT minister, for his part, said a mechanism has been worked out but let's hold our horses until it actually materializes.