Welcome to the fifth edition of Appistan! Last week we tried a new format which starts with the top 10 Pakistani apps in Data.ai's Active User Ranking for the latest available period. Plus, estimated downloads in Pakistan of ALL APPs using Appfigures. For the deep dive, we looked into the khata apps space, where four VC-backed startups are fighting for dominance.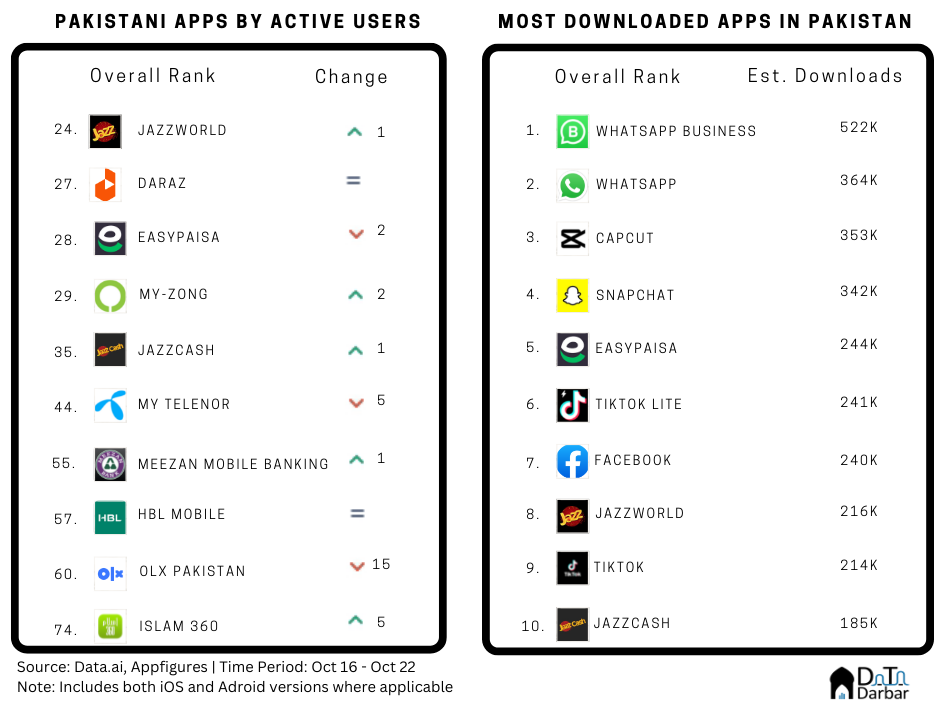 Between Oct '16 and Oct'22, 11 Pakistani apps made it to Data.ai's Top 100 Active User Ranking. That's one less compared to Oct 9-15, but the new list had a different name, Tamasha – marking the arrival of cricket season. Overall, Jazzworld retained its top position among the local players, improving its rank by one notch to reach 24th place. 
Downloads-wise, WhatsApp Business edged up one notch to reach the first place with 522K installs while the regular WhatsApp followed behind at 364K. The aggregate downloads of the top 10 apps were pretty much flat at 2.92M during the seven-day period. Over the next week, we will likely see changes in this list as the impact of the T20 World Cup gets reflected in data. 
Khata Apps: Shifting the growth benchmarks for startups
When I started writing Tech Talk for Dawn in May 2018, it was initially incredibly easy to find startups. Every week, my pipeline had 2-3 drafts ready. But as time went on, the task became a lot more challenging since few unique businesses were left to cover. You could always turn to another fashion or venues marketplace but that theme was done and dusted. There was nothing original in that. At least for me.
In order to find something that justified the space in print, I had to scout almost everywhere. Ask for recommendations from founders I had already covered, be mindful of any ads on social media and of course, check the top charts on Google Play. The latter usually didn't work, but in early 2020, I came across Oscar Udhaar. They had over 50K downloads at the time, if my memory serves well.
By now, you probably have guessed that it used to hold some significance back then, at least for me to filter out noise. Anyway, I randomly called Oscar – the parent company – and explained to the customer service rep the purpose of the call. That I write about startups for Dawn and would like to talk about their product. He was pretty confused but said to get back to me. A few days later, he did and scheduled a call with the founder Fahd Kamr. The entire country was under lockdown so meeting in person was out of the question. On April 12, the piece was published, making it the 100th edition of Tech Talk – a personal milestone.
Who would have guessed that some months later, it'd become one of the most competitive categories in Pakistan's startup ecosystem? Where 50K installs was once considered a significant milestone, every major player has already breached 1M. How times change! Since Udhaar Book's (rebranded from Oscar Udhaar) release in October 2019, many local tech companies have entered this space and managed to raise eye-popping amounts of investments.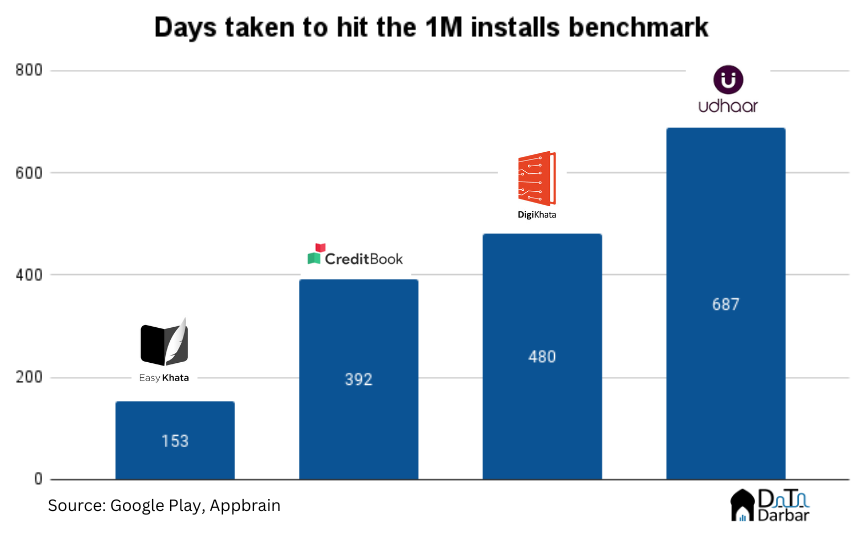 The big four of khata apps – Udhaar Book, Easy Khata, Creditbook and Digikhata – have seen 17.8M downloads between them since November 2019, as per Appfigures. All of them had crossed the 1M benchmark on Google Play months back while Easy Khata – the latest entrant to the game – breached 5M earlier this May. Then there's also mKhata and Hisaab whose numbers are merely rounding errors.
Cumulatively, the six companies have disclosed funding of $173.4M since their founding. Of course, not all of it is for khata apps. Easy Khata's parent is Bazaar which is a major name in B2B e-commerce and alone accounts for $107.8M while Hisaab is a product of Retailo, which has $45M in total. But 'primarily' ledger players have also shown their impressive fundraising ability: Creditbook was the first local startup to get Tiger Global's backing while Udhaar can boast a $6M seed round. Digikhata too has done well with $2M in seed money. 
With such deep coffers, the download numbers aren't exactly surprising (except for Hisaab, which has barely any traction despite the money). But attributing it all to venture dollars would be unfair. This was one of the first spaces where companies launched their products in a range of local languages. And to the mass market, that matters. No matter what your predominantly foreign educated boardroom believes or says about the huge English speaking population in Pakistan. This is one of the reasons for Bykea's success and ability to reach beyond the posh urban centers.
Anyway, to measure their performance better, we need to go beyond downloads. You could start with ratings where Easy Khata leads with 4.6 stars, though others very closely follow. However, the app has the lowest number of reviews at 21K despite the highest installs. Here, Digikhata leads by a huge margin with 91K reviews – 14K higher than the rest combined!  
But higher reviews don't necessarily mean it has more users than the rest. Or at least did during the period under review. On that front, Udhaar Book seems to be doing the best despite its lowest install volume. According to Apptopia, the four khata apps combined had Monthly Active Users (MAU) of 740.5K during October. Of this, Udhaar Book had the highest share at 35%. It also does the best in terms of retention, session duration and stickiness.  
There could be two explanations to this: perhaps Udhaar Book has approached its growth more sustainably than the rest. Or, they have only recently amped up their performance marketing. To me, it seems like a bit of both. For example, the app had an estimated 150K installs in October – almost 60K more than the other three combined. Since July, it has been outpacing its competitors, as the steeper curve in the chart below shows. So it makes sense for them to naturally dominate the overall MAU, especially new users. 
But to its credit, Udhaar always did well on usage and such metrics, at least whenever I tracked this category. This isn't to say they were objectively outperforming, but in relative terms, you'd always find them up there. More often than not.
Anyway, the question is: what comes after that? This is a category where incumbents have generally struggled to monetize despite a massive user base. India's Khatabook – probably the most cited inspiration by Pakistani founders too – started making money earlier this year. On Oct 18, they published a press release "We are changing gears: From Growth to Monetization". Its two revenue streams are: digital lending and software subscription.
While none of the local players have taken the paid subscription route, many are trying their hand at lending. Here, Easy Khata has obviously taken a slightly different approach as it's vertically integrated via Bazaar which directly supplies kiryana stores their inventory and has a BNPL product. Meanwhile, Creditbook and Udhaar Book have existing or upcoming credit solutions, as their job postings show. 
Digikhata and Udhaar Book have also experimented with payments, where the apps allow retailers to do mobile top-ups, utilities or sell vouchers for commission. The need to monetize has probably become more urgent with the funding slowdown. In October, three deals (only one with amount) worth $2.1M were disclosed. Compare this with the same month last year when six rounds (one without amount) saw investment announcements of $11.3M. 
Regardless, the khata apps space will continue to be one of the most exciting ones in Pakistan's ecosystem. Both the user base and money is there, now it's time to figure out the best possible monetization method (or combination).