Before Pakistan appeared on investors' radar, if you asked local startups about their moat, most talked about the "first-mover advantage". It's a common conception among innovative businesses around the world — one that doesn't necessarily hold up under scrutiny. Too often, those who move in later on end up dominating the game, as the example of InDrive shows. But no entity probably signifies the so-called "second-mover advantage" better than Jazz, which despite being the second to telecom business ended up taking the largest share. Then decades later, it did the same when JazzCash surpassed Easypaisa as the biggest digital wallet in the country.
So naturally, JazzCash was supposed to be one of the earlier editions of our deep dives on banks. We kept waiting for its 2022 annual report but half of May has passed by and it's time to give up on those hopes. Even for the previous years, the bank gives out scant details on key digital metrics, seriously limiting us in the analysis. It's honestly baffling because if you are a market leader with the highest volumes and healthy growth, why wouldn't you scream those numbers? Anyway, after digging through multiple documents, press releases and news items, we have put together whatever little was out there.
We'll use JazzCash and Mobilink Microfinance Bank interchangeably even though there can be differences in how they (don't) report numbers. Even Because that's the only, albeit somewhat incomplete, information available. Moreover, some costs would be parked under JazzCash and thus be understated in MMBL's financials and viceversa for revenues. With these caveats, let's get into it. 
The key numbers
To start with, JazzCash's profit after tax increased 31.7% to PKR 958.3M in 2022, from PKR 727.7M the year before. However, this annual growth masks a somewhat flat trajectory as the bank's bottomline stood at PKR 920.8M back in 2019. In any case, markup income was the main driver and jumped to PKR 17.3B compared to PKR 11.1B in 2021. On the other hand, interest expense was only PKR 2.8B.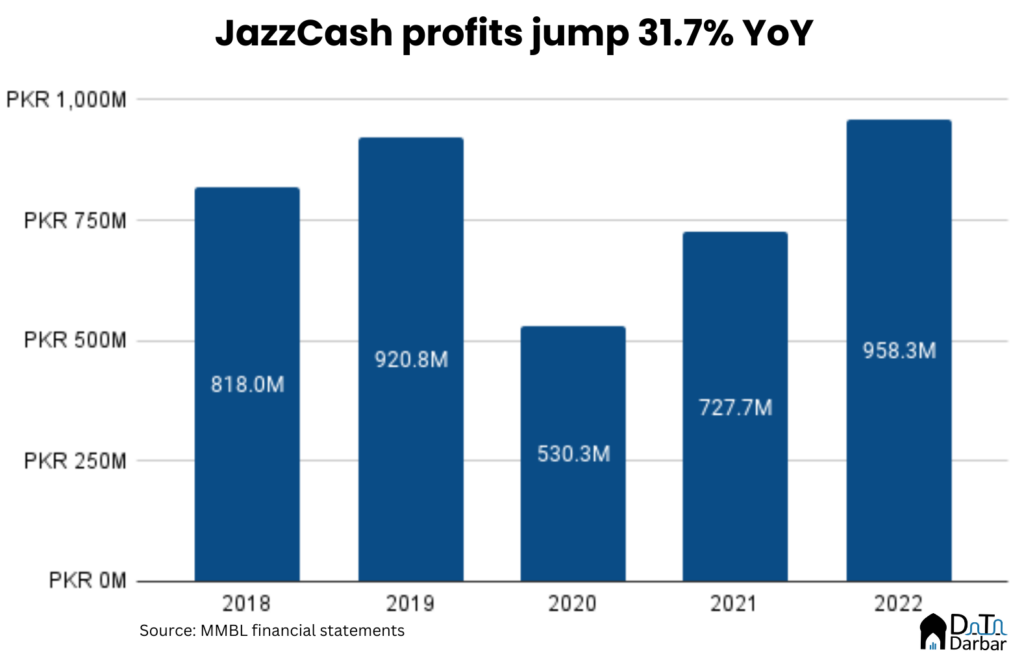 Its non-markup income — which includes net revenue from fee, commissions and brokerage — clocked in at PKR 6.5B. That's almost 5.3% higher compared to PKR 6.2B in 2021. Most of this came from branchless, where MMBL earned PKR 5.4B. While this head is critical in terms of understanding the business, it saw major revisions, including the reclassification of PKR 5.9B to interest return, which makes charting the trend pre 2021 a futile exercise.
But that takes us to another important point: the bank's shift towards instant credit. Since 2020, it has aggressively expanded its footprint in digital lending. As of 2022, MMBL's outstanding nano loans were PKR 4.7B, or 8% of the gross portfolio of PKR 58.9B, across 2.3M active borrowers. On this, JazzCash earned PKR 5.9B — the same reclassified amount above — as markup.
JazzCash was the first, but far from only one, to give into this nano obsession. Easypaisa is onto it too as are countless instant lending apps — both licensed and unlicensed. And to be clear, the MFBs are barely any better when it comes to the interest rates, with MMBL's own CEO admitting in September 2021 about APRs of 240%.
Read our detailed coverage on the rise of instant lending here.
Meanwhile, the bank's total deposits rose to PKR 64.7B in 2022, up 10.4% over the previous year before. However, all this amount isn't really in JazzCash wallets since MMBL has a network of over 100 branches, which also collect funds from customers. And it doesn't really bother to give any breakdown either — just one of the many examples of poor its reporting quality really is.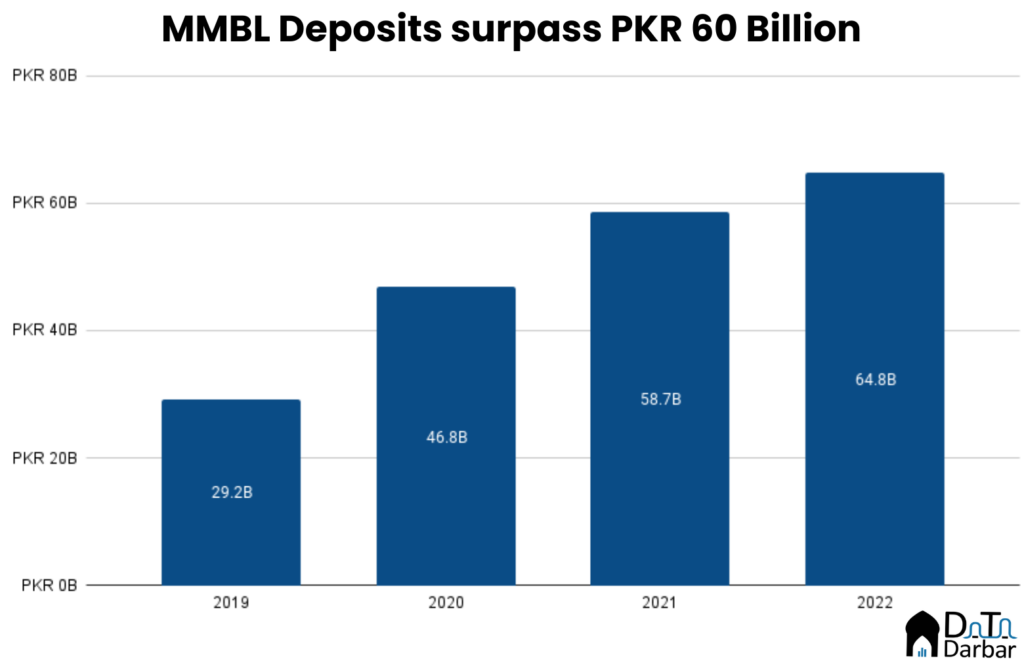 Perhaps we can estimate the balance in digital wallets based on industry comparables. Take Easypaisa for example, which had 82.1% of all deposits stored in mobile accounts. Assuming the same share for JazzCash translates into PKR 53.2B. However, the proportion should be lower since MMBL has a bigger branch network compared to Telenor Microfinance.
Leading the digital wallets race
On the payments side, JazzCash processed throughput of PKR 4.2T in 2022, up 31.3% compared to PKR 3.2T — though losing the leadership mantle to Meezan Bank. However, it was by far the largest player in terms of volume which jumped 25.3% to 2.1B. As a result, average transaction size clocked in at PKR 2,000. While this was a slight improvement compared to the previous year, it's still much lower than Easypaisa's PKR 2,838.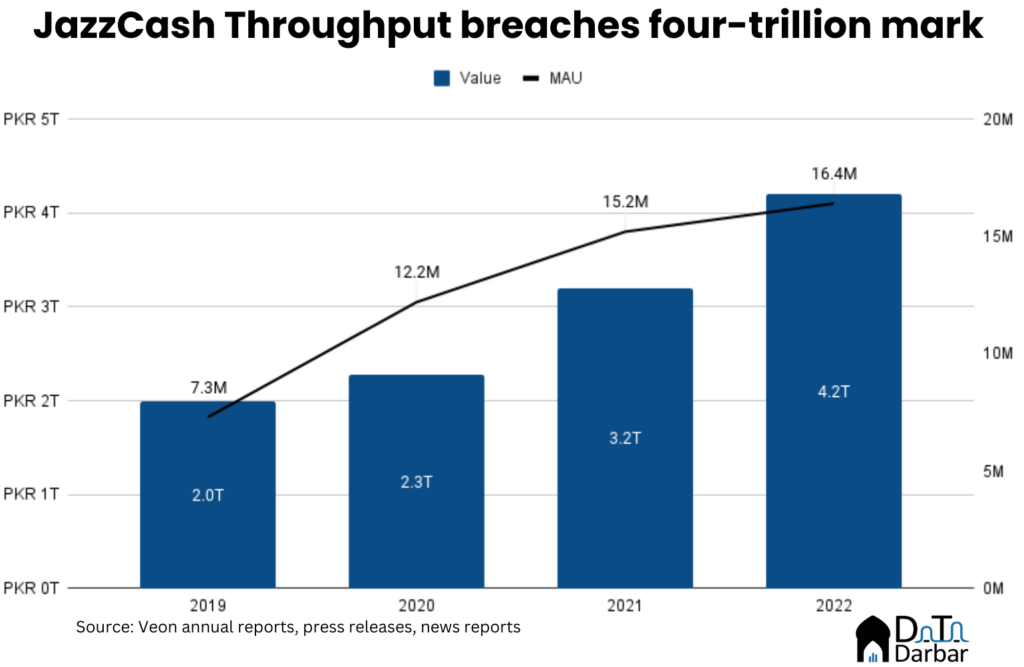 Moreover, with monthly active users of 16.4M, JazzCash maintained its position as the largest digital wallet. Or possibly, any single app in Pakistan. On the offline side, the bank's active agents rose 24.7% to 131K, which is almost 44% of the industry level as of 2022 end.
However, the subpar reporting quality makes this whole analysis rather limited. JazzCash is not even punctual with its annual report, not that it discloses any particularly valuable data there. It's extremely disappointing to be honest, though never unexpected in Pakistani financial services.