A lifetime ago, I first met Nadeem Hussain — now the founder of upcoming digital bank Raqami. Back then, I was still a rookie in both journalism and tech while he was building a nano-lending app called Tez. Even though the startup raised a healthy $1.1M seed round in October 2018, it was a pretty niche concept at the time and largely remained so for a while.
But by mid-2021, the industry finally moved from the fringes to the mainstream, though it wasn't Tez leading this charge. Instead, a number of new apps surfaced on Pakistan's Play Store and climbed their way to the top of the finance category charts. Within months, they had amassed hundreds of thousands of downloads, which at least by local standards was something.
Over the next 12 months, their popularity became increasingly clear to everyone. But more importantly, so did the many red flags, as we covered in this piece. Basically, many of these loan apps were not even registered in Pakistan. And regardless of their incorporation status, all were charging exorbitant rates and often harassed customers.
Traditional, digital and social media raised this issue multiple times and the regulator took notice. Or at least pretended to until the hype died down. By December 2022, it was business as usual again, with even more apps now — both licensed and unlicensed. And despite some amendments, nothing really changed their modus operandi or dampened the growth.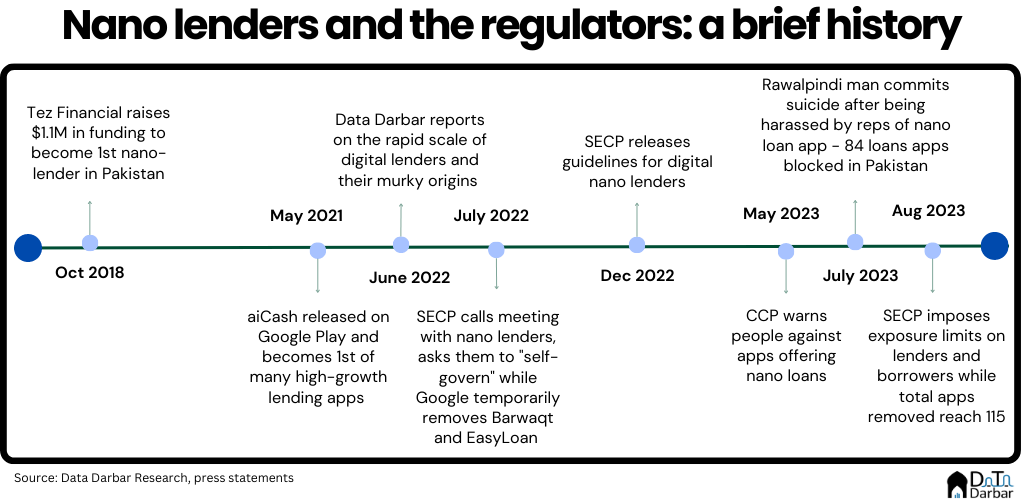 Digital Lenders: the true flagbearers of blitzscaling
Between July 2021 and June 2023, 35 instant lending apps had at least 27.4M installs in Pakistan, according to Appfigures estimates. Seedcred Financial-owned Barwaqt led with 48.3%, or 13.2M, of the total downloads. Meanwhile, only six of the publishers had the required NBFC license while the remaining were operating without regulatory approval. In fact, unlicensed apps make up 17.9%, or 4.9M, of all installs during the period.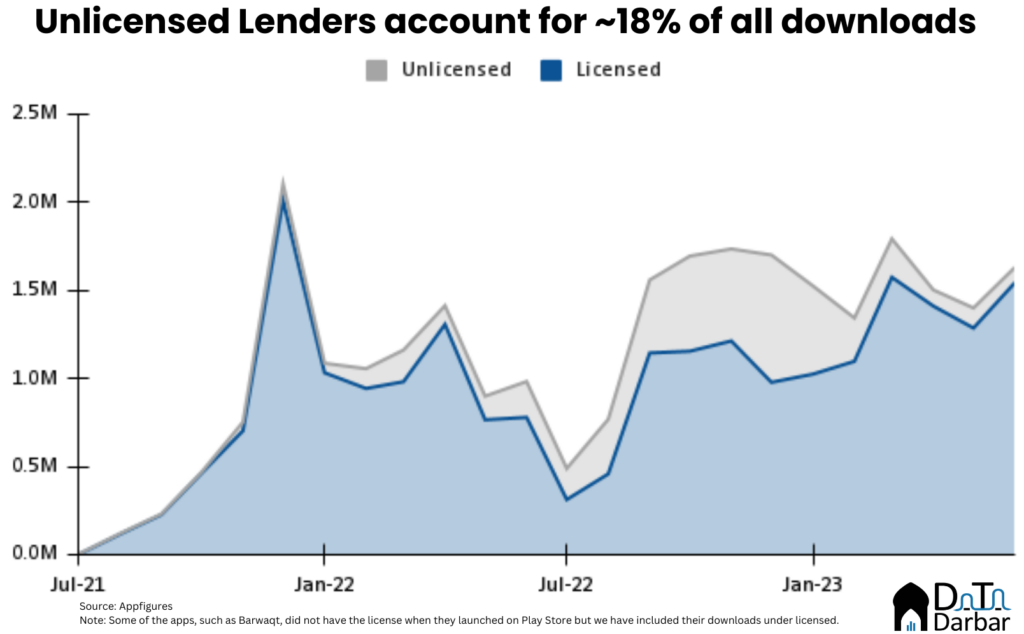 According to Apptopia, the licensed players — Barwaqt, SmartQarza, Zaroorat Cash, EasyLoan, and PaisaYaar — had combined monthly active users of 2.5M during the month of June. Here again, Barwaqt naturally accounted for the largest share of 47%. Meanwhile, 437.5K were new to the platform.
It's not just the apps that are doling out microloans though: digital lenders have also been aggressively issuing loans. In 2022, their total disbursements stood at PKR 63B across 2.4M borrowers. According to the SECP's spokesperson, the value of loans in 8MFY23 was PKR 91B.
The regulatory labyrinth
Ever since the practices of these lenders came to light, many people have asked about what the regulators are doing. But who's really the regulator here? Unfortunately, that answer is not as clear-cut with too many cooks spoiling the broth. Let's start from the basics. Lending is a regulated business that needs either a banking or non-bank financial company (NBFC) license. The SBP oversees the former while the latter comes under the Securities and Exchange Commission of Pakistan.
For only lending, NBFC is both more accessible and cheaper, hence the route any instant loan app takes. Now there were two problems. First, the licensed apps were simply extortive, charging interest rates running into three or even four digits and a lack of transparency, among other things.
To tackle this, the SECP introduced guidelines for digital lenders on December 27, 2022, addressing some of the more pressing concerns. For example, it explicitly banned them from making any deductions upfront. Previously, it was quite common for lenders to charge as much as ~30% of the loan amount in processing or other fees. Similarly, the regulator disallowed any NBFC to have more than one app at a time, thus ending the practice of license outsourcing to unauthorized players.
Whether there has been enforcement or not is a different issue though. For example, Barwaqt's app says the maximum Annual Percentage Rate — which includes all costs, annualized — is 24%. However, their website puts the interest charges at 0.8% a day, meaning the APR should be way higher. So even the introduction of new guidelines doesn't really seem to have brought any transparency into the industry.
Plus as we mentioned, only a few digital lenders had the required approvals. The rest are often not only unlicensed but also not incorporated in Pakistan, thus making it difficult for the SECP to regulate them. This is where Pakistan Telecom Authority should come in as the guardian angel of internet (bans) in the country. But they only care about restricting your access and invading privacy. When the average Basheers are getting ripped off and harassed, these guys are nowhere to be found.
Similarly, Google, whose press releases are a crash course in virtue signaling, did absolutely nothing. When we informed them of the irregularities, their response was: "Our Google Play Developer Policies are designed to protect users and keep them safe, and we have been expanding our Financial Services policy to help protect people from deceptive and exploitative personal loan terms. When violations are found, we take action."
Finally, the State Bank of Pakistan gets an honorary mention as the regulator of payments in the country. As it turns out, all digital lenders — whether licensed or operating from abroad — were using JazzCash and EasyPaisa for routing their transactions. How exactly did those random apps clear the know-your-customer requirements?
For around a year, most of these organizations tried to evade any responsibility and ignored the complaints. Except for SECP which was at least proactively looping in others. In April, it introduced a whitelist for digital lending apps. By late June, the SBP finally woke up too and issued instructions to its regulatees to only process payments of licensed entities. Though here again, enforcement was pretty weak as the suicide of the Rawalpindi man showed (he borrowed from an unregistered player).
However, that incident has apparently now created enough pressure on the policymakers to take serious action. Not just a light slap on the wrist. Within days, 84 apps were removed from Play Store, this time even Google finding them non-compliant. Better late than never, I guess?
As of today, no unlicensed player currently features on Google Play's Top 50 Finance chart. Good riddance. Now the question is: what will the regulators do about licensed apps? Because let's be honest, there is virtually no difference between the two. That's completely in the SECP's court: whether it wants to promote extortion in the name of financial inclusion or protect customers?
SECP taking charge
If recent actions are any guide, there is room for cautious optimism. The SECP just today issued a new circular that mark a new shift. For example, it imposed a maximum limit of PKR 25,000 for individual borrowers from a single loan app while the aggregate amount from multiple platforms shall not exceed PKR 75,000.
Further, the tenor for a nano-loan through these apps has been restricted to not more than 90 days. Most importantly, the apex regulator hinted at regulating the cost of borrowing — something it had explicitly ruled out previously. "Going forward, the SECP is considering imposing pricing caps on APRs as well as a total cost cap on digital nano loans after extensive, all-inclusive consultation and coordination with stakeholders, including industry participants."