Not long back, we gave a breakdown of the state of digital payments in Pakistan for FY23. Long story short, mobile banking continued to drive growth in throughput and volume while e-commerce struggled. But that didn't tell us anything about which financial institutions were at the forefront. Today, we'll do that. Well, kinda. Because most banks don't really report metrics related to digital operations, and the regulator doesn't care much about measuring progress. That's why we'll just focus on the four big players.
HBL continued to boast the largest customer base with 2.4M monthly active users, which is understandable given how it's arguably one of the biggest organizations in Pakistan. In fact, however, two-thirds of its 36M+ consumers come from either Konnect (branchless), HMFB (microfinance) and government-to-person (social security disbursements). Since we are primarily focusing on mobile and internet banking, which are usually tagged to the branch, around 20% of HBL customers are using its app.
On the other hand, Meezan boasts the best digital penetration where 2.3M out of 3.8M customers are using mobile or internet banking. Ideally, we would have liked to chart the numbers and ratio for all banks but unfortunately, they don't like sharing much data. Or at least in a consistent format that is comparable across the board. Anyway, later on this.
The Digital Transactions Pie
Meezan further strengthened its dominance, processing a throughput of ~PKR 5.36T in 1H2023. This put them firmly in the top spot with over a quarter share of the entire mobile and internet banking value. For the second place, there was a reshuffle as UBL, at PKR 2.1T, overtook HBL aka the tech company with a banking license. Meanwhile, BAFL clocked in PKR 1.02T in the first six months. [Note: cash management and transaction and employee banking throughput has not been included.]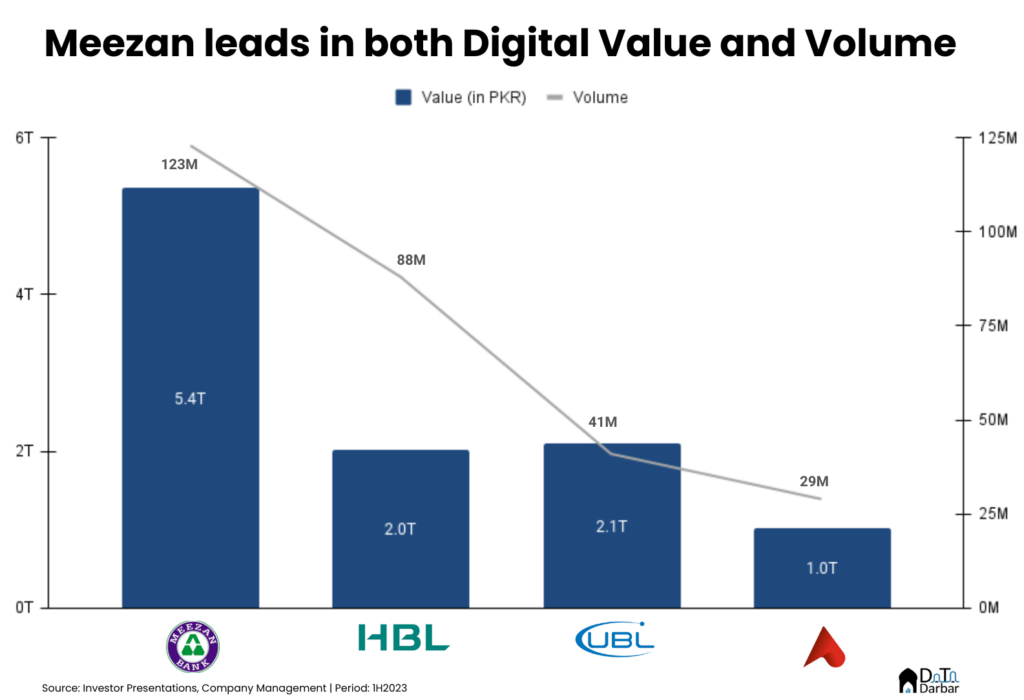 However, with volumes of 88M across MB + IB in 1H2023, HBL held on to the second spot, registering a growth of 60% YoY. It was still well behind Meezan's 122.9M though. Both UBL and BAFL were even more distant with transactions of 41M and 29M. The scale here is in stark contrast to what digital wallets manage. For instance, Easypaisa and JazzCash did 1.3B and 2.1B in 2022.
Relatively higher volumes and lower value meant HBL also had the lowest average transaction size. At PKR ~24K, it was less than half of the industry-wide average of PKR 48.2K, and well behind the other peerswas pretty close to Meezan's PKR 48K. UBL stood slightly higher than the mean at PKR 51.2K.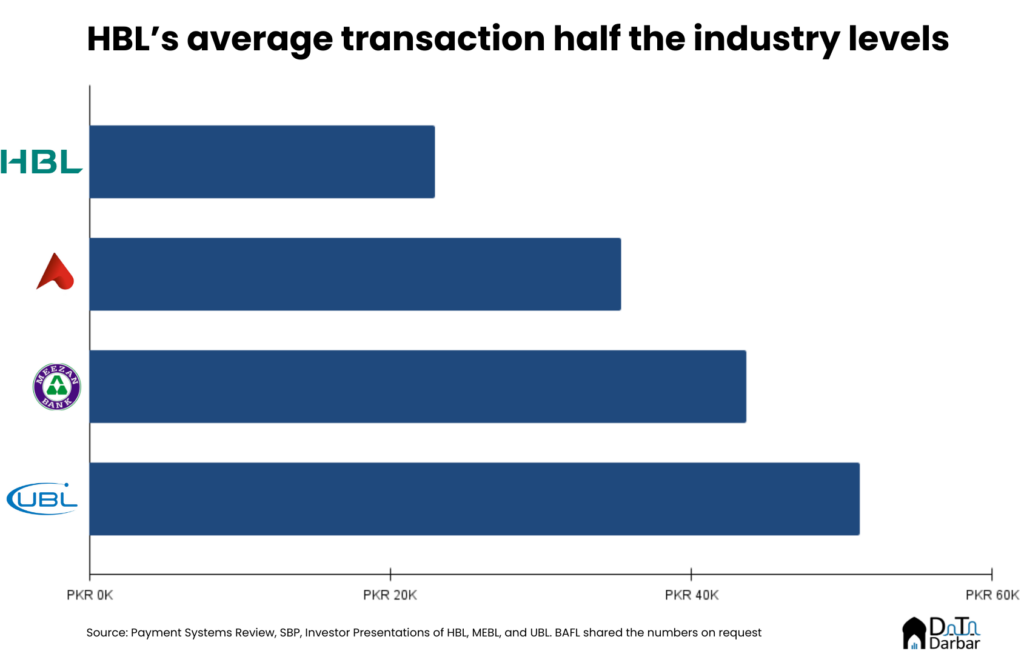 We also looked at the website traffic as reported by Similarweb. Here again, Meezan comes out on top with 7.3M visits in the first half. That's more than twice of HBL's 3.6M. However, the tech company with a banking license had the highest app downloads during the period, at 804K. This makes sense given that HBL has a far bigger customer base than anyone else.

Putting money where your mouth is
Jokes aside, HBL does live up to the cliched tagline when it comes to putting money. In 1H2023, it spent PKR 8.5B on information technology, or one fifth of the the overall industry. The difference is so big that UBL, which is second in the list, had a value of PKR 3.8B, though as a proprtion of operating expenses, it was ahead of the peers.
Interestingly, Meezan had the lowest spending among this group and ranks ninth in the sample of 20 banks that we track for Data Darbar's Digital Banking Readiness Index. Yet, it's still doing the highest number of transactions. Maybe the two variables don't have a clear-cut correlation, let alone causation? Apparently so, at least as per this McKinsey report and paper from the EU Parliament. There are two ways to think about it. One is basically that an organization is readying itself for the future by investing in technology. But then there's a competing argument: how efficiently you spend money.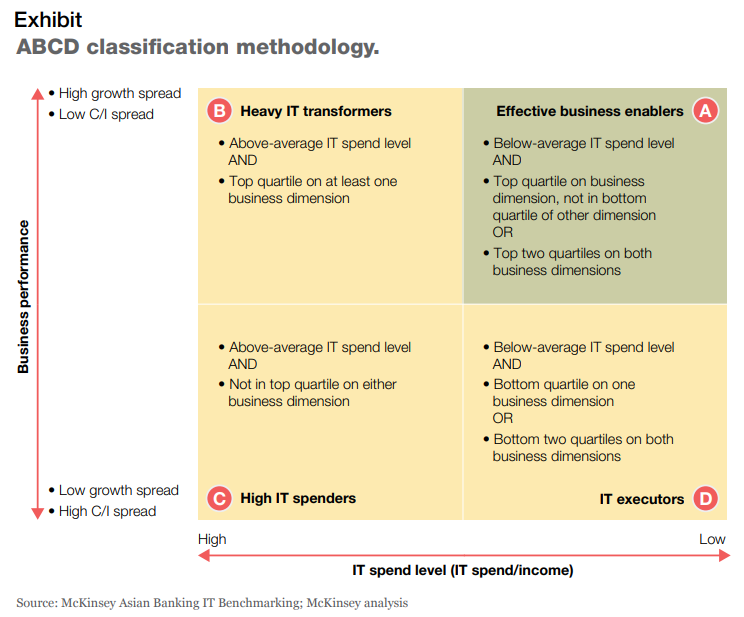 Beyond mobile and internet banking
We have focused most of our attention to mobile and internet banking, considering that they are not only the largest truly digital channels, but also the fastest growing by throughput. But let's just quickly gloss over point of sale and e-commerce as well. In terms of overall card spending, HBL had the largest share of 24.9% (across POS and e-commerce) with a value of PKR 197B. However, if we limit our lens solely to debit, Meezan takes the top spot at PKR 106B of spending in 1H'23, accounting for 21.2% of the industry total.
For point of sale, HBL leads with the highest number of machines at 46,514, or 40.3% of the entire market. It also had the highest throughput, though the acquiring side numbers aren't given in the presentation. Despite being the newest entrant, Meezan has aggressively grown this channel, deploying 15,013 terminals by June. During this period, it processed 8.78M transactions worth PKR 47.69B, accounting for 8.1% of the industry total for each indicator. The numbers for UBL and Alfalah weren't available.
On a related note, this is where HBL has traditionally outshined by giving some glimpse on the digital metrics. But the problem is that there is no consistent methodology or standard. Like for the transaction and employee banking through, it adds up payments and collections, which is just wrong. Lately, Meezan has upped the game, disclosing a lot more details and dedicating three slides to digital channels in the corporate presentations.
The bigger issue is that even when banks disclose certain indicators, there is absolutely no standardization. One institution could provide mobile and internet together, other would add high-ticket cash management to the mix and another would club POS and QR. Even when you press them for clarifications, they don't really bother to give a response. Despite followups stretched over weeks. By the way, the same entities were trying to get the digital banks license.
As we argued previously, the scale of digital operations is not just for shoutouts on social media. It is probably the biggest determinant of growth potential and shareholder value, which can only be unlocked if financial institutions care to sell that story. No wonder the median P/B of the industry is just over 0.5. Just organizing conferences with your buddies isn't gonna cut it. Even though this rant will inevitably fall on deaf ears, I have attached a basic template on what kind of numbers should be reported, at the bare minimum.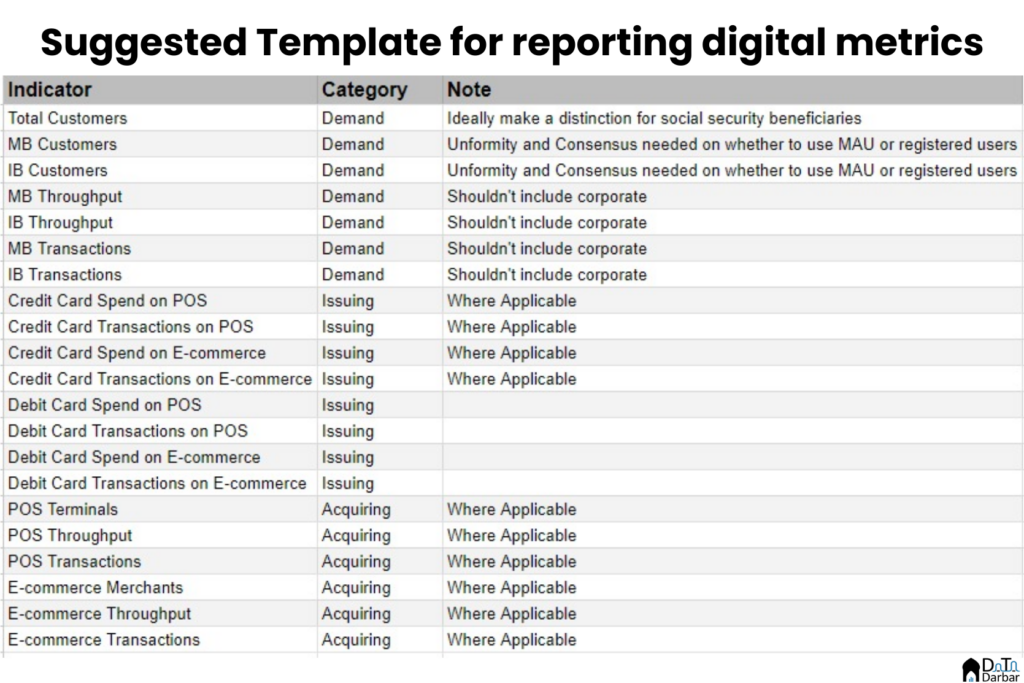 For senior bankers genuinely wanting to digitize financial services in Pakistan, this should be the starting point. If Data Darbar can play some role, we'd be happy to but that initiative first needs to come from within. And sooner, rather than later, the coversation has to move beyond payments to other financial services as well. But at least let's get the basics right first.